Adulting 101: I am a pregnant journalist awaiting my toughest assignment yet — being a mother
SINGAPORE — I never imagined I would be crouching over the toilet bowl at 2am, crying and almost hurling my guts out, all because my husband ate sardines for supper.
Adulthood is an invigorating stage of life as young people join the workforce, take on more responsibilities and set their sights on the future. But its many facets — from managing finances and buying a home to achieving work-life balance — can be overwhelming.
In this series, TODAY's journalists help young Singaporeans navigate this stage of their lives and learn something themselves in the process.
SINGAPORE — I never imagined I would be crouching over the toilet bowl at 2am, crying and almost hurling my guts out, all because my husband ate sardines for supper.
But it happened during my first trimester of pregnancy when I could not make sense of what was happening to my body. And when every little thing, such as the smell of the fish on my husband's breath, could make me bawl like a giant baby.
This is my first pregnancy after I had a miscarriage in April last year. I still vividly recall sitting with my husband outside the clinic in disbelief after being told that we had lost our baby.
The news, devastating at any time, could not have come at a worse time — given that it was the peak of the Covid-19 pandemic and we were isolated from our families.
So naturally, when I found out eight months later that I was pregnant again, my joy was tempered with nerves and I was more guarded.
My first thought was: What can I do differently this time?
Before I could even contemplate this, I was hit by the first challenge of pregnancy: Having to battle morning sickness while balancing a demanding job with long, unpredictable hours.
As a journalist, my days are filled with lulls and bursts of activity, and are usually packed with press briefings and back-to-back interviews.
Once, I was interviewing a worker when I caught a whiff of fried fish on his breath. He probably had a good lunch, I thought, while I wanted to throw up mine.
Another time, I felt like I was about to pass out after waiting outside a morgue for hours on a particularly hot day.
Besides the food aversions and dizzy spells, I have also had to cope with a common side effect of pregnancy: The frequent and urgent need to urinate.
I cannot count the number of press briefings I attended where the other reporters were clamouring for a good spot from which to lob their questions while I had to run to and from the washroom.
My biggest fear also came true — this pregnancy did inadvertently affect my work.
Besides having a more foggy memory thanks to "pregnancy brain", I am also less mobile and I now need a 20-minute power nap during lunch to get through the day.
This did make me wonder if my colleagues and superiors might perceive me as professionally weaker or that I could not carry my weight — although so far, they have been nothing but supportive.
HAVING A BABY CAN BE EXPENSIVE
Now that I am in my third trimester and have discovered that I am expecting a baby boy, my fears have evolved and they now centre on what I will need after giving birth.
For starters, our preparation has been in full gear and by full gear I mean this is what we have bought for the baby: Nothing.
Don't get me wrong, there is no shortage of advice available to us. Between parenting books, well-meaning family and friends and even strangers on the street, there is a lot of advice to go around.
Just sifting through the sheer amount of information that comes our way has been a daunting task because how do you know whose advice to take and whose to (respectfully) disregard?
Despite all these suggestions, each time my husband and I visit baby stores, the conversation goes something like this:
Him: "What do you think we might need?"
Me: "I don't know. Maybe a car seat?"
Him: "What kind? There are like 20 different types."
Me: "I don't know. Let's just come back next time."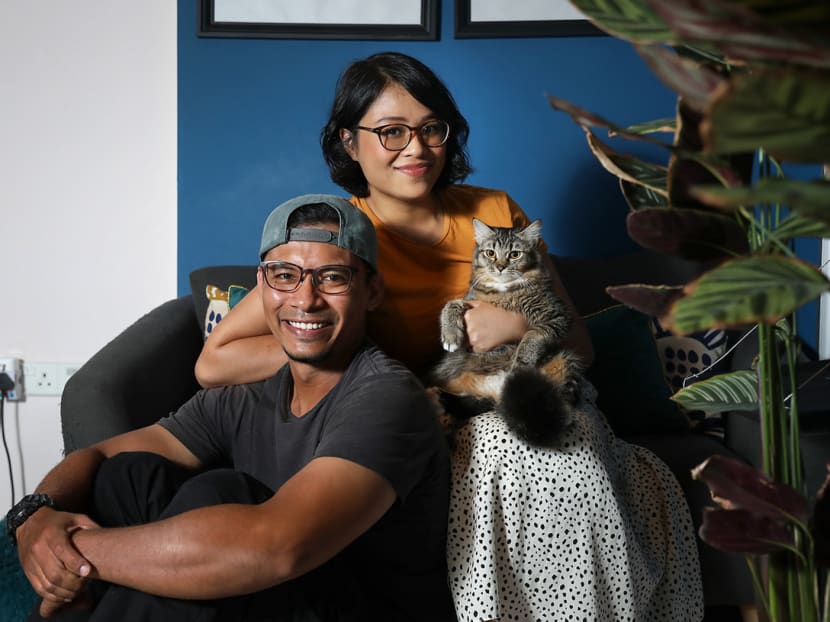 Nine out of 10 times, we would leave the store empty-handed because there were too many different brands of baby items and all of them can be folded a different way or zipped up or have an extra compartment to hold stuff.
There were also times when we felt inadequate in the presence of other couples in the store who had done their research and knew for sure which item they wanted.
Once, we even heard a pregnant woman hiss at her husband: "No, we need the Bugaboo!"
That brand of stroller, I later discovered, costs about S$1,000. I almost peed in my pants because it is equivalent to two months of my student loan repayments.
So as a first-time mum-to-be who does not have an expansive bank account, I turned to experts for advice and budgeting tips were top of my list.
Dr Shefaly Shorey, an assistant professor at Alice Lee Centre for Nursing Studies at the National University of Singapore, told me to buy items such as milk powder in small packages to first check if they are suited to the infant.
Dr Shorey, whose research revolves around family and women's health, added that with diapers, for example, there is not one brand that is better than the other. What is more important is that the child gets frequent diaper changes.
Another piece of advice I found very useful came from Ms Fannie Lim, the executive director of charity Daughters of Tomorrow, who said that when it comes to receiving gifts for the baby, mums should not feel shy about making requests for practical items or shopping vouchers.
We might even be doing others a favour by alleviating the stress they may be facing from decision-making and having to shop, she added.
New parents may also invest in items that can be used in the long term or very frequently such as baby carriers, she told me.
"But for clothing or shoes that babies will outgrow very quickly, I welcome hand-me-downs all the time," Ms Lim said.
JUGGLING CAREER AND MOTHERHOOD
Several times during my pregnancy, I have been overwhelmed about my capacity for motherhood — fears that my life would centre on endless conversations about strollers, the right preschool or a suitable breast pump.
I also could not quiet this nagging fear at the back of my mind that having a baby will lead to more changes, such as adjustments to my work schedule or having to ask my boss for concessions.
And I worry if I will not be there for my child's milestones. I mean, would a child grow up differently being raised by a working mum?
Dr Shorey said research has shown that children raised by working mums tend to be more socially adaptable, have higher educational qualifications and are more likely to be employed as adults.
They also wind up more supportive of their family and are more engaged in household work.
With this in mind, guilt-ridden mothers who either have to hold down a job to make ends meet or simply choose to work while raising their children should avoid putting a lot of pressure on themselves when they are not able to spend enough time with their children.
"They should not feel guilty if they have decided that they want to work," Dr Shorey said. "Honour why they are doing the work and realise that quality time for the child is more important than the quantity of time."
Ms Lavinia Thanapathy, the former vice-president of the Singapore Council of Women's Organisations, who has met families with varying career arrangements, said that the most successful ones are where parents are consciously making choices, not sacrifices.
She added: "When you make choices, you take ownership and pride in your choice. Sacrifices are filled with regret and unhappiness. There is no one solution. Choose."
This choice, however, should be suited to each family and is not cast in stone, meaning as mums, we are allowed to change our minds.
Ms Lim reminded me that success and failure are not defined in the first few months of our children's life.
So it is important to prepare for motherhood in the way that is best suited to us — attend parenting classes, talk to friends, read or even have a chat with our own parents.
And as much as the child's existence makes us zoom in on the micro matters of everyday life, we need to remember that our children do not have the same kind of expectations we impose on ourselves.
As Ms Lim from Daughters of Tomorrow puts it so succinctly: "We have a lifetime to learn not to be perfect but to be perfectly content with this role we have the privilege to experience."
This advice has since helped me shake off the feeling that once I become a mum, that is all I will be.
Now I am convinced that to be an effective journalist and an effective mother — sounds like a lot when I see those words written down — requires me to draw the line between work and family time.
I also need to remind myself that it is okay to seek help from those around me.
This reminded me of a piece of advice I got from my mother when I asked her how she raised four daughters.
She said that she did not know how she did it for there is no rhyme or reason to getting motherhood right.
"All I can say is it takes a lot of guesswork, a lot of tears and, most importantly, a lot of love. This is why I always say: Listen to your mother."
ABOUT THE WRITER:
Nabilah Awang is a 27-year-old journalist at TODAY, where she covers community, consumer and health issues.