Advocate for an open market, Chan Chun Sing tells Asean businessmen
SINGAPORE — Businesses across Asean must work together to make the case for keeping markets open and integrated, with the world at a crossroads, Trade and Industry Minister Chan Chun Sing warned on Tuesday (June 4).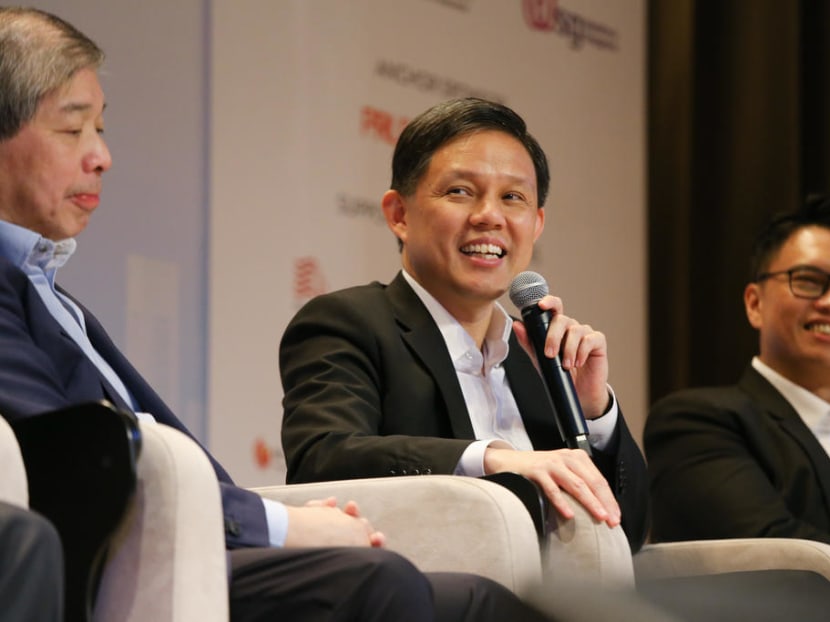 SINGAPORE — With the world at a crossroads, businesses across the Association of South-east Asian Nations (Asean) must work together to make the case for keeping markets open and integrated, said Trade and Industry Minister Chan Chun Sing on Tuesday (June 4).
Speaking at the Singapore Business Federation's annual Asean Conference, Mr Chan noted a series of stressors including China-United States relations, a backlash against globalisation, the rise of trade protectionism, Brexit and the politics of inequality.
This is why all parties, businesses included, must play a stronger advocacy role to prevent the rules-based economic environment from deteriorating, Mr Chan said during his keynote speech at the Ritz-Carlton hotel.
"In the last 50 years, integration has allowed all countries to leverage on their respective strengths to promote growth and prosperity for their own people," he said.
"For the next 50 years, will we continue the path of integration, or will the world risk further fragmentation?" 
He harked back to a historical precedent in the 1920s, when the world had also debated whether to integrate economies or to adopt "isolationist, protectionist and beggar thy neighbour policies".
"A hundred years ago, the world made the wrong choice. We ended up with the Great Depression in the 1930s and subsequently, World War II," he said.
While today's circumstances are far from those of a century ago, businesses in Asean should continue to encourage and work with their host governments to promote an open, rule-based, inclusive and integrated trading environment, said Mr Chan.
These businesses must also "share the fruits of success with your workers" by supporting underprivileged communities and ensuring that they upgrade their skills, he added.
The lack of such efforts had created inequality and caused a stagnation of the middle class, which has added to the current anxieties around the world, he said. 
Mr Chan said: "If workers are left behind, salaries and wages are not progressive, but regressive, then we can all expect a backlash against trade, globalisation and technology with negative global consequences."
Businesses, too, will be lobbying for more protectionist measures if they are not able to adjust to the competition, he pointed out. 
Instead of protecting jobs that will eventually evolve, Singapore's approach is to protect the workers by making sure that their skills remain relevant, said Mr Chan.
"This is the reason why the Government, the businesses and the labour movement must work closely together to help businesses and workers adapt and adjust.
"Without them, we risk the rise of populist politicians who will come forth and promise the easy way out, but actually setting back the necessary adjustments in our respective economies," he said.
Mr Chan noted that the proposed Regional Comprehensive Economic Partnership (RCEP), which is yet to be concluded, will be "a powerful signal of this region's commitment in keeping markets open and integrated".
The RCEP is a free trade agreement comprising the 10 Asean member states and other countries on the Western side of the Pacific, such as Australia, Japan and China.
"The value of RCEP is more than economics: It is also a geostrategic signal to the rest of the world of what Asean and RCEP countries believe in collectively," he said.
Businesses in these countries should urge their governments towards an early conclusion of RCEP, which will address non-tariff barriers that impede integration, added Mr Chan.
Protectionism has sparked the rise of such barriers, even within Asean, which is already largely tariff-free.
Mr Chan said if Asean countries could harmonise their standards, rules and regulations, businesses would be able to operate across jurisdictions seamlessly and benefit from the integrated market of 600 million people in Asean.
Asean has the potential to become the fourth largest economy in the world by 2030, Mr Chan reiterated. 
NEXT 'BLUE OCEAN' FOR ASEAN 
He noted that the digital space is the next "blue ocean" for Asean businesses, which can be united by common standards in finance and data.
To this end, Singapore is developing an action plan with Thailand, the Asean chair this year, to serve as a blueprint for digital integration in the region. The Republic has also started talks with Chile and New Zealand on a digital economy partnership agreement, as well as with Japan and Australia on a joint statement on e-commerce.
"The digital frontier is the new frontier for all of us to conquer and overcome together. But at the same time, there are forces around the world that threaten the further integration of the digital space. There is a real risk that if we don't get it right, digital space will be Balkanised," he said, referring to the geopolitical term used to describe the process of fragmentation.