A policeman at 16, he counselled suspects of his own accord. Now 59, he is among the first SUSS law graduates
SINGAPORE — One is a 59-year-old former police officer who counselled remanded suspects of his own accord, while another is a 34-year-old owner of a tuition centre who volunteers his time giving free tuition to the underprivileged.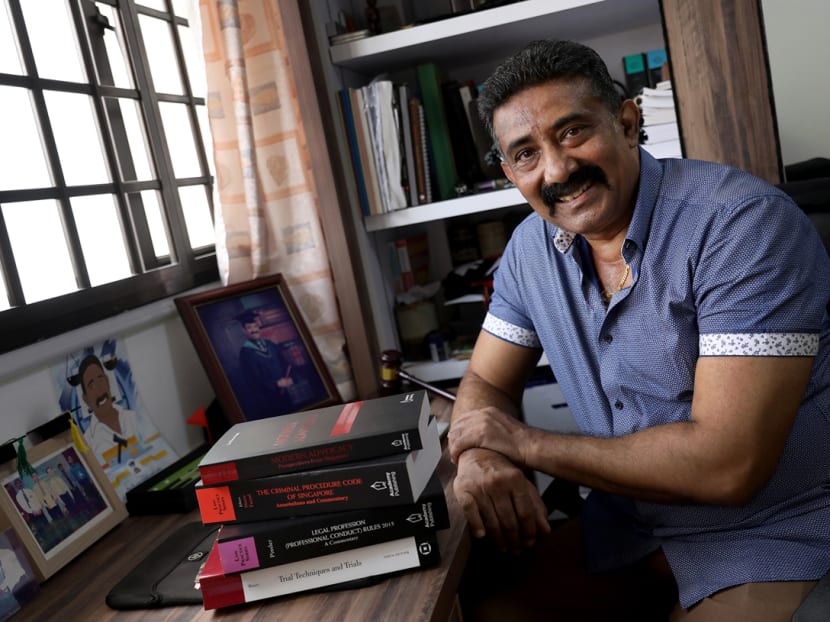 11 mid-career switchers are among the first batch of graduates to complete SUSS' Juris Doctor programme 
They include a former police officer who joined the force at age 16 with only an O-Level education
Another is the owner of a tuition centre who has given free tuition to the underprivileged four days a week since 2015 
SINGAPORE — One is a 59-year-old former police officer who counselled remanded suspects of his own accord, while another is a 34-year-old owner of a tuition centre who volunteers his time giving free tuition to the underprivileged.
The two men are on track to become lawyers, being among the first batch of 11 graduates of the Singapore University of Social Sciences' (SUSS) Juris Doctor programme, which started in 2017 to meet the community's needs for well-equipped criminal and family lawyers.
At a graduate session on Tuesday (Dec 8), Minister in the Prime Minister's Office Indranee Rajah said that all 11 pioneering graduates have already secured their practice training contracts. 
Mr Rajoo Ravindran, who was with the Singapore Police Force for 42 years until he retired in February this year, will be joining Peter Ong Law Corporation, while Mr Muhammad Aadil Dafir, founder and educator at Gamechanger Education Centre, will be joining Harry Elias Partnership.
STARTING A LEGAL CAREER AT AGE 60
In an interview with TODAY, Mr Rajoo, who is the oldest of the inaugural batch of graduates, said that as a teenager, he had never dreamt of becoming a lawyer as he had only O-Level qualifications and joined the police force as a 16-year-old.
The desire to pursue law grew when he started working with complainants, witnesses, suspects and accused persons as an investigation officer (IO), during which he gained satisfaction from being able to "find solutions" for suspects, he said.
This was based on the belief that everyone should be given a second chance, and that a person's rehabilitation should start from the police station, and not the prison, he said.
"To me, all of us have made mistakes one way or another. They have crossed the boundary. They have to face the music, but it doesn't mean that they are bad people," he added.
Because of this, he had taken it upon himself to talk to suspects while they were in remand to talk to the person, offer some advice and help them understand what they had done, he said.
He realised that this made a difference when a few offenders had thanked him for his deed.
On one occasion, a convict fresh out of prison stopped at the doorstep of the police station to thank him. "It really made my day. It's better than winning the first prize in the Singapore Sweep," he said.
Mr Rajoo has also sent 40 to 50 recommendations through his supervisors asking for accused persons he believes to be deserving cases to receive just a stern warning for their crime.
These are mainly youths, and the recommendations would have to be well supported with documents such as school reports, he noted.
His passion to pursue law was ignited further through the friendship he shared with a criminal lawyer, Mr BJ Lean, whom he used to meet rather regularly to engage in intellectual discussions about matters relating to the cases the lawyer was handling.
Mr Rajoo said he was inspired by the way Mr Lean, who had defended accused persons in a number of high-profile murder cases, applied the same evidence-gathering and investigation skills that he was honing to get the crucial evidence needed to get his clients' charges reduced or to have them acquitted.
Through their conversations, Mr Rajoo also found value in understanding law more deeply. 
At Mr Lean's encouragement, he went back to school at age 45 to pick up his first degree in law with the University of London under a programme offered by the Singapore Institute of Commerce.
Still, he did not envisage that he would become a practising lawyer himself, at least not until he heard that Singapore was starting a third law school at SUSS and leapt at the opportunity.
The father of two adult children aged 34 and 29 will now begin a second career at age 60, telling TODAY that he foresees himself having at least "a good 10 years" to practise law here before he retires for good.
Asked if he has a goal, he said: "It is not something like I want to be Subhas Anandan or JB Jeyaretnam. Not at this age… I really want to learn from the senior lawyers and help people out."
He added: "Sometimes it need not be a murder case. Sometimes for a simple theft or housebreaking case, if you can do a good job, it will be good."
Law school was a challenge for Mr Aadil had no legal background or foundation.   Photo: Nuria Ling / TODAY
'WALKING THE TALK'
As for Mr Aadil, the private tutor turned law graduate, he signed up for the programme after a parent of a child who was benefiting from his free tuition classes suggested to him that he would fit the bill for the type of candidate SUSS was seeking — someone with the community at heart.
Mr Aadil, who has volunteered his time teaching four days a week since 2015, read up about the course and decided to do it, as he was already thinking about how he could better help his students, who very often faced family and criminal issues.
He recalled going to class the next day telling his students: "You guys are sitting for your O-Level exams. I am also going to be taking exams. You shouldn't be having difficulty or not being able to make sacrifices here because I am also going to be together with you."
This turned out to be a powerful statement that motivated his students, seeing that their teacher was "walking the talk", he said.
Indeed, law school was a challenge for him as he had no legal background or foundation, unlike many of his classmates who were working as paralegals. 
Mr Aadil had to work twice as hard to understand terms and legal concepts, he said, pointing out that he did not know what an affidavit (a type of legal document) was in the first semester.
But he said: "The important thing for people who don't have a legal background is that you just have to persevere and do the extra work. Eventually, you will realise that it eventually makes sense (with Google as the great equaliser)." 
He added: "It is not difficult if you put in the effort, but difficult if you don't have the discipline. You must really want it." 
This is also what he wants to remind his students.
"Never give up on a dream just because it's difficult and seems overwhelming. We must always fight for what we believe in. Nothing in this world comes easy," he said.