Airport drone incursions pose a serious threat, and can be hard to stop: Experts
SINGAPORE — After two drone incursions over Changi Airport within a week, aviation observers have outlined some of the ways to tackle such airspace intrusion, but agree it is far easier to cause disruptions, than to prevent them.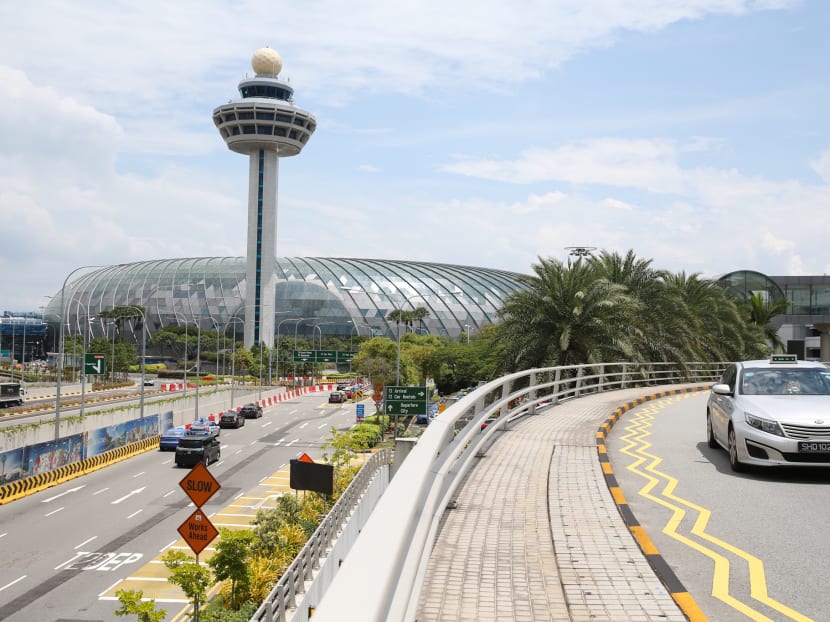 SINGAPORE — After two drone incursions over Changi Airport within a week, aviation observers have outlined some of the ways to tackle such airspace intrusion, but agree it is far easier to cause disruptions, than to prevent them.
One expert suggested that technology that creates a force-field around an airport may prove to be necessary to prevent the significant disruption that can be caused — while another said drones could even be used as part of an attack on a country's critical infrastructure.
Ms Zoe Stanley-Lockman, an associate research fellow at the S Rajaratnam School of International Studies (RSIS) said on Tuesday (June 25) that drones pose an "asymmetric" threat in that the violation of airspace is cheap and easy relative to the cost of counter-drone systems.
In January this year, Senior Minister of State for Transport Dr Lam Pin Min said in Parliament that Singapore has counter-measures to deal with safety and security threats posed by unmanned aircraft systems.
Dr Lam was responding to questions from Members of Parliament about a similar disruption at London's Gatwick Airport after a drone was sighted in December last year, causing an extensive three-day disruption to Britain's second-busiest airport.
While Dr Lam did not go into the details of what these measures are due to "security considerations", the Republic of Singapore Air Force (RSAF) showcased several anti-drone measures last year which included a "jammer gun".
When fired, it emits a signal that affects the controls of a drone.
However Ms Stanley-Lockman, whose areas of expertise include emerging technologies, said: "The problem with anti-drone guns is that they're expensive relative to the cost of deploying a commercial drone on an illegal joyride."
"The authorities at Gatwick will be the first to say that the countermeasures aren't as effective as we'd like," said Ms Stanley-Lockman.
SOME ADVOCATE ANTI-DRONE GUNS
According to a British Government report, the drone disruption at Gatwick Airport for EasyJet alone cost the airline £15 million (S$25.8 million) in passenger compensation and lost revenues, and hit 82,000 customers.
She added that in conflict zones, people have reported from the frontlines that it is "easier to shoot drones out of the sky the old-fashioned way" than with gadgets such as handheld electromagnetic anti-drone guns.
On June 18 and 19, a total of 37 flights at Changi Airport were delayed owing to unauthorised drone use, while another arriving flight was diverted to Kuala Lumpur. On June 24, about 15 departures and three arrivals were delayed, while seven other flights were diverted, owing to bad weather and unauthorised drone activity.
The Civil Aviation Authority of Singapore (CAAS) has released guidelines stipulating that the flying of drones without a permit is banned here if they are flown within 5km of airports or military airbases, or at altitudes above 61 metres.
Mr Ellis Taylor, deputy Asia editor of aviation industry website FlightGlobal, said drone disruptions of airport operations have a huge financial impact.
As a result, he said that it may be inevitable that a "force field" may be put around all airports to keep drones out by jamming their frequencies if they come within a certain radius.
"The technologies are available, and we know that they're in use with the military," he said, while noting this approach could raise some concerns.
"It might jam certain frequencies that an airline is using," said Mr Taylor. He added that some airlines themselves are using drones to inspect aircrafts.
Other solutions include ensuring that all drone manufacturers include some form of geofencing technology into their drones, said Mr Zhang Wei Liang, the founder of home-grown drone company Avetics Global.
"Some drone models inherently have this (technology) in place. So if you are flying those, it is not possible to fly within a defined no-fly zone. It will refuse to go forward," he said.
Ms Stanley-Lockman said while such an approach was useful, if "nefarious users are motivated, there will unfortunately always be a way to bypass countermeasures," such as finding ways to cover the GPS transponders with aluminium foil, for example.
She declined to comment on the intent of the drone operators in the two recent incidents in Singapore, but warned drone intrusions may be the "first step in a multi-part attack on critical infrastructure" such as airports.
"This means an unauthorised drone flight could be a diversionary tactic intended to sidetrack security forces from other potential targets," she said.
"However an attack of this complexity would be much more difficult to carry out, and is therefore far less likely than simple intrusions which require less planning and fewer resources." 
ARE TOUGHER RULES THE ANSWER?
Aside from counter-measures, another approach is to adopt tougher rules and penalties, a suggestion raised by two writers in a recent commentary for TODAY.
Dr Tan Teck Boon and Mr Nandhakumar Gunasekaran from the RSIS Science and Technology Studies Programme wrote that the penalties faced by errant drone users in Singapore are lower than in some other countries, and may not be harsh enough to deter such offenders.
In Singapore, those found guilty of operating a drone within 5km of airports or military bases or at altitudes above 61 metres without a permit face a S$20,000 fine and a one-year prison sentence, they said.
But in Britain, they said that such an offence carries an unlimited fine and a five-year sentence. In the United States, it carries a US$250,000 (S$338,500) fine and a three-year sentence.
"The penalties in Singapore are clearly lower and hence may not be harsh enough to deter errant drone operators here," they wrote.
But harsher penalties may make it harder for commercial operators such as himself to do business, said Mr Zhang.
For instance, he said that if the authorities decide to impose stricter requirements for getting permits to fly drones, it would be much harder to seal "time-sensitive" business deals.
The founder of aviation consultancy firm Reapra Aviation Partners, Mr Priveen Raj Naidu, said that even if a person had no malicious intent, they need to be aware of the serious consequences of flying a drone near an airport.
Bird strikes have been known to bring down aircraft when they get ingested into the engine. This could similarly happen with drones.
Mr Naidu said the public needs greater awareness of where they can or cannot fly.
For some hobbyists, information about the no-fly zones is inconsistent.
While Mr Zhang said that consumers are generally informed about these zones when they purchase a drone from a store in Singapore, drone enthusiast Vignaraaj Chantherakumar said this is not necessarily the case.
The 28-year-old graphic designer said not all vendors inform the buyer about these zones. This is more so when they choose the "cheaper alternative" of purchasing online.
Other enthusiasts are worried that potentially stricter regulations in the future will unfairly penalise them.
Mr Sayyid Farhan, 27, says he takes the trouble to keep himself abreast with the laws not just in Singapore, but overseas as well.
He said there is a mobile application that gives guidelines and suggestions of where operators can fly legally. He is even a member of a Whatsapp chat group that is just for like-minded enthusiasts.
"We are all just so upset that these two incidents might ruin it for us," he said.
Echoing his sentiments, 33-year-old Goh Jer Liang said: "There's no justification for endangering the lives of others just to get some good holiday footage or whatever it was they were shooting."
TODAY reached out to the CAAS for updates on the two incidents, as well as what measures they will put in place to prevent a third incident. A CAAS spokesperson declined comment, citing "ongoing investigations and operations".