All eyes on payouts as ElderShield review gets under way
Public consultation gets under way this month on ElderShield, the severe disability insurance scheme under review that Prime Minister Lee Hsien Loong has called the remaining piece to strengthen Singapore's social safety net.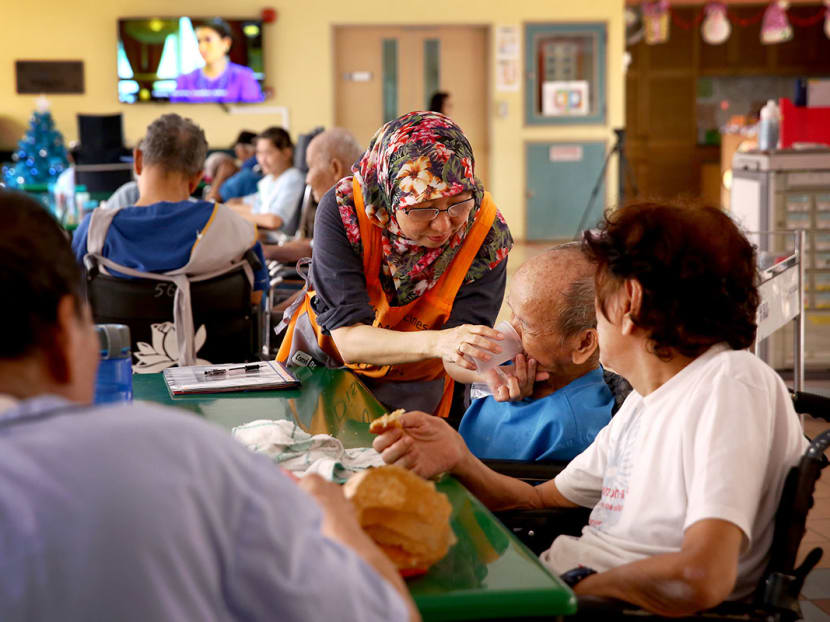 Public consultation gets under way this month on ElderShield, the severe disability insurance scheme under review that Prime Minister Lee Hsien Loong has called the remaining piece to strengthen Singapore's social safety net.
The 14-member ElderShield review committee, headed by accountancy veteran Chaly Mah, will engage individuals such as caregivers, insurers and long-term care providers as it seeks views and suggestions, and submit recommendations to the Ministry of Health (MOH) by the end of this year.
Experts TODAY spoke to said the issues that need addressing include whether to extend the scheme's payouts until the end of one's life, if the scheme should cover only severe disability, and the level of payouts that would be adequate.
ElderShield began in 2002 and pays out S$300 or S$400 a month to policyholders who cannot independently perform at least three of six activities of daily living — eating, bathing, dressing, transferring (from the chair to bed, for instance), going to the toilet, and walking or moving around. The payouts last for five or six years, depending on when policyholders joined the scheme.
All citizens and permanent residents with Medisave accounts are enrolled in ElderShield at the age of 40, unless they opt out. They are insured by one of three insurers — Aviva, Great Eastern or NTUC Income — and premiums are payable annually until the age of 65.
Someone who joins ElderShield at the age of 40 pays S$175 (males) or S$218 (females) annually in premiums.
Among the first to propose changes to ElderShield early last year was the People's Action Party Seniors Group, which is headed by Speaker of Parliament Halimah Yacob.
The group wants ElderShield — which now covers about two in three people in the applicable age group — to cover everyone.
"It excludes those who were 70 years old in 2002 as well as those with pre-existing illnesses, the very people that would really need the scheme as they are the ones who are more likely to face serious disabilities and may end up in nursing homes or day care centres," the group stated in its Budget 2016 recommendations in March last year.
As of end-2015, there were 1.2 million ElderShield policyholders aged 40 to 83, and the scheme has paid out S$90 million to about 12,400 claimants.
SOME WANT SINGLE RISK POOL, LIFELONG PAYOUTS
Instead of three private insurers, which fragments the risk pool, the PAP Seniors Group wants the Government to administer ElderShield, in the same way the Central Provident Fund Board administers MediShield Life, the national insurance plan that protects against large hospital bills.
Monthly ElderShield payouts should also keep pace with inflation, and payouts should ideally extend until the end of a policyholder's life, said the group.
There are a number of issues that should be addressed for ElderShield to be more effective in providing a stronger social safety net for the frail elderly, Mdm Halimah told TODAY via email. "As it is currently designed, it is a voluntary, short- to mid-term scheme with limited payments to supplement a frail elderly's other sources of income to cover their disabilities in old age," said Mdm Halimah, who is Member of Parliament for Marsiling-Yew Tee GRC.
Her PAP colleague and Jurong Member of Parliament, Dr Tan Wu Meng, said the ElderShield review committee should keep in mind possible changes in the model of care for seniors with severe disabilities. It should also examine if people with severe disabilities are living longer and will thus need more support in their lifetimes.
Dr Tan, who is on the Government Parliamentary Committee for Health, also said manpower constraints will affect the cost of care going forward, which could affect the proposed payout amount.
Healthcare analyst Jeremy Lim agreed that ElderShield may need to evolve to become mandatory for all, providing for lifetime benefits with the Government providing help to those with limited means.
Calling ElderShield "absolutely critical" in Singapore's overall healthcare and social support landscape, he said premiums should be priced at levels most Singaporeans can afford for a lifetime, but at the same time, payouts need to be at a level where reasonable care can be purchased without additional out-of-pocket payments.
"These objectives may not be mutually compatible and government subsidies for Singaporeans with limited means might be necessary if the policy intent is to have a scheme that provides for all Singaporeans," said Dr Lim, who leads the health and life sciences and public sector practices of consulting firm Oliver Wyman in the Asia-Pacific.
COUNTER-INTUITIVE CRITERIA?
Dr Lim is uncomfortable with three areas of the scheme's design.
"Firstly, the criteria for payouts are deliberately set high ... However, those with lesser degrees of disability may require assistance too, and it seems counter-intuitive to provide funding only when disabilities progress and become severe enough," he said.
The other two areas: "Modest" payouts not pegged to inflation, and the time cap on payouts, which imposes a "longevity risk" on individuals who live beyond the duration of payouts.
"The committee should go back to basics and ask 'What are we trying to achieve?', and then redesign the ElderShield scheme to address the needs," he said.
According to data from the MOH, about 25 per cent of claimants on ElderShield and the Interim Disability Assistance Programme outlived the period of coverage as of end-2015. The Interim Disability Assistance Programme is for lower-income Singaporeans who were not eligible to join ElderShield when it was launched, because they had exceeded the maximum entry age of 70 or had pre-existing disabilities.
On average, claimants on the two schemes receive 2.6 years of payouts. Payouts stop when a policyholder recovers from the severe disability and no longer fulfils the ElderShield claims criteria, or dies. If policyholders from the first group qualify for ElderShield claims in future, they may receive the remaining months of payouts they are eligible for.
The ministry noted that ElderShield is relatively new, with the oldest cohort that was automatically enrolled (when they were 40 in 2002) at only 54 years old today. But one in two Singaporeans who are healthy at age 65 risks having long-term disability over their lifetime, the ministry has said. About 12 per cent of Singaporeans in 2015 were aged 65 and above, and the proportion will rise to 20 per cent by 2030.
POINTERS FROM AMERICAN DATA
Previous research by academics from the Duke-NUS Medical School has projected that, by 2030, 82,968 citizens and permanent residents aged 60 and above about (7 per cent of the age group) will need help with at least one activity of daily living. Among them, over half — or 44,159 individuals — will have difficulty with three or more activities of daily living.
While Oliver Wyman's Dr Lim felt the elderly with severe disabilities are not likely, in general, to improve substantially from a clinical perspective and most would die with the level of disability, insurance economist Joelle Fong was part of a study whose findings suggested functional disability among older Americans is not necessarily chronic in nature.
Their research, published in 2015, found older Americans face a 10 per cent chance of becoming long-term-care disabled only at ages past 90. "Most people do not live that long, especially males!" said Dr Fong, senior research fellow at the Nanyang Business School's Insurance Risk and Finance Research Centre.
"So I think in our search for solutions to cover the risk of dependency and long-term-care disability, we first have to understand the nature of this risk — and in relation — the long-term-care disability experience among older Singaporeans," she said.
Dr Fong called ElderShield a necessary and important component of the health systems already in place. The review needs to focus on balancing the trade-off between enhancing scheme benefits and the increases in premiums needed to fund those added benefits, she said.
"Of course, it will allow Singaporeans greater peace of mind if coverage is lifelong rather than for a fixed term, but the crux of the question is whether persons who suffer from long-term-care disabilities really need lifelong coverage."
ElderShield claims assessment emphasises physical and functional dependence, but with the rising prevalence of dementia today, Dr Fong added: "I would also be interested to know if the revamped scheme will cater to those who have lost their mental independence and need permanent care but do not necessarily suffer from the loss of three or more activities of daily living."