Analysts don't expect private property prices to tumble, despite fall in Q1 based on prelim data
SINGAPORE — Private home prices declined in the first quarter of the year compared with the previous three months, flash estimates showed on Wednesday (April 1). But analysts say they do not expect prices to fall sharply in the coming months despite the economic slump brought about by Covid-19.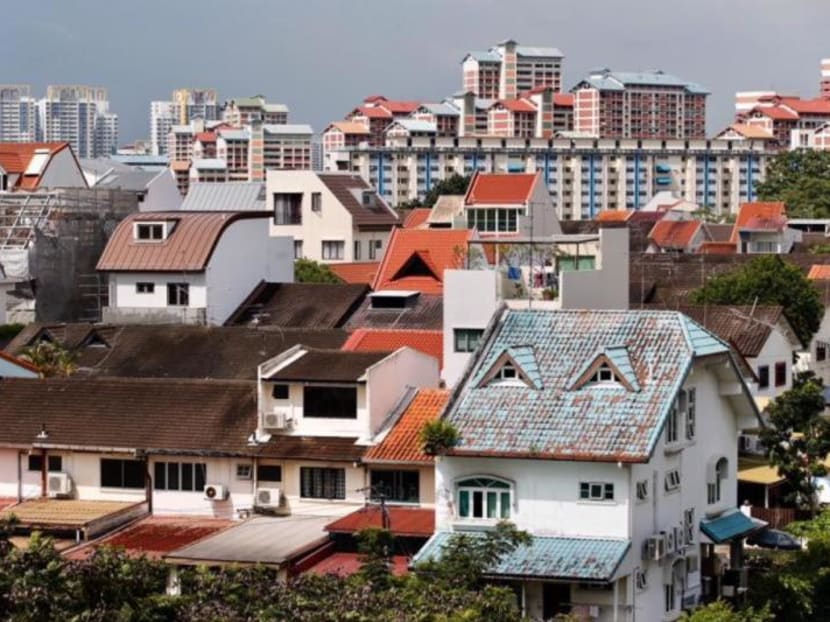 SINGAPORE — Private home prices declined in the first quarter of the year compared with the previous three months, flash estimates showed on Wednesday (April 1). But analysts say they do not expect prices to fall sharply in the coming months despite the economic slump brought about by Covid-19.
This is because the job market is still holding up, and there is also the Resilience Budget as well as new relief measures assisting homeowners with their mortgages.
The Urban Redevelopment Authority (URA) said flash estimates for the first quarter showed that prices of new and resale private homes fell 1.2 per cent from the final quarter of last year.
Already, this is a bigger drop than the 0.7-per cent contraction seen in the six months after the Government announced property cooling measures in July 2018, noted Mr Nicholas Mak, who heads the research and consultancy department  at ERA Realty.
However, Mr Wong Xiang Yang, the associate director of research at property company Cushman & Wakefield, believes that through this outbreak, prices may prove to be "more resilient as compared to previous recessions".
People unable to pay off their loans in past crises resorted to fire sales, which led to sharp falls in property prices.
During the global financial crisis of 2008, property prices fell by 24.9 per cent over four consecutive quarters.
Here is what the experts say:
1. Resilience Budget and other relief measures will help homeowners meet their loan payments
Aside from the S$48 billion Resilience Budget announced on March 26 to help businesses and households tide through the pandemic, the Monetary Authority of Singapore (MAS) launched a package of measures on Monday that, among other things, will help individuals with loan and insurance commitments.
Homeowners with residential property loans can apply to their respective bank or finance company to defer their principal or interest payment, or both, up till Dec 31.
Individuals with unsecured credit facilities from banks or other credit card issuers may also apply to their respective lender to convert their outstanding balances to term loans at a reduced rate of interest, capped at 8 per cent, compared to the 26 per cent typically charged on credit cards.
"These measures indirectly help support current prices as property owners have more breathing space to navigate any cash flow difficulties," said Mr Wong.
2. The job market is being supported
Meanwhile, the Resilience Budget should help stem job losses, Mr Wong added, which in turn will help to reduce the risk of homeowners falling behind on their loan payments.
Ms Christine Sun, OrangeTee's head of research and consultancy, agreed, saying that as long as the job market is still holding up, she is "not expecting drastic price falls in the coming months".
"The property market will likely keep afloat as long as unemployment remains low and people are able to service their mortgages," she said.
Mr Wong also said that fire sales are not expected, as unemployment rates remain relatively low and so most property owners are "not under huge pressure to sell".
3. Developers will be more pragmatic about their property launches
Developers have started to reduce the prices of their older projects and are pricing fresh launches at more attractive levels, noted property analyst Mr Ong Kah Seng.
They are also quickly releasing "star units" to draw buyers, he said.
"If the prices are lowered slightly, it will meet buyers' expectations and encourage them to make the purchase," Mr Ong said.
If prices remain high, there would be a huge decline in sales, which would be a bigger blow to the property market, he added.
Mr Ong added that strategic and seasoned developers should understand that when the economy recovers and the demand for property increases again, the prices of most remaining unsold units could still rise.
Mr Lee Sze Teck, director of research at Huttons Asia, agreed that sellers of completed homes in the mass market and landed segment would most likely accept lower profits to offload their property.
4. The policies introduced in previous years have put the market in a better position
Mr Ong said that the introduction of the Total Debt Servicing Ratio (TDSR) has put homeowners and the overall property market in a healthier position to weather the current storm.
The TDSR, implemented in 2013, sets strict borrowing limits to ensure that those who take out a loan are not over-extending themselves.
As a result, Mr Ong said, "property buyers generally still hope to keep their TDSR limits to purchase their dream property, rather than snapping up just any property".
Agreeing, Mr Wong of Cushman & Wakefield said: "Current loan curbs such as the TDSR have ensured that buyers are purchasing within their means and have likely deflated any asset price bubbles."
Mr Wong also noted that the majority of property sales over the last few years have been driven by local owner-occupiers and investors rather than foreigners, and that the majority of these local buyers are "holding for the long term".
"Foreigners face significantly higher entry costs for Singapore property market investments compared to locals due to the additional buyer's stamp duty, which has dampened foreign demand in the Singapore market as they are also able to invest in other markets elsewhere," he said.
Locals, he explained, are optimistic about the long-term prospects of Singapore's private residential market as property here is perceived to be "more stable as compared to stocks and can generate higher returns compared to bonds".