Anti-fake-news laws: What happens if you forward a false WhatsApp message?
SINGAPORE — Singapore will soon join a handful of countries with laws to tackle fake news. People found guilty of deliberately creating or spreading falsehoods face fines or jail if they run foul of the law.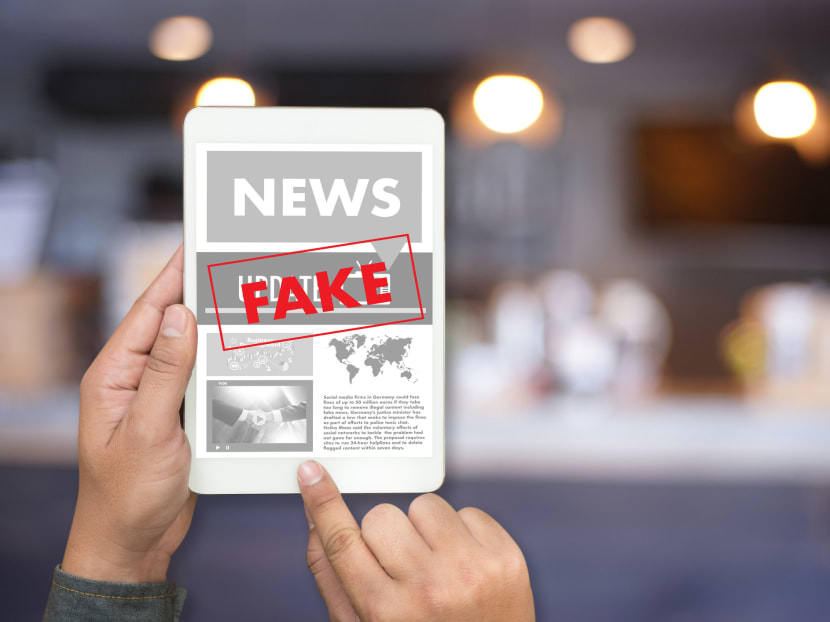 SINGAPORE — Singapore will soon join a handful of countries with laws to tackle fake news. People found guilty of deliberately creating or spreading falsehoods face fines or jail if they run foul of the law.
But what counts as a falsehood?
And will you end up in jail if you share fake news via Facebook or WhatsApp, not realising that it is false?
Here are the answers to your burning questions:
WHAT COUNTS AS A FALSEHOOD?
Under the proposed laws, a falsehood is a false or misleading statement of fact, such as a statement that distorts facts to perpetuate a different meaning.
A statement can refer to words, numbers, images (moving or otherwise), sounds or other representations, or a combination of these.
These statements — broadly defined to cover present and future communication technologies — could take the form of social media posts including those streamed live, online articles, memes, videos, photographs, phone text messages, digital advertisements, and more.
Here are several examples of statements of fact that would harm the public interest, and which would be dealt with under the law if they are indeed found to be false:
"The Singapore Government has declared war against its neighbours."

"Foreign workers have vandalised several places of worship across the country."

"A Chinese business association requires members to hire only Chinese workers."

"A bank has lost S$20 billion."
WHAT IS 'PUBLIC INTEREST'?
The Bill will deal with falsehoods that undermine the public's interest, but how is this defined?
Under the proposed laws, it would be in the public interest for the Government to act against a falsehood if that action:
Benefits the security of Singapore or any part of it.

Protects public health or finances, or secures public safety and tranquility.

Benefits Singapore's friendly ties with other countries.

Prevents any influence over the outcome of a presidential election, a general election of Members of Parliament, a by-election or a referendum.

Prevents enmity, hatred or ill-will from being stoked among different groups of people.

Prevents public confidence in the duties or powers of the Government or organs of state — comprising the executive (including the Cabinet), legislature (such as Parliament), and the judiciary (the Supreme and State Courts) — from being diminished.
WHAT'S NOT COVERED UNDER THE LAWS?
The proposed laws do not cover opinions, critical commentary, satire or parody, which means citizens can continue making their views heard.
Here are several statements of opinion that will not be covered by the laws:
"The Government is to blame for the crisis of inequality."

"The Government's recent lapses, such as the leak of confidential data of thousands diagnosed with HIV (the human immunodeficiency virus), show that standards are slipping."

"Singapore's institutions and policies are often elitist."
Speaking to reporters on Monday, Law Minister K Shanmugam said: "You can have whatever viewpoints, (however) reasonable or unreasonable. So (the proposed legislation) just deals with the false statements of fact."
WHAT HAPPENS IF YOU 'FORWARD' A FALSEHOOD?
Online users who share a post containing a falsehood may be directed to post a correction alongside the falsehood, if they have a significant reach and impact online.
They include those with several thousand followers, for instance.  
The Government will issue the correction directives, with a right of appeal to the courts.
These users will not be liable to criminal penalties if they did not generate the falsehood maliciously or intend to harm public interest.
The Bill does not define what a "significant reach" means, but TODAY understands that the test of whether it is in the public interest to post a correction will take into account the reach of the user and the falsehood, and whether the false statement is going viral.  
Mr Shanmugam said that criminal sanctions would apply only when a user knowingly puts out a falsehood that has an impact on public interest.
"Innocent sharing won't attract criminal responsibility, but in order for the correction to reach the broadest number of people to whom the original falsehoods reached, you will have to fashion a specific directive depending on the facts and circumstances," he added.
If a falsehood is making its rounds on encrypted messaging platforms such as WhatsApp, Internet platforms such as Facebook may be directed to publish a general correction to users to quash the falsehood.
WHAT CAN THE GOVT DO TO TECH GIANTS?
Under the proposed laws, the Government may direct Internet intermediaries — including social networking giants such as Facebook and Twitter — to issue a correction to users here who have accessed a falsehood or to disable user access to it, for instance.
These platforms may also be directed to publish a general correction to users.
Mr Shanmugam said that some technology firms have expressed a preference to take down a falsehood, rather than issue a correction.
"Our own preference is that, actually, leave the material there. Just have something which says, 'This is inaccurate. For the truth, go to such-and-such a place'," he said.
He added that having material taken down too often affects confidence, and corrections are a better approach.
When asked about the mechanisms in place if technology firms, especially those based overseas, fail to comply, Mr Shanmugam said that the law deals with the impact of falsehoods in Singapore, wherever the firms are based.
"Within Singapore, if the order is made, there has to be compliance. There will be sanctions for non-compliance. But of course, tech companies or anyone can challenge the order and then the courts will have to decide." 
HOW WILL THE GOVT GO AFTER PERPETRATORS OUTSIDE S'PORE?
The Government will first counter the damage inflicted here by a falsehood started overseas.
For instance, if 50 online users in Singapore who collectively reach half a million people have shared a falsehood, the authorities may ask those that are making the greatest impact to post a correction.
Alternatively, it could approach the platform on which the post is being shared, such as Facebook, and ask for a correction to be published alongside the post.
As for criminal action against those who perpetuate falsehoods, there will be limitations if they do so from outside Singapore. But action may be taken against them if they enter Singapore's jurisdiction.
Asked whether there will be a separate law guarding against foreign interference — which is not covered under the Bill — Mr Shanmugam said this is a serious issue seen across the world that must be dealt with and it is "something that's being actively thought through".
He did not provide more details.