Art Stage fair cancellation not a blip for Singapore, say experts
SINGAPORE — Gallery owners and art collectors here stressed that Singapore remains an attractive destination for art buyers, despite recent claims by Art Stage Singapore's president Lorenzo Rudolf that high costs and a "weak local market" were a barrier to staging successful art fairs.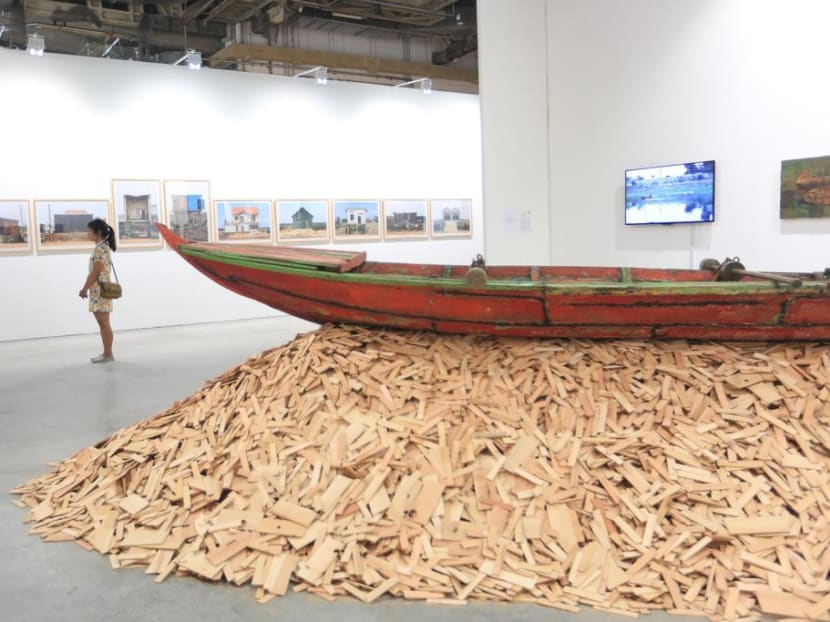 SINGAPORE — Gallery owners and art collectors here stressed that Singapore remains an attractive destination for art buyers, despite recent claims by Art Stage Singapore president Lorenzo Rudolf that high costs and a "weak local market" were a barrier to staging successful art fairs.
Following the shock cancellation of Art Stage Singapore over a week before its Jan 25 opening, Mr Rudolf cited "exorbitant prices", "unequal competition" and "cannibalism" in the art scene here as reasons for canning the major art fair.
Mr Ryan Su, 30, a lawyer and founding director of The Ryan Foundation, a non-profit organisation that promotes arts awareness, said: "Even if the market here shows signs of stagnation, Singapore's geo-political and economic position places it at the heart of South-east Asia, which comprises countries that are quickly developing."
As a result, Singapore is the "natural hub" for those interested in the arts to converge, and can serve as a platform for regional and international art, he added. 
Mr Su also cited the examples of Switzerland and the United States, which continue to host successful fairs despite the higher costs and standards of living there.
Agreeing, art collector Jimmy Chua, 61, said: "Singapore also has its own niche, a good location and excellent supporting infrastructure. Collectors (in South-east Asia), by and large, feel comfortable coming here.
"As a collector, I buy at both local and regional fairs. It doesn't matter where it is located. If you show good works, the collectors will come."
Mr Chua added that Art Stage had not "quite managed to establish itself and fulfil its potential and promise".
In a press statement and open letter to collectors, Mr Rudolf said that Art Stage was "additionally confronted with a new obstacle", which was a new art fair held at Gillman Barracks — reported to be S.E.A. Focus — during the same period. He suggested that the event had "lured" away Art Stage Singapore's potential and previous exhibitors with "low participation costs".
Organised by STPI – Creative Workshop & Gallery and supported by the National Arts Council (NAC), S.E.A. Focus offered a 35sqm booth at about S$6,300. Art Stage was charging S$26,000 onwards for a similar space.
In his letter, Mr Rudolf asked: "No new galleries and hardly any new collectors and buyers, is this the necessary incentive for the weak local market?"
However, Mr Chua said that the addition of S.E.A Focus to the arts calendar should not make a difference to Art Stage Singapore's prospects. "Look at Hong Kong. Art Basel didn't feel threatened by Art Central. There were three fairs at the same time, yet they all seemed to flourish."
ART FAIRS CANNOT BE 'ONE-NIGHT STAND'
Despite rooting for Singapore's art fair scene, gallery owners and collectors said that there has to be some innovation in order to attract new and younger collectors.
Ms Veronica Howe, 55, director and chief consultant of One East Asia gallery, said that art fairs here have become "more alike" and "predictable" in recent years, failing to draw in younger buyers. She stressed that new art fairs need to provide different offerings and establish themselves in the scene.
"The entrance of a new art fair would be good if it offers a new flavour and it cannot be just a one-night stand. It has to be consistently good for many, many years or at least five years in a row," she told TODAY.
When asked if there were too many art fairs on the calendar, Mr Su said: "The problem goes beyond saturation, instead, adequate planning should be called into question.
"Put simply, better strategy and foresight is needed for an art scene to flourish."
Citing Miami Art Week in the United States as an example, Mr Su added that art fairs were structured differently in other countries and allowed to "blossom organically and without intervention".
"The key takeaway here is that perhaps Art Stage's exit is a sign that the Singapore art scene should be allowed to grow organically, with room for fairs to come and go," he said.
COMMUNITY PITCHES IN
Following Art Stage Singapore's sudden cancellation, members of the art community have stepped in to help the affected exhibitors.
One of them is non-profit art organisation Art Outreach, which is organising a pop-up show, The ARTery, at the Marina Bay Sands Expo & Convention Centre from Jan 24 to 27 to display their works. The show is supported by the government agencies which were involved with Art Stage Singapore. They are the NAC, Singapore Tourism Board and Singapore Economic Development Board.
Art Outreach is offering Art Stage participants a 30sqm booth at S$2,000 each, with priority given to galleries that have shipped their artwork from overseas. As of noon on Monday (Jan 21), 14 exhibitors had taken up the offer.
The government agencies, which are assisting to market the pop-up show, said in a joint statement on Monday that they were glad that Art Outreach and Marina Bay Sands had stepped in to organise The ARTery at such short notice.
Plural Mag, an online art magazine here, set up a Facebook page called Art Stage SOS on Jan 16 to match artists and galleries affected by the cancellation with those that had spaces to offer. Several other galleries, commercial spaces and even homeowners have since stepped forward to offer help to the affected exhibitors.
Ms Mujia Jiang, 27, community manager of Mox, a co-working space for creative groups, said: "We know many artists are looking for space to exhibit the works they've put their time, heart and soul into, and we'd like to support in any way we can.  
"The simplest way was to offer our art gallery for showcase."