SLA acts after asbestos scare at Chip Bee homes
SINGAPORE — The roof awnings of 300-plus terrace houses at Chip Bee Gardens, near Holland Village, are being inspected for damage because the structures have been found to contain asbestos, a hazardous material that could cause lung cancer and other illnesses if its fibres are inhaled over a prolonged period.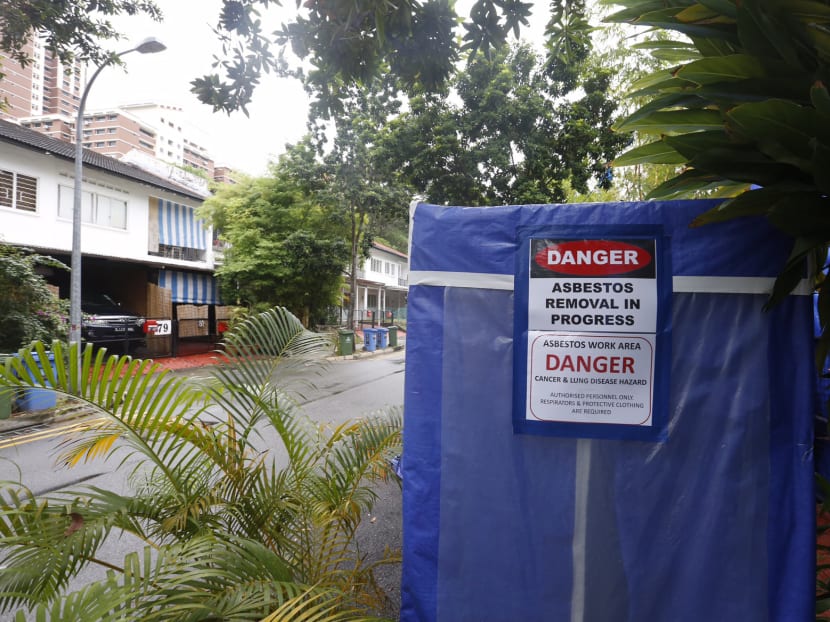 SINGAPORE — The roof awnings of more than 300 terrace houses at Chip Bee Gardens, near Holland Village, are being inspected for damage after the Singapore Land Authority (SLA) found that some of the structures contained asbestos. The hazardous material could cause lung cancer and other illnesses if its fibres are inhaled over a prolonged period. 
The matter came to light after the front awning of a vacant unit along Jalan Puteh Jerneh was reported on April 26 to be damaged. After checks, it was established that there was asbestos in the corrugated roof and the roof was removed three days later. 
Structures containing asbestos pose no risk to humans if they are intact. However, when there is damage or disturbance — such as sawing and cutting — fibres may be released into the air and inhaled.
So far, about 110 of the terrace houses in Chip Bee Gardens have been inspected. Based on preliminary findings, 20 per cent of these units have substantial cracks or damage to their roof awnings and need to be replaced. Another 70 per cent were found to have less serious damage that can be rectified in the interim by encapsulation, or painting over the cracks with a sealant. 
The remaining 10 per cent of the units inspected are assessed to be in good condition, with no work required. 
In a statement on Monday (June 6), SLA director of Land Operations (Private) Division Lee Seng Lai said: "SLA plans to progressively replace all affected roof awnings at the estate. It is our priority to ensure that all works are carried out safely and in accordance with Ministry of Manpower (MOM) guidelines."
MOM regulates asbestos removals, requiring approved contractors to submit its workplans and the work area to be properly enclosed to prevent asbestos fibres from becoming airborne. Tenants have to move out during replacements, which take about two or three days per unit, depending on weather conditions. Rent will be waived for these days.
SLA has alerted all Chip Bee Gardens tenants of the issue and told them to check for cracks or damage to their roof awnings. Twenty-six of the terrace houses at Chip Bee Gardens are not affected because their awnings use clay tiles. The inspections are expected to be completed by mid-July, but repairs and replacements are ongoing concurrently.
When TODAY visited the estate on Monday, some residents expressed concern about the health effects, especially on the young children in the area.
Longtime resident Ms June Hussein, 45, who works from home, said she is staying indoors a lot more now instead of using the outdoor terrace area, as her roof has not been assessed. However, she was more worried for the many small children in the estate who often play outside, she said.
Residents are also concerned if the roof awnings will be safely removed to prevent asbestos from leaking into the environment, said Ms Marisa Howie, 39, who co-organised a meeting of about 20 to 30 residents on the issue early last month. "The removal process is the most worrying for everyone," she said.
The homemaker said she would avoid her house for a few days if the roof awnings in her street were being replaced.
Ms Howie said SLA should share more information on the handling of the matter, especially on the schedule for roof awning replacement. "We had a meeting with SLA where they said they would communicate whose houses' (roof awnings) were being done, but so far they're not communicating very well," she said. "When it happens, then we can choose not to be there, cycling in that street," she added.
Also calling for more information from SLA, Ms Megha Tanwar, 36, said she was not taking any precautions as she did not know if her roof awning was affected. Mr Gabriel Ho, 45, however, played down any concerns. He added that he has not seen a trend of longtime residents having health problems.
The use of asbestos increased greatly since World War II, but from the 1970s onwards, the United States progressively banned it in industries. The move gained momentum internationally in the 1980s and 1990s and now many countries at least partially bans its use.
In Singapore, asbestos was banned from use in building materials in 1989. But before that, it was commonly used — such as for corrugated roofs, ceiling boards, floor tiling and partition walls — because the natural, fibrous mineral has high tensile strength and good heat and fire resistance.
The Chip Bee Gardens houses were built in the 1960s and are now managed by SLA, which rents them out. Of the 349 terrace houses in Chip Bee Gardens, 268 are currently tenanted. SLA also manages another 40 apartments and 20 retail shops in the area, including where eateries such as Da Paolo PizzaBar and Sunday Folks are.
The last time something similar happened with state-owned properties was in 2012, when four vacant units at Hume Heights were found to have materials containing asbestos. They have been replaced. On average, there are about 200 cases of asbestos removal each year, according to MOM figures. ADDITIONAL REPORTING BY REGINA LEE AND ILIYAS JUANDA