A*Star scientists find new way to tackle drug-resistant tuberculosis
SINGAPORE — A group of scientists from the Agency of Science, Technology and Research (A*Star) has developed a new way to combat drug-resistant tuberculosis that will cut down the dependence on antibiotics in treating the disease.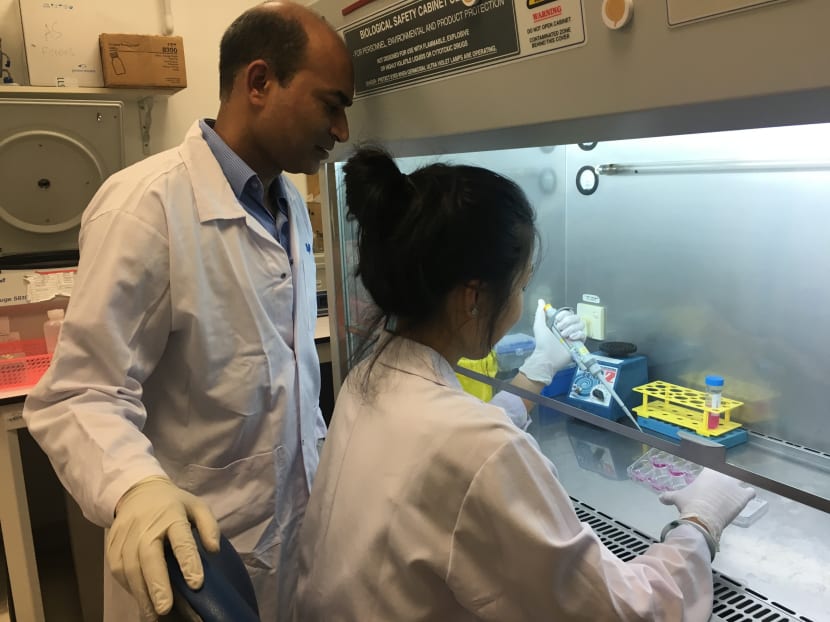 SINGAPORE — A group of scientists from the Agency of Science, Technology and Research (A*Star) has developed a new way to combat drug-resistant tuberculosis that will cut down the dependence on antibiotics in treating the disease.
The problem of antimicrobial resistance has been in the news this month, as the Government launched a national strategy to address the misuse of antibiotics.
The researchers said that rather than targeting tuberculosis bacteria with a whole range of strong antibiotics, doctors may soon be able to use a different drug, or even nutritional supplements, to boost patients' immune systems, instead of relying heavily on antibiotics.
Dr Amit Singhal, principal investigator with A*Star's Singapore Immunology Network, said that the challenge in treating tuberculosis is the length of time that a patient has to stay on antibiotics to kill off all the bacteria.
"Patient compliance is an issue. The tuberculosis regimen is at least six months, which is very long, so some patients get lazy and don't take their antibiotics when they start feeling better after, say, two months," he added.
However, not all the active bacteria will have died by then, and these remaining germs can then adapt and become drug-resistant.
With the new approach to treating tuberculosis, Dr Singhal and his team hope to cut the length of treatment to four months.
This means more patients would be compelled to finish their course of antibiotics, which would lead to less emergence of drug-resistant tuberculosis strains, he added.
Drug-resistant tuberculosis has become a global public health crisis.
The World Health Organization (WHO) reported that every year, about 480,000 people develop multi-drug resistant tuberculosis — which means they do not respond to at least two of the most powerful first-line anti-tuberculosis medications.
Just last year, a multi-drug resistant tuberculosis strain emerged in Singapore, when six people contracted it in a public housing block in Ang Mo Kio.
Dr Singhal noted that while the number of drug-resistant tuberculosis cases in Singapore remains low — fewer than 30 a year — there would be an "inevitable" increase over the next few years.
This follows the global trend, as well as the 22 per cent increase in the number of tuberculosis cases in Singapore over the past decade, as shown by statistics from the Health Ministry.
Tuberculosis remains one of the world's most deadly infectious diseases, ranking among the top 10 causes of deaths worldwide.
WHO estimates showed that 10.4 million people fell ill with tuberculosis, and 1.7 million died from it in 2016.
The disease has been treated since the 1950s with a combination of three antibiotics. In the early years, it was believed to be eradicated. However, the global overuse of antibiotics has caused many bacteria, including those responsible for tuberculosis, to become resistant to the drugs used to kill them — what is known as antimicrobial resistance.
ENZYME MAKES BACTERIA EAT THEMSELVES
Dr Singhal, who leads the team of six scientists, has been studying novel ways of treating drug-resistant tuberculosis for the past five years or so.
The team discovered that sirtuin-1, an enzyme known to regulate metabolic function in the body, stops the growth of tuberculosis bacteria during active infections. It does this by inducing the bacteria to devour themselves, in a process called autophagy.
The team also discovered that nutritional supplements, which contain natural compounds found in grape skins and red wine, can activate sirtuin-1. These supplements are more commonly taken by people in western countries for anti-ageing purposes, Dr Singhal said.
Another new form of treatment involves a drug called metformin, known to treat Type-2 diabetes. Metformin activates a "buddy" enzyme that works in tandem with sirtuin-1, boosting the immune system.
The researchers also found that sirtuin-1 enhances the effectiveness of standard antibiotics used to treat tuberculosis.
If patients take metformin or these supplements together with antibiotics, it will hopefully shorten the standard length of tuberculosis treatment to four months.
Starting next year, the A*Star team will be holding three human clinical trials in India, South Africa and Singapore. The trials will determine the amount of metformin needed to effectively target drug-resistant tuberculosis.
While the team waits for funding for the Singapore trial, it has reached out to Tan Tock Seng Hospital, and 300 of its tuberculosis patients are set to take part in the four-year trial.
The researchers have also filed an international patent and are exploring collaboration opportunities with major pharmaceutical company GlaxoSmithKline.
In the long term, the team hopes to explore whether this new approach can potentially be used to treat other infectious diseases such as malaria, dengue and Chikungunya, which are spread by mosquitoes.