Auxiliary policeman jailed 9 weeks after firing live round from gun in public toilet
SINGAPORE — While sitting on the toilet and mulling over his financial situation, auxiliary police officer Goh Ze Lin fiddled with his loaded revolver.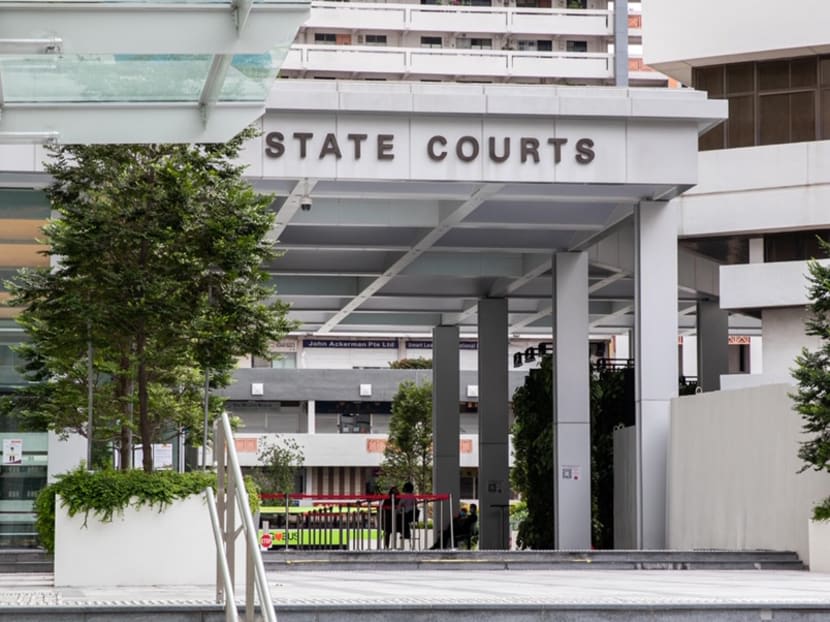 Goh Ze Lin, 36, deliberately pulled the trigger of a gun while alone in a toilet cubicle
The Certis Cisco auxiliary police officer was thinking about his financial matters at that moment
No one was injured though two people had entered the toilet
He did not have any mental disorder and a psychiatrist said he was experiencing a "transient situational reaction"
SINGAPORE — While sitting on the toilet and mulling over his financial situation, auxiliary police officer Goh Ze Lin fiddled with his loaded revolver. 
He then pulled the trigger, firing a single bullet that struck the floor.
The 36-year-old Malaysian pleaded guilty on Friday (March 11) to committing a rash act that endangered human life. He was jailed for nine weeks.
His employment with Certis Cisco has since been terminated.
The court heard that the incident happened on Jan 8 last year, when Goh was deployed alone for auxiliary policing duties at an OCBC bank branch at HarbourFront Centre mall.
He was issued with a Taurus 85 revolver loaded with five 0.38-inch live rounds for his duties, and another five spare rounds in a speed loader.
Deputy Public Prosecutor (DPP) Gail Wong told the court that the effective range for this type of ammunition was 46 metres, and the gun can be expected to be "accurate and potentially lethal" within this range.
At about 11.45am, Goh left his duty post for the men's toilet at the second level of the mall. He entered a cubicle, removed his utility belt containing the loaded revolver and placed it on the floor in front of him.
While sitting on the toilet bowl, he drew the gun from its holster and fiddled with it.
DPP Wong said: "The accused was trained and certified to handle and use the revolver and knew that officers were not to draw or use their revolvers without threat.
"There was no threat of any kind at the material time and the accused knew that he had no reason to draw or use the loaded revolver."
As he thought about his financial matters, Goh rashly squeezed the trigger and discharged a single round that hit the floor, causing a small indentation to a tile. No one was injured.
A report stated that Goh had "deliberately pulled the revolver with sufficient pressure and/or cocked the hammer, to discharge the live round". All parts and mechanisms of the gun were in good working condition with no defects found.
He did not pay attention as to whether there was anyone in the toilet at the time, DPP Wong added.
Between the time Goh entered the toilet and the time he informed his operations manager about what he had done five minutes after the shooting, two people had entered and left the toilet.
The manager advised him to remain where he was and wait for the police.
When Goh was examined at the Institute of Mental Health the day after the incident, a psychiatrist did not diagnose him with any mental disorder but stated that he had a "transient situational reaction".
'ABSOLUTELY NO REASON'
DPP Wong sought 10 weeks' jail, arguing that the bullet could have ricocheted and hit either Goh or other persons using the toilet, which had at least two cubicles and two urinals.
Nevertheless, the prosecutor said that significant mitigating weight should be given to his early plea of guilt, remorse and his alerting his employer almost immediately.
Goh's defence counsel, Mr Riko Isaac, said that his client was extremely remorseful and now works as a storekeeper to maintain his daily expenses. He also could not see beyond the closed door of his cubicle at the time, the lawyer added.
Principal District Judge Victor Yeo told Goh that as an auxiliary police officer, he had to be aware of the danger and risks of a discharged firearm. There was "absolutely no reason" for him to draw a loaded revolver and discharge a round in an enclosed public space, the judge added.
Goh could have been jailed for up to six months or fined up to S$2,500, or punished with both.