Aviva lays down marker: Private hospital IP top-up premiums up 10% to 25%
SINGAPORE — Less than three weeks after a moratorium was lifted, insurance firm Aviva has become the first provider to publish a set of higher premiums for one of its Integrated Shield plans (IPs).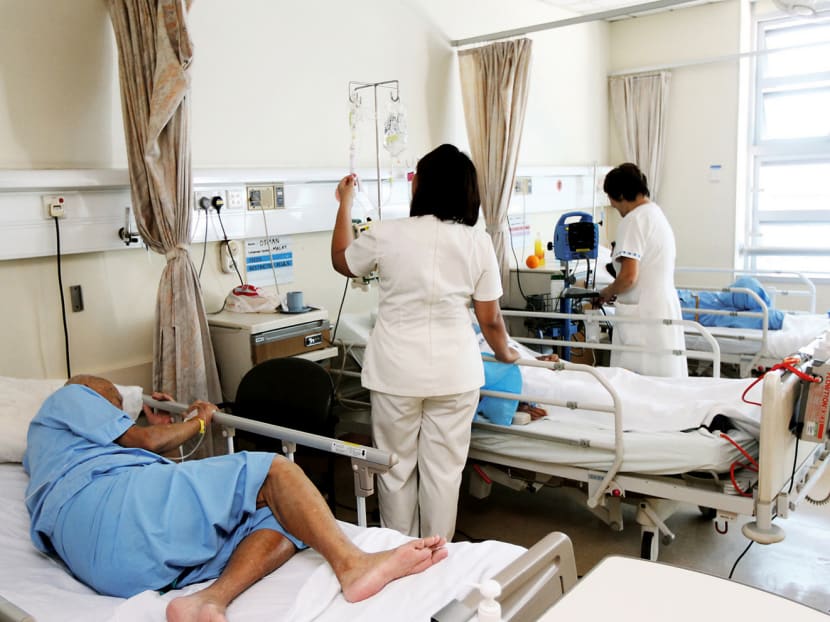 SINGAPORE — Less than three weeks after a moratorium was lifted, insurance firm Aviva has become the first provider to publish a set of higher premiums for one of its Integrated Shield plans (IPs).
Premiums for the top-up portion of Aviva's private hospital IP — MyShield Plan 1 — have increased by 10 to 25 per cent, while those for its IPs catered to stays in the A and B1 class wards of public hospitals were unchanged.
Previously, the private-insurance (or top-up) portion of MyShield Plan 1 premiums ranged from S$148.37 to S$7,292.60 a year.
With the hike, the range goes up to between S$171 and S$8,022 a year. For MyShield Plan 1 policyholders aged 21 to 30, private-insurance premiums will increase by 15 per cent to S$192 per year while for those aged 31 to 50, premiums will go up by 25 per cent. Those aged 46 to 50 on their next birthday will pay S$725 for the private-insurance portion of their IPs, up from S$580 previously.
IPs offer private-insurance coverage on top of MediShield Life, which is provided by the government. MediShield Life is a basic hospitalisation plan that covers stays in lower-class (B2 or C) wards in public hospitals, while IP benefits are tailored to cover stays in B1 or A wards of public hospitals, or private hospitals.
Two in three residents here — or about 2.5 million people — have IPs, and insurers had pledged to freeze IP premiums in the first year of MediShield Life, which was rolled out in November last year.
Since an industry-led task force warned last month that current levels of IP premiums were unsustainable, the writing had been on the wall that IP premiums would increase. Aviva and Prudential were tipped to increase their premiums this month.
A study done by the Life Insurance Association, released last month, had shown that overall bill sizes for private hospitals were growing at a much faster pace than public hospitals — between 2012 and 2014, the rate for private hospitals was 8.7 per cent per year, while that for public hospitals was 0.6 per cent per year.
Last month, Aviva had pointed to the Life Insurance Association's claims data showing that the cost of claims for private hospital IPs had increased by 15 per cent annually because of increases in average bill sizes and incidence rates (the frequency of medical treatment).
"Given that IP premiums are dependent on claims experience, it is unsustainable for insurers to maintain the same premium rates if this continues in the long term," Ms Lee How Teck, chief operating officer of Aviva Singapore, had said.
Tanjong Pagar GRC Member of Parliament Dr Chia Shi-lu, who chairs the Government Parliamentary Committee for Health, noted that the increases are for one segment of the healthcare market, namely private healthcare.
"Patients will have to think very carefully whether they really want to pay for medical care at this level, when there are equally good alternatives in the public healthcare sector," he said.
Costs in public healthcare have been "quite well managed", he added.
Financial consultant Wilfred Ling said a 57-year-old client on Aviva's MyShield Plan 1 asked him on Wednesday for advice on what she should do. The woman's policy is up for renewal next June and she can afford the increase in premiums for now, but was worried about future increases.
Mr Ling anticipates more queries from clients and said he would assess their needs and hospital preferences.
But there are still many policyholders who do not read invoices carefully, especially if funds are drawn from their Medisave accounts or using Giro, he said.
IP policyholders such as Mr Lionel Ho said they would consider downgrading their plans if premiums become too costly.
Mr Ho said his family's AIA plans cover stays in private hospitals. A father of two children aged seven and nine, he said he spends S$200 to S$300 a month on premiums for his family of four.
Mr Ho, 48, a manager in the construction industry, said no one in his family has ever made an IP claim, and that he had purchased the plans based on recommendations by his agent.
On whether Aviva's premium increases for MyShield Plan 1 could set the tone for other insurers, Dr Chia said it is a commercial decision made by each company at the end of the day, depending on its business model and calculations and claims experience. The pool of policyholders differs from insurer to insurer, he added.
"The reason why we see these big increases, is that we haven't managed to control costs under demand or costs (of treatment) so far. If we can address the root problem, then we won't have such high probability of increases, and increases will be of smaller quantum. So we should maybe focus on that," said Dr Chia, who noted recommendations made by the task force that included having medical fee benchmarks, and encouraging insurers to design products that curb tendencies to overconsume healthcare.
Consumers should also stay healthy and be circumspect in the way they use insurance, he said.