Be wary of 'low tech' threats, even as disruptive new technologies dominate headlines: Peter Ho
SINGAPORE – Even as the latest technological disruptions dominate the headlines, governments must not neglect the dangers posed by "low tech" threats that can wreak great damage when used imaginatively, warned former head of the civil service Peter Ho.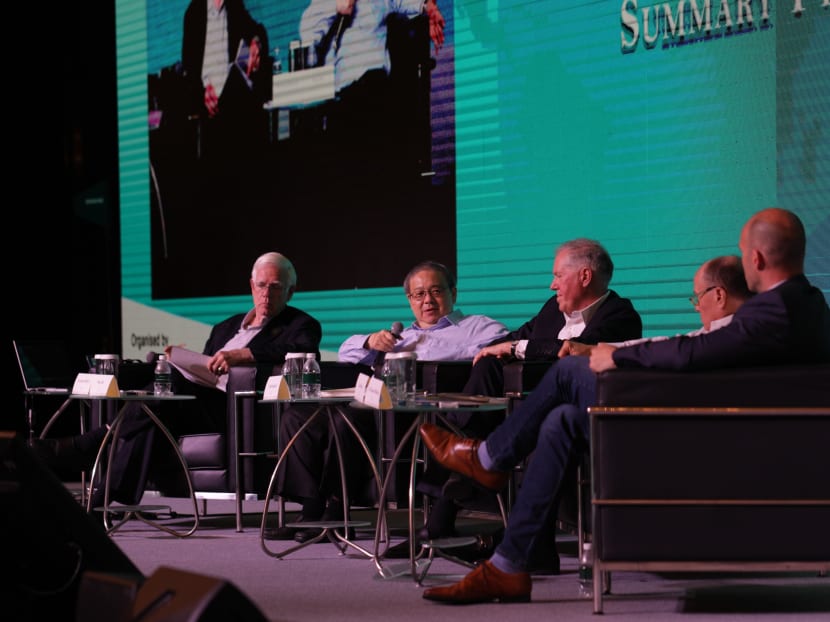 SINGAPORE – Even as the latest technological disruptions dominate the headlines, governments must not neglect the dangers posed by "low tech" threats that can wreak great damage when used imaginatively, warned former head of the civil service Peter Ho.
The September 11 terrorist attacks in 2001, for instance, demonstrated how civilian technology – the jetliner – could be used to "disrupt global balance in a terrible and fundamental way", said Mr Ho, currently a senior advisor at Singapore's Centre for Strategic Futures.
In January, rebels deployed a swarm of home-made drones to attack two Russian military bases in Syria.
And in the ongoing Israeli-Palestinian conflict, militants have turned kites with burning tails, balloons attached to fuel-soaked cloth strips and even flaming condoms into potent weapons.
Launched from the Gaza Strip and blown by the wind to land inside Israeli territory, these flaming kites and balloons have caused serious fires in recent weeks – sparking what has been called the "Kite Wars".
"Necessity, as they say, is the mother of invention, and imagination is more important than technology itself," Mr Ho said at the summary panel of the inaugural Singapore Defence Technology Summit at the Shangri-La Hotel on Friday (June 29).
Even as policy makers worry about cyber warfare and the latest technological disruptions, low tech threats can still pose "left field surprises", he added.
Mr Ho noted that it was not unusual for people to get wildly excited over a new technology, only to forget about it or dismiss its impact over time.
This phenomenon is sometimes referred to as "Amara's Law", coined by American computer scientist and researcher Roy Amara, where one tends to overestimate the effects of a new technology in the short run and underestimate its impact in the long run.
The danger lies in the switch between the two mindsets, as that is typically the "inflection point" where a particular technology becomes "ubiquitous and disruptive", cautioned Mr Ho.
The "only sensible approach is to be wary of the initial hype", he added.
Another speaker at the summit pointed out that policymakers should also consider the polarising effects of disruptive technologies, which could put the less skilled or educated out of jobs, adding to tensions in society.
"The problem we have to fix is economic, and that has as much do with defence, as it has to do with building a safe and secure society," said Dr Thomas Philbeck, head of science and technology studies at the World Economic Forum in Switzerland.
SUMMIT COULD BE HELD EVERY 2 YEARS DUE TO POPULAR DEMAND
Buoyed by the success of the inaugural edition this year, the Singapore Defence Technology Summit could be held once every two years going forward, the organisers said on Friday (June 29).
Organised by the Defence Science and Technology Agency, the summit covered discussions on key drivers of change in unmanned technologies, big data, cybersecurity, and artificial intelligence, among others. 
On Friday, the Republic's permanent secretary for defence development Neo Kian Hong gave a media interview to wrap up the three-day summit. 
Mr Neo acknowledged that there are many summits and conferences held around the world, including the annual Shangri-La Dialogue in Singapore which focuses on defence and security issues. However, there is still a gap in discussions on technology, and defence technology in particular. 
Noting that Asia is an emerging force in defence technology, Mr Neo pointed out that traditionally, in this field, governments and private sector organisations would stay in their own silos.
"Because things have merged, we say, why do we not bring the people together so you are really learning what is happening all around the world," he added.
With a strong turnout of some 400 delegates — consisting leading thought leaders, policy makers, chief executive officers and chief technology officers — "you can tell straight away that there is buzz and excitement", he said.
In fact, the summit proved so popular that organisers had to "turn some people away", he added.
On Thursday, Prime Minister Lee Hsien Loong met with the summit's key speakers. During the meeting, artificial intelligence (AI) and cyber security were among the top issues discussed.
For example, they went into the "details of how exactly (AI) is going to be used", such as in the healthcare sector. They also talked about how data can be secured in the face of cyber security threats.
Several delegates gave positive feedback on the event, which they felt was useful in bringing together different expertise and organisations.
Dr Hong Won-Pyo, president and CEO of Samsung SDS, said he was "very impressed" with the organisation of the summit, among other things. "I found this summit to be very valuable", he added.
Vice Admiral Arie Jan de Waard, the Netherlands' National Armaments Director, added: "It showed us that the new innovations, the disruptive technologies and the 4th Industrial Revolution will affect defence in many, many ways."