Beekeeper petitioning for bees to be protected by law, but some say suggestion may not be practical
SINGAPORE — Concerned that the local bee population is under threat, a Singaporean beekeeper has launched a petition seeking to have the pollinators protected by law, though a scientist and the National Parks Board (NParks) do not believe this is the case yet.
Singaporean beekeeper Xavier Tan is concerned that the local bee population is under threat
He created a petition in hopes of having the pollinators protected by law, and more provisions provided to cater to their existence
Some said implementing the suggestions may not be practical, while others said the local bee population is not under threat
Mr Tan questions how many bees need to die before they are considered worth protecting
SINGAPORE — Concerned that the local bee population is under threat, a Singaporean beekeeper has launched a petition seeking to have the pollinators protected by law, though a scientist and the National Parks Board (NParks) do not believe this is the case yet.
Worldwide, the essential insects are not faring well. An article from the National Geographic published in January this year cited a study that said the number of bee species reported in the wild has declined globally.
The sharpest decrease occurred between 2006 and 2015, with roughly 25 per cent fewer species spotted, said the article.
In his petition, which was created on Nov 10, Mr Xavier Tan described bees as a "keystone species" whose existence has a "great effect on all other living things, including mankind".
Yet, in spite of that, he said they have yet to be included among a list of protected species under the Protected Wildlife Species Rule 2020, a schedule under the Wildlife Act.
"As bees are so important to the ecosystem as compared to some other living things in the protection list, it only makes sense to include Anthophila as the top species to be protected," wrote Mr Tan, 55.
He is the founder and owner of Nutrinest, a one-man operation in Singapore that conducts educational workshops, humane bee removal and beekeeping.
Mr Tan also addressed Minister for National Development Desmond Lee, Member of Parliament (MP) for Nee Soon Group Representation Constituency Louis Ng and members of NParks in his petition, and asked them to consider implementing three other changes.
Mr Ng had introduced amendments to the Wild Animals and Birds Act — since renamed the Wildlife Act — in a private member's Bill in March last year.
Aside from having bees protected by law, Mr Tan's second suggestion is to prohibit the extermination of bees and to replace it with a "humane beehive removal method".
Mr Tan told TODAY separately that he was willing to teach pest control companies how to relocate hives safely.
His third suggestion on the petition is to clearly list the criteria under the Wildlife Act for exceptional cases in which a beehive has to be exterminated.
Finally, he urged the authorities to identify spaces within the over 200 hectares which the authorities are setting aside for nature parks, as part of the Green Plan, for beekeeping.
As of Nov 26, Mr Tan's petition has garnered more than 790 signatures, and he hopes to submit his petition to the authorities in December once he has finalised some details.
'AWARE OF PETITION'
Mr Ryan Lee, NPark's group director for the National Biodiversity Centre, told TODAY that they were aware of the petition and were in conversation with Mr Tan to share their conservation considerations and efforts.
He said invertebrates not designated as protected wildlife species have been exempted from the restriction against killing, trapping and taking without approval under the Wildlife Act.
"This ensures that the Act does not overly regulate innocuous behaviour such as the catching of common insects or the killing of common pests, like cockroaches and houseflies," he said.
To determine the protected wildlife species, Mr Lee said NParks considers whether a species is locally and globally threatened by taking reference from sources such as the Convention on International Trade in Endangered Species of Wild Fauna and Flora Appendices and the Singapore Red Data Book.
Mr Ng the MP told TODAY the idea behind the list of protected animals was to first "start small and slowly build it up, working together with nature groups on what else to include".
Be that as it may, Mr Lee said that of the 133 species of bees in Singapore, there are four main species that are regularly removed in areas under NParks' management.
"These four species are all honey bees that readily sting in swarms when disturbed at their hives," he said.
Mr Lee said the hives will be removed for public safety if found in publicly accessible areas under its care, otherwise they will be left alone.
RIGHT SPIRIT, BUT IMPRACTICAL
Assistant Professor John Ascher from the National University of Singapore's department of biological sciences said should the bee population in Singapore decline, it would be not only bad for the reproduction of native plants, but also for Singapore's food goals due to lower yields.
"However, there is no reason to think that such a drop would occur," said Asst Prof Ascher, whose research includes the ecology of bees.
Based on his own research on the native bee population, Asst Prof Ascher said that some bee species are endangered but not any of the four local Apis honey bees.
The melittologist said that the apis cerana — the most abundant and widespread bee species found across Singapore — and apis florea are the two bee species that are usually exterminated or removed, and neither are threatened.
Touching on Mr Tan's petition, Asst Prof Ascher said it was "misleading" to use the term Anthophila in the title as it comprises over 20,000 bee species globally.
"As with birds or reptiles, it may be unhelpful to overly generalise about or apply regulations across an entire group," he said.
And while animal rights and biodiversity protection are important ethical issues to consider, Assoc Prof Ascher said there could be other distinct concerns such as public safety.
He cited an example of how a pest control officer was stung to death in 2014 by a swarm of giant honey bees.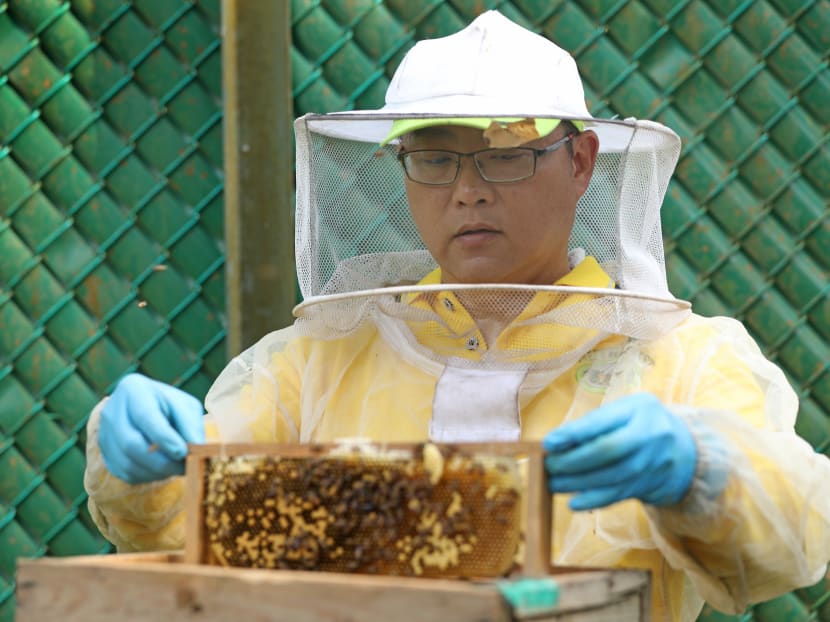 Some pest control companies told TODAY that while Mr Tan's suggestions come from the right place, there were some factors he may not have considered.
Mr Elric Tan, a project manager with Origin Exterminators — one of the few pest control companies that offer beehive relocation options — said it can be challenging doing so for several reasons.
For instance, he said they sometimes get requests to deal with beehives from factory owners, and they are not able to shut down operations just for them to relocate the hives — a process that can take several hours.
And even then, there is also the matter of where to locate the hives. At present, he said they are transported to the Bee Amazed Garden at Lorong Chencharu, but it has a limited capacity.
"And what if we unintentionally kill bees by fogging if they are protected by the Wildlife Act?" he asked.
Ms Lily Lim, the managing director of Aardwolf Pestkare, added that there are also situations where extermination is needed, such as when a hive is too big or its presence might put children in danger.
TODAY has sought additional comments from the Singapore Pest Management Control Association.
'HOW MANY MUST WE KILL?'
Mr Tan, the beekeeper, had a response for most of the concerns.
On the time required to remove the hives, he said he has done it in 15 minutes and that it is generally a matter of being able to identify and capture the hive's queen.
He added that operations can also be carried out after hours.
Based on his own experience with his own beehives, he said fogging will only kill bees if it is done "very close to the hives".
On where to place relocated hives, he suggested that aside from his own apiaries, they could be located in forested areas that are generally off limits to the public.
In any case, Mr Tan said Singapore's "city in nature" goals may inadvertently put the public in greater conflict with bee colonies and increase the calls for them to be exterminated.
As such, he said it would be better to figure out how to deal with them humanely sooner rather than later.
On Assoc Prof Ascher's point that Anthophila might be too broad a term, Mr Tan conceded and said he would welcome an opportunity to work with the scientist to narrow down which species to conserve.
Still, Mr Tan said the logic of not protecting bees because they are abundant now does not make sense to him.
"How many do we have to kill before they are no longer abundant?"