Ben Davis won't give up Fulham dream, may forgo S'pore citizenship if NS deferment appeal rejected: Dad
SINGAPORE — It is a once in a lifetime opportunity that young footballers can only dream of, and Mr Harvey Davis is not about to let the chance to play for English Premier League club Fulham FC slip by for his 17-year-old son Ben.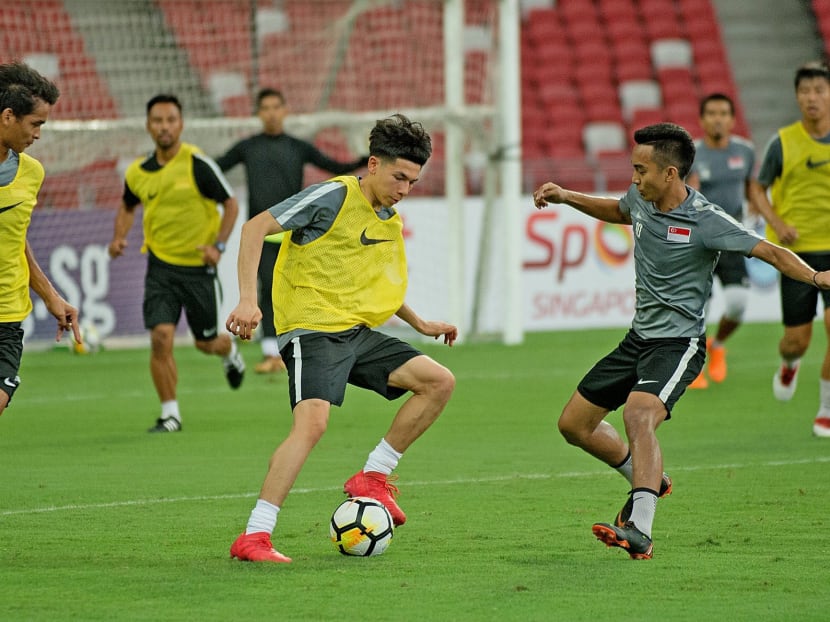 SINGAPORE — It is a once in a lifetime opportunity that young footballers can only dream of, and Mr Harvey Davis is not about to let the chance to play for English Premier League club Fulham FC slip by for his 17-year-old son Ben.
While he remains hopeful that Ben will be able to defer his National Service (NS) pending an appeal, he told TODAY that the family is prepared to allow him to renounce his Singaporean citizenship in order to fulfil his footballing dreams.
Should Ben give up his citizenship, he would be eligible to play for England or Thailand according to Fifa's rules, as Mr Davis is originally from the United Kingdom and his mother is Thai.
"I'm still hopeful that with the Football Association of Singapore's (FAS) support for the appeal, and with the sentiment that the public are expressing, that will help," said Mr Davis, who runs the JSSL Arsenal Soccer School here, on Monday (July 16).
"At the end of the day, as a parent, I have to do what is best for my son. It's (giving up Singaporean citizenship) not something we want to consider.
"If we have no choice, and we find ourselves in that situation, I don't think it's a choice we will make lightly...either that or we have to ask our son to give up his dream."
When contacted, Fulham FC declined comment.
Ben's case has been a hotly discussed issue among Singaporeans since it was reported last week, and an online petition to Mindef supporting his NS deferment has since drawn more than 6,200 signatures as of Monday afternoon.
In June, Ben inked a two-year professional contract with Fulham, which was recently promoted to the Premier League. The teenager, who was born in Thailand, received his Singaporean citizenship in 2009 and competed last year in the Asean Football Federation U-18 Championships and the Asian Football Confederation U-19 Championships.
He was recently called up to the Singapore national team for a friendly against Maldives.
However, the London-based teenager, who is studying at Harrow High School while training with Fulham's academy, is due to enlist in NS in December.
His application for long-term NS deferment was turned down in June, and the Ministry of Defence (Mindef) said in a statement on Sunday that it was not approved as Ben "does not meet the criteria".
The ministry reiterated that deferments for sports are granted only for athletes who compete in international competitions such as the Olympic Games, and are potential medal winners for Singapore.
Only three athletes – national swimmers Joseph Schooling and Quah Zheng Wen, and sailor Maximillian Soh – have been granted long-term NS deferment.
Parent of boys who are studying overseas for two years or more have to fork out a bond of S$75,000 or an amount equivalent to half the combined annual income of both parents, depending on whichever is higher.
Ben's parents will have to forfeit their bond if he decides to renounce his citizenship, and he could face harsh penalties for defaulting if he returns to Singapore.
An average of 12 NS defaulters are charged a year in court, and the High Court ruled in April last year that the worst category of NS defaulters – those who do not serve their obligations at all – will face close to the maximum of three years' jail.
DECISION 'NOT TAKEN LIGHTLY'
Stressing that it is not a decision that the family takes lightly, Mr Davis, 49, said they have been "very clear and transparent with the authorities" when Ben was offered the scholarship with Fulham two years ago.
He added: "Everything that we were asked to do, he's done to show his commitment to represent Singapore. He's proud of his Eurasian heritage …he studied in Singapore and he's part of a Singapore product.
"Asking a 17-year-old to make that decision, it's not an easy decision. I read comments (online) saying he can come back after two years, but speak to anyone in a football academy…you take two years out of their lives, the football's not going to happen. These are two, three, four critical years in a sportsman's life."
Mr Davis, whose three sons are aged 16 to 22, said that his eldest son had served NS, and he plans for his youngest – who plays for Tampines JSSL – to follow suit.
Noting that Ben's appeal was "very much in the hands of the FAS", he is hopeful that authorities will allow his son to pursue his footballing dreams. He had also previously met with the Ministry of Culture, Community and Youth, Sport Singapore, and FAS, on the matter, said Mr Davis.
"We haven't had a player of Ben's level, and hopefully this will inspire more to pursue a professional career outside of Singapore. Ben is an inspiration to the boys at JSSL, we have 1,000 kids and 500 of them are local…he's shown what they can do with hard work and a bit of luck."
THAI TARGET
Mr Benjamin Tan, deputy chief executive officer of Premier League Thailand and director of club licensing, told TODAY that he has been following Ben's case, and he would welcome the chance to recruit the teenager for Thailand's national team.
Mr Tan, who is Singaporean and was previously the FAS' deputy director of development and planning, said he was impressed with the young footballer when he first saw him play for the Singapore U-15s during a training tour to Thailand.
"At that time, he was of a smaller build…he had good technique, good vision, and was a composed player," said Mr Tan, who joined the Thailand Football Association in 2016.
"Some of the other teams also highlighted his talent. If there are any issues with his progress to become a professional player, we will be open to having any player who is eligible to play for the Thai national team."
However, he stressed that Ben, like others aiming to don Thai national colours, would be subject to a selection process.
On Ben's appeal to Mindef for long-term NS deferment, Mr Tan felt that the "criteria could have been more flexible", and that policies should be reviewed for "such special cases".
He added: "This is a golden opportunity and he should take it. I cannot believe that he is not able to pursue his football career with NS. I find it a pity….and maybe the authorities can do more to help."
Sign up for TODAY's WhatsApp service. Click here: