Big firms ignore harmful effects of cannabis in rush for slice of lucrative global industry: Josephine Teo
SINGAPORE — Big companies with big money are rushing into the multi-billion cannabis industry to market the psychoactive drug as "a hip and harmless lifestyle product" with medical properties, Second Minister for Home Affairs Josephine Teo warned on Thursday (Nov 7).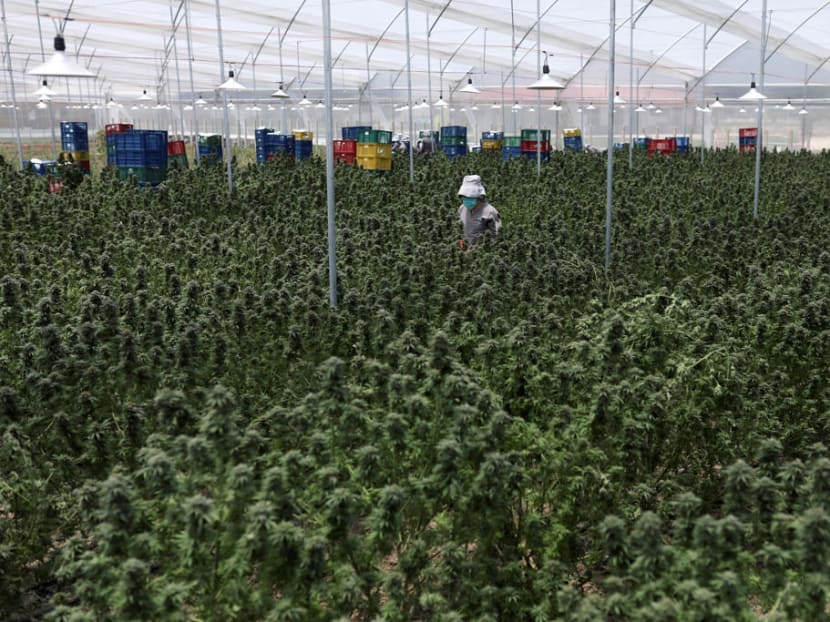 SINGAPORE — Big companies with big money are rushing into the multi-billion cannabis industry to market the psychoactive drug as "a hip and harmless lifestyle product" with medical properties, Second Minister for Home Affairs Josephine Teo warned on Thursday (Nov 7).
But there is no scientific evidence that unprocessed or raw cannabis is a "miracle drug", and the companies "turn a blind eye" to its harmful effects, Mrs Teo told about 200 delegates from 18 countries at the Asia Pacific Forum Against Drugs.
Mrs Teo, who is also the Minister for Manpower, said that amid the worldwide push to legalise cannabis, also known as marijuana, the industry is forecast to hit US$75 billion (S$102 billion) in global sales by 2030, bolstered by claims that it can "cure many ailments and diseases".
"Big businesses are rushing in."
She said that Constellation Brands, the parent company of Corona beer, has invested US$3.8 billion into the Canadian cannabis grower Canopy Growth Corp.
Others, such as the Heineken-owned brewery, Lagunitas, have launched cannabis-infused sparkling water.
"Nobody wants to miss this lucrative boat, regardless of the high cost it will impose on individuals and society," Mrs Teo said at the conference held at Marina Bay Sands.
RAW CANNABIS IS NOT MEDICAL CANNABIS
She said that there are misperceptions about the purported medical properties of cannabis, a commonly given reason for the legalisation of the drug.
There is published research showing that medical cannabis — or cannabinoids — has the potential to manage "some medical conditions" such as seizures and epilepsy. she acknowledged.
"For such potential pharmaceutical products, we can allow them to be sold by prescription, after experts have assessed their safety, quality and efficacy based on scientific evidence from clinical studies and data on the manufacturing process, as we do for other medicines," she said.
However, she noted that some parties claim that unprocessed, or raw cannabis, is medical cannabis as well.
"There is no scientific evidence of the safety and efficacy of raw cannabis use," she stressed.
DECLINE IN IQ AND INCREASE IN SUICIDE ATTEMPTS
Citing research published by the Lancet Psychiatric Journal, she said that it found a significant link between cannabis use and psychosis and schizophrenia.
Frequent cannabis use by adolescents can impair their brain development, she added.
An advisory by the United States Surgeon General stated that its use is associated with changes in areas of the brain that are involved in attention, memory, decision-making and motivation.
"In short, cannabis impairs learning in adolescents," Mrs Teo said "Its use is linked to decline in IQ (intelligence quotient) and an increased risk of early onset of psychotic disorders."
Echoing Mrs Teo's comments was fellow speaker Bob McCoskrie, the director of the Family First New Zealand lobby group, who said that daily cannabis use among youth "significantly increases the risk of suicide attempts".
Studies from the National Drug and Alcohol Research Centre at the University of New South Wales, which involved a total of 3,800 people from Australia and New Zealand, found that teenagers who start smoking cannabis daily before the age of 17 are seven times more likely to commit suicide.
Mr McCoskrie added that there is even a new withdrawal symptom known as "scromiting" — a combination of vomiting and screaming caused by the withdrawal effects of using high THC (tetrahydrocannabinol) cannabis. THC is the principal psychoactive component of cannabis.
"Big marijuana" companies often downplay these harmful effects, Mr McCoskrie said. His group is now campaigning to prevent the decriminalisation of cannabis in New Zealand at a referendum next year.
It is legal to use medical cannabis in New Zealand, although Mr McCoskrie said that it is possible to obtain the drug without a prescription as one could "self-diagnose".
DECEPTIVELY DESIGNED TO ATTRACT CHILDREN
More insidiously, he said that cannabis companies also market themselves in ways that are attractive to children — such as cannabis-infused gummy bears that contain 10 times the legal limit of THC per serving.
Mr McCoskrie said the marijuana that drug advocates talk about now is no longer the 2 per cent THC "Woodstock weed" — referring to the iconic Woodstock music festival of 1969, which has also become synonymous with cannabis consumption.
Cannabis products are also being designed in such a way that makes it easier to conceal, he said, such as in vape pens and even in the tassels of a hoodie.
He warns that prolonged marijuana usage among the young could become a gateway to more dangerous drugs, for those looking for a bigger high.
'FAILED EXPERIMENT'
The New Zealander also said that it would be helpful to look at the harm that cannabis use has brought in places where it has been legalised.
Mr Luke Niforatos, the chief of staff and senior policy adviser at Smart Approaches to Marijuana, a US non-profit organisation, described his experience of being a resident in Colorado, the first US state to legalise marijuana in 2012.
He said that the mass commercialisation of the drug has led to a "150 per cent" increase in cannabis-impaired driving deaths, and the rapid growth of the "illegal market".
Referring to Colorado in her speech, Mrs Teo said that since cannabis was legalised, organised crime incidents linked to the drug's use increased from 31 in 2012 to 119 in 2017.
Mr Niforatos said that 70 per cent of "pot shops" in Colorado are recommending their products to pregnant mothers to treat morning sickness.
US media organisation National Public Radio reported that some studies have shown that even low concentrations of THC can cause developmental problems for babies whose mothers used marijuana while pregnant.
Mr McCoskrie said that in other countries where it has been legalised, such as Canada and Uruguay, black markets still exist.
"There is an argument that if you legalise (cannabis), the black market will go away. That is a myth." 
He said that in all jurisdictions that have legalised the use of cannabis, the black market has been empowered for two reasons.
The first, he said, is that demand will increase because the drug is now legal and everybody wants to sell it.
The second reason is that people are more likely to "go down the street" where the dealer is selling potent marijuana for a lower price than going to a government-regulated shop, where the products are not only taxed, but have a low level of THC.
"As your travel around the world, you will not see a success case of legalisation," Mr McCoskrie said.
"All the research that I see coming out of countries that have legalised (marijuana) is that it's a failed experiment."