The Big Read: Amber alert as Singapore slips in several world rankings
SINGAPORE — For a country that prides itself on staying ahead of the competition, Singapore has slipped down several global rankings over the past year or so.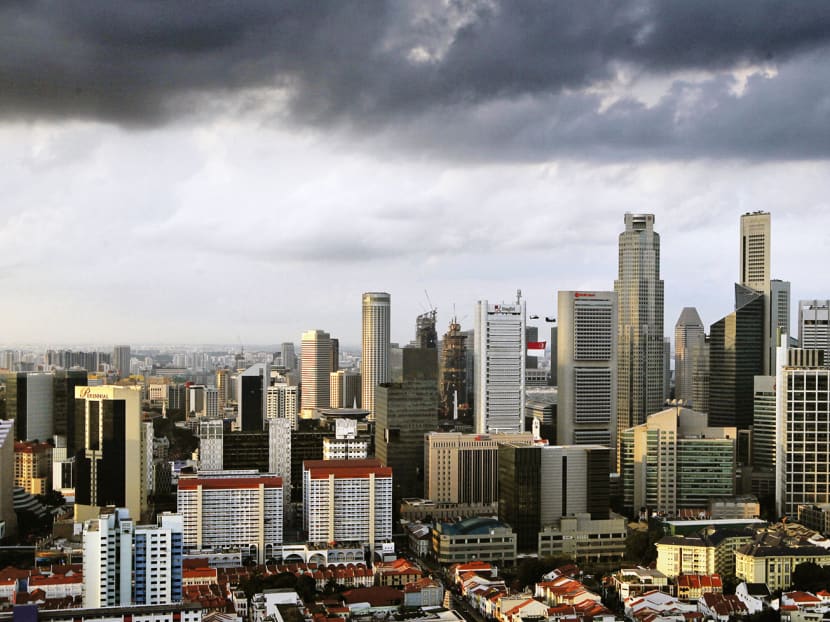 SINGAPORE — For a country that prides itself on staying ahead of the competition, Singapore has slipped down several global rankings over the past year or so.
From competitiveness and ease of doing business to the ability to nuture and attract talent from around the world, the Republic's competitors have caught up. Even though Singapore remains one of the top performers globally measured by various yardsticks, the competition is heating up.
Manpower Minister Lim Swee Say warned as much last month: "Imagine, if we ever allow our cheaper competitors to become better than us, one day, they will be cheaper and better than us. Likewise, if we ever allow our better competitors to become cheaper than us, one day, they will be better and cheaper," he said at a productivity conference.
Deloitte's 2016 Global Manufacturing Competitiveness Index, published in March, ranked the Republic at 10th place - dropping one spot from the previous edition three years ago, with Singapore projected to slip further by 2020.
Swiss business school IMD's 2016 World Competitiveness Ranking released in May saw Singapore falling one position to fourth, increasing the distance to traditional rival Hong Kong which claimed pole position after moving up from second place previously.
In October, Singapore lost its coveted status as the world's easiest place to do business, after an unbroken 10-year streak: Dragged down by factors such as cost and regulatory compliance - which observers had noted were important for security and anti-money laundering efforts - the Republic came in second behind New Zealand in the World Bank's Ease of Doing Business Index.
Most recently, Singapore tumbled five places to 15th in the World Talent Report 2016 released by IMD earlier this week - largely due to lower scores in appeal to overseas talent, and investment and development of home grown talent.
While these rankings painted a sullen picture for Singapore, experts whom TODAY spoke to said there is no cause for panic or alarm. Still, it is worth looking at where Singapore needs to do better, at a time when its economy is at a crossroads.
ESSEC Asia Pacific dean Kevyn Yong noted that countries are catching up with Singapore, and it may not be the case that the Republic is losing competitiveness. He said: "Having said that, we should pay attention to these things and never take them for granted... we should always stay vigilant and prepared, to think ahead and think of how we can reinvent ourselves."
'CHEAPER COUNTRIES BECOMING BETTER'
Singapore's rise from Third World to First within a generation has been well-documented. Along the way, it shot up international rankings and became known as one of the most competitive economies around the world, with its clean government, strong infrastructure, an educated workforce and a business-friendly environment.
But as the saying goes, it is more difficult to stay on top than to get there.
One reason behind Singapore's loss of relative competitiveness is the higher labour cost after the Government tightened inflows of foreign manpower. That has resulted in higher business costs and is particularly harmful to the manufacturing sector which, according to the Deloitte study, sees cost competitiveness as the second most influential driver of overall competitiveness.
The manufacturing sector contributes close to 20 per cent of Singapore's gross domestic product (GDP) and hires more than 500,000 people. In recent years, some big companies — such as Seagate, Broadcom and Coca-Cola — have relocated all or part of their operations to cheaper locations such as Malaysia, Thailand and even Ireland.
But experts noted that it is natural that some activities, especially lower-value added ones, exit the market as Singapore transitions into a higher-value added economy. Mr Richard Wong, vice president of Frost & Sullivan's public sector and government practice, said: "Looking at the direction that the Government is gearing the economy towards, it is somewhat natural that some of these light manufacturing activities or production and assembly related activities that are not very high tech and those that take up a lot of space move out of Singapore. As the Singapore workforce is very educated, these jobs may not be that appealing also."
Indeed, some of the companies that relocated part of their operations chose to retain the higher-value added functions in Singapore. Seagate, for instance, manufactures hard disk media at its Woodlands plant and last year expanded its research and development (R&D) presence here with a S$100 million centre.
Still, Singapore is set to face stiff competition in higher-value added activities, including in electronics, biomedical and chemicals production, as neighbouring nations make their own way up the value chain. Malaysia's Iskandar special economic zone, for instance, had declared that it intends to attract higher-value added industries, while rapid economic development in Thailand, Indonesia and Vietnam would also see them vie for a slice of the pie. With their quicker economic growth, large young workforce and bigger domestic markets, these countries would give Singapore a run for its money, experts have said.
Meanwhile, Hong Kong, a long-time rival to Singapore's status as Asia's business hub, is pulling ahead by capitalising on itsproximity and ties with China to attract investments.
The United Nations Conference on Trade and Development's World Investment Report 2016 found that Hong Kong was the second highest recipient of foreign direction investments (FDI) globally last year with US$175 billion flowing into the economy. This far outpaced Singapore who received US$65 billion in the same year and placed seventh worldwide.
"China's economy has a more significant impact on Hong Kong's economy, relative to Singapore's economy. With the speed of innovation and growing economy in China, it's only natural for Hong Kong's economy to be relatively more competitive," said Prof Yong.
'BETTER COUNTRIES BECOMING CHEAPER'
At the big boys' table, countries such as South Korea and Japan - which dominate the higher-value added manufacturing space - are ahead of Singapore in terms of innovation. The 2016 Bloomberg Innovation Index placed South Korea on top of the global rankings, with clear daylight between the country and its closest Asian competitors Japan (4th) and Singapore (6th).
The South Koreans have consistently been among the highest spenders on R&D. Data by the Organisation for Economic Co-operation and Development showed that South Korea spent around 4.3 per cent of its GDP on R&D in 2014. In comparison, Singapore's expenditure in this area was 2.2 per cent of its GDP.
Observers have credited South Korea's aggressive spending in R&D for helping the country transform from one of the poorest nations in the 1960s to a high-tech economy and home to leading innovative companies such as Samsung and LG.
Experts noted that regardless of which development stage Singapore's rivals are at, the size of their labour force gives them an edge over the Republic. SIM University senior lecturer Walter Theseira said: "In larger countries, labour and talent shortages are less acute because of domestic migration and the larger scale of their labour force. The main way we have remained competitive is to be very open to foreign labour, but that is a policy that has considerable political costs."
He added: "(There) is almost certainly a catch-up process from both the developing and developed world, and that is not something Singapore can do anything about. What will be crucial is (increasing) Singapore's strengths and advantages in high value added sectors of the economy."
Experts said the key for Singapore to stay competitive is innovation – a strategy which the Government has identified. Various schemes and assistance measures have been launched to nudge businesses to be more innovative, amid the constraints on land and labour.
PwC Singapore's strategy leader Richard Skinner described innovation as the "magic bullet" to spur growth and competitiveness. "Innovation is a necessity if Singapore is to remain competitive," he said. Prof Yong added that innovation can help businesses achieve scale more effectively, which will in turn result in greater cost-efficiency.
He pointed out that at the same time, Singapore should not abandon its strengths in resource-heavy activities such as water treatment innovations, in which Singapore is a global leader. There is also the need for new ideas to be created in the country, instead of simply adapting workable concepts into the domestic context, he added. "Singapore has always been very good at implementing innovations and we should keep that. But it is no longer sufficient to adopt a successful innovation from elsewhere, say Amazon, and create our own version of it. We need new ideas like Grab and MoolahSense," he said.
He reiterated: "Singapore competitiveness may not be driven by being the cheapest option, but we can be competitive by creating the most value."
In the manufacturing space, the Republic can utilise its hub status to anchor other Southeast Asian countries to compete globally as a regional bloc, said Ms Ng Jiak See, Deloitte Southeast Asia's industrial products and services sector leader. "Aside from cultivating strong industrial competencies in R&D and a diverse and high quality supplier base, Singapore should also think about its ecosystem approach," she said.
Should Singapore fail to restructure and loses competitiveness, "everything is at stake", Mr Skinner warned. "If competitiveness declines, foreign inbound investment from small and medium enterprises to multinational corporations alike will decelerate, leading to decreased economic vibrancy and dynamism," he said. "This will in turn have an adverse effect on innovation, job creation and trade, ultimately leading to a decline in competitiveness and attractiveness as an investment destination and the vicious circle will repeat itself."
For local companies and the thousands of workers they employ, whether Singapore continues to stay ahead of the chasing pack could make a difference between boom and bust.
Mr Melvin Tan, managing director of engineering firm Cyclect, said the company has benefitted from foreign inbound investments as it clinched projects with the Formula 1 Grand Prix and Universal Studios Singapore. "These projects allowed us to offer jobs to Singaporeans. Without them and the income that they bring us, we won't have a reason to hire," he said.
Mr Lawrence Chong, chief executive of innovation and design consultancy Consulus, added: "Singapore is increasingly seen as a place where new policies, new ways of urban planning are experimented, and where ideas are being created. That's our trump card when we compete internationally, so if Singapore fails to reinvent, that's bad news for us."