The Big Read: Despite help, displaced PMETs find the 'perfect cocktail' to a new career elusive
SINGAPORE — He had supervised more than 3,000 factory workers during his 10 years in Shanghai's and Xiamen's manufacturing hubs, so when he decided in 2013 that it was time to decamp for home in Singapore, Mr Chong Kim Sem thought his experience would put him in good stead where job-hunting was concerned.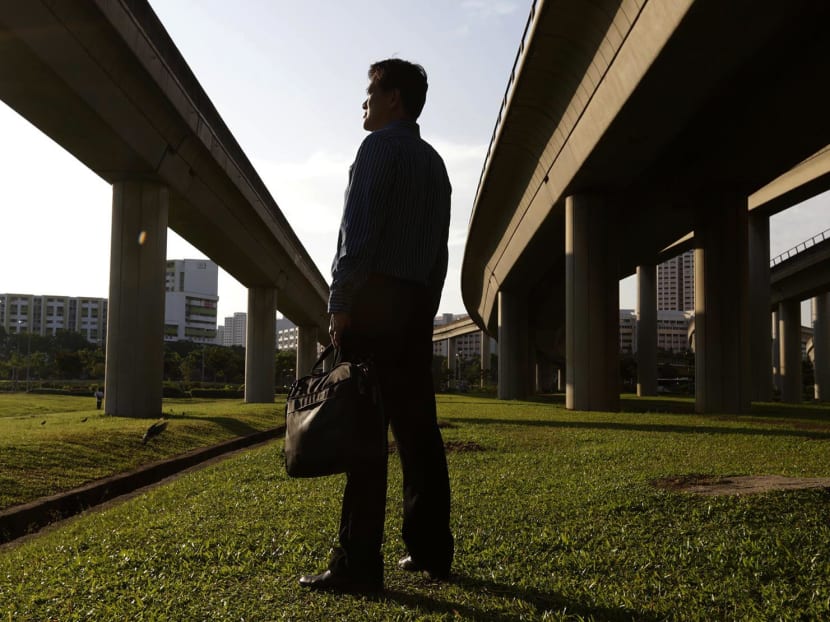 SINGAPORE — He had supervised more than 3,000 factory workers during his 10 years in Shanghai's and Xiamen's manufacturing hubs, so when he decided in 2013 that it was time to decamp for home in Singapore, Mr Chong Kim Sem thought his experience would put him in good stead where job-hunting was concerned.
Then he spent the next six months out of work, growing increasingly anxious and demoralised as he sent out resume over resume, well over 100 of them.
Mr Chong was fishing in the wrong pond. The type of manufacturing job he wanted — he specialised in plastics — was gradually disappearing as the industry grew more advanced. At 46, with a wife and two children, he found himself on the verge of slipping into professional irrelevance.
Apart from the slowing economy, there were other odds stacked against him. "My experiences were not based in Singapore and perhaps the employers felt that it was a different context," he told TODAY, adding that his age was another issue.
Mr Chong's story has a happy ending — or at least, takes a happier turn: He managed to land a spot on the Singapore Workforce Development Agency's Professional Conversion Programme (PCP) for the biologics industry, and now works for pharmaceutical giant Novartis as a quality assurance officer.
Through the programme, job-seekers are placed in new sectors or new roles within their previous sector of work, and undergo training. The Government provides wage support during this period.
In the hope that more professionals, managers, executives or technicians (PMETs) will find their own success stories, the Government is pumping another S$28 million into such programmes over the next two years.
PMETs, especially middle-aged ones, are now a focal point of public policies, as the slowdown in the economy from restructuring is hitting them especially hard. Among the 9,090 residents laid off last year, about 71 per cent (or about 6,450) were PMETs, with close to four in 10 (37 per cent) aged 40 and above.
As Mr Chong can attest, even with government support, changing careers in the midst of one's life is fraught with challenges. Entering a completely new industry requires a perfect cocktail of the right attitude, resources for training, an accepting work environment, with a dash of interest and the elusive "right fit".
Beyond taking a pay-cut of more than 50 per cent, it was also a time of psychological adjustment. In his first six months into his job, Mr Chong, now 49, "felt like he was an outsider", while remaining acutely aware of the need to provide for his family and his limited window of opportunity to land suitable employment.
And the gloom cast by being out of work can be considerable. As Mr Wee M C, 48, who also struggled with finding jobs, puts it: "Your fear will keep growing because you do not know how long you can hold out and will be unemployed."
JOBLESS, AND ON AN EMOTIONAL SLIDE
Statistics from the Manpower Ministry show that the proportion of PMETs among Singapore citizens and permanent residents grew from 48 per cent in 2007 to 54 per cent last year. By 2030, two in three resident workers will be considered PMETs.
At the same time, lay-offs among PMETs are outpacing the rest of the population. Last year, there were 8.9 layoffs for every 1,000 employees among PMETs, compared to 7.4 per 1,000 overall.
And as of last December, they lagged behind other groups of workers in landing work after six months: Their rate of re-entry was 48.3 per cent, compared to clerical, sales and service workers (63 per cent) and production and transport operators, cleaners and labourers (52.7 per cent).
A series of measures were introduced in this year's Budget, from increasing wage support for employers to hire unemployed PMETs, to doubling the number of PCPs and providing funding for smaller companies to hire and retain PMETs through improved human resource practices.
The PCP, which has its roots in the Skills Programme for Upgrading and Resilience started on the back of the 2009 recession, has emerged at the fore of this enhanced support, with new programmes launched this year in industries identified as areas of growth for Singapore, such as the infocomm technology sector.
It was by attending a talk on this programme for the biologics industry that Mr Chong found help. He tried to look for jobs outside his industry, but he never made the final cut after about five job interviews, and attributed it to his age and possibly, employers who were concerned that he might be unfamiliar with the industries.
His family was relatively debt-free, but the mental strain was inevitable. "It (the job-hunting process) can be discouraging... It was definitely harder than I thought it would be," he said.
An IT developer, who wanted to be known only as Mr Lim, said that he never wanted to relive his six months of unemployment. "It's very depressing. You send out 20 to 30 (job applications) a month but nothing comes back. You start to question, 'Am I that useless?'," the 43-year-old recalled.
Other PMETs interviewed by TODAY shared similar accounts. In their 40s and finding their skills out of sync with market demand, they find it emotionally draining to be job-hunting, on top of being burdened by financial responsibilities.
Ageist attitudes or discrimination against older people, they felt, was also a key obstacle for them.
Mr Toh Yee Wah, 56, who has been on a job search since August 2014, is attending a programming course. Compared to about five years ago, when he last applied for jobs, calls for interviews now are fewer and waiting time between such calls is longer, he said. He believes his age is a disadvantage.
"I do not mind taking a pay-cut... My experience will enable me to learn news skills easily... employers should give older workers a chance," he added.
For Mr Wee, he spent two years job-hunting after he quit work in the electronics IT industry in 2011. Despite obtaining advanced training certifications and attending classes to improve his skills, he said it did not appear to increase his employment prospects.
Career coach Adrian Tan, founder of CareerLadder, noted that for older PMETs, switching to another sector is easier said than done. Apart from juggling night classes and family, there is a mental hurdle to overcome.
"For the mid-career PMET, it means unlearning a lot of things... and doing things in a totally different way," he said. "It is getting through this psychological stage that is mainly contributing to many of the failures (in switching sectors)."
MARKET REALITY VS PERSONAL PASSION
When clients approach career coach Noel Choh, he asks them to consider three aspects: Their interests, current skills sets, and personal values.
Mr Choh, a career coach at the labour movement's e2i career services centre, said that getting the perfect fit is hard, but the key is to identify "what is the best for me at this point in time".
For example, if a person valued family time, taking on a job with irregular working hours might not be sustainable even if interest is there.
However, interest is an most important factor, because it would be a strong motivator for the worker to constantly improve himself or herself.
Member of Parliament Patrick Tay, who is also assistant secretary-general of the National Trades Union Congress, acknowledged that striking a balance in relation to passion, skills and jobs would be the "biggest challenge" for these job-seekers. He said that it is not easy to have a job where you are skilled and trained in the work, and have a passion for it. "There may have to be some form of compromise."
He added that helping PMETs to secure employment requires employers, individuals and society to play their respective roles as well.
For instance, "there is still some form of ageism" among some employers, which has to be eradicated. At the individual level, Mr Tay felt that people do not "just have one passion and interest". "They (should) develop their second skill early on," he said.
The reality is that jobs creation in Singapore would be driven in a few major sectors, he said, and the Government helps by ensuring that workers' skills match available jobs, and creating interest through more public education of emerging sectors.
Career coach Adrian Tan urged job-seekers wanting to stay in their preferred fields to consider relocating overseas where their skills are still in demand.
For those still employed, Mr Tan stressed the need to pick up new skills because employers today look for workers with multiple capabilities.
Classes to improve one's skills should also be chosen with care, because it is about "applying (the skills) and turning them into a portfolio" that helps to bring about other sources of income and opportunities, he said.
Mr Chua Meng Kiat, of Akimi Technologies, believes older, more experienced workers can be a good fit for his company. Photo: Boon Keong/TODAY
PLAYING CATCH-UP WITH AGE AND TECHNOLOGY
For those who manage to find jobs in a new industry, the journey is still far from over because age and technology continue to nip at their heels.
Shortly after he got a job with his former company, Mr Wee had to take on extra tasks outside his job scope, but he got to showcase his capabilities and he felt more secured in his position.
"It is the persistence in seizing opportunities. You may not be going for a dream job, but you can still make your dream come true."
For Mr Chong, he underwent a year's training in the United States after his successful job interview, but struggled for six months to regain confidence after he started his new role. He said that taking a pay-cut might also be struggle for those looking to switch sectors, adding that being loan-free due to his time overseas have allowed him to make the career switch.
Now, he continues to take up courses to learn more about the biologics industry and he is also volunteering on various employee welfare committees to get to know his colleagues better.
Hopefully, with government subisides coming in to nudge employers to give older PMETs a chance, the tide may be turning for this group of workers.
Mr Chua Meng Kiat, who heads the digital development start-up Akimi Technologies, hired 65-year-old Mary Liem in February to handle finance and administrative tasks, making use of the wage subsidies from the Government's Career Support Programme, which offsets wage costs of employers who hire older PMETs.
Mr Chua thought that older workers could be a good fit for his company. His experience was that younger workers quit to start their own businesses after picking up skills at his company.
Ms Liem, he said, might take longer to learn or complete tasks compared with younger hires, but her past experiences working in big companies meant that she was able to help in implementing system processes for his firm.
"(Ms Liem) is always consistent and stable in her work performance and she arrives punctually for work… now, even the younger workers are starting to come on time, too," Mr Chua quipped.
Mr Chong urged those searching for a job or planning a career switch to take a leap of faith: "There is a comfort zone and it is difficult to let go after gaining a lot of experience in one area… but keep an open mindset, you never know what might turn up."
PROGRAMMES FOR PMETS
1. Career Support Programme — 10- to 40-per-cent wage support for up to a year for employers hiring PMETs who have been unemployed for at least six months
2. Professional Conversion Programme — covering more than 20 sectors, new programmes will be launched in the next two years in sectors such as logistics and retail. There is salary support for the long-term unemployed or those aged 40 and above, along with course-fee subsidies
3. P-Max — funding support for small and medium enterprises to adopt progressive human resources practices in hiring and retaining PMETs
4. Career advisory — providing career and training services for workers to improve employability. These services can be found at WDA career centres across five locations (Jurong, Paya Lebar, Tampines, Toa Payoh, Woodlands), NTUC e2i career services centre in Jurong East, and NTUC's Financial Industry Career Advisory Centre at One Marina Boulevard