The Big Read: Despite non-contest, PE2017 generated lots of heat – what comes next?
SINGAPORE — It was a week of firsts for Singapore — the first reserved election, culminating in a first woman President and the first Malay Head of State in 47 years.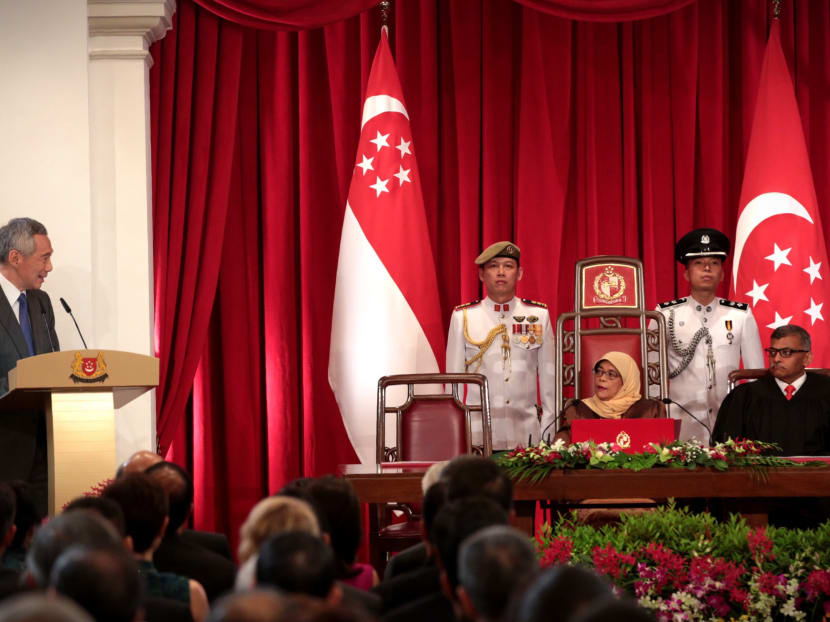 SINGAPORE — It was a week of firsts for Singapore — the first reserved election, culminating in a first woman President and the first Malay Head of State in 47 years.
But the historic week was overshadowed by criticism of the election process for the Elected Presidency (EP), with particularly stinging comments and insults bandied about online.
Instead of revelling in her role on a historic occasion, Madam Halimah Yacob, 63, who was sworn in on Friday (Sep 14) as President, had to answer questions about how she was going to unite a country divided by her election. Elder statesman Goh Chok Tong also acknowledged the criticism, saying while the election process "may be highly controversial", Singaporeans should "not let whatever unhappiness weigh down her duties". The Emeritus Senior Minister also urged Singaporean to do their part to "help the President succeed".
In the wake of the week that was, it was clear that much of the unhappiness arose because Singaporeans were denied a chance to vote, as two of the potential candidates were disqualified.
Dr Tan Cheng Bock, who ran a close second to Dr Tony Tan in the previous Presidential Election in 2011, had especially harsh words. The medical doctor had his legal challenge against the basis of holding a reserved election this year thrown out by the High Court, and his appeal subsequently failed. But while he had accepted that decision and wished "the participants of the coming reserved (election) all the best", he lashed out on Wednesday at the fact that there would be no vote. Among other things, he said that Singaporeans felt "muzzled and angry" with the "disappointing walkover". "Because when you take away our right to vote, you take away our political voice. You tell us that our choice does not matter," he said.
Prime Minister Lee Hsien Loong greets President-elect Halimah Yacob as she arrives at the Istana for the Welcome Ceremony and Inauguration. Photo: Ministry of Communications and Information
Online, the sentiments were much more visceral, with many using the hashtag #notmypresident in their posts. The hashtag first gained popularity among social-media users rallying against Mr Donald Trump after he won the United States' presidential election last year.
A sit-in protest at Hong Lim Park is slated to be held on Saturday. Some netizens have also switched their social media profile pictures to a Singapore flag in grayscale, with three of its five stars snuffed out. The five stars on the flag stand for the Republic's ideals of democracy, justice, peace, progress and equality. Lawyer Nizam Ismail, former director of the Association of Muslim Professionals (AMP), felt this was a "powerful expression of disappointment". "These principles are supposed to be sacrosanct," he said.
The fact that foreign news outlets ran prominent stories — The New York Times headlined its report "Singapore has a new president, no election needed", while the Guardian article screamed "Anger in Singapore as first female president is elected without a vote" — also caused some to say they were embarrassed to be portrayed in the international media in a less than flattering light.
Be that as it may, political analysts and observers told TODAY that they understood the public sentiments, but some said critics ought to ask themselves one question — would they have felt better if there was an election?
If a poll had gone ahead, they noted, it would have meant one thing: the EP eligibility criteria, which the Government had consistently said would not be lowered for a reserved election in order to uphold the core Singapore tenet of meritocracy, would have had to be watered down to accommodate either Mr Mohamed Salleh Marican, 67, or Mr Farid Khan, 62.
(Left to Right) Halimah Yacob, Farid Khan and Salleh Marican. Photo: Nuria Ling/TODAY
STICKING TO THE RULES
The analysts and observers pointed to several factors that gave rise to the burr in the saddle that was the lack of a vote.
National University of Singapore political scientist Bilveer Singh had previously told TODAY that if Mr Farid or Mr Marican were allowed to contest, it "would have greatly depreciated the whole concept of an elected President, where unqualified candidates participated".
Nanyang Technological University (NTU) assistant professor Woo Jun Jie said he did not think the Presidential Elections Committee (PEC) "could have allowed for a contest on the basis of public sentiment".
"If the (shareholders' equity) of (the companies helmed by) Mr Farid and Mr Marican were closer to the actual requirement, such a decision could possibly have been defensible. However as it stands, the amounts were too far off (the S$500 million criterion)," Asst Prof Woo said. "Furthermore, it would not have set a good precedent to circumvent such a recently-introduced requirement."
To be sure, the reserved EP itself also came in for some fire. Conspiracy theorists had a field day, with many repeating accusations – strongly refuted by the Government in the past — that the changes were made to avoid a repeat of the close race of the previous election in 2011.
Others seized on the rushed nature of the process — the entire change, from the time Prime Minister Lee Hsien Loong first directed a Constitutional Commission to review the EP scheme till Parliament approved the changes, took less than 11 months, concluding on Nov 9 last year, barely 318 days before an election was to be held.
One other bugbear was the lack of qualified candidates. More could have been done to get a bigger field of contestants more contestants, the analysts and observers said. PM Lee himself was called out by some quarters. He had said earlier in the year that there would be no shortage of candidates, and many turned on him when just two others — Mr Marican and Mr Farid — apart from Mdm Halimah put themselves forward.
PT Trans Retail (Carrefour Indonesia) chief executive Shafie Shamsuddin, 47, and Bank of Singapore chief executive Mr Bahren Shaari, 54, were two prospective candidates who would, in all likelihood, qualify. Mr Bahren said he was focusing on growing the business while Mr Shafie told TODAY earlier this week that he was still young had "much more... to learn and improve myself first".
Making a decision to run for election requires lots of thought, some have said, which the short window went against. Not all individuals who qualify share the calling, said Mr Zhulkarnain Abdul Rahim, AMP vice-chairman who is also a partner in law firm Rodyk & Davidson. "Even if you meet the eligibility criteria set out, you'd have to give up your privacy for such a role and there are other considerations… Some (eligible individuals) may have also decided to rally behind one of the (other) candidates instead of throwing their hat into the ring."
President Halimah Yacob and Prime Minister Lee Hsien Loong leave after the swearing in ceremony on 14 Sept, 2017. Photo: Jason Quah/TODAY
PUBLIC BACKLASH
While such hostile responses were not unexpected, some political analysts and politicians whom TODAY spoke to were surprised by its "ferocity".
Describing the groundswell of public opinion as "rapid, robust and rumbustious", Singapore Management University (SMU) law lecturer Eugene Tan said the walkover was an "anti-climactic end to a long-drawn process" that started with the opening of the 13th Parliament in January 2016, when PM Lee announced a Constitutional Commission to review the Elected Presidency (EP) scheme.
Changes to the scheme were passed into law in November, tightening the criteria for aspirants and putting in place a "hiatus-triggered" mechanism to safeguard minority representation — where presidential elections will be reserved for a particular community that has not been represented in office for five consecutive terms, or 30 years.
"I believe the Government had expected that no contest would be disappointing to most Singaporeans, but I suspect it did not anticipate the extent and depth of the public response," said Assoc Prof Tan.
Singaporeans felt let down because they could not exercise their democratic choice, he said.
Former People's Action Party (PAP) Member of Parliament (MP) Inderjit Singh added: "Perhaps (the Government) may not have expected it to be as bad as it has turned out to be, but I am sure they did expect some negative reaction."
Dr Tan Cheng Bock, also an ex-PAP MP, said on Facebook that while Singaporeans may have expected Mdm Halimah to win, they still "looked forward to a poll to tell the Government what we thought about the elections".
He was part of the most keenly fought PE to date: The 2011 election, which featured four candidates, saw Dr Tony Tan winning by a razor-thin margin of 0.34 per cent.
Some had thought the 2011 PE was a harbinger of things to come in the new political landscape. But it turned out to be the exception.
Singapore's first presidential polls held in August 1993 saw a contest only after Cabinet ministers, including then-Prime Minister Goh, had urged former accountant-general Chua Kim Yeow to put himself forward against Deputy Prime Minister Ong Teng Cheong. Mr Chua agreed, but made public his reluctance to do so and called Mr Ong "a far superior candidate". Mr Ong won the election with 58.7 per cent of the vote.
The next PE in 1999, as well as the subsequent one in 2005, were both won by Mr S R Nathan via walkover after other aspirants were deemed ineligible.
In particular, Mr Nathan's walkover re-election in 2005 drew criticism from some sections of the public.
Mdm Halimah Yacob making her first inspection of the Guard of Honour. Photo: CNA
Fast forward to 2017, and Mdm Halimah is also bearing the brunt of similar criticism.
The backlash was not entirely unexpected since there was so much hype, publicity and commendation for the reserved election, said Assoc Prof Tan, who was a Nominated MP from February 2012 to August 2014.
But he, like others interviewed, felt it was unfair that Mdm Halimah has borne the brunt of the negativity. Still, they are confident that she will be able to win over the doubters and critics.
"Mdm Halimah has her work cut out for her, but, given her track record and empathy, Singaporeans will warm up to her. She will embrace the challenge even though it is an unnecessary handicap," said Assoc Prof Tan.
Agreeing, Nominated MP Azmoon Ahmad added: "It is unfortunate that her rise to become President had been quite unfair, but I am confident that she will do well and prove many quarters wrong."
Dr Gillian Koh, deputy director for research at the Institute of Policy Studies (IPS), feels that Mdm Halimah will "be more than equal to the task" of being a symbol of Singapore and its progressive Malay-Muslim community.
Citing the national pledge, she said: "I believe (Mdm Halimah will be a President) that we will embrace wholeheartedly, so that eventually, how we vote (and) who we choose as our leaders will really be 'regardless of race, language and religion'."
President-elect Halimah Yacob seen receives a familiarisation tour of Istana, during the familiarisation Istana grounds on Sept 14. Photo: Koh Mui Fong/TODAY
BAR 'TOO HIGH' FOR PRIVATE SECTOR CANDIDATES?
The fact that Mdm Halimah was deemed the sole eligible candidate has prompted some to revisit the EP eligibility critera which were raised, following the constitutional amendments passed in Parliament.
Among those who bemoaned the lack of a contest, many said the financial requirement for private-sector candidates — they must helm a company with at least S$500 million in shareholder equity, up from S$100 million in paid-up capital — is too onerous, and that personal traits should carry equal, if not more, weight.
On the other hand, the Government had retained the original qualifying tenure of three years for public-sector candidates, despite the Constitutional Commission's recommendation to double the duration — which would have ruled out Mdm Halimah, who had served for about four-and-a-half years as Speaker.
Describing the raised financial eligibility for private-sector applicants as "overkill", Mr Inderjit Singh said: "I feel it was not necessary to raise this eligibility criteria…This immediately narrowed the field to a handful of people who can qualify, mostly from the establishment."
"I don't understand why (the financial requirement in) Singapore has to be more stringent than the in the United States… We all know that the American president has far greater responsibilities than the Singapore President," said Mr Inderjit Singh, although he acknowledged that it was unlikely that the Government wil go back to the drawing board.
Financial acumen should not be a key factor of Singaporeans' choice for President, said Mr Azmoon, who is managing director of automotive electronics firm Desay SV Automotiveand formerly the AMP chairman.
"S$500 million is really quite ridiculous," he said.
Past presidents — including Wee Kim Wee, who was chairman of then Singapore Broadcasting Corporation before he became the Republic's 4th President, and Mr Nathan — were "not the type who have financial acumen but had still been good presidents", Mr Azmoon argued.
"In fact, one may be hard-pressed to make the case that Mdm Halimah has better financial acumen than Mr Farid or Mr Marican. But we don't doubt that she is the right candidate because she has the heart for the people. And that should be what is most important," he said.
Mr Alla'udin Mohamed, vice-chairman of the Geylang Serai Inter-Racial and Religious Confidence Circles, suggested calibrating the financial criterion "according to the capacity and ability of each community". "The fact is that the pool of willing candidates in the Malay-Muslim community is not large to start off with," said Mr Alla'udin, who is also chairman of Khalid Mosque in Joo Chiat.
Dr Felix Tan, SIM Global Education associate lecturer, called for a "more open, deliberative process" to consider the eligibility of candidates who have stepped up but fallen short of certain criteria by a margin.
He said: "The PEC should avoid being pedantic about the structure because not everything always necessarily fall neatly into such restrictive boxes... what people are looking for is a free and fair election comprising credible candidates with honest track records and who are willing to put themselves up for scrutiny." Too many restrictions in the scheme will only dissuade people from coming forward, he added.
President Halimah Yacob poses for photos with (Front row, L-R) Deputy Prime Minister Tharman Shanmugaratnam, Prime Minister Lee Hsien Loong, Deputy Prime Minister Teo Chee Hean and Chief Justice Sundaresh Menon, as well as Cabinet Ministers, after the swearing-in ceremony at the Istana on Sep 14, 2017. Photo: CNA
MORE HASTE, LESS SPEED
The rushed timeline for the changes, said SMU's Assoc Prof Eugene Tan, led to a "classic situation of 'more haste, less speed', and it has not done justice to the reserved election mechanism".
Assoc Prof Tan, who was first to appear before the commission at its inaugural public hearing in April, had argued that any changes should come into force only from the sixth PE, which is due in August 2023.
This would be aligned with Singapore's longstanding approach of "incremental political change, rather than dramatic changes", he argued then, urging the commission and Parliament to consider how changing the rules of the game so late in the presidential electoral cycle may "unnecessarily politicise the election for a non-partisan office".
"They could have read the ground better and not be overly hasty in effecting the constitutional and legislative changes to the elected presidency," he added.
Agreeing, Mr Inderjit Singh said: "It was too much of a rush, from the time of constitution changes to the presidential election. This is one lesson the government can learn – that it is not wise to make changes so fast."
More could have been done to engage or consult the public before any constitutional amendments, said Asst Prof Woo. "At the very least, this can allow the government to address any potential public unhappiness that may arise from these amendments," he said.
There should have been multiple rounds of public consultation over a longer period, such as through focus groups, said Asst Prof Woo, who was taking reference from massive consultation exercise Our Singapore Conversation, held over 2012 and 2013.
He added: "I also think it would be good to focus on obtaining the views of grassroots level citizens, rather than only legal and academic experts."
Opposition politician Ravi Philemon, who is also editor of socio-political website The Independent, felt that communicating major policy changes should not just be an "information dissemination exercise". The Government must engage members of the public as "partners" in shaping these policies, he said.
Halimah Yacob is surrounded by supporters. Photo: AP)
WHAT'S NEXT FOR THE PRESIDENT, THE PAP AND THE PEOPLE
Going forward, Mdm Halimah will have to "work overtime" to earn Singaporeans' respect and affection towards her, said the IPS' Dr Koh, adding that the President herself had acknowledged as much when addressing reporters after filing her nomination papers on Wednesday.
One of her first orders of the day must also be to unite different segments of the population, and mend the cracks that have resulted from going about the reserved election, said Mr Inderjit Singh.
Several political observers also felt that the number of presidential aspirants who stepped forward this round left more to be desired.
"The outcome is a sad one because we don't want the world to go away thinking that after 50 years, the Malay community did not produce enough qualified persons," said Mr Inderjit Singh.
Urging the Malay-Muslim community to nurture more leaders in the business sector, Dr Koh said: "This provides a pipeline of leadership talent, not only for the presidency but to positions of leadership in the business sector, national community, the public service and so on."
Just as important, said Assoc Prof Eugene Tan, is to foster a "public service attitude" that encourages eligible men and women to step up and run for the office.
He added: "I think the days of walkovers in parliamentary and presidential elections are numbered… I hope that a contest would be inevitable in future PEs whether reserved or open."
Supporters of President elect Madam Halimah Yacob, at the Nomination Centre at People's Association HQ, located along King George's Avenue. Photo: Najeer Yusof/TODAY)
But as far as the head of state role is concerned, political analysts feel that it is far too early to tell how future reserved presidential elections may pan out. With the next reserved election to be held only in 2041, at its earliest — if no candidate from the "Indian or others" community holds the office till then — some suggested that future polls may not even need to be reserved.
"If the symbolic value of having a Malay-Muslim as President works, our ability to be more appreciative of people who are not like us, our transformation towards post-racial politics will make the reserved election history. There will be absolutely no need to discuss a second reserved election ever again," said Dr Koh.
Agreeing, Assoc Prof Eugene Tan said: "It will be a different generation of leaders and Singaporeans. Who knows? We might not have a reserved election in future; PE2017 could be the first and last (reserved election)."
Others, such as Dr Felix Tan and Mr Nizam, urged the Government to re-look the concept of a reserved election.
"It should query again how much such a reserved election scheme is necessary in the future… Was there a large segment of a particular community which has vehemently voiced out that they would like some representation?" said Dr Felix Tan.
There are segments of the Malay community who "simply cannot be happy with the outcome or the process even if they are fervent supporters of Mdm Halimah", said Mr Nizam.
He added: "The process shows that the community has failed to produce willing business leaders that meet the S$500 million equity threshold. This begs the question: Has the qualifying bar been set unrealistically high, to the extent that Singaporeans are unable to exercise the most fundamental democratic right of voting?"
As for what political costs the PAP Government would incur from this episode, analysts had mixed responses.
At an IPS forum held a week before Mdm Halimah was sworn in as President, Minister in Prime Minister's Office Chan Chun Sing said the Government went ahead with the changes despite knowing the political price it may have to pay, so as to pre-empt problems that may surface if minority ethnic groups are not represented. It had anticipated that "it will be a hard journey to convince people and we will pay the political price, at least in the short term", said Mr Chan. He added that the Government was "prepared to pay the political price because we think the future of our country is much more important than any political capital that we may have for this generation".
Noting the PAP Government's public acknowledgement of a political price, Asst Prof Woo said this may translate to potential loss of votes in the next General Election, which is due by April 2021. But the possibility of any cost to the ruling party emerging may decline over time, he noted.
President Halimah Yacob is sworn in on 14 Sept, 2017. Photo: Jason Quah/TODAY)