The Big Read: As electricity market opens up, experts foresee payoffs for S'pore and marked change in power usage habits
SINGAPORE — It was an announcement that did not exactly fire up Singaporeans, and in fact, left many wondering about its mechanics: From early next year, some households will be able to choose which provider to buy their power from, a break from the current, age-old model of getting it from a sole, government-linked provider.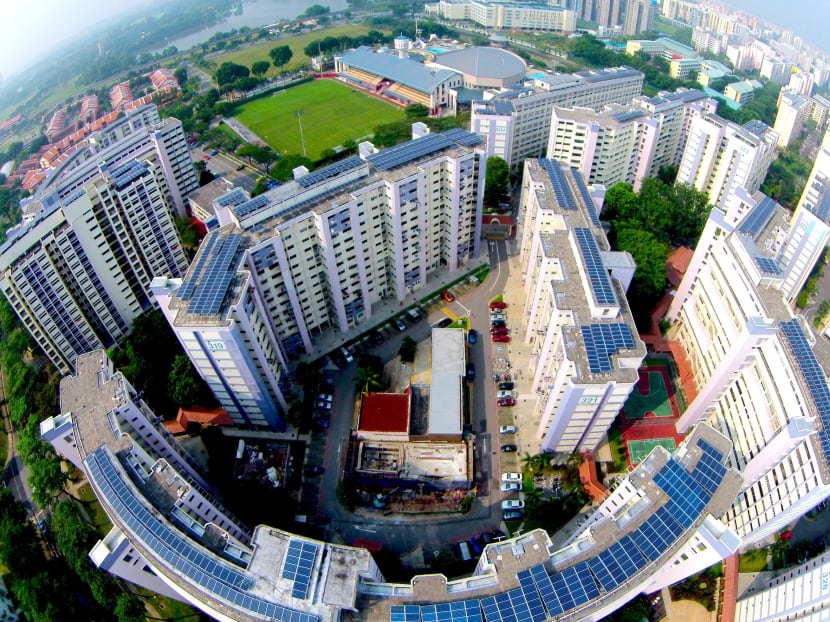 SINGAPORE — It was an announcement that did not exactly fire up Singaporeans, and in fact, left many wondering about its mechanics: From early next year, some households will be able to choose which provider to buy their power from, a break from the current, age-old model of getting it from a sole, government-linked provider.
But while going shopping for electricity might not exactly hold the same thrill for retail-happy Singaporeans that buying consumables does, the announcement will have far-reaching results.
At its base, and possibly most appealing, level, when shopping for a power provider comes to 108,000 Jurong households from April next year — the rest of Singapore will get it from the middle of 2018 — it could result in some savings for consumers.
But quite apart from that, freeing up the market could be the start of a movement that could bring about a sea change in power consumption habits that could alter production and work cycles and lifestyles, and spark efficient usage that might save the country enormous amounts of money: Savings that could eventually be returned to consumers in the form of even lower prices.
These were the possibilities that excited analysts and other experts who spoke to TODAY in the wake of last week's ground-breaking announcement by the Energy Market Authority (EMA) on the soft launch in Jurong of the liberalisation of energy market and the nationwide rollout next year.
The move has been in the making for some time.
Since 2001, the Government has progressively opened up the electricity market to competition to promote more competitive pricing as well as give consumers more choices.
It started with larger businesses, which could choose to buy electricity from retailers other than SP Group, the corporatised entity of the former electricity and gas departments of the Public Utilities Board. Currently, businesses with a minimum average monthly consumption of 2,000kWh can enjoy choice and flexibility in their electricity purchases.
In 2015, Minister for Trade and Industry (Industry) S Iswaran announced that the market will be fully liberalised to include households.
A PUSH FOR BETTER EFFICIENCY
Today, besides incumbent SP Group, which is also the power grid operator, there are 26 licensed electricity retailers, of which 18 are currently active, according to EMA.
They range from big players such as power generation companies Senoko Energy Supply and Tuas Power Supply, to large renewable energy providers like Sunseap, as well as small independent retailers.
Among those eyeing a piece of the action is Sembcorp Power, which intends to roll out a number of pricing plans for consumers with different needs.
This includes its 'highly flexible peak and off-peak" plans, where consumers can plan their electricity usage to take advantage of lower prices during off-peak timings.
Mr Gilles Pascual, Asean power and utilities leader at consultancy firm EY, said such plans will allow households to select those that suit their needs.
"They might even change their behaviour when it comes to electricity consumption in order to achieve further savings," he said.
SP Group, too, will offer half-hourly wholesale electricity prices to consumers for the first time.
It would allow consumers to track prices whenever they fall, so that they can shift their activities to those hours, resulting in cost savings.
Customers will be able to check the provisional prices about an hour ahead of each half-hour block, said SP, adding that prices will fluctuate according to demand and supply.
Prices will spike if there is say a power disruption at a source, such as natural gas from Indonesia, or if there are big events in Singapore that use a lot of power.
Prices generally tend to be higher during the day, with demand driven by commercial and industrial needs, and this tapers down towards the end of office hours to night time, when prices will become increasingly cheaper.
In October last year, the authorities had called for proposals to develop technical solutions for a smart metering trial that can read electricity, gas and water meters remotely so that consumers can use such data to better manage their consumption patterns.
While trial results are not ready yet, but by next year, households will be able to subscribe to smart electricity meters by SP, as well as mobile apps such as the SP Utilities app, which tracks which period a consumer uses the most electricity or the least, to monitor changes in prices.
Analysts say that dynamic pricing would benefit Singapore, by driving consumers towards lower wastage of electricity.
It would also lead to greater energy efficiency, as the load on the power generators' gas turbines will be spread out in a more equitable manner, said Dr Sanjay C Kuttan, programme director at Nanyang Technological University's Energy Research Institute.
When turbines are operating at partial load due to low demand, it becomes inefficient and burns more fuel, he explained.
"Over time, such plans might lead to more positive behaviour being generated. With more people being aware of their electricity usage, it might cause them to be conscious that they are wasting electricity in some areas."
For instance, some consumers might decide they do not need to turn on the air conditioner the whole day, and switch off lights in the day, he said, adding that they might also shift some activities, such as doing the laundry, to night time instead.
In the industry, the use of pricing and technology by authorities to encourage consumers to optimise their energy use is called demand side management.
Mr Sharad Somani, Asia Pacific head for power and utilities at KPMG Singapore, said that for electricity retail liberalisation to be a success, consumers need to understand "that this is not just about price competitiveness".
"Public education around the overall optimisation of consumption through effective demand side management and usage pattern analytics should come first," he added.
"Once consumption is optimised, it can lead to cost savings and thereby give consumers higher value for money."
EMA, citing a Stanford University study, said that every megawatt reduction of peak demand in Singapore translates to a systems-wide saving of about S$1.6 million.
According to EMA, Singapore consumed about 49,000 gigawatt hours (GWh) of electricity in 2016 — enough to power all public housing units in the country for about 11 years.
The industrial, commercial and services sectors accounted for almost 80 per cent of the usage, with households using 15.6 per cent.
EMA has started demand side management with the commercial and industrial sector.
Last year, it launched Project OptiWatt, a pilot for companies to test the viability of initiatives to optimise energy usage.
Some examples include automating chillers to reduce energy use, and using thermostats with built-in sensors to improve peak loads.
Preliminary results have shown some reduction in energy use during peak periods.
For instance, the Agency for Science, Technology and Research has shifted about 0.3 — 0.4 MW of its consumption by setting its washers and sterilisers to operate outside the peak period.
WHAT CAN HOUSEHOLDS EXPECT NEXT YEAR?
From next year, consumers can expect a mix of retailers offering anything from conventional electricity to solar energy, as well as bundled deals.
Retailers say they aim to offer customers price plans that are cheaper than SP's regulated tariff rates.
Sunseap, the largest solar energy provider here, told TODAY it is looking to offer packages that are 15 to 30 per cent lower than current rates.
While other retailers were not prepared to give specific rates, their enterprise customers have seen between 20 to 50 per cent savings since they switched from SP.
Ms Valerie Lee, general manager of Sembcorp Power, said that in overseas markets such as Australia and Japan, liberalisation and the entry of new players had led to greater price competition and transparency for consumers, as well as targetted pricing plans to suit different consumers' needs.
"Liberalisation can also give rise to innovative partnerships, and even increase the uptake of technology solutions such as IoT (Internet of Things) applications and asset management tools."
For instance, in Japan, electricity retailers have partnered a wide range of companies, such as supermarkets and telcos, to offer bundled deals and cross promotions.
But Mr Allan Loi, a research associate at the Energy Studies Institute at the National University of Singapore, warned that not all plans will be suitable for consumers.
"Yes with such plans, there is the potential to pay lower costs. But unlike SP's fixed tariff prices, these dynamic pricing plans might be very volatile, and not for the risk-averse or low-income consumers. Consumers will need to monitor these prices themselves."
It is also unclear whether consumers will be charged for switching suppliers, which Mr Loi noted is the case in places such as Texas, United States.
"There have been complaints because these switching fees can be quite high, at over $100. So this has deterred consumers from switching. In Singapore, the government has to see if any administrative fees charged by the retailers are reasonable, or should be there at all," he said.
A survey by Sembcorp this year found that one of the main reasons cited by consumers not in favour of a switch in supplier was the trouble they would have to go through.
Many of the 400 respondents added that they might be lured to switch if there were lower rates, flexible contract periods, or attractive bundled packages.
The EMA said that the process for switching suppliers will be seamless.
"Under a fully liberalised market with various retailers to choose from, consumers may wonder if they would receive varying levels of reliability and quality of electricity supply. There is nothing to worry about," said the EMA in response to queries by TODAY.
"All consumers will receive their electricity supply through the same power grid, managed and operated by SP Group. As such, the reliability and quality of their electricity supply will remain the same, regardless of their choice of retailer. Consumers are advised to contact SP Group's Electricity Service Centre if they do experience any electricity supply interruption."
In an interview with TODAY, SP Group said that it will be overseeing the switchover process, which will be much like how consumers switch telcos.
"Consumers will be able to switch seamlessly," said Mr Chuah Kee Heng, Managing Director of SP Services.
"We will switch consumers not just from SP to retailer A, but also from retailer A to retailer B. The process will take a few days, but there will be no interruption to the electricity supply in the process."
Although SP will face more competition with the opening up of the market, it is also tapping on other opportunities that come with it. For instance, it intends to provide services to newer retailers which might not have a full suite of support services. These will include call centre and billing services, said Mr Chuah.
For a fee, SP's 130 call centre agents will provide customer support on behalf of these retailers, and they will be trained on their services and products, he said. The number of call centre agents will also be scaled up if necessary.
SP is also planning to offer billing support for retailers which does not have the capacity to bill customers themselves.
OVERCOMING CHALLENGES
Experts say the experience of countries such as Australia, New Zealand, United Kingdom, parts of North America, and Japan that had liberalised their energy markets could hold some lessons for Singapore.
In these countries, there had generally been a high switch rate from the incumbent to new players, noted Mr Pascual of EY.
But an overwhelming choice of retailers, and multiple, complicated plans had also led to much confusion among consumers. Japan, for instance, has over 400 retailers.
Mr Somani of KPMG noted that in the UK, regulator Competition and Markets Authority had found that due to a bewildering number of options and price plans, residents did not always select those most suitable for them and some ended up paying more.
Since then, rules have been in place so that retail plans are sufficiently simple and easy to understand and compare, he said.
In Singapore, EMA and SP are working on an online platform that will show the various price plans in the market, to help consumers compare prices across different electricity retailers.
Mr Loi of NUS stressed that any comparison of these price plans will have to be on an apple-to-apple basis, as he expects that there will be many types of combinations, with some retailers even throwing in rewards.
He added that the authorities and retailers can work together on a clear marketing campaign that guides consumers on what to do when the market opens up.
Experts add that it may take some time for retailers and consumers to have a better understanding of what works and what does not.
"It is a significant change for household consumers who will now have a choice in selecting their power supplier. For the industry players, it is also a significant change, as traditional market players are not typically equipped to deal with household consumers," said Mr Pascual.
"They need to establish a retail strategy, which is new to them."
Despite the challenges, analysts are excited about the change and its potential benefits.
"The payoffs can be great, depending on the innovativeness of the retailers to meet the aspirations of the consumers," said Dr Kuttan of the Energy Research Institute.