The Big Read: The foreigner issue - are we ready for a rethink?
SINGAPORE — The calls are getting louder, with more and more voices making the case for Singapore to relook its position on the foreign manpower issue, in the face of a severe demographics slowdown.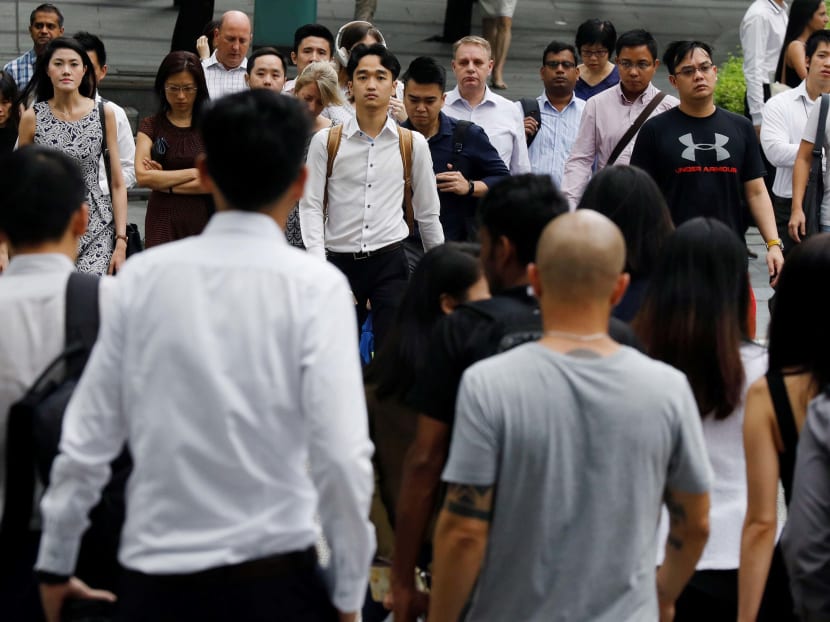 SINGAPORE — The calls are getting louder, with more and more voices making the case for Singapore to relook its position on the foreign manpower issue, in the face of a severe demographics slowdown.
Last December, economists said it may be time to re-look the Government's stringent immigration policies following a UOB report on Singapore's "demographic time bomb" which will start ticking next year, when the share of the population who are 65 and over will match that of those under 15 for the first time.
In January, Monetary Authority of Singapore chief Ravi Menon devoted much of his speech at a high-profile conference on the topic, making an impassioned plea for Singapore to "reframe our question on foreign workers", given the limited scope in raising birth rates and labour force participation rate (LFPR). This was followed by a commentary penned by National University of Singapore (NUS) academics urging the Republic's universities to admit more international students, in light of falling numbers.
"Singapore is in an excellent position to present its universities as viable alternatives for the brightest international students looking to acquire tertiary education. It would be a shame if we let this opportunity slip," wrote NUS department of economics lecturer Kelvin Seah and his colleague Professor Ivan Png in the article published by TODAY earlier this week.
The question, however, is whether Singapore — and Singaporeans — are ready?
It has been seven years since the "watershed" 2011 General Election, which saw the population's angst towards foreigners reach its nadir and prompted the Government to tighten its immigration and foreign manpower policies.
To the big question, the answer is mixed.
Many experts say the main issues that led to the 2011 backlash — namely fierce competition for jobs, inadequate housing and transport infrastructure — have largely been addressed. Anecdotally, the temperature has gone down a notch or two but any discussion on foreigners, on social media in particular, still draws vitriol.
STRIDES MADE IN HARDWARE, BUT SOCIAL ATTITUDES?
Much has changed, compared to the situation between 2009 and 2011, when droves of foreigners came into Singapore as its economy made a robust recovery from the global financial crisis.
For one, investments in housing and public infrastructure have expanded their capacity and these can now support a larger foreign workforce, said Maybank Kim Eng economist Chua Hak Bin.
Mr Alan Cheong, senior director at property research and consultancy Savills, noted that previously the stock of private housing needed to accommodate foreigners on employment passes was relatively insufficient. As a result, property prices and rentals shot up, especially for the mid-tier and mass market segments, he said.
Currently, the soft rental market may suggest that there is additional capacity for a higher foreign population here, he noted.
Ms Christine Li, director of research at Cushman and Wakefield, agreed that Singapore's housing infrastructure is "ready" for increased supply of foreigners. There were 25,560 vacant private residential units — landed and non-landed — as at the fourth quarter of last year, she said.
An increase of higher skilled foreigners such as employment pass or S Pass holders "would definitely bring back the glory days of the rental market", she added. Subsequently, some would choose to reside permanently in Singapore, and this would boost demand in the property market in the future, she said.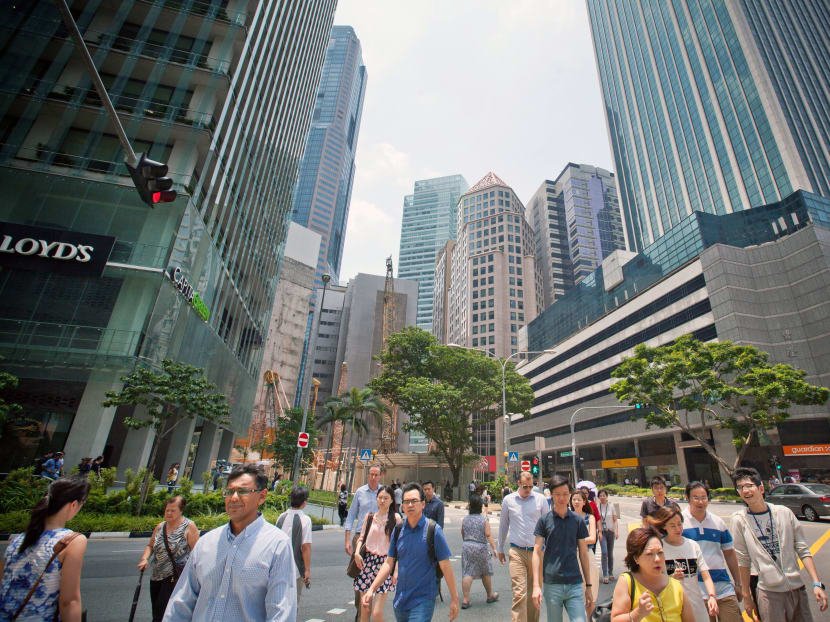 In terms of public transport network, more train lines and buses have been added since, said Mr Gopinath Menon, a senior research fellow at Nanyang Technological University specialising in transport.
For example, 1,000 buses have been added to the roads under the billion-dollar Bus Service Enhancement Programme (BSEP), which was rolled out in 2012 to tackle bus congestion and long waiting times. It wrapped up in December last year.
The effort translated to a ramping up of bus capacity for about 70 per cent of bus services – or 218 out of 309 basic services – either through the deployment of higher capacity buses or the operation of more frequent bus trips, the Land Transport Authority (LTA) had said.
With the increased capacity, the maximum time set between the dispatch of buses during peak periods has reduced by 15 minutes. Commuters can now expect to get on a bus every 15 minutes or less, compared to a wait time of up to 30 minutes previously if they missed the previous bus at the interchange.
Nevertheless, Mr Menon cautioned against the notion that an influx of foreigners would single-handedly cause problems to the transport system.
"It does add to heavier demand, but there are also other reasons such as older trains, increased demand in commuting from locals due to new towns being built. We should not attribute all the problems to people coming in, it is just one of the causes," he said.
However, much remains to be done to resolve the perennial reliability issues but experts noted that this is work in progress.
"Rails and buses now are much better off… there are more facilities with more capacity," said Mr Menon. He pointed to new MRT lines such as the Downtown Line which has been completed, while the Thomson-East Coast Line will be opened in phases starting next year.
While the hardware may be in place, the jury is still out on whether social attitudes have softened in tandem. Sociologists reiterated that Singaporeans continue to be "fairly open" to foreigners, as Institute of Policy Studies (IPS) senior research fellow Mathew Mathews put it.
"The issue… is that they have to add value to the local workforce," Dr Mathews said. He reiterated that to achieve social integration between Singaporeans and foreigners, "there is a need to respect each other's culture and background". "Foreigners would want to be working together, respecting local norms," he said.
For the man in the street, he may not understand the economic rationale of having more foreigners in the country, said Singapore Management University sociologist Paulin Straughan.
"It is harder to understand an appreciation of future gains… Gone are the days Singaporeans understand delayed gratification, opportunity costs," she added.
Prof Straughan noted that the issue needs to be managed with "careful calibration (and) communication". "It requires a very carefully calibrated policy that explains to Singaporeans (the rationale), and assure them that their needs are met," she said.
A FALSE DICHOTOMY
Amid the emotionally-charged debates surrounding immigration policies all over the world, it is often overlooked that pitting foreigners against locals is a false dichotomy. This is especially so in a multiracial and multicultural society like Singapore.
"If we think back to Singapore's society, it was created from a collection of foreigners," Prof Straughan said. "Many of our forefathers were immigrants with no intention to stay and they made it their home. We are a multi-ethnic society, and we are special because of our multiculturalism. This differentiates us from others."
Responding to queries, a Ministry of Trade and Industry (MTI) spokesman reiterated that Singapore "remains open to global talent".
"These must complement our local workforce, whom we will continue to develop," the spokesman said.
"There has to be a core of local talent, because the goal of attracting companies to invest in Singapore is to create jobs for Singaporeans. We want Singaporeans to have good career pathways and opportunities to thrive."
Laying out the Government's approach, the ministry also pointed out that companies invest in the Republic because they will have access to both local and global talent.
"MTI and its economic agencies pursue such investments, while working with the Ministry of Manpower (MOM) and the Ministry of Education to prepare Singaporeans — both young and old, and across various career stages — to take up the good jobs that such investments bring," said the spokesman, who cited the slew of initiatives in place to support Singaporeans in skills mastery and lifelong learning, as well as help companies reskill Singaporeans. These include the Professional Conversion Programmes, SkillsFuture and the Industry Transformation Maps (ITMs).
It "makes sense" for businesses to recruit and groom local talent having established themselves in Singapore, the spokesman said. And in order to continue attracting quality investments and good jobs for Singaporeans, businesses here have to thrive — and they do so "by being international and doing business with the world", he added.
"Diversity of talent – both local and global – is a strength. This helps in the cross-pollination of ideas, helps both our local and foreign workforce operate across cultures, and keeps Singapore a vibrant, exceptional destination to do business," the spokesman said.
He added: "For Singapore to thrive, we must be open to talent, and we must groom our own talent. Both go hand in hand. That is how we can continue to provide good job opportunities for all Singaporeans."
CLEAR ECONOMICS CASE
Preliminary statistics released by MOM in January showed that last year, Singapore's total employment shrank for the first time since 2003.
This was despite an estimated 0.9 per cent growth in local employment, with some 21,300 more Singaporeans and permanent residents hired.
The overall fall was due to the drastic decline in foreign employment. Excluding foreign domestic workers, the figure fell by 32,000 last year, mainly due to a decrease in work permit holders in construction and marine.
This is the largest drop in foreign employment since 2002, when the figure fell by 43,000.
Speaking at the IPS Singapore Perspectives 2018 conference, Mr Menon suggested that Singapore's mindset and attitudes toward the inflow of foreign workers require a rethink.
"It is not about how many foreign workers industry wants or society can afford to have, but what number and kind of foreign workers we need to maximise the job and wage opportunities for Singaporeans," he had said.
While Singapore cannot keep increasing its share of foreign workforce indefinitely, it must be flexible "in allowing fluctuations in the ratio according to economic cycles, changing circumstances, and opportunities", he added.
At the same conference, Deputy Prime Minister Teo Chee Hean pointed out that Singapore became an "aged society" last year, with more than 14 per cent of its population above the age of 65. This will go up to a quarter by 2030, presenting enormous challenges to maintaining a vibrant economy.
Singapore's challenges on the population front is well-documented, and it is starting to hit home as it crosses the demographic Rubicon highlighted in the UOB report last December.
In the report, UOB economist Francis Tan noted that in the worst-case scenario, the country's dependency ratio – the proportion of working-age adults to dependents comprising children and the elderly - will drop to almost 1:1 by 2030.
Separately, IPS senior research fellow Christopher Gee said in a study that if fertility rates in Singapore remain at current levels, the ageing population will cause a drag of 1.5 percentage points on per capita gross domestic product (GDP) growth every year until 2060.
But problems could potentially surface within the next decade, economists told TODAY.
Referring to the ITMs which will create many jobs, Dr Chua, the Maybank economist, questioned how the targets could be met based on the current workforce size without additional foreign manpower, even after taking into account those who are displaced from positions becoming redundant.
"Manpower policies will need to be fine-tuned…Singapore's transformation roadmap cannot be fulfilled without some flexibility in its manpower policies," he said.
HOW A MORE FLEXIBLE POLICY COULD LOOK LIKE
Going forward, the experts agree with Mr Menon's call for a more calibrated, sector-specific policy which could provide a larger pipeline of foreigners to growing sectors — such as technology and e-commerce — as well as areas where jobs are traditionally shunned by Singaporeans, for example healthcare. Without foreigners to supplement the local workforce even as Singaporeans are being reskilled, Singapore could lose out on the vast opportunities available in the digital economy as the global economic conditions look set to improve.
Already, technology and e-commerce startups told TODAY that they face a severe shortage of skilled workers.
Mr Steve Feiner, 29, co-founder of abetterflorist said it is hard for the company to hire cost effectively. "To hire the right individual for a reasonable price is nearly impossible. There just likely isn't enough talent to go around," he said.
Mr Jackie Tan, 28, founder of Fundmylife which provides financial literacy content, added: "It's a talent grab everywhere. Hiring foreign (employees) will always be a possible option, but it really depends on culture fit, both within the company and (outside of it)."
Mr Tan, a Malaysian, has spent more than half his life in Singapore, having gone through the education system here. His startup has its headquarters here and hires mostly Singaporeans.
Singapore is facing skill shortages in engineering, information and communication technology, data analytics and cyber security, said Mr Bernard Aw, principal economist at IHS Markit.
However, tapping on foreigners to complement the Singapore workforce is easier said than done, Mr Aw pointed out.
"Unfortunately, there is no easy definition of what is complementary to the local workforce," he said. "A loose definition is skilled foreigners who could made an important economic contribution to Singapore. A better definition will be on the elasticity of demand for labour and the degree to which we can use technology to replace human labour (and boost productivity at the same time)."
He suggested that if Singapore requires foreign workers to grow the economy, they ought to be only considered if the role cannot be automated, and no Singaporeans want to do the job or have the requisite skills.
Singapore's rate of foreign workforce growth has dropped sharply in the past decade or so, from close to 10 per cent annually in some years, to only a few percentage points. In recent years, there has been practically zero growth, said SUSS economist Walter Theseira.
While Singapore may be able to handle a calibrated population growth in a few more years, it is not yet ready to handle a large influx of foreigners, Dr Theseira reiterated.
He noted the Government's efforts to ensure companies first consider Singaporean applicants for job openings before turning to foreigners, some of whom could require lower wages. These were done through the national jobs bank initiative and the raising of minimum wages for employment passes, for example.
"But this balance is hard to achieve. You don't want to discourage the best and brightest from moving to Singapore. And you don't want to favour unqualified and underperforming Singaporeans over non-Singaporeans, because that will only lead to Singapore's economic competitiveness falling," said Dr Theseira.
Mr Aw noted that the Government's current direction is to maintain the share of foreigners at about one-third of the total workforce, and not to let it grow significantly over the long term.
CIMB economist Song Seng Wun felt that should the Government decide to loosen its stance, "the focus should be on welcoming those who can generate more economic activity, such as in the technology sector".
At the same time, higher foreign worker levies to nudge companies to innovate and reduce their reliance on cheap manpower are "here to stay", Mr Song said. "This is so that businesses can concentrate on doing more for less," he added.
He suggested that the Government constantly review its foreign manpower policy from time to time — instead of having a rigid policy direction set in stone for years.
"It is about finding a balance. If businesses need manpower, we have to ensure that there is sufficient supply," he said.
THE BOTTOMLINE
Dr Chua reiterated that relaxing foreign manpower restrictions during economic upcycles will allow Singapore to capitalise on growing investments and demand. "If restrictions are too tight, business will choose not to invest in the first place," he said. "That in turn hurts job creation and opportunities for Singaporeans."
He added that foreigners also "pay their fair share of taxes and contribute to the overall fiscal position, reducing the tax burden on citizens".
Pointing to the low fertility rates and the spate of school mergers as a result of shrinking cohort sizes, Mr Song noted that the foreign manpower issue will need to be confronted.
He believes that on the Government's part, a lesson has been learnt. Previously, its different components were not working together — the influx of labour was not telegraphed early enough to those who planned on a larger population growth, Mr Song said. Today, the policymakers plan "far more ahead", he added.
This brings the question back to whether Singaporeans, as a people, are ready to accept more foreigners — and the attendant friction and challenges — in their midst.
To this, Prof Straughan has little doubt. "I don't think we have a problem integrating those who are not Singaporeans," she said. "The concerns are overplayed by a disgruntled group which are bordering on xenophobia, posting hate speeches online. This is not a reflection of all Singaporeans and may be a minority view."
She added: "We have it in our DNA to be inclusive."