The Big Read: Making Singapore a better place for workers who come from afar
SINGAPORE — It was not too long ago that stories abounded of employers ill-treating and exploiting foreign workers, some of whom were often made to live in substandard conditions. The 2010 case of the boss of a maintenance company — he was later jailed for three months — who left his dying foreign worker by the roadside still rankles, for some.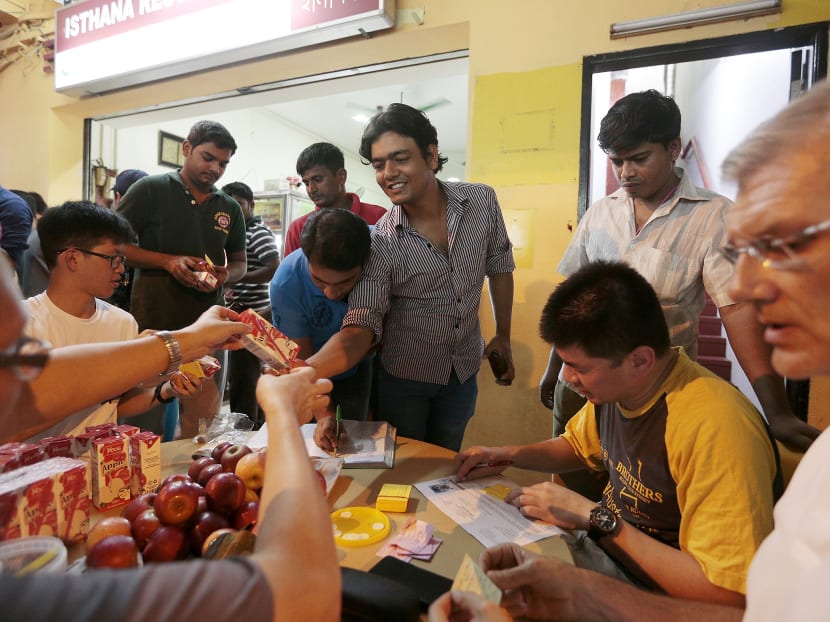 SINGAPORE — It was not too long ago that stories abounded of employers ill-treating and exploiting foreign workers, some of whom were often made to live in substandard conditions. The 2010 case of the boss of a maintenance company — he was later jailed for three months — who left his dying foreign worker by the roadside still rankles, for some.
While much remains to be done to improve the welfare and protection of migrant workers, strides have been made in recent years, non-governmental organisations (NGOs) and migrant workers themselves say.
They credit the improvement in the situation to a multitude of factors — including the advent of social media, which allow issues to surface faster, and enable groups and individuals to organise themselves faster, among other things — as well as the joint efforts by individuals, NGOs and the Government.
As International Migrants Day rolls around this month, TODAY takes a look at the efforts in recent years to improve the lives of the foreign worker population, which numbers around a million, and what more can be done. New laws have been passed, existing regulations tightened and cases are getting resolved more quickly. Ground-up efforts have also been intensified.
While they tended to suffer in silence in the past — either out of fear of repercussions or simply not knowing where to seek help — migrant workers say there is no shortage of avenues these days, be it via social media or the NGOs.
Stories and video clips of spontaneous acts of kindness by foreign workers — including a heroic act by two workers earlier this year who saved a dangling toddler stuck between the rails of a flat in Jurong East — have also touched Singaporeans, so much so that some have taken up the cause of improving the lives of this group of labourers. "I think as a society, most of us are well past that stage of shunning migrant workers... Barriers are slowly breaking down," says Migrant Workers Centre (MWC) executive director Bernard Menon, who recalls how a 10-year-old boy approached him last month to ask for advice on treatment of foreign workers on behalf of his father who owns a construction company.
The 2012 SMRT strike by foreign bus drivers and the 2013 Little India riots have also galvanised Government action to address some of the underlying problems, observers say. These events have also brought issues faced by foreign workers into sharper focus and got Singaporeans thinking about them, Mr Menon notes.
Foreign workers whom TODAY spoke to laud initiatives such as better workplace-safety practices and mandatory itemised payslips. However, they feel that greater attention can be paid to areas such as living conditions, the quality of food catered for them —an issue that TODAY had highlighted in previous reports — and the clamping down on errant recruitment agencies, notwithstanding the fact that many of these operate in their home countries.
Bangladeshi construction worker Shishir Roy, 30, who has been here for the last seven years, says housing conditions remain a big issue for some foreign workers. "Rooms are dirty and crowded... And the food catering service is not clean, not cooked healthily," he says.
Urging authorities to look into the payment of recruitment fees, he says new migrant workers have to pay almost S$16,000 to come to Singapore for work, compared with the S$7,000 he paid when he first came here.
Sharing his own experience, Mr Katakam Satish Kumar, 29, says there are errant employers around. He became injured during work and his employer failed to provide proper care. One day, he ran away from the workshop to file a complaint with the Ministry of Manpower (MOM). "(Foreign workers) are still too scared to go to the Government (when they have problems)," he says.
Nevertheless, shipyard worker Sorwar Mohammad Golam, 26, adds: "It's only some small companies (that are cheating people)… Singapore law is still very good."
A STRONGER ECO-SYSTEM
Since 2008, an inter-ministerial committee, chaired by Deputy Prime Minister Tharman Shanmugaratnam, has been overseeing a whole-of-Government effort to improve the management of foreign workers here.
In recent years, the Government has taken a series of steps to enhance the protection of foreign workers and improve their welfare. New laws introduced this year included the amendment of the Employment Act to make it mandatory for employers to issue all workers key employment terms in writing and itemised pay slips. A new Foreign Employee Dormitories Act (FEDA) was also enacted this year to ensure that large worker dormitories meet the requisite living standards.
Following the Little India riots, Prime Minister Lee Hsien Loong announced that the Government is speeding up the construction of dormitories that provide adequate living space, and other amenities and recreational facilities to take care of the basic needs of workers. At the time, Mr Lee stressed the Government's belief that foreign workers in Singapore "ought to be treated fairly and properly". He said: "We do not stand for ill treatment or unfair treatment of foreign workers. We have to make sure they are well treated, they are paid properly on time, their safety is taken care of, their living conditions are up to standard, and they are given full protection of the law."
Apart from Government efforts, NGOs are also making their presence felt. Mr Menon recalls the example of a case last year where workers hired by Akash Engineering and Technology threatened to go on strike, alleging that their employer had not paid them salaries for up to four-and-a-half months and they had not been provided with food for almost two weeks. MWC staff, along with their counterparts from the MOM and Keppel Shipyard involved, swung into action.
"The MOM helped to talk to the shipyard to explain the situation, and they immediately stepped in to make good on the owed salaries. Meanwhile, we guaranteed payment to the caterer, who then promptly re-started delivery of their meals," he says. Eighteen hours after MWC was first informed of the case, all 120 workers were paid their salary arrears in full.
Mr Menon says the case showed how everyone needs to "come together to work in concert" to achieve a satisfactory resolution for the workers.
Recently, some NGOs, including the Foreign Domestic Worker Association for Social Support and Training (FAST), announced that they are looking to expand their scope of services to include mediation sessions for foreign domestic workers (FDWs). FAST executive director William Chew says employment agencies had suggested his NGO take on the role of a neutral party in disputes between FDWs and employers.
In terms of engagement and education, NGOs and the MOM are working in tandem to reach out to the migrant workers.
For example, HealthServe conducts weekly visits to workers' dormitories to inform them of their rights and the resources available to them, says the NGO's executive director Colin Chia. Since 2008, Transient Workers Count Too (TWC2) has been running its Cuff Road Project, which provides free meals six days a week for foreign workers who would also drop by to consult TWC2 volunteers on issues that they face.
In November last year, the MOM organised a workshop for the workers to help them gain a better understanding of employment conditions and regulations. Back at the workplace, the participants pass on the knowledge and information to their colleagues.
STRIDES MADE
One of the most significant improvements that NGOs observe is the faster resolution of cases.
TWC2 executive committee member John Gee notes that in 2008 when Cuff Road Project was launched, the NGO used to regularly come across workers who had to wait a year or two before their cases were settled. Such instances would be unusual now, 
he says.
There are also fewer reported cases of forced repatriation, which could be a result of the authorities' move to require an In-Principle Approval (IPA) letter, which contains important information such as salary details, to be sent to workers before they arrive here, Mr Gee says. Employers are held accountable for the terms stated in the letter.
In the past, many workers would be duped to come to Singapore on false promises made by their prospective employees. TWC2 executive committee member Debbie Fordyce says: "We've seen some action taken by the MOM to curb this sort of behaviour, but it still exists."
Adding that there is greater involvement by the Labour Court to resolve disputes, she points out that there are still cases where companies fail to comply with the orders.
Mr Menon says his organisation are seeing fewer cases of disputes: It sees about 4,000 cases a year for the last two years. The number has dipped by about 10 per cent this year. "To some extent, more Singaporean employers have started to realise they need to treat workers fairly," he says.
While the number of disputes has gone down, it is unlikely that this is due to fewer workers coming forward. In fact, the opposite is true, says 
Mr Menon who observes that there is less reluctance on the part of the migrant workers to step forward and seek help.
He says: "It's especially so for new workers, who tend to be fearful as their trust in government processes are not so high... In the last two years, word has slowly started to spread among the migrant community that it need not be that if you file a claim, you have to go home."
Mr Gee adds that, anecdotally, more FDWs are asking for transfers to a different employer. "It may indicate greater readiness by workers seeking to assert their rights ... including getting the kind of pay and conditions they were originally promised when recruited," he says.
FAST senior executive (social support) Muhammad Nizam Bin Amlan says the NGO's Befrienders Helpline currently gets about 150 calls a month, five times the number when the initiative was first launched in 2013. "There might be more awareness of what their (rights are), they don't just say 'yes' to the employer, but know there are avenues they can turn to," says Mr Nizam.
Ms Serina Sim, a senior manager at the MOM's customer responsiveness department, says she is seeing more migrant workers approaching the ministry just to clarify information. Ms Sim, who has been working at the MOM for 13 years, says she has seen "how things evolved" first hand. Referring to the FEDA, she says: "From a situation where we only enforced land use, or (regulate) how many people live in one housing (compared with) now where we are willing to enact an Act like this... it's a very strong (move) for the Government to step up and say it wants to enforce this."
Through her interactions with the foreign workers, Ms Sim notes that many have sought help from the NGOs. "The Government, the unions, and NGOs have done their fair bit," she says. "So (now) it's for Singaporean individuals to know what role they can play... to show basic respect for another individual and better co-exist together."
An MOM spokesperson says the ministry is "heartened by various efforts from the different groups showing their appreciation towards these workers".
She adds: "Some Singaporeans have also reached out to some of these workers in their own ways through various ground-up initiatives throughout the year, or by volunteering their time with NGOs."
'STILL MORE TO BE DONE'
Despite the improvements, NGOs say there is still some way to go to address challenges faced by migrant workers. Among the most pressing issues is the need for more effective regulation of recruitment fees. This would require greater efforts from the goverments of Singapore and the source countries, says TWC2 president Noorashikin Abdul Rahman. "As consumers of migrant workers, we should look into supply chain issues and exert our power to demand for a more ethical model for recruitment and training," she says.
She also suggests that the Building and Construction Authority (BCA) look into the operations of its approved training centres overseas. Authorities here can also clamp down on Singapore companies which work with overseas recruiters who charge exorbitant training and recruitment fees, she says.
Humanitarian Organization for Migration Economics (HOME) executive director Jolovan Wham feels that workers should be free to change employers. Currently, they can do so only with their employers' consent.
Mr Wham says: "Workers who are being mistreated by their employer are in effect being enslaved by such a system, as the fear of losing their jobs are likely to force them to endure exploitation, and working and living under duress."
Mr Chia hopes to see greater protection for sick and injured workers. He has seen workers given only two days of medical leave plus light duties for fractures, for example. He points out that the workers do not usually get a copy of their medical certificates or reports. This may make it difficult for a worker to "provide evidence that he is being misdiagnosed or given insufficient rest for his injury", Mr Chia says. Companies that fail to report workplace injuries and private practitioners who do not provide adequate medical treatment for foreign workers should be taken to task, he adds.
NGOs feel that much more can be done for FDWs in particular. For example, there should be proper enforcement of the mandatory weekly rest day, said Ms Karen Fernandez, chief executive officer of female migrant workers' welfare group Aidha. "Unfortunately, there are still many employers who don't observe this, and some who think that paying their helper, instead of giving them the day off, is perfectly acceptable," she says. "Employers should understand that (FDWs) are like any other employees and treat them accordingly. No one works seven days a week."
Mr Nizam says he has seen two cases so far this year where FDWs attempted suicide because they were under overwhelming stress and were not given any days off. "Once helpers have a day off, they have better work-life balance, and can serve the employer better," he says.
There is also a need to develop social activities to better integrate FDWs with Singapore society, says Mr Mark Goh, chairman of ACMI (Archdiocesan Commission for the Pastoral Care of Migrants and Itinerant People). "What they crave is the social bond... They just want to see a familiar face and have friends around them," he says. ACMI is looking to start support groups for FDWs next year.
Mr Wham calls for FDWs to be included under the Employment Act. "Unlike other employees in Singapore, domestic workers are excluded from the country's main labour law. Basic labour rights, such as guaranteed public holidays, annual leave, sick leave, limits to their working hours, are denied to them," he says.
On its website, the MOM explains that FDWs are not covered by the Employment Act "because it is not practical to regulate specific aspects of domestic work, such as hours of work and work on public holidays".
They are covered under the Employment of Foreign Manpower Act, which stipulates that all employers are responsible for the well-being of their FDWs. These conditions include provisions on personal safety, proper housing, prompt salary payment, and adequate food and rest.
Employers are also required to pay for a medical checkup for the FDW every six months. Employers who breach these conditions can be fined up to S$10,000, or be jailed up to 12 months, or both.