The Big Read: Not for the first time, new entrants turn an industry on its head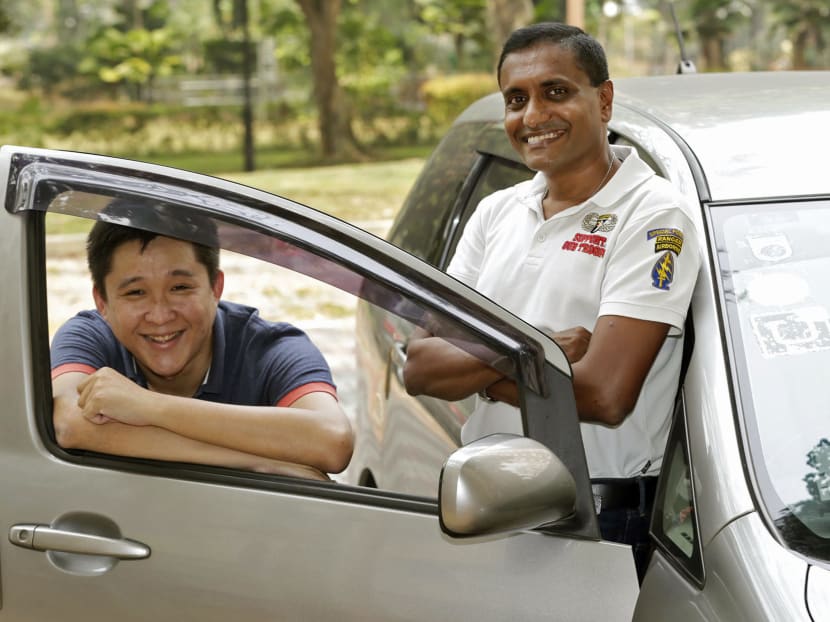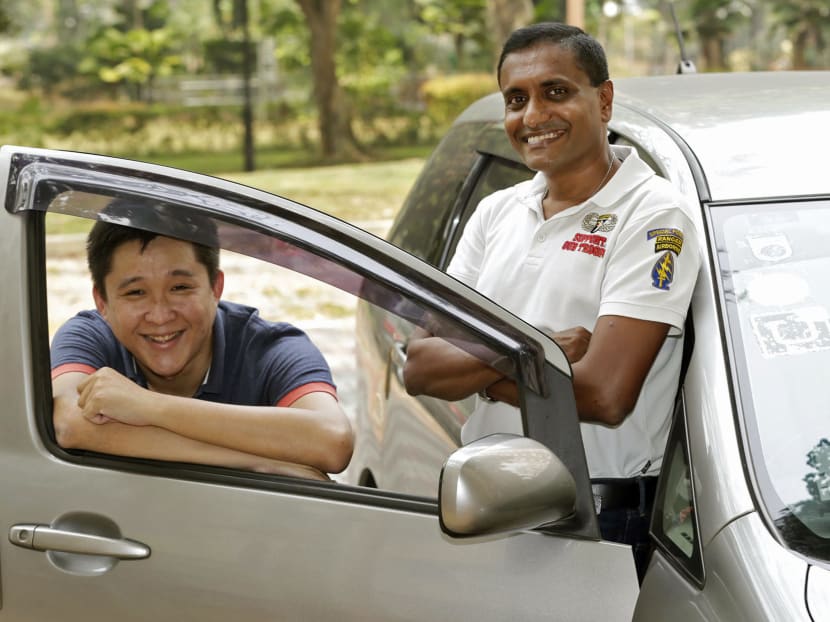 In the coming months, a ban on taxi services provided by private drivers will take effect in South Korea. Earlier this year, Germany banned an Uber service which used unlicensed taxi drivers to transport passengers, although the country now faces a probe by the European Commission after the company called on Brussels to help in its fight with regulators on the continent.
Last week, Uber won its legal battle against London's transport agency Transport for London (TfL), with the High Court declaring that the app service is not illegal. Meanwhile, TfL has published draft plans to, among other things, impose a five-minute wait on anyone hailing a driver through the Uber app in order to help licensed taxi drivers retain a competitive advantage.
In Singapore, third-party taxi booking apps first emerged in 2013 and enjoyed an explosive growth. A year later, the Land Transport Authority (LTA) laid down the rules for the first time to govern a burgeoning industry. It mandated registration and successful applicants would be granted a certificate of registration valid for three years. Among other rules, all third-party taxi booking services must provide commuters with payment details, including flag-down fare, distance and time rates, the booking fee charged by the service provider and, where applicable, peak period and location surcharges.
However, it did not take long before some of these app companies came up with a new business model — private cars for hire.
At the beginning of this month, Transport Minister Khaw Boon Wan weighed in on the issue, just a day after he was sworn in for his new portfolio.
He wrote on his blog that "quite a number" of taxi drivers had told him that UberX — which hires driver who uses private cars to ferry passengers around on-demand and do not need a vocational licence as taxi drivers do — was unfair.
"While taxi drivers welcome competition, they demand that the playing field be level. I think our taxi drivers have a point," Mr Khaw said. But he noted that countries that have banned Uber and similar apps have overreacted and been too hasty in judging such new business concepts that are part of the sharing economy. "A balanced approach is called for," said Mr Khaw.
The National Taxi Association (NTA) has called for a framework to regulate how third-party taxi-booking apps and their private-hire drivers operate.
NTA executive advisor Ang Hin Kee, who is also a Member of Parliament for Ang Mo Kio GRC, said that as of the start of this month, the association has conducted dialogue sessions with almost 200 taxi drivers to understand their concerns with the growing popularity of Uber and GrabCar.
Mr Ang said that while the taxi drivers understood how commuters could benefit, they felt that the competition was unfair to them as they have to follow guidelines on charging, for example. "You can't charge extra surge pricing during peak period (like what Uber does in some instances)... (taxi drivers) follow these guidelines and these guidelines are centered around consumers' interest," said Mr Ang.
Mr Ang said that based on feedback from taxi drivers so far, NTA hopes the authorities would scrutinise the age of vehicles which GrabCar and Uber drivers are using to ferry passengers, and equip the drivers with taxi vocational licences to ensure passengers' safety. The authorities should also look at the practise of surge pricing, he added.
As of August, there are a total of 98,919 people with a valid vocational licence to drive a taxi here, based on Land Transport Authority figures. Of these, it is estimated that about 57,000 are active taxi drivers — or twice the cab population of 28,572.
Similarly, transport experts agree that there should be regulation to protect commuters' safety and ensure that the vehicles are properly maintained, for example.
National University of Singapore (NUS) transport researcher Lee Der-Horng said authorities should not "exercise double standards" given that Uber and GrabCar drivers are also providing taxi services. He suggested that drivers working for the app companies should attain valid vocational licences. A global positioning system (GPS) should also be installed to track the cars so as to safeguard commuters' welfare, he said.
SIM University (UniSIM) adjunct associate professor Park Byung Joon reiterated that at the very least, vehicle inspections have to be mandated.
UniSIM senior lecturer Walter Theseira added: "Since standard taxis are already regulated… the key is to make sure that private taxi services are providing the same standards of service... Otherwise, there is an access burden of regulation on standard taxis."
Both Uber and GrabCar stressed that commuters' safety is their top priority and various measures are in place.
Among other things, GrabCar requires all drivers to register in person. It also conducts vehicle inspections, background checks on the applicants and medical checks for drivers above 50 years old. All GrabCar drivers also have to sign a code of conduct, said the company's regional head Lim Kell Jay.
Mr Lim said: "We are the first in South-east Asia to provide 'number masking', which allows for anonymous calling between passengers and drivers, and ensures passenger privacy... The driver's photo and vehicle details are visible to the passenger to ensure they only get into the correct vehicle. The 'Share my ride' function allows passengers to share real-time updates on their trip with their family and friends."
Uber also allows passengers to share their GPS location with family and friends. "Uber uses GPS to keep a record of where a driver goes during the ride, creating accountability and a strong incentive for good behaviour," said Mr Chan Park, Uber's general manager for Southeast Asia.
Uber requires its "driver-partners" to submit documentation of licence, insurance, vehicle registration, and bank account information. It keeps electronic copies of all the documents. Uber also uses a "two-way mandatory rating system between commuters and drivers" to ensure transparency and accountability. "We ask riders and drivers to rate each other and provide anonymous feedback before booking or accepting another ride. Our safety team reviews this information, investigates any issues and takes appropriate action as required," Mr Park said. "This feedback loop ensures only the best drivers are allowed to remain on the Uber platform and ensures commuters need to show an equal level of respect and courtesy to the drivers."
The six taxi operators — Comfort, CityCab, SMRT, Trans-Cab, Premier and Prime — are feeling the heat, with analysts estimating that the bigger companies could be bleeding millions of dollars each month due to the emergence of private-car sharing apps.
The analysts noted that under the traditional business model, these incumbent operators rely greatly on taxi rentals — they charge up to about S$150 a day, depending on the type and age of the taxi — as their main source of income. Unlike Uber and GrabCar, they also have to incur costs in terms of benefits for taxi drivers on their books as they are considered employees.
NUS' Professor Lee reiterated that if more and more taxi drivers opt to join Uber and GrabCar, or leave the industry because of the tougher competition and lower earnings, the taxi operators would feel the adverse impact.
A recent Straits Times article reported that about 800 Trans-Cab taxis were left idling in a yard at Sungei Kadut, instead of plying the roads. Referring to the article, Prof Lee used a back-of-the-envelope calculation and estimated that Trans-Cab — which is the second-largest taxi operator — could be losing almost S$3 million a month. This adds up to tens of millions in a year, he added.
When their vehicles are not hired, the taxi operators have to absorb the costs such as road tax, Certificates of entitlement (COE) and insurance premiums, said Prof Lee. "So all these are a financial burden to the taxi companies," he added.
UniSIM's Dr Park noted that taxi operators also provide employee benefits for their drivers, such as medical insurance and fuel subsidies. These cost the operators a significant amount of money, he said.
In contrast, Uber and GrabCar — which do not own any fleets, and do not have a employer-employee relationship with their drivers — do not need to bear much of the costs incurred by the operators.
Describing the business model of the app companies as one of "building a network of independent contractors" to provide taxi services, Dr Park said: "(This) is much cheaper, easier and quicker... That is why the taxi companies feel that they are not competing on the same ground."
By not having to invest in any inventory, the app companies can become profitable soley based on commissions from their drivers, he added. In contrast, taxi operators need to cover their investment costs. "They have to charge (a certain) amount of rental fees for individual cars to make up for the cost," said Dr Park.
When contacted, ComfortDelGro — the largest taxi operator here — declined to respond to TODAY's queries, citing "competitive reasons". The other operators could not be reached for comments.
Nevertheless, some industry insiders whom TODAY spoke with lamented about the unlevel playing field, and said they hoped the authorities would impose the same regulations on Uber and GrabCar such as the minimum daily mileage of 250km on weekdays, and a requirement that the vehicles used as taxis must not be more than eight years old. Taxi vocational licence holders must also be Singapore citizens, and at least 30 years old.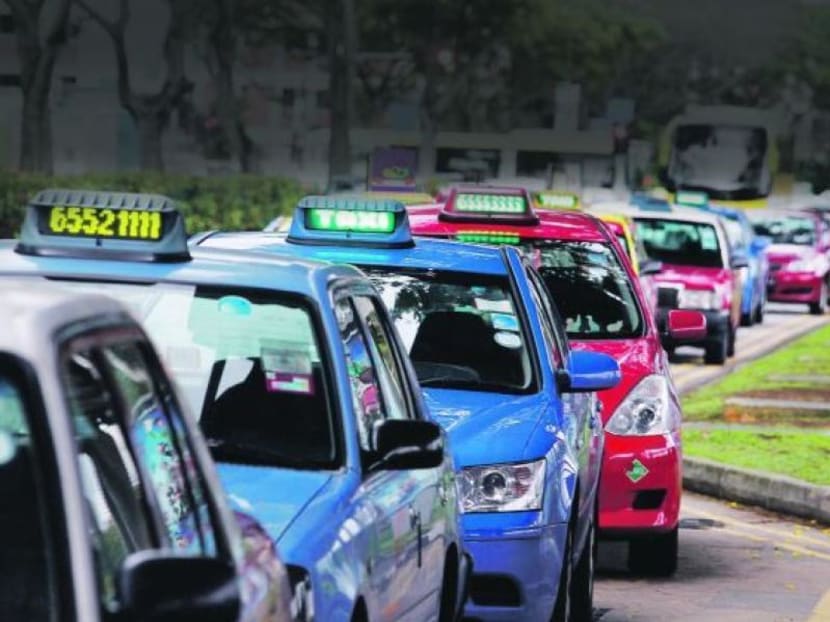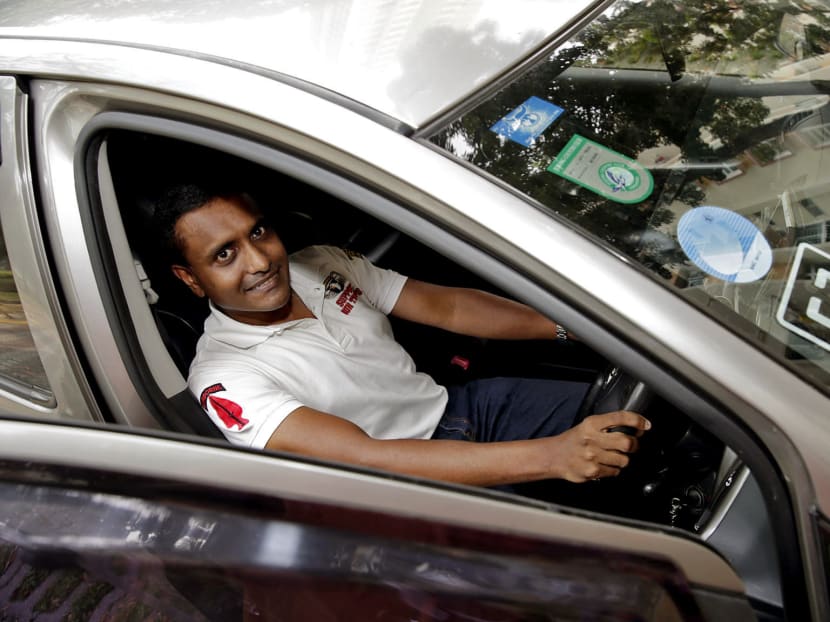 Taxi drivers here have taken a beating in their earnings, while their competitors — the increasing number of people who are joining Uber and GrabCar as drivers — gush over how they are able to earn extra money at their own pace. In fact, some among the latter group said by working for the app companies, they can afford having a rental car for their own use especially during weekends.
Mr Patrick Pereira, 45, owns an aerial service business. Last month, he decided to become an Uber driver because there was greater flexibility and less restrictions, as compared to being a cabbie.
"I just want a balanced lifestyle, I can send my kids to school in the morning, then start driving and make money," he said.
Noting that taxi drivers have to clock at least 250km daily, he said: "But I don't have to do that, I can drive however long I want as long as I can cover costs for my car rental and petrol." He said that as an Uber driver, he earns an average of S$500 a week — after deducting costs — if he works at least 10 hours a day.
A 48-year-old music teacher, who wanted to be known only as Eddie, squeezes in four to five hours of driving in the morning, before he teaches at school. He said that after deducting expenses for car rental and petrol, he earns about S$500 to S$700 a week driving for Uber and GrabCar.
"I can earn a little more money and at the same time it helps me to pay my bills," said Eddie, adding that he pay about S$450 a week to rent a car.
Several taxi drivers working for the traditional operators said that their earnings have dropped by at least 20 per cent since the apps came onto the scene. Comfort maxi cab driver Mr Henry Tay, 45, who has been driving a taxi for eight years, noted that the customer typically pay lower fares for taking Uber or GrabCar. "So customers rather call for them," he lamented.
Despite their falling income, the taxi drivers said they would not leave the taxi operators for now.
Some cabbies, including Mr Raymond Lee, 56, and Mr Terry Tan, 44, were concerned with what they felt was a grey area — insurance coverage.
"Now if there is an accident, (the taxi driver and the customer) can fall back on the taxi company (for claims)," said Mr Tan, adding that he was unsure of the arrangement for Uber and GrabCar.
Uber and GrabCar drivers have to be covered under an commercial insurance policy. In the event of an accident, claims will be assessed by the insurance company.
Mr George Lim, 42, a taxi driver with SMRT, noted that there is a cloud hanging over the app companies. "If they ban (the apps), then I must start again and come back (to SMRT)," he said.
Nevertheless, Prime taxi driver David Goh, 45, said he is considering become an Uber or GrabCar driver. He pointed out that he has to pay S$150 a day to hire a taxi from the operator, compared to renting a car which costs about S$50 a day.
"You still must worry about your taxi rental even when you are sick," said Mr Goh, who has been driving a taxi for a decade. "It's cheaper to rent a car, stress level is lower and my health will be better."
Cabbie Harry Ng, 56, reiterated that the vehicles which Uber and GrabCar drivers use should be checked regularly. "Taxis must undergo inspection every six months, but what about them?" he questioned. Mr Ng also suggested courses for GrabCar and Uber drivers to familiarise them with Singapore roads.
For commuters — and there are aplenty — who often complain that they can never get a taxi when they need one, the arrival of the apps are much welcomed. Nevertheless, a vast majority of those whom TODAY spoke to believe some form of regulation is needed, citing safety and pricing concerns.
Courseware manager Eunice Ong, who has been using GrabCar over the past year, felt that any government intervention will result in an end to "cheaper car rides".
For instance, the 23-year-old pointed out that GrabCar informs passengers on the exact amount — excluding ERP charges — they have to pay for their rides, whereas GrabTaxi gives a "rough guide" on how much the journey would cost.
Undergraduate student Nicholas Yeo, 22, added: "If the services fulfill a need and have no harm to consumers, there should not be unnecessary intervention."
A survey done by market research firm YouGov from Oct 8 to 11 showed that the top reasons for using private car-sharing apps are: The ease of using them; such apps show the availability of drivers in the area; and it is easier/more convenient to get a ride using the apps compared to other ways.
Admin executive Alex Lim, who uses GrabCar and Comfort apps, noted that it easier to get a private car than a taxi on rainy days.
"If the Government ban them (private-car apps), then we, as consumers, only have taxis to choose from. It's only right if we have the right to choose if we want to take a private car or taxi," said the 34-year-old.
However, some other commuters pointed out that it is important for the Government to impose regulations to ensure that commuters are not overcharged.
Television producer Ronnie Kim, 30, said "surge pricing" should be regulated as Uber drivers tend to charge more on occasions when demand is much greater than supply.
And while accounts executive Chloe Chen gets to save on booking charges when she uses Uber, she believes that it is still necessary for the Government to regulate the third-party apps to ensure that there is "no scam".
For instance, there should be a common meter between private-car drivers and taxi drivers, the 23-year-old said.
Personal safety is another reason why several commuters interviewed would welcome some form of regulation for the apps.
Madam Lee Key is one of those who are wary about using private drivers offered by third-party apps. The 53-year-old admin executive said a private car once pulled over when she was flagging for a taxi along the road. "But I don't know if he really is a Uber driver, so even though I was rushing to meet my friend, I decided to wait for a taxi," Mdm Lee said.
Mr Kim added: "They (the authorities) should regulate the quality of service and ensure that (third-party app) drivers are safe, effective and capable."
While the taxi industry is under seige, car leasing companies are enjoying a boom, thanks to the private-car sharing apps.
Some car-rental companies told TODAY that they had seen at least twice the number of Uber and GrabCar drivers coming forward to either rent cars, or make inquiries about renting them, compared to last year.
Mr Tan Kuanyu, director of Lumens Auto, said about 60 cars were rented out to GrabCar and Uber drivers for the whole of last year. So far this year, the number has doubled, he said. His company has also been getting about 50 to 100 inquiries a month from GrabCar and Uber drivers.
Mr Tan said that for his company, car rentals range from between S$55 and S$75 a day, and the drivers, who are required to sign a monthly contract, can pay their rentals on a weekly or monthly basis.
To rent a car from Lumens Auto, a driver must be at least 25 years old, has at least two years of driving experience and no criminal record.
Over at Car Chauffer, the company has seen a 70 per cent increase in the number of GrabCar and Uber drivers coming forward to rent cars since the start of this year, said its logistics manager Terence Lee.
The company charges at least S$440 a week in rent, and the rental varies according to the car models, said Mr Lee.
On the maintenance of the car, Mr Tan said car tyres have to be changed after every 30,000km as they are usually worn out by then.
If a driver does not return to the company to change the tyres once the rented car has hit the 30,000km-mark, Mr Tan said a software installed in the car will alert the company. "That (will) enable us to check," he added.
Co-founder of car rental portal Drive.SG Adrian Lee said his company has seen a significant increase in the demand for rental car from private-car drivers. "Even though there was no such demand two years ago, we now easily receive at least 10 to 30 enquiries per day."
Although the rental agreement or lease is usually renewed automatically until a driver decides to end the contract, Mr Lee said there has been an "emerging trend" of drivers hiring the car for a short period. This can be as short as a few days for the driver to provide private taxi service, he added.