The Big Read: Softer attitudes towards drugs a headache for authorities
SINGAPORE — When 18-year-old polytechnic student Joel (not his real name) was caught for using cannabis, he was indignant and could not understand why he fell afoul of the law. He questioned why authorities here classified the drug as a Class A controlled substance - putting it in the same category as heroin, cocaine and ecstasy - which carries severe punishments for possession or consumption.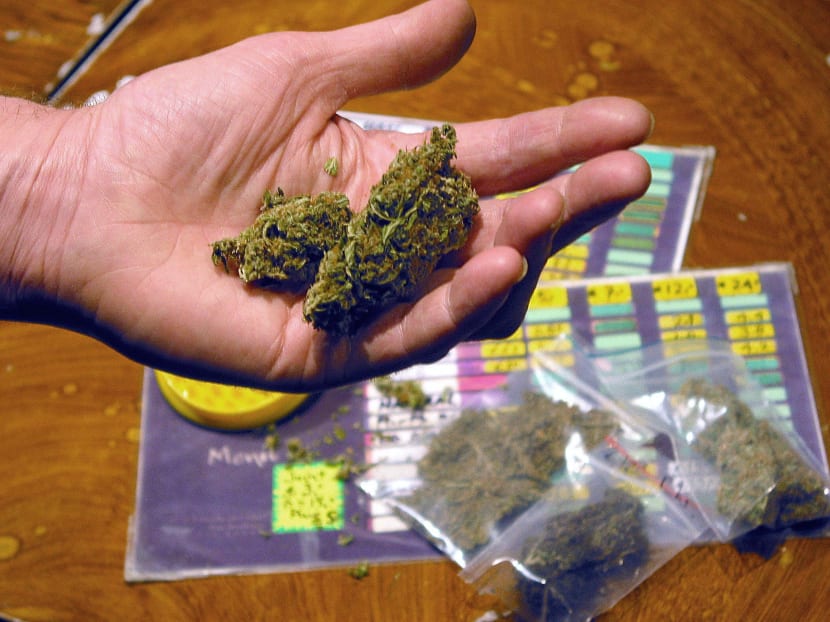 SINGAPORE — When 18-year-old polytechnic student Joel (not his real name) was caught for using cannabis, he was indignant and could not understand why he fell afoul of the law. He questioned why authorities here classified the drug as a Class A controlled substance - putting it in the same category as heroin, cocaine and ecstasy – which carries severe punishments for possession or consumption.
Likewise, another cannabis abuser, Kate, 29, asked her counsellor why she was treated no different from a heroin addict, and insisted that she could stop taking the the drug any time she wished. "I was not dependent on it... It just helped me relax," she said.
A 25-year-old woman, who graduated from a local university and works in the media industry, claimed that taking cannabis was just like drinking coffee. "It's popular among successful entrepreneurs", she said. While in university, she took cannabis - also known as marijuana or weed - daily before she went for class, and even before examinations.
Such liberal attitudes among youths here towards the use of drugs – cannabis, in particular - are becoming a serious concern for Singapore authorities, who make no apologies for their "zero tolerance" stance, despite an increasingly lax approach adopted by some countries. "Singapore is one of the few countries in the world that have dealt effectively with the drug problem," Home Affairs and Law Minister K Shanmugam said in Parliament in March. "Our approach: We have a tough legal framework against traffickers and abusers. We are firm and relentless in enforcement. We carry out intensive efforts to educate Singaporeans on the dangers of drug abuse – and all these are complemented by comprehensive rehabilitation measures."
Nevertheless, Mr Shanmugam conceded that the challenge of keeping Singapore drug-free is increasing, amid growing threats from the region and a growing number of new drug abusers here, compounded by the rise in online drug availability. There is also increasing international pressure to adopt a softer "harm reduction" approach.
Worryingly for lawmakers, a survey conducted by the National Council Against Drug Abuse (NCADA) last year found that youths below the age of 30 were more open-minded towards drugs.
TODAY's interviews with youths, including former drug junkies, revealed as much: Bombarded with misinformation and dubious claims online, their views have also been shaped by media images, interactions with peers from abroad, and their own experiences overseas – be it working, studying, or attending music festivals – where it is not uncommon to be exposed to drugs. Add to that a dose of youthful recklessness and the adolescent perception of invincibility, and the authorities have a real problem on their hands.
Between 2015 and last year, the number of cannabis abusers arrested jumped 17 per cent from 194 to 227.
In total, 1,347 new drug abusers were caught last year – up 3 per cent from 1,309 in 2015 – among which almost two-thirds were under 30 years old. Among new drug abusers, methamphetamine (79 per cent) and cannabis (13 per cent) continued to be the most commonly abused drugs.
TEMPORARY HIGHS, LASTING CONSEQUENCES
A government scholar, 27, who declined to be named told TODAY that she first experimented with drugs while she went on a student exchange programme in Vienna, Austria six years ago. Despite never having smoked a cigarette, she shared two joints with two friends who were also on exchange. She was out "for an experience", in her own words.
A public relations professional, 25, also recalled how she tried a weed-laced cupcake at a café filled with tourists in Amsterdam several years ago, while she was on an exchange programme. "It's the 'to-do' (thing) when you go to Amsterdam," she said. "When you step in, the weed smell just hits you."
For these two youths, that was the one and only time they took drugs. They said they would not want to risk the consequences of getting caught consuming drugs here. Nevertheless, people who use drugs overseas are liable for prosecution in Singapore. In 2015, a 24-year-old tertiary student was jailed for six months for smoking weed in Amsterdam, and possessing cannabis in his home at Woodlands. He was arrested two days after he returned to the Republic.
Despite Singapore's tough laws, some youths are willing to risk it all. Reformed drug junkies know too well the consequences they have had to bear as a result of their recklessness: Lives, careers, and futures destroyed. While society has given them a second chance, many wish they could turn back time.
Dr Suresh Joseph, 46, lost his medical licence several years ago because of his drug addiction. He is currently the head counsellor at The Cabin Singapore, which provides addiction treatments. "(The youths) are asking the wrong questions: 'Can I get away with it? Or is the government being too harsh?' Forget government, forget policy. The real question is: 'What is the risk I am taking when I do this?'" he said. While some may get away with abusing drugs, the law will catch up to others, he warned.
Mr Matthew Poh, also 46, saw his life fall apart due to his drug consumption habits. He was first introduced to drugs when he was 23 years old. For the next two decades, he was hooked and eventually got involved in drug peddling. After falling out with his partners, he was kicked out of the syndicate just a few months before the police swooped in - by then, his wife had left him and his business had failed.
Still, he was lucky. His four friends who were part of the syndicate with him faced the full force of the law: One was sentenced to hang, two to 17 years' jail, and one to 12 years' jail.
Mr Poh eventually turned himself in, and recently completed a one-year sentence in Changi Prison's Drug Rehabilitation Centre for drug consumption. "I lost it all... Drugs give you a glimpse of happiness, but that's not real. What we need to do is to work through our issues to find true happiness," he said.
Reflecting the rising trend of young drug abusers, findings of the NCADA survey – published a fortnight ago – showed a spike in the number of young people with liberal attitudes towards drugs. More are open to trying them for a new experience if they are overseas, or if drug-taking does not affect their daily routine.
Among youths aged 13 to 21, 16 per cent of those polled held such views, up from about 11 per cent in 2013. More than one-third of the young respondents also think that cannabis is less harmful and not addictive, with this misperception largely perpetuated by various online sources alleging that cannabis had medicinal uses and should thus be legalised.
On the softening perceptions towards cannabis, NCADA chairman Hawazi Daipi warned against "dichotomising soft drugs and hard drugs, because soft drugs can lead to hard drugs. We will start from informing the public that it's not useful at all to define what are soft and hard drugs. Soft drug consumption can lead to hard drug addiction.".
Speaking to TODAY, Mr Amrin Amin, Parliamentary Secretary (Home Affairs and Health), reiterated the Government's concern that the "younger generation may be adopting a more casual attitude towards drugs. They see it glamourised in movies, internet and social media. They are curious when they see the pro-legalisation camp advocate the supposed medical benefits of cannabis, and push for the right to enjoy recreational drugs."
But he stressed: "What they may not see as clearly are the vested interests of these lobby groups to legitimise a lucrative industry. These pro-drug advocates have also chosen not to talk about the harms of drugs."
Mr Amrin reiterated that experts at the Singapore Institute of Mental Health (IMH) conducted an extensive literature review on cannabis, and found that it is harmful and addictive. When consumed over a long period of time, is associated with brain volume reduction and irreversible brain changes that lower IQs, and conditions such as depression and bipolar disorder, he noted. "This is not what we want for our young people. We want to safeguard their futures, so they can live their lives to the fullest potential, and not throw it away for temporary highs," he said.
Central Narcotics Bureau (CNB) communications director Sng Chern Hong also spoke out against erroneous claims which state that cannabis is safe or "even a cure for diseases like epilepsy and cancer". These stem from false advertising arising from the growing number of drug dispensaries "turning to online trade to expand their business", he said. This was a spillover effect of the legalisation of medicinal cannabis in more parts of the world, he added.
CAT AND MOUSE GAME
For some time now, the profile of drug abusers here has been changing. They tend to be better educated, tech savvy and informed youths who have more liberal attitudes towards drugs, Mr Sng said.
TODAY reported last Sunday that those looking for a fix are exploiting social networking and messaging platforms, such as Tinder, Grindr or Telegram. Drug dealers have also found a new conduit in private hire drivers, who can make swift drug deliveries under good cover.
Former drug addicts noted how it has become easier to obtain drugs. "During my time, if you don't go down to the void deck, you cannot get drugs… nowadays, they can just Whatsapp each other," said deputy head of admin at Pertapis Halfway House Muhammad Sufian Salim. Drug abusers used to identify themselves with a tattooed black dot on their foreheads, so dealers lurking at staircases in housing estates would know who to approach to strike a deal, he said.
Crossroads Singapore director Paul Tan said he used to have to queue for a morphine injection at a dimly-lit shophouse unit beside a "very smelly" stairway that was lined with vomit.
Mr Poh, the former addict, noted that the process of obtaining drugs has become less complicated. "We just go to a shopping centre, have lunch… everybody goes for lunch. We pass around tissue paper (containing the drugs) and money," he said.
Drug dealers have also tweaked their modus operandi, he said. Preying on youth behaviour and mindset, they would tell buyers how much to consume without getting addicted. "What they want are gradual, regular users (who have) work and income," he said.
Kate, who was caught in 2014 with cannabis in her bag, said she used to get her fix concealed in sweet boxes. She was sentenced to two years' probation and had to report home by 11pm, undergo routine urine tests and clock 160 community hours. She completed her probation on Monday.
But while the methods have evolved, the cops have also raised their game. Last year, the CNB seized drugs that were estimated to have a street value of about S$8 million.
The CNB has said it is watching the online drug peddling situation. Meanwhile, it will be building up its detection and enforcement capabilities against online drug-trafficking activities. It will also continue to take tough action against anyone involved in such illegal activities.
Last year, 201 people were arrested for buying drugs and drug-related paraphernalia online, a nearly seven-fold jump from the 30 nabbed in 2015, the CNB's annual statistics showed. Most of those nabbed were between 20 and 39 years old.
Out of reach to casual Internet surfers, these international marketplaces can only be found through the "dark web", sites that can only be accessed through browsers such as Tor, which route communications via several computers and layers of encryption. These sites accept only bitcoins as the currency of exchange.
On one such marketplace, more than 17,000 out of about 39,000 listings on the site were drug-related. Of these, one in three were selling cannabis. Sellers are rated on their "stealth" and quality of products. Among other things, they claimed that orders would be shipped without tracking, and buyers need not sign for the packages, which would be delivered in envelopes straight to the mailbox.
But two months ago, a 26-year-old Singaporean student was arrested for allegedly ordering 136g of cannabis from online. He used a fictitious name in an attempt to evade detection.
'NO LET-UP IN TOUGH STANCE'
Despite the growing global trend by governments to decriminalise and legalise drugs, Singapore is standing firm.
In March last year, then-Senior Minister of State (Home Affairs) Desmond Lee reinforced the country's zero-tolerance stance against drugs at a United Nations (UN) event in Vienna, Austria.
Mr Lee, who is now the Second Minister for Home Affairs, said decriminalising and legalising drugs "is not applicable to societies that are relatively drug-free", such as Singapore, where the number of drug abusers arrested last year comprised less than 0.1 per cent of the population.
Policymakers overseas who have decriminalised drug use have reduced or removed penalties for those whose consumption levels are low, but it may still be a crime to sell and distribute the drug, or for high consumption, for example.
Legalising drug use means it is no longer a crime to consume the drug and the processes of drug distribution are also legal, with variations depending on the country's lawmakers. These are broadly termed as "harm reduction" approaches.
Singapore's drug policies, on the other hand, are unapologetically in the "harm prevention" camp, Mr Lee had said, citing a 2015 study conducted by Adjunct Professor Stella Quah from the Duke-NUS Medical School.
In the study, Prof Quah noted that harm reduction was a "desperate measure" taken in the 1980s when doctors in the United States saw a rapid spread of HIV and Aids infection, particularly among those who inject drugs, as "in their opinion, it was not possible to convince drug addicts to stop their addiction". To apply the approach to Singapore to stem the spread of diseases such as HIV and Hepatitis C would have little impact, she said.
Mr Shanmugam has also stressed the need for Singapore to "remain steadfast in our resolve" to keep the country drug-free in the face of increasing international pressure to adopt a softer "harm reduction" approach.
Without compromising the country's tough stance, some experts nevertheless felt that there is scope for the authorities to tweak their approach. One suggestion was to calibrate the punishments to, for example, make a greater differentiation between a hardcore drug junkie and someone who experimented with drugs for the first time.
Promises Healthcare executive director Dr Munidasa Winslow, who was formerly chief of the Addiction Medicine Department at IMH, noted that incarcerating drug addicts for long periods of time could sometimes leave them with "very little incentive to actually work on their own lives". "Most of the drug addicts I see coming out of prison are telling me that... they got to go back to work because 'I've wasted so much time in prison, so my priority is to work and feed my family'," said Dr Winslow. Lawyer Kalidass Murugaiyan also urged greater leniency for youths guilty of drug offences, noting how some of his clients under the age of 30 have had to pay a high price for their crimes.
But Mr Amrin stressed the necessity of Singapore's "comprehensive and tough approach by tackling both drug supply and demand". With Singapore situated near several major drug production centres, it is a "prime target for drug trafficking syndicates", he said.
He noted that while the authorities are tough on drugs, they also want to help abusers kick their habits and reintegrate into society. A lot of focus is placed on helping abusers, through counselling and rehabilitation, he said. Examples of such programmes are the Youth Enhanced Supervision Scheme and the Community Rehabilitation Centre. The abuser's risk profile will determine the type and intensity of the rehabilitation programmes offered. Since early this year, a structured rehabilitative counselling programme has been rolled out involving parents and helping to equip youths with skills to cope with addiction.
"Our approach has worked for us. We have managed to halve the number of abusers over the past two decades, saving about 3,000 lives every year," he said. "Today, Singapore is relatively drug-free, and the drug situation is under control. There are no drug havens, no drug production centres and no needle exchange programmes. Our tough stance on drugs has allowed us to build a safe and secure Singapore for our people; we must not give this up."
Despite Singapore's success so far, more needs to be done to tackle the drug scourge, particularly in guarding young minds from negative influences and misinformation. Former drug addicts and experts stressed that public education is key. Mr Amrin pointed out that preventive drug education "remains at the forefront" of the Government's anti-drug strategy. "We have engaged parents, teachers, and the community to educate our young on the harms of drugs," he said. "Our anti-drug advocates and organisations are encouraging the public to stay away from drugs so that we can lead fruitful and meaningful lives."