The Big Read: Strides made in eldercare, but concerns arise over affordability and lack of information
SINGAPORE — When her elderly mother began acting out and needed more help to move around, Madam Sukarti, 63, found herself at her wit's end: Who could take care of the 83-year-old when everyone in the family had a full-time job?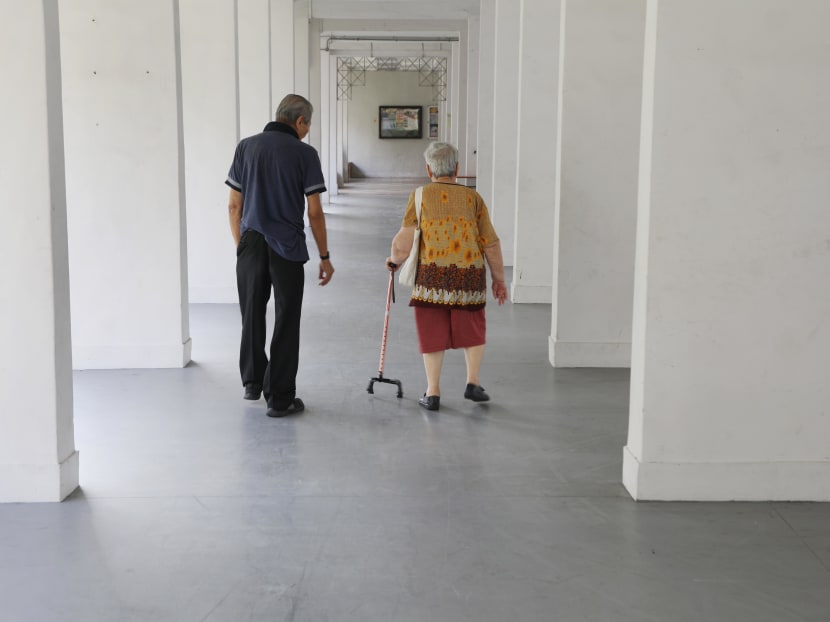 SINGAPORE — When her elderly mother began acting out and needed more help to move around, Madam Sukarti, 63, found herself at her wit's end: Who could take care of the 83-year-old when everyone in the family had a full-time job?
She eventually hired a foreign domestic helper who was trained to look after the elderly. But her mother had a fall earlier this year and fractured her hip. Soon after, the helper felt overwhelmed by the demands of the job, and cut short her stay — returning to Indonesia, after less than two years with the family.
Over the last month, the family had struggled to take care of the now wheelchair-bound senior — who also has Parkinson's disease — before their new helper arrived earlier this week.
For the upper-middle income family, they would have to pay at least a few hundred dollars more for professional home care, compared to the cost of hiring a foreign domestic worker.
The family also briefly considered day care but ruled it out due to religious considerations. "We were even considering a nursing home for the aged, but we decided it was better for her to be home where we can see her 24/7. We don't know if we can make time to go down to visit her there," said Mdm Sukarti, a sales officer.
In Singapore, many families including Mdm Sukarti's face a dilemma when deciding on the best care option for their elderly loved ones. Among other things, cost is often a major consideration.
Earlier this week, a study commissioned by the Lien Foundation found that the unsubsidised monthly cost of looking after a severely disabled senior at home can go up to S$3,100, while the full cost of using day care services including transportation can go up to nearly S$2,500 a month.
Meanwhile, the median monthly unsubsidised cost of a nursing home place is about S$2,400.
As a result, families who require home and centre-based care may forgo it because co-payment amounts are too high. Lower-income families still need to fork out 20 per cent after means-tested subsidies, while lower middle-income households have to co-pay 40 to 50 per cent for such services.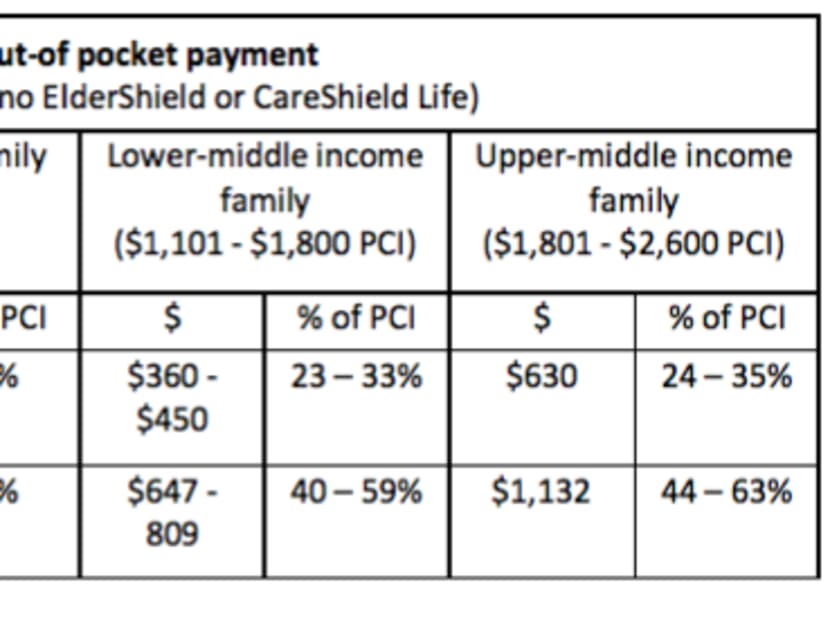 Significant gaps still exist in community-based eldercare, despite the Government's big push for it in recent years amid a rapidly ageing population, including heavy investments in building up infrastructure and manpower resources.
The Lien Foundation study called for more public spending in community and home care to ease the cost burden on users and providers, improving respite care options, greater availability of data and a stronger regulatory framework for providers.
While these concerns about the rapidly-expanding sector were largely shared by caregivers and industry players TODAY interviewed, they singled out affordability and a lack of awareness about the different options available as pressing issues.
And these two issues are intertwined: Households need to start financial planning early to make sure they can afford the best care option for their loved ones. But too often, families start thinking about it only when an elderly in the household becomes seriously ill.
Three years ago, Madam Chan Kum Chue, 76, who is intellectually disabled, broke her leg in an accident. As a result, her brother, Mr Joseph Chan, 75, had trouble figuring out the best kind of care for her.
After their mother died in 2004, Mr Chan became his sister's sole caregiver. Mr Chan himself requires kidney dialysis three times a week and struggled to take care of her.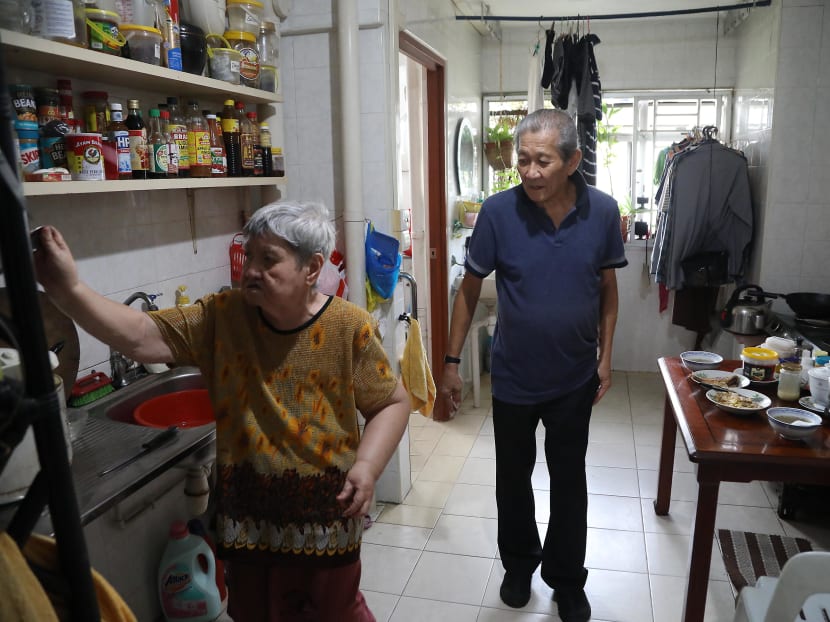 In the end, a medical social worker recommended that Mdm Chan be placed at a day care centre. Currently, she attends a senior day care centre — run by voluntary welfare organisation Ren Ci at Bukit Batok — five days a week.
"You don't know what you're looking for, who to look out for, who to approach," said Mr Chan, who lives in a rental flat in Teck Whye. "I was so confused (about the different schemes available)… You don't just go to everyone and ask what to do. I didn't even know what day care was." 
FAST-GROWING SECTOR
With the Republic facing a silver tsunami, the need to ramp up the intermediate and long term care (ILTC) services was identified some time back by the Government.
Between 2011 and last year, the Ministry of Health (MOH) more than doubled the capacity for home and centre-based care services from 5,900 to 13,000, with another 3,200 places to be added by 2020. The ministry also aims to have 17,000 nursing home beds by 2020, up from 14,900 beds now.
Over the last decade, the Government has increased total spending in the primary, intermediate and long-term care sectors by almost four times — from S$1.3 billion in financial year 2007 to FY2011, to S$5.1 billion in FY2012 to FY2016.
Up until recently, nursing homes had been the main ILTC option for Singaporean families. But the Lien Foundation study found that more Singaporeans are ageing at home and in the community instead of nursing homes.
About 14,000 people used subsidised home and centre-based services in late 2017, up from 12,000 a year earlier, according to MOH's figures.
Meanwhile, the number of subsidised nursing home residents has remained stable at around 10,000.
Nursing homes are typically designed in a dormitory-like fashion, with about six to eight beds in one room. Seniors stay away from their homes and are taken care of by qualified staff members in the nursing homes.
On the other hand, home and centre-based care allow seniors to age in the community. Depending on the needs, home care providers will send nurses, doctors or care assistants to homes to help seniors with daily tasks such as bathing, eating and preparing meals. They can also help with ensuring the seniors take their medication.
For centre-based care, seniors are typically ferried to and from the day care centres on weekdays, where they are provided with meals as well as group activities.
Besides these, newer forms of long-term care programmes have also been emerging.
An example is the Integrated Home and Day Care programme, aimed at those who usually use centre-based care but are occasionally unable to leave their home. Those who receive home care are also encouraged to switch to centre-based care when they become more mobile.
INFORMATION GAP
Traditionally, there is a stigma attached to placing seniors in nursing homes.
Nevertheless, Mdm Low Mui Lang, executive director of the Salvation Army's Peacehaven Nursing Home, said that deciding which type of care option to take up depends on a senior's medical needs, as well as factors such as family dynamics.  
"Those who stay in nursing homes, their medical condition is complex and they don't have a constant caregiver. Some require bed baths… some have multiple conditions… there are also single elderly who don't have family to support them," Mdm Low said.
Mr Ardi S Hardjoe, chief executive officer of Thye Hua Kwan (THK) Nursing Home, said that seniors would receive the best care at home and in the community. However, families need to assess their own abilities to support their loved ones, as well as the senior's financial, social, nursing and medical needs.
Many caregivers suffer from burnout, especially those in smaller family units who have to cope with several medical conditions that require round-the clock nursing care, he said.
"The main consideration for placing their loved ones in a nursing home is often the cost of taking care of their loved ones at home versus the cost of institutionalized care. Caregivers often lack the knowledge of community services and support in supplementing their care in their own homes – they may not know, for instance, that centre-based care for dementia patients is available at senior care centres," he added.
Nursing homes also do not provide much in the way of social activities, something that institutions including Peacehaven could work on, Mdm Low added.
Tsao Foundation chief executive officer Peh Kim Choo noted the various factors that families need to consider when deciding on the best option. These include the financial resources available, the elderly person's state of health and social relationships, as well as the type and extent of care needed.
"Some options are not mutually exclusive - for instance, some older persons get centre-based care and also have domestic helpers to assist them," she said.
Nevertheless, ILTC professionals whom TODAY spoke to stressed the need to increase public awareness of the different care options as the sector burgeons.
"There's been a boom of services over the last five years, but how do we join the dots? How do we become a care ecosystem? This is something we need to create," said Ms Peh.
On this front, the Lien Foundation study noted that it was a step in the right direction, when MOH took control of eldercare services in April.
Previously, MOH and the Ministry of Social and Family Development managed different eldercare programmes, which led to confusion for the public on who to turn to for help.
Still, Dr Christina Tiong, chief executive officer of Home Nursing Foundation, said the Government could push for more public education and information through various community touch points such as polyclinics and community clinics.
Some industry players also called for greater public discussion, including among the community.
Ms Gillian Tee, co-founder of home care provider Homage, suggested that families could share their experiences with others.
"More stories of the real struggles and caregiving journey (which) Singaporeans families go through need to be told. It's almost treated as a shameful and 'hush hush' matter whenever an elderly (person) has caregiving needs," Ms Tee added.
Agreeing. Mr Kelvin Lee, manager of Touch Caregivers Support, said that awareness can be raised by simple word of mouth.
For example, through the Touch Community Services' community enablement project, elderly residents have learned how to advise each other on the kind of help they require, Mr Lee said.
"These seniors go for tea together, shop together, even advocate for each other. We have additional eyes and ears on the ground now," he told TODAY. "It helps them become more independent in searching for better resources."
Mr Chan, the elderly caregiver who is looking after his sister, can attest to that. He had joined a caregivers' group which allowed him to find out how to claim insurance for his sister's injury, for example.
However, Mr Hardjoe noted that elderly here can be "too shy" in coming forward.
"The question that needs to be asked is: What is the level of understanding of the ageing process in Singapore? Continual education on the ageing process, the visibility of community resources available, and the ongoing efforts in ageing-in-place must be even more integrated to be more effective," he said.
Mr Hardjoe also suggested that more research be conducted on eldercare education, to find out Singaporeans' knowledge of ageing and how it will affect them and their families.
In the meantime, a multiplatform approach is still necessary, said Mr Lee.
Highlighting the challenges to getting the messages across to different generations, he added: "We're dealing with people who are afraid of buying a mobile phone, (and) people who text or update their Facebook pages every day."

THE 'TRICKY' AFFORDABILITY ISSUE
On affordability, the Lien Foundation study noted that out of MOH's overall healthcare budget in FY2016, only 2.5 per cent — or S$240 million — was spent on home and centre-based care.
While two-thirds of households qualify for means-tested subsidies for home and centre-based care, some middle-income families may find it cheaper to hire a foreign domestic worker instead. "However, foreign domestic workers may not be trained enough to handle complex care needs and, sometimes, could end up compromising the wellbeing and health of vulnerable seniors, leading to unnecessary hospital stays," the study said.
For example, families who earn more than S$2,600 per capita monthly household income would not be eligible for any subsidies, and must pay the full cost themselves.
Under this scenario, a family of three would have to spend nearly a third of their income on taking care of their elderly kin.
For these families, how can they better afford intermediate and long-term care?
The industry players noted that it may not be sustainable in the long run for the Government to give more subsidies. Instead, households need to take the initiative to find out more about the options and plan for such expenses, they said.
Ms Tee pointed out that this is comparable to parents planning for their children's education. People should not think of eldercare as "morbid", she reiterated.
"I do think it's about financial planning, but it's no good to just look at savings. It's about understanding what different financial (assistance) and insurance schemes are out there," said Ms Tee, noting that some insurance policies cover home care services.
She encouraged people to spend time looking at their options, approach different care providers for more information, as well as find out what kind of subsidies they are eligible for.
Dr Tiong nevertheless suggested making Medisave withdrawals available to middle-income families who do not qualify for subsidies and require help for intermediate or long-term care.
Ultimately, it a "complex and tricky" issue, Mr Lee said. "Each person is unique and has his or her own preferences," he reiterated.
A delicate balance needs to be struck, the industry players said. As with general healthcare, overconsumption and fiscal sustainability are important from the Government's perspective. Yet, there is also the need to ensure that families are not denied the necessary ILTC services because they cannot afford them.
Said Ms Peh: "Many of us are afraid that more healthcare subsidies will bankrupt the country and rob the next generation of its dues and we can cite many examples of other countries to justify those concerns. But maybe we can also ask, do the current subsidies place us in such danger, or are we at greater risk of failing in our responsibilities to vulnerable elders?"
Citing the slew of national schemes to help Singaporeans cope with rising healthcare costs, she noted that technology could also help bring down these costs in future.
"The longer-term solutions also lie in stronger health promotion efforts for preventive health, and building up the financial independence of older persons to reduce the burden on families and the need for public assistance," she said.
For Mdm Sukarti, it remains to be seen how her new domestic helper will fare in providing adequate care for her mother. But, reflecting the practical decisions that caregivers constantly grapple with, she noted that the family would have rethink their options if she or her husband retire or lose their jobs.
In any case, her experience has set her thinking about her own needs when she becomes older.
"Soon, I will have to think about myself too. I'm not getting any younger," she added.