The Big Read: As supply of lawyers lurches from shortage to glut, spotlight falls on policies
SINGAPORE — For more than two decades, bureaucrats, experts and some practitioners have been tinkering with Singapore's supply of lawyers.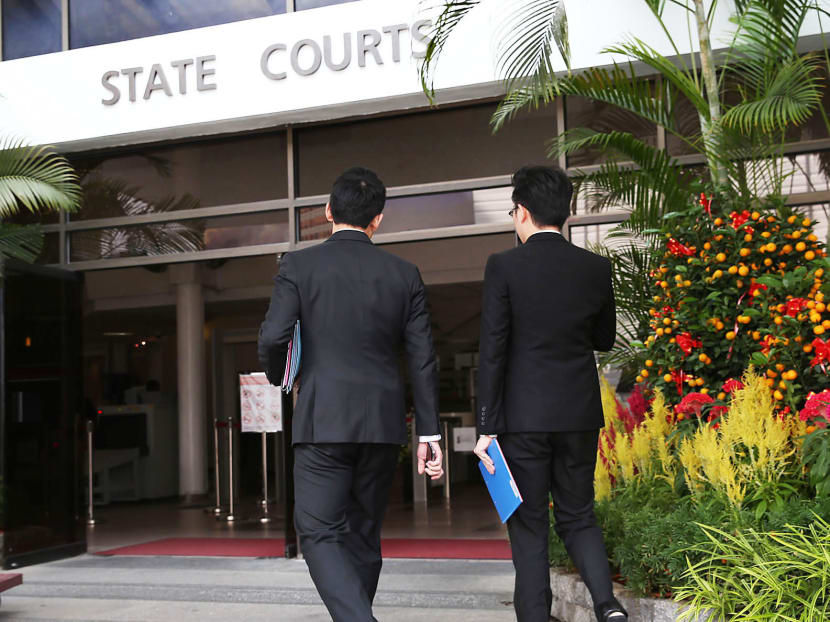 SINGAPORE — For more than two decades, bureaucrats, experts and some practitioners have been tinkering with Singapore's supply of lawyers.
In 1993, it was proposed that the cap on the annual intake at the National University of Singapore's (NUS) law faculty — the country's only law school at the time — was to be lowered gradually from 200 to 150.
Eight years later, it became a situation of too few lawyers and the intake was increased and more overseas law degrees were recognised. Efforts to produce more lawyers intensified in 2006 when a second law school at Singapore Management University (SMU) — focusing on corporate law — was proposed, even as the NUS law school intake was ramped up further.
In 2013, a committee tasked to look into the supply of lawyers — by now in its fourth incarnation — called for a third law school to be set up at UniSIM, prioritising the training of criminal and family lawyers. There were too few practitioners in these areas, it found.
Barely a year later, Singapore was officially facing a potential glut of lawyers, due to a spurt in the number of Singaporeans studying to be lawyers overseas and the expected slowdown in economic growth.
So, what went wrong? Did circumstances beyond anyone's control change? Or did the moves — albeit with the best intentions — backfire? Some of Singapore's senior legal minds think so. "I don't believe in interfering with market forces. Tinkering will lead to a shortage at some point, then there will be calls for further 'liberalisation', which will lead to an over-supply in future, et cetera," said NUS law academic and former Attorney-General Walter Woon.
Lawyer Michael Chia, who is the founding director of MSC Law Corporation, added: "Which profession doesn't have demand and supply issues? Why are we so special that we need to come up with these special rules to control the supply and demand?"
Others, however, disagreed. Dentons Rodyk & Davidson LLP senior partner Lok Vi Ming felt that some intervention is necessary for a small market like Singapore. Noting that the pursuit of law studies is "aspirational" among young Singaporeans and their parents, he said: "Steps that are implemented to rein in the numbers either at point of entry into law school or point of entry into the profession would cause some unhappiness."
While he felt that the intervention over the years have worked to a certain extent, he noted the lag effect and difficulty in trying to manage the number of people taking up a law degree, given that the market environment could change by the time they graduate - especially given the shorter economic cycles these days. "How do you crystal-ball gaze six or seven years into the future to decide whether you are going to cut off, how you are going to cut off (the supply)," he said.
Singapore Management University (SMU) law don Eugene Tan reiterated that predicting and managing the demand and supply of lawyers is no exact science. "There will be hits and, more likely, misses as our experience shows," he said. Still, given Singapore's ambition to be a legal hub and the legal sector's important role in supporting the economy, "there is the view that the supply of lawyers is too important to be left to... vagaries of market forces", he added.
The supply of lawyers came under the spotlight again two weeks ago, after Chief Justice Sundaresh Menon spoke about the issue in his speech at the Mass Call ceremony. He announced that a committee would be set up to tackle the oversupply of lawyers - specifically by reviewing ways in which law firms offer training contracts to fresh law graduates, make decisions to retain them and later nurture them. He also suggested, among other things, that practice trainees who are not offered employment contracts could instead serve as paralegals until their admission to full professional status at a later time. While measures have been taken to address the oversupply, the slowing economy meant that "we should be prepared that the situation for fresh graduates and job-seekers is likely to remain difficult before it gets better", CJ Menon said.
Nearly 650 graduates competed for some 490 training contracts in 2014. The gap narrowed last year, with around the same number of graduates vying for 550 training contracts. This year, 509 new lawyers were admitted to the Bar, a shade lower than the record 535 last year. In comparison, the figure rarely crept above 250 between 2006 and 2011.
NUS currently takes in about 240 law students a year, while SMU admits about 180 law undergraduates. The third law school at SIM University (UniSIM) will begin classes in January, with an initial intake of 60, which will increase to a steady state of 75.
The problem of oversupply was first flagged by Mr Shanmugam in 2014, when he warned of a "lawyer glut" due to the climbing numbers going overseas to read law. To address the situation, seven of the 18 United Kingdom law schools recognised for admission to the Singapore Bar were dropped starting from this year's intake.
HOW DID WE GET HERE
The Government's intervention in the supply of lawyers can be traced back to 1992, when then-Prime Minister Goh Chok Tong warned of the dangers of having too many lawyers: Among other things, this would divert Singapore's scarce manpower resources to the legal profession and deprive other sectors of talent.
Between 1980 and 1992, the number of practising lawyers more than doubled from 809 to 2,174. As a result, the ratio of lawyers to every 100,000 persons here became higher than in Japan, Hongkong and Switzerland.
The First Committee on the Supply of Lawyers – headed by then Attorney-General Chan Sek Keong – was set up in 1993. The committee concluded that market forces alone might not correct an oversupply of lawyers and it was better for Singapore to err on the side of having too few lawyers than too many as the former can be easily corrected. It recommended capping the annual intake of NUS law students from 200 to 150 over five years. More onerous conditions were also imposed on overseas-trained lawyers to practise law here.
But in 2001, the earlier recommendations had to be reversed when the Second Committee found that demand had outstripped the supply of lawyers.
The NUS law school subsequently increased its annual enrollment from 150 to 200 over the next few years while law graduates from 10 more overseas universities, including Australia and New Zealand, were allowed to practise here should they meet the academic cutoffs.
The supply crunch had been exacerbated by lawyers leaving the practice amid growing demand from foreign law firms which were getting into joint ventures and alliances with their Singapore counterparts.
To further meet the shortfall, the Third Committee in 2006 suggested setting up a second law school in SMU while NUS law school continued to raise its annual enrollment from 220 to about 250 students. The requirement to hold a second-upper honours degree for graduates from the recognised foreign universities was also lowered to second-lower honours degree.
In 2013, the Government announced the setting up of a third law school at UniSIM to address the "critical shortage" of lawyers practising community law, which includes family and criminal law. This was suggested by the Fourth Committee, headed by then-Judge of Appeal V K Rajah.
It was reported in March that there are currently about 1,600 criminal and family lawyers here - this makes up less than half of the 4,800 or so practising lawyers in total.
GOVT'S HAND VS MARKET FORCES
Some lawyers interviewed by TODAY felt that attempts at managing the supply of law graduates have had unintended consequences which partly contributed to the current glut.
SMU's Assoc Prof Tan said the committees set up over the years have had "limited success in adroitly managing the supply of lawyers but it is not for the want of trying". They made their recommendations based on the available information and trends, he said. But while the domestic supply has been easier to manage, it was much harder to determine how many students would head to English and Australian law schools, he added.
Noting that the attrition rates in the legal industry are also more difficult to anticipate, he pointed out that the measures proposed by the committees - most of which were subsequently implemented - have an added signalling effect. "Even the best laid plans for the adequate supply of lawyers go awry," he said.
Prof Woon went as far as to call it a "mistake" to lower the qualifying criteria for overseas-trained lawyers in 2006. "Anyone who chooses to read law must understand that he or she is not guaranteed a job as a lawyer. The top of the cohort will find jobs. The bottom of the cohort will not," he said. He added: "It's not possible to manage the supply of lawyers unless we prohibit people from going abroad to study law. This is obviously impracticable. Supply can be choked off only by draconian means which interfere with the free market for services."
Law Society of Singapore (LawSoc) President Thio Shen Yi recalled how for more than a decade, law firms found it hard to recruit new lawyers after the measures to cut supply in 1993. There was a lot of demand for new lawyers but the supply was artificially low, said the Senior Counsel. This created a salary inflation for new lawyers which distorted the market, he added. "Let the market sort itself out... It's actually dangerous to manage supply because we've seen that lead to market distortion in the past," he said.
Mr Chia added that due to the measures in 1993, smaller firms were edged out by the bigger firms who can afford higher salaries to attract young lawyers. Over time, the smaller firms stopped hiring new lawyers while bigger firms, in a bid to justify the elevated wages, may have tried to "squeeze every ounce of value" from their young lawyers by increasing their workload and this could eventually have led to more lawyers dropping out of the profession, he said.
Mr Peter Low, who is the managing director of his own law firm, was LawSoc President in 1993. He explained that the society did not object to the recommendations to curb the supply of lawyers because back then, people were expecting an impending glut and there were also concerns with the quality of the legal education provided by certain overseas universities. "Calibrating the supply of lawyers is tricky business," he said.
However, he conceded that the legal industry had to suffer the repercussions of a "dire shortage" of lawyers for more than a decade.
Still, he said: "From time to time, Government intervention is warranted, even though regulating the optimum supply of lawyers is challenging," he said. "Perhaps there should be more sensitive and closer monitoring of the supply of lawyers."
SPIKE IN NUMBERS 'OUT OF GOVT'S CONTROL'
Responding to TODAY's queries, a Ministry of Law (MinLaw) spokesman reiterated that the current situation where some law graduates are unable to secure training contracts is largely due to the sharp increase of Singaporeans studying law, mainly those who do so overseas. "These numbers cannot be controlled by the Government and have increased sharply in recent years," he said.
On the need for a third law school, he noted that demand for places there had exceeded the number of available places. "That demand, if completely unmet, will mean that some students will go overseas anyway. The law school therefore offers an additional choice to these students, and (provide them with) applied training to increase their employability," the spokesman added.
The intakes at the local universities have been "carefully calibrated", taking into account available resources and the law schools' capacities, "while maintaining high standards of education". The list of overseas scheduled universities is also reviewed by the Singapore Institute of Legal Education every five years to ensure the quality of law graduates seeking admission to the Singapore Bar.
"While these avenues accord Singaporeans aspiring to do law a wide range of local and overseas choices, the demand for legal services and lawyers is market driven, and dependent on the economy and societal needs," the spokesman said.
He added: "Those wishing to study law should therefore enter (the industry) knowing that competition will be stiff if they wish to pursue a career as a lawyer. This is a point that the Ministry has highlighted since 2014 and made relevant statistics available so that students contemplating law programmes can make informed choices."
Meanwhile, the Government has played "an active role" in growing the legal sector domestically and to attract legal work from overseas to the country, the MinLaw spokesman said. Citing the area of dispute resolution as example, he noted that measures such as setting up dispute resolution institutions were introduced to develop Singapore as a centre for dispute resolution. All these create jobs and opportunities for law graduates and lawyers, he added.
Minlaw noted that the Committees on the Supply of Lawyers are "periodically formed to look into various needs of the legal sector". They comprise "wide industry representation from key stakeholders across the legal profession, including legal practitioners, the judiciary and academics".
Over the years, the committees have looked into various issues including measures on qualifications, ensuring a strong pipeline of lawyers "of the requisite quality", training of lawyers and "the extent to which foreign lawyers should be able to practise Singapore law", due to its economic needs.
THE WAY FORWARD
While veteran lawyer Edmond Pereira felt that the Government should leave the supply of lawyers to market forces, he did not envy its position. It is a case of damned if you do and damned if you don't, he said. Nevertheless, as an immediate measure, he suggested that the authorities be even more selective in the list of overseas scheduled universities.
Mr Lok called for a "light touch" approach by making it harder for lawyers to pass the Bar examinations.
On hindsight, Assoc Prof Tan felt the authorities might have been too focused on the enrollment figures at the local law schools. "Perhaps we need to pay a lot more attention to how the supply of lawyers becomes reduced once the law graduates enter the legal profession. We need to plug the leaking gap here," he said.
Mr Low believes the current situation is temporary. Over time, small firms will hire more young lawyers. New lawyers, on their part, should not limit their search for positions within large firms. There is an abundance of reputable and experienced senior lawyers in the small and medium-sized law firms who can mentor them, he added.
One suggestion floated by CJ Menon was to have law graduates who did not secure employment contracts to stay with the firms as paralegals - positions which are currently filled by diploma holders - until their admission to full professional status. This would avoid losing "budding legal talent" before they had the serious opportunity to be nurtured, he said. Noting that this is not a new idea, CJ Menon said the UK and Australia have been adjusting to their oversupply situation by creating more room for graduates within their paralegal pool.
But Mr Chia raised a possible side-effect of the proposal: Diploma holders would have to compete with university graduates and they could eventually be crowded out of the profession.
Third-year student Syakiran Yusran from Temasek Polytechnic's Law and Management said he was worried about the possible scenario. "Most likely our jobs will be taken up by more qualified lawyers," he said.
Another area that the Government should watch closely is the impact that agreements with other countries could have on the supply of lawyers, said Assoc Prof Tan.
For example, under an agreement recently inked between Singapore and Australia, Singapore will recognise the Juris Doctor degrees awarded by the 10 Australian universities which are already on the list of overseas scheduled universities.
GOING IN WITH THE RIGHT ATTITUDE
Amid concerns of a glut, Prof Woon reiterated that no one is guaranteed a job just because he or she read law. "Ambition is not a substitute for ability. Law firms will hire people whom they assess are competent," he said. "The ones at the bottom of the cohort will have to take a longer road (for example, work as a paralegal first in order to prove themselves) if they want to break into the field."
Nevertheless, NUS law dean Simon Chesterman noted that the purpose of a law degree, especially that of an undergraduate degree, "is not and should not be simply to produce a lawyer".
"The critical and analytical skills that a law degree offers, the mastery of language, are of use in many professions," he said. "Some of our graduates aspire to public office, others join academia or use their legal training to start new ventures in the corporate world. We also have a number of graduates who go into the arts. Skills acquired at law school serve all our graduates in these varied careers."
In his speech at the Mass Call Ceremony, CJ Menon also spoke about the "hollowing out" of mid-career lawyers who burn out and leave the profession. Statistics show that mid-tier lawyers with seven to 12 years' experience consistently make up about 10 per cent or less of the entire profession over the last five years. Flagging a concern that young lawyers are lured by financial rewards and their professional development comes at the expense of the firms' pursuit of profits, he said: "The purity of that experience is tainted when money is fixed at the back of one's mind."
Ms Wong Xun Ai, 28, who is currently a programme executive at the Singapore Council of Women's Organisations (SCWO), is one of many legally-trained minds who have left the industry. She made the switch six months ago, leaving behind the lucrative world of commercial litigation.
She had gone into law for the right reasons but became disillusioned: "It was a bit disheartening when at the end of the day, you feel that maybe your client never really wins because ultimately, they spent so much time and money on (court cases)."
In her current job at SCWP, Ms Wong administers the non-profit organisation's progammes. Putting her legal training to use, she also provides legal counselling to those facing matrimonial issues. While she may have taken a big pay-cut, she said she is "definitely happier now". "It's fulfilling to be able to feel that I am helping others and putting what I've learnt to good use," she said.
On the legal profession, she added: "If from the get-go it's not something you want to do or you don't have a passion for, I think it will be hard for you to last long."