The Big Read: When it comes to innovation, the food industry has a winning recipe
SINGAPORE — Three years after she opened her dessert eatery in 2007, Ms Janice Wong found herself at a crossroads: Her 2am:Dessert Bar, which opens only at night, as its name implies, was drawing the crowds and the business was in the black. Where would she go from there?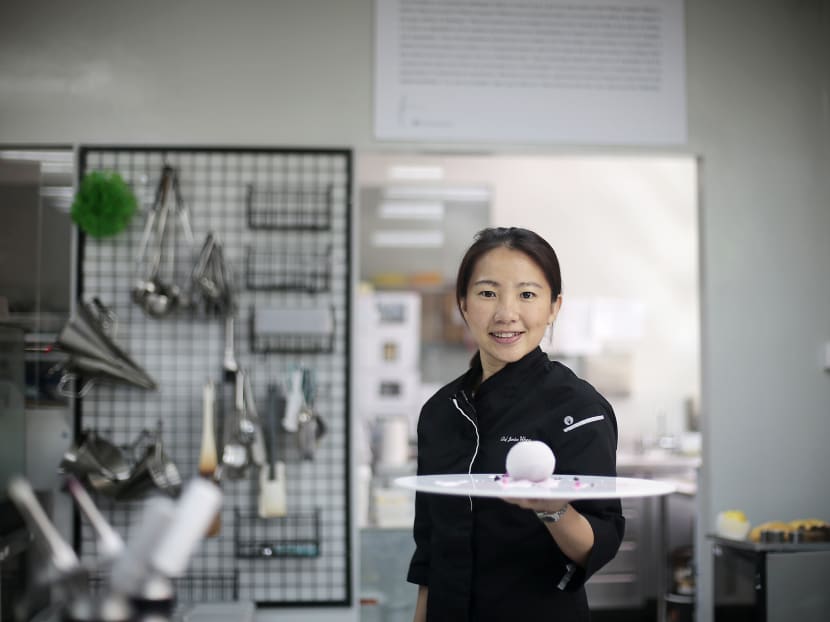 SINGAPORE — Three years after she opened her dessert eatery in 2007, Ms Janice Wong found herself at a crossroads: Her 2am:Dessert Bar, which opens only at night, as its name implies, was drawing the crowds and the business was in the black. Where would she go from there?
She could go the usual route and open franchise stores overseas. Or she could take an unconventional path. She opted for the latter.
In 2011, she opened a research laboratory to experiment with ingredients and cooking techniques. The lab, where chefs do research and conduct workshops, started out at Fusionopolis before moving to Tokyo three years later. Currently, researchers there are studying sake.
"The model for Singapore food businesses is always: Do well, open another, franchise, and then retire ... I thought about it, but I decided to not do that and to instead put all my resources into research ... if I did (open) stores in Indonesia and Thailand, I would probably not have reached the stage that I am at," said Ms Wong, 33, who has since picked up coding to help her program machines.
Her efforts in the lab led to creations of edible art and kickstarted a flurry of activities which saw her expanding her business and making a mark on the international stage: Among her edible art installations was one displayed last year at the 
Singapore: Inside Out travelling showcase, which features the Republic's contemporary creative talents, it featured chocolate lollipops in flavours such as kaya and bak kwa, and was hung from a ceiling. She has also begun collaborating with French fashion houses to come up with chocolates, and has opened a factory along Mactaggart Road which makes a retail line of sweets.
Less than a decade after the economics graduate took the plunge to set up her eatery, she has made a name for herself: Last year, she was invited to be a guest chef for the reality TV cooking competition series MasterChef Australia, where contestants had to re-create her signature dessert, the Cassis Plum.
Innovation is a buzzword these days in Singapore, but few would associate food with it.
The fact is, however, that the industry is choc-a-block with many entrepreneurs like Ms Wong who are blazing a trail and making a mark for themselves – so much so that Finance Minister Heng Swee Keat held it up as a role model for innovation and overseas expansion during his recent Budget statement. It is one industry that appears poised to tap the spirit of enterprise which the Budget aims to encourage, with measures such as tax incentives and support for automation projects to help local firms to place a "stronger emphasis on technology adoption and innovation", among other objectives.
TRAILBLAZERS
After Ms Wong finished her studies at the National University of Singapore, she had a three-month stint at the famed Le Cordon Bleu culinary school in Paris. Having seen how fashion labels use codes to develop their collections, her next big idea was to develop technology to paint her chocolates and replace the hand-painting process. "Our confectioneries have a strong relation to art and design. I'm slowly trying to change the way people think. Chocolates are almost always brown … but why not make them fashionable?" said Ms Wong, who is selling the sweet treats to places around the world, including Hong Kong. "New ideas and new techniques equate to sustainability in the long run, that's my business model."
Currently, hand-painting each mould takes 10 to 15 minutes, but by using a machine, the time could potentially be cut to 5 minutes. "We cannot meet the world's demands (without automation) ... I have only that number of chefs I can hire," said Ms Wong, who has already assigned codes to her colours and brush strokes, and is looking for a partner to provide the machine.
Chef Daniel Tay is another who is pushing the boundaries in the food industry. The founder of Bakerzin sold the French-style bakery chain in 2007, but managed it until end-2013. Shortly after starting food solutions and contract manufacturer Foodgnostic, the 46-year-old launched online gourmet cheesecake shop Cat and the Fiddle.
In January, he rolled out online confectionery Old Seng Choong, which took its name from his father's old bakery, Seng Choong Confectionery.
Mr Tay said he makes full use of technology to help his business along. For example, he uses a high-speed blender to mix his ingredients. The machine can mix 300 kg of ingredients in five minutes. Previously, it took 25 minutes to mix 60 kg. The end product is also more homogenous, which makes it "creamier and more palatable", said Mr Tay.
He also has a cake-slicing machine which can cut a cheesecake in 10 seconds, compared to five minutes by hand. "In today's climate...technology is the only way to go. It's a simple equation, if you can't make it cheaper and better, then other people will...We need to always be ahead with technology," he said.
Explaining why he sold Bakerzin and left his comfort zone, he said that increasing rentals were eating into profits. "Sales are no longer substantial enough to cover rentals," he said.
HOW OLD BRANDS KEEP UP WITH THE TIMES
Homegrown coffee brand OWL International, which is marking its 60th anniversary this year, also saw the need to innovate despite its success, and has since grown from producing two basic coffee items to almost 300 individual product variants, including coffee, tea, cereal drinks and soybean curd mixes.
For decades, the company, which began as a family set-up, concentrated on roast and ground coffee, ignoring the growing trend of pre-mixed coffee, said Mr Richmond Te, 31, the company's group assistant general manager. As a result, sales dipped, and the company was acquired by Super Group in 2003.
Super Group kept the OWL brand for its rich heritage of roasting coffee. But it was not until 2010, when Mr Te joined the family business, that OWL began evolving. Mr Te, whose father Ronald is the executive director and co-founder of Super Group, said he was determined to refresh the brand's image.
"When I came in, OWL was very comfortable. That was the reason it started declining in the first place," he said. "We cannot be comfortable with where we are. We need to constantly remind consumers that we are improving, we are moving forward, we are appealing to a younger group of customers."
In 2012, the company launched a new logo and opened a café. It now runs four cafes, with one more – a flagship outlet in Chai Chee – slated to open before the third quarter of this year. In terms of product innovation, it is tapping on freeze-drying technology, which locks in the aroma of coffee beans, among other initiatives. The company also developed its single-serving capsule range last December, serving Straits Asian flavours branded with familiar names: Kopi-o, Kopi-o Gao, and Teh-o. "With the rise of specialty cafes and mega-coffee chains, people are upgrading themselves...so we have moved on with a much more premium offering," Mr Te said.
Ms Li Li Hong, who co-founded Mr Popiah with her late husband Tan Kok Hoo, who died last year, also credits automation for the business' expansion. For instance, it developed and custom-made a machine which can mimic the movements of the human hand. The result: A final product that resembles handmade popiah skins. It also has machines which can whip up sauces and ingredients, thus cutting manpower demands.
While workers can only roll out 100 popiah skins in an hour, a machine can produce 1,200 pieces, she noted.
Coming up with unique flavours is another selling point, said Ms Li, who is in her 40s. Besides the traditional popiah filled with turnip, it has added kimchi beef popiah, sushi popiah and ice cream popiah, among others, to the menu. Ms Li gets inspiration from travelling to trade shows overseas and observing the food culture there.
"I noticed that the younger generation and foreigners here don't like to eat the traditional popiah. I thought I could draw them in with flavours that they are familiar with, so that I could hit every segment of the population with my products," she said.
Ms Li and Mr Tan started out selling Western food, rojak and popiah from a stall in a coffeeshop at Bedok North in 1995, Soon after, they began experimenting with their popiah fillings, rolling out fish fillet and rojak popiah. Two years later, they opened a factory and began distributing their popiah skins and fillings to others. They closed the stall shortly after, as they found the wholesale business was more viable, but reopened it in 2014.
Currently, there are 11 stalls islandwide bearing the Mr Popiah brand, including nine franchisees. Mr Popiah also supplies popiah skins and ingredients to coffeeshops, food court stalls, restaurants and hotels.
But innovation is not always about automation.
Komala's Restaurants, for example, experimented with new dining concepts, to great success. The eatery chain's roots go back to 1947, when Komala Vilas - a restaurant in Serangoon Road owned by the late Mr Murugiah Rajoo - was set up, serving traditional south Indian vegetarian meals.
Mr Rajoo's son, Mr R T Sekar, joined the business at the age of 22 in 1981. In 1995, he realised that the restaurant needed to expand. However, his father had reservations. "He's not used to the idea of running a (large-scale) restaurant. He always had a belief which was: do what you can, don't go out (and expand)," Mr Sekar said. "He never liked the idea of self-service. He felt that if you have a restaurant, you have to serve the food."
Undeterred, Mr Sekar rented four units at Upper Dickson Road from his father and launched a new eatery with a fast-food concept under a new name, Komala's Restaurants. Bouyed by the success of his first outlet, new ones sprouted up quickly: There are currently nine self-service outlets, including three owned by franchisees. His father, who died a few years ago, became convinced eventually that he was right, said Mr Sekar, who is Komala's Restaurants' managing 
director.
Three years ago, Mr Sekar overhauled his Upper Dickson Road restaurant and turned it into a fusion dining spot, serving dishes that are a mix of Indian and Chinese vegetarian food. "There must be some constant change in any business. People today are all looking for what's new. So we need to keep on changing and coming up with new products," said Mr Sekar.
CRACKING THE OVERSEAS MARKET
Given the small size of the Singapore market, businesses that want to keep growing have to set their sights beyond the Republic's shores. The food industry is no different, and those who have ventured abroad rely on good partnerships or franchising to get a foot in the door.
Ms Wong, for example, partnered a Hong Kong-based property developer to open her first overseas eatery, Cobo House by 2am: Dessert Bar, in the territory last month. The casual fine-dining restaurant serves savoury dishes and desserts. Her second overseas eatery, a dessert restaurant in Shinjuku, Tokyo, opened just on Friday (April 15).
A Japanese property developer approached her in April 2014 offering her a space at its mall, said Ms Wong. She found a partner, ANA Foods, to come onboard, and the rest, as they say, is history.
The two-time Asia's Best Pastry Chef winner has seen her staff strength grow, from seven in 2007 to around 30 in Singapore, 40 in Hong Kong and 20 in Tokyo currently. She is not stopping there, and aims to open six eateries in Japan in the next decade, and three more in Hong Kong. She is also looking for an Australian partner to expand Down Under.
OWL, meanwhile, signed an agreement last year to open franchised cafes in Jakarta. The plan is to open one or two this year and another three in future.
This year, it opened two franchised cafes in China and hopes to have at least 10 more by next year. Mr Te noted that opening outlets overseas can be challenging as one may not understand local regulations, and it also takes time to build trust.
Cat and the Fiddle's Mr Tay, meanwhile, is rolling out his gourmet cheesecakes in Kuala Lumpur and China this year, after forming joint ventures with multiple partners. After China, he will be targeting Indonesia, the Philippines and Australia. Further down the road, he is eyeing the American market.
Mr Tay said his "Asian-flavoured cheesecakes" — Milo Dinosaur and durian are among them — would appeal to overseas customers. "Singapore is just my stepping stone. If my market is just Singapore, it's not worth my investment," he said.
For Mr Sekar, overseas markets are now his priority as well. Komala's Restaurants has four outlets in India and is planning to open four more there, and Hong Kong and the Middle East are its next targets. "There's no growth in Singapore. With all the strict manpower guidelines, I can't (open more outlets)," he said.
As a testament to how far tastes travel, the Middle East is also among the growing markets for popiah skins. Mr Popiah exports products to agents from China, Dubai and Egypt, who in turn sell these to hotels there.
To the food entrepreneurs, then, innovation is more than a buzzword. It is a credo to live by.
To Ms Li, the key to success for food entrepreneurs is research and development in everything from manpower to taste and quality.
She summed up her approach thus: "The world is changing and everyone is improving. Their expectations are also progressing. If you don't follow the trends and continue to improve, you'll definitely be eliminated."