Bike-sharing company launches points system to deter bad behaviour
SINGAPORE — Bicycle-sharing company oBike has introduced a credit scoring system to deter errant users who park their bikes indiscriminately, a problem that has drawn growing attention on social media.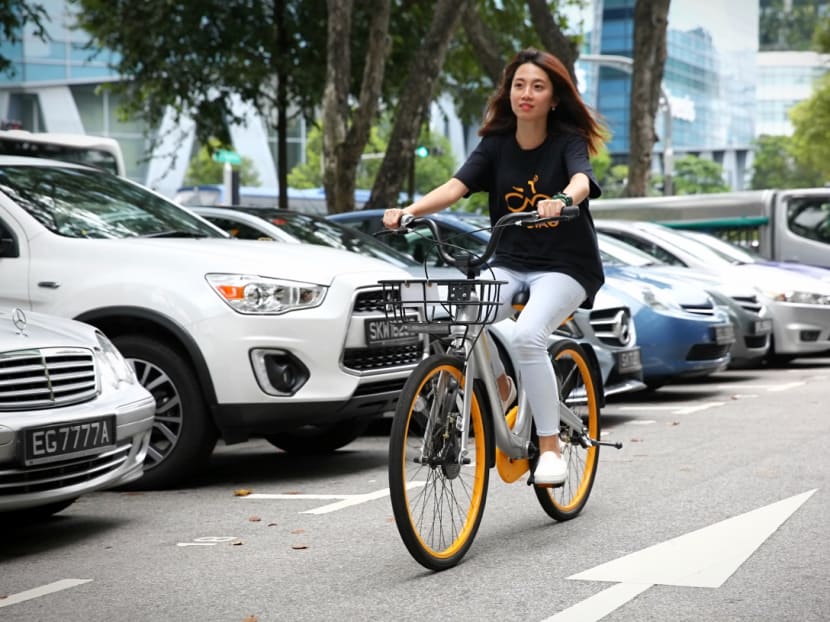 SINGAPORE —  To address the growing problem of indiscriminate parking of rental bicycles, homegrown bicycle-sharing company oBike on Thursday (April 13) announced a carrot-and-stick, community-policing system which will award or deduct credits from users based on their behaviour, and this would in turn affect how much they need to pay for the service.
Explaining how the scoring system works at the company's official launch, oBike's general manager Elgin Ee said that every user will start with 100 points upon signing up for an account.
To deter inconsiderate behaviour, up to 20 points will be deducted from a rider's credit score if he/she parks the bicycle at non-designated parking areas. On the other hand, someone who reports such instances will have three points added to his/her account.
A team of eight people will also be going around the island to remove indiscriminately parked bicycles,
Mr Ee said. Points will also be docked if a user uses a private lock or violate traffic rules. For such cases, the company depends on users to report on others, in return for additional points.
A user's credit score will affect how much he pays to rent a bicycle. oBike users pay S$0.50 for every 15 minutes of usage. But if a user's credit score drops to between 60 to 79, the rental cost will rise to S$5 per 15 minutes.
A user with less than 60 points will be charged S$50 per 15 minutes. A user with zero points will not be able to use the service, and requests to reinstate a user's account will be evaluated on a case-by-case basis.
Mr Ee estimated that in the past two months, cases of indiscriminately-parked bikes made up about 1 to 2 per cent of the total number of rides, which he declined to reveal.
Photo: oBike 
As of February, oBike has deployed 1,000 bicycles across the island and it plans to add "thousands more" in the coming months. Since the start of the year, fully privately-funded dockless bicycle-sharing services have sprouted here. Apart from oBike, which began deploying its bicycles from Jan 19, two other companies, Ofo and Mobike —  both headquartered in China — have entered the fray.
Mobike has a similar credit system to incentivise good behaviour, although the company said it does not encounter cases of indiscriminately-parked bicycles because of its proprietary GPS-based technology, which allows it to track down the location of its bicycles.
Ofo has encouraged users to report ungracious behaviour. For this month, it is offering vouchers ranging from S$2 to S$20 in value to users who help to move its bicycles which are indiscriminately parked to designated parking areas. Within a span of two weeks, oBike user Mr Matthew Ng said he had already spotted five to six cases of inconsiderately parked bicycles belonging to various bike-sharing companies in estates such as Bukit Panjang, Changi and Pasir Ris.
"There was one time I saw two bikes being parked in the middle of a pavement just beside a road," said the 25-year-old freelance photographer. Nevertheless, he felt that oBike's scoring system — with its harsh penalties and less-than-generous incentives — should be less lopsided.  
The problem is also becoming a headache for town councils. Chua Chu Kang Town Council chairman Zaqy Mohamad said: "Cases of rented bikes being parked indiscriminately is something we've seen increasing in the town council recently."
Users of bike-sharing services should park their bikes at designated parking zones, "just like how ordinary residents park their bikes", he said.
Photo: oBike 
From next Thursday onwards, oBike will roll out a new feature which helps users find suitable parking spots. Designated parking zones, which are spread across the island, will show up as blue "P" signs on a user's app.
The company is also implementing a one-year pilot at Tampines to promote the adoption of bike-sharing in the estate. Among other initiatives, residents will be offered a month of free usage and possibly more parking areas in the estate through new demarcated zones.
How oBike works:
To start using the service, users need to deposit S$49 into a mobile wallet. They can then search for an available bicycle in their area, and unlock it using a QR code. 
Rides cost S$0.50 every 15 minutes. To start using the service, users need to deposit S$49, which is refundable, into a mobile wallet.