GBikes to appeal licence decision, hopes to restart bike-sharing service
SINGAPORE — Bicycle-sharing operator GBikes, which had its application for an operator's licence rejected by the authorities last week, is trying to get its house in order and submit an appeal to the Government.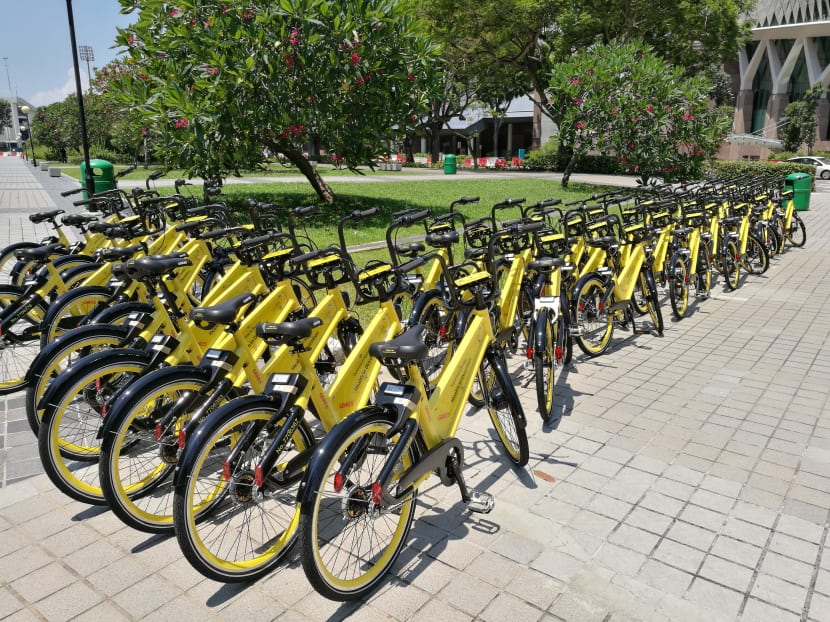 SINGAPORE — Bicycle-sharing operator GBikes, which had its application for an operator's licence rejected by the authorities last week, is trying to get its house in order and submit an appeal to the Government.
TODAY has learnt that the company is in disarray, and communication between its top executives has broken down.
Chief financial officer Joe Chia said he has left the firm, and doubts hang over the firm's finances.
Last September, the company told The Straits Times it had raised S$20 million in its initial round of funding.
But director Rykel Lim told TODAY that while Mr Chia had provided the national broadsheet with information about the funds, the latter also told him that the company did not receive the money.
The funds' whereabouts are unclear.
When approached, Mr Chia responded to TODAY's email, but retracted his response on Wednesday (Oct 3) night, saying he had no authority to convey information on GBikes since he has left his chief financial officer post.
The firm, however, is not about to be wound up as Mr Lim, who claimed he ceded control of the firm's operations last year to Mr Chia because he "could not do anything" about being sidelined by the latter, has plans to turn the business around.
A Singapore-based investor had agreed to pump in funds and other resources worth about S$1 million for the firm's "new chapter", but this was contingent on its obtaining an operator's licence, said Mr Lim. 
Therefore, he is working on submitting an appeal to Transport Minister Khaw Boon Wan this month.
GBikes was set up early last year, joining other operators in what was then a rapidly expanding bicycle-sharing industry. It claimed it had 3,000 bicycles as of the end of September last year. 
SEEKING CLARITY ON WHY LICENCE DENIED
GBikes' application for the licence — which is part of a new licensing regime to curb indiscriminate parking — was prepared and submitted by ride-hailing company Grab, Mr Lim said.
The company was in discussions to sell GBikes to Grab, and Mr Lim had authorised the ride-hailing giant to lodge its application.
His attempts to look at the application later were, however, denied because Grab told him it contained "proprietary information".
The potential tie-up with Grab did not materialise.
Last Friday, the Land Transport Authority (LTA) announced that six bicycle-sharing operators will be granted licences to operate here.
Full licences will be awarded at the end of this month to China-based firms Mobike and ofo, and local operator SG Bike. Homegrown player Anywheel, Chinese firm Qiqi ZhiXiang, and Grab's bicycle-sharing marketplace GrabCycle will be given "sandbox" licences for companies without a long-enough record of operating shared bicycles here.
GBikes, which initially announced in June that it was exiting the Singapore market, failed in its bid, as it did not meet the assessment criteria. This included failing to satisfy criteria relating to the robustness of its proposed implementation plan, the LTA said.
Mr Lim wants to seek greater clarity from the regulator on why its bid was unsuccessful.
Responding to TODAY, the LTA did not specify why GBikes was denied a licence and would only say that operators were assessed on a set of criteria, including their fleet utilisation rate, financial strength and ability to manage indiscriminate parking, among other things.
"GBikes' application did not pass the evaluation, based on the assessment criteria," said the LTA spokesperson.
Unsuccessful applicants wishing to appeal the decision — made known to operators last Friday — may submit a request to the Transport Minister within 14 days.
THE FAILED GRAB DEAL
Mr Chia was the one who had offered GBikes for sale to Grab, said Mr Lim, adding that he was informed about the discussions on the potential deal earlier this year.
Mr Lim first communicated with the ride-hailing firm about a fortnight before applications for the operator's licence closed in early July.
He did so because he wanted to tell Grab about issues with the company's initial coin offering, so that the ride-hailing firm could reach an "informed decision" about its collaboration with GBikes.
The initial coin offering last year saw investors pour funds — possibly to the tune of millions — into "GCoins", which commuters were meant to use to ride its bikes, said Mr Lim.
Some investors have asked for refunds since, among other things.
An initial coin offering is typically a process in which funds are raised for a new cryptocurrency venture and contributors may receive tokens in return.
Mr Lim said that Grab requested his legal authorisation to apply to the authorities for GBikes' licence on its behalf, which he granted "out of goodwill".
He did not ask Grab for a draft of the application before submission as he felt he should have no issues obtaining it where necessary. However, the ride-hailing firm declined his request to look through the contents later.
He wanted access to the licence application to decide whether to carry on with it after he learnt that Grab was pulling out of the deal.
When asked about this, Grab did not respond directly, but confirmed that it had been in a "conversation" with GBikes. The company is constantly in talks with potential partners, said its spokesperson.
"While the collaboration with GBikes did not materialise, Grab remains a strong believer in the future of active mobility," its spokesperson added, without saying why the tie-up fell through.
LOOKING TO TURN A 'NEW CHAPTER'
Mr Lim told TODAY his relationship with Mr Chia turned sour around the middle of last year, when he found himself unable to operate the business, as the latter was "uncooperative".
He said his attempt to deploy bicycles onto the streets was hampered, as the warehouse refused to release the bicycles and would act only on Mr Chia's instructions.
"I realised at that point in time that there was no partnership between (Mr Chia) and me as far as the bikes were concerned… I had to agree (to hand over operations) because I couldn't do anything about it," he said. 
They last communicated in July or August.
Their differences aside, Mr Lim said his focus is now on reviving the bicycle-sharing service.
"If I can solve the … problem (with the initial coin offering), buy new bicycles, get the licence and operate, then (Mr Chia) will be a chapter behind me," he said.
"I'm trying to find a more positive outcome on this matter," he added.
Sign up for TODAY's WhatsApp service. Click here: