oBike owes town councils over S$122,000 in fines
SINGAPORE — Beleaguered bike-sharing operator oBike has been slapped with fines amounting to at least S$122,100 by the Bishan-Toa Payoh, Tanjong Pagar, Marine Parade and Jurong-Clementi Town Councils, ahead of the July 4 deadline imposed by the Land Transport Authority (LTA) to remove its fleet.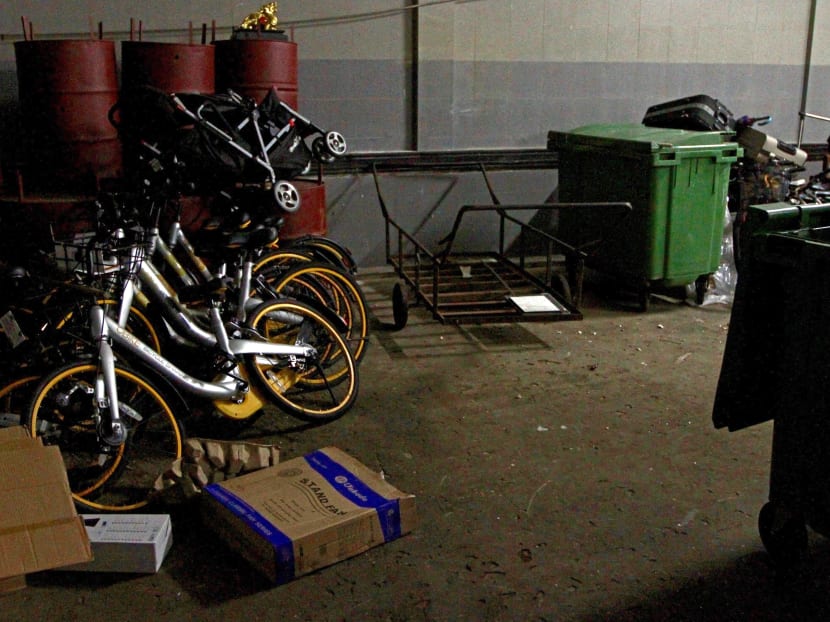 SINGAPORE — Beleaguered bike-sharing operator oBike has been slapped with fines amounting to at least S$122,100 by the Bishan-Toa Payoh, Tanjong Pagar, Marine Parade and Jurong-Clementi town councils, ahead of the July 4 deadline imposed by the Land Transport Authority (LTA) to remove its fleet.
The firm, which is debt-ridden, announced last week that it is stopping operations in Singapore.
About 170 offence notices from the Bishan-Toa Payoh Town Council were pasted at oBike's abandoned office on Monday (July 2) morning.
The notices pasted on the office window in nine stacks were mostly over the bicycles causing obstruction at common areas and the failure to remove illegally parked rental bikes.
oBike has 14 days from the date of notice to settle each fine, and an instalment plan could be arranged if it is unable to pay the entire sum by the due date.
Under the proposed instalment plan from the town council, oBike could pay 50 per cent of the total fines first, and the remaining amount in a second instalment.
Failing which, the town council said that it will start legal proceedings to recover the monies as well as all the expenses incurred from the action.
When contacted, Bishan-Toa Payoh Town Council told TODAY that some of the fines date from as far back as November last year. Ms Fen Ng, manager of corporate communications for the town council, said: "These composition fines were imposed between November 2017 and February 2018 for indiscriminate parking of bikes.
"(The town council) has been following the arrears management protocol in pursuing payment for the fine from oBike since end of 2017. Thus, these are not new fines for non-removal of bikes by oBikes."
oBike also owes fines of up to about S$30,000 to Tanjong Pagar Town Council. Its public relations manager Shirley Aloysius said that the town council has emailed and called the company to pay up, but the fines have yet to be settled, and oBike is now "uncontactable".
She added that the town council will consult its own lawyers on the next legal steps to take and work with the LTA. It will also help store the bicycles that are causing obstructions.
Dr Teo Ho Pin, coordinating chairman of the town councils in constituencies under the ruling People's Action Party, revealed that since the Memorandum of Understanding signing with bike-sharing firms here in December last year, all the 15 town councils have started sending notices and issuing summonses where necessary for the removal of bikes parked indiscriminately at town councils' common areas. However, the status of cases might differ for each town council.
Over at Marine Parade Town Council, its chairman Lim Biow Chuan, who is also Member of Parliament for the Mountbatten ward, said that eight summonses have been issued so far, amounting to S$2,600.
Although oBike has appealed to waive two summonses before it ceased operations, stating that it did not receive the notices, the town council has rejected the appeal.
Mr Lim added: "We will monitor the situation. If they go into liquidation, then we are unlikely to be able to recover the fines."
As for Jurong-Clementi Town Council, it has imposed fines amounting to about S$3,500. Council chairman Ang Wei Neng said the summons dated back to November last year.
Although he said there are still "about a couple of hundreds" oBikes left in the town, he added that a town council staff member did observe a contractor going around removing the bikes.
A check with other town councils showed that some of them have taken some measures to handle the problem of unclaimed bicycles belonging to oBike. Others have not responded to queries by TODAY.
Mr Ang Hin Kee, chairman of Ang Mo Kio Town Council, revealed that as of June 30, there were 1,600 oBike bicycles in their area, and 40 per cent of them were found to be improperly placed and have been moved into the bin centres after the operator failed to remove them after reminders. When TODAY visited the bin centres, there were also bicycles from other bike-sharing operators such as ofo there, apart from those of oBike.
"We have also sought the assistance of LTA to work with the operator and their appointed liquidator to remove (the bikes) as well as those found elsewhere in the HDB estate; (and) to remove those in our private estates and neighbourhood parks," Mr Ang added.
Mr Pritam Singh, chairman of opposition-held Aljunied-Hougang Town Council, said that there are no plans to issue fines to oBike for the time being, and the town council is awaiting the LTA's direction on this matter.
Nee Soon Town Council is similarly waiting for the LTA's instructions. Its chairman Louis Ng said that the approach it has taken from the beginning was to shift the bicycles to the proper designated areas should they pose a safety hazard to their residents.
Jalan Besar Town Council and Pasir Ris-Punggol Town Council both said that oBike does not have any outstanding fines with them.
Mr Shi Yi, founder of oBike, said on his LinkedIn page on Monday that oBike Singapore has been shut down due to "economics", and the decision was made among all shareholders.
He added that oBike has no intention or need to run away with deposits. Instead, the company is proactively looking for a solution with the related parties.
Last week, oBike was ordered to remove its entire fleet of 14,000 bicycles by July 4, failing which the company or its liquidator would have to pay to reclaim the bicycles impounded by the LTA.
The deadline was issued following a meeting with oBike's representatives.
Sign up for TODAY's WhatsApp service. Click here:
Sign Up