Bike-sharing scheme could extend to Tampines, Pasir Ris, Marina Bay and city centre
SINGAPORE — Two more areas — Tampines-Pasir Ris as well as Marina Bay with the city centre — have been identified as possible locations for a bike-sharing pilot scheme to extend to.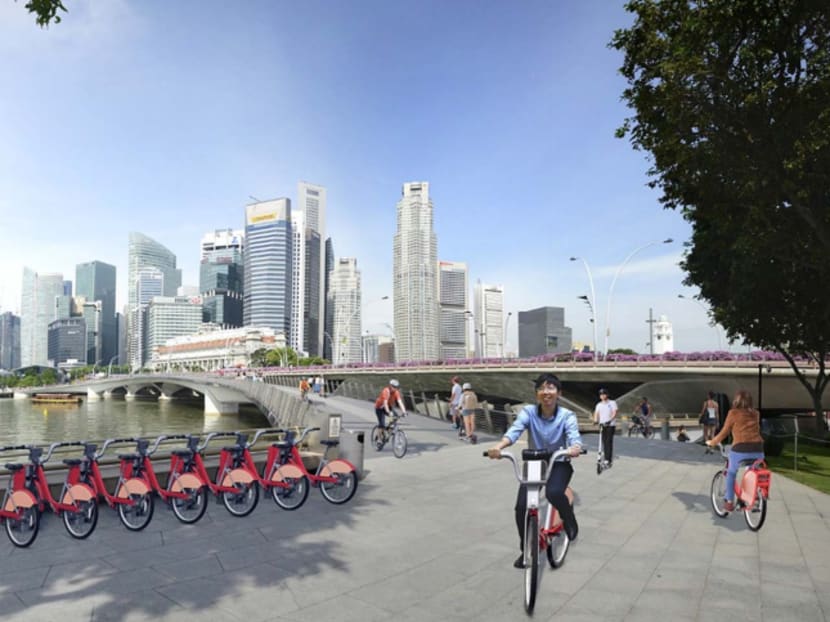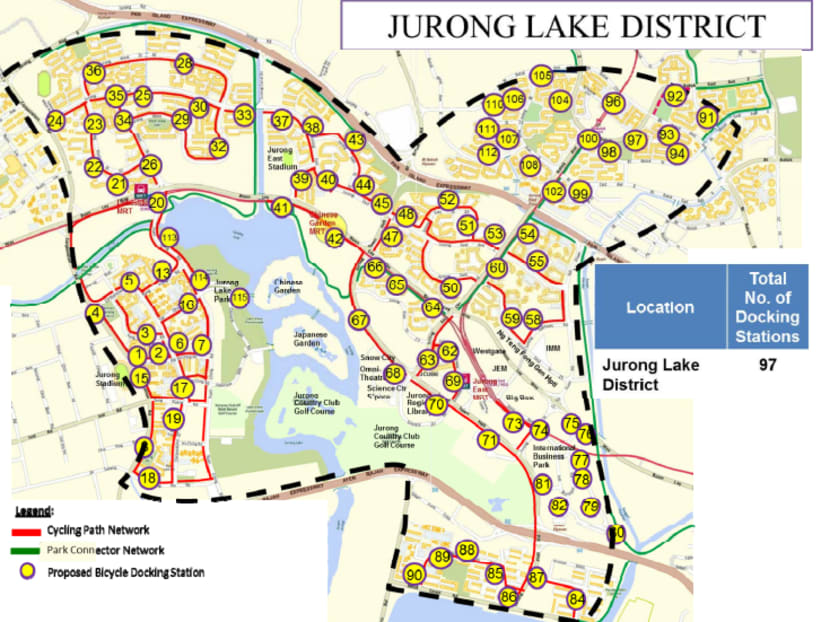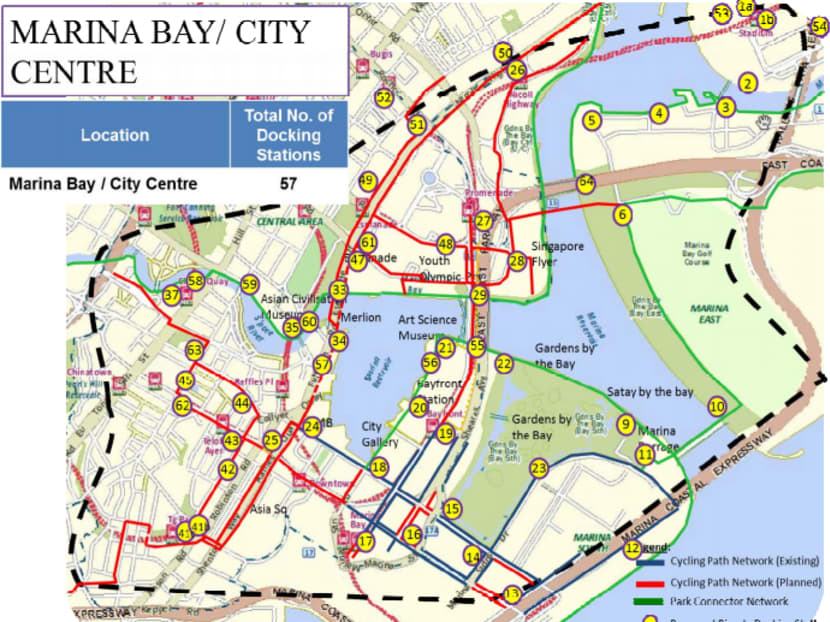 SINGAPORE — Two more areas — Tampines-Pasir Ris as well as Marina Bay with the city centre — have been identified as possible locations for a bike-sharing pilot scheme to extend to.
The Land Transport Authority (LTA) revealed this on Thursday (July 28) as they gave details of the tender they will call on Friday for an operator to own, build, operate and maintain a 1,000-bicycle-sharing system with 100 docking stations in the Jurong Lake District for eight years, starting end next year.
Bidders for this tender will also have to propose plans to expand the bike-sharing scheme to Marina Bay and the city centre, and to Tampines-Pasir Ris as well. If the system is launched in all three areas, the total number of bicycles in the scheme is estimated to rise to about 2,300, with around 230 docking stations.
To defray part of the costs of setting up and operating the pilot in Jurong Lake District, the LTA will provide a grant. Potential operators will have to bid for a fixed amount of grant they need each year of the contract. However, money from private sponsors are expected to partially fund the operations.
Another tender will be called on Friday to appoint a consultant that will engage suitable sponsors who will be entitled to naming and advertising rights to the bicycle-sharing system.
Plans for the bike-sharing pilot at Jurong Lake District, which will run 24/7, were announced by Transport Minister Khaw Boon Wan last week. 
How much it will cost to use the bicycles will be decided by the operator, said the LTA on Thursday. In some cities, commuters get to ride free for the first 30 minutes, while others operate on a system of a monthly or annual pass. 
In New York, for instance, an annual membership costs US$155 (S$210), while a monthly one is US$14.95. A 24-hour pass costs US$9.95.
The tender will stipulate that operators should accept payment through EZ-link or debit and credit cards.
On how the LTA would decide whether to expand the scheme, a spokesperson said: "We will look at the quality proposals submitted by the tenderers to see if (they) have taken into account the unique characteristics of the respective districts. We will also look at the financial proposals to assess the extent of economies of scale that can potentially be reaped in the respective options. 
"Concurrently, we will evaluate the level of sponsorship interest before eventually deciding which option to choose."
Jurong Lake District was chosen for the pilot because it is set to be re-developed into Singapore's second Central Business District, said the LTA on Thursday. The authority's considerations for expanding to the two new areas would be different, added a spokesperson.
Tampines and Pasir Ris, as mixed residential, industrial and commercial-use towns, should see higher frequency of trips during certain hours as commuters may use the bicycles to commute to and from work or to run errands.
In contrast, usage is expected to be spread out throughout the day in the city centre and Marina Bay, partially because there are key tourist attractions there.
"This will expand the parts of the city one can access quickly and easily ... for both tourists and Singaporeans to explore the sights of the city. This may hence translate to less frequent but longer bicycle-sharing trips," said the LTA spokesperson. 
"Usage may also be more consistent during the weekends or even in the wee hours as recreational night-cycling becomes increasingly popular or when public transport services are not available late at night," the spokesperson added.
As part of the planning process, the public will be consulted on where pick-up and drop-off points for the bikes should be.