Bite-size modules and crowdsourced learning features in new ULeap app
SINGAPORE – Working professionals can now tap on a new learning app to get up-to-date information on issues and exchange know-how with other experts in the field.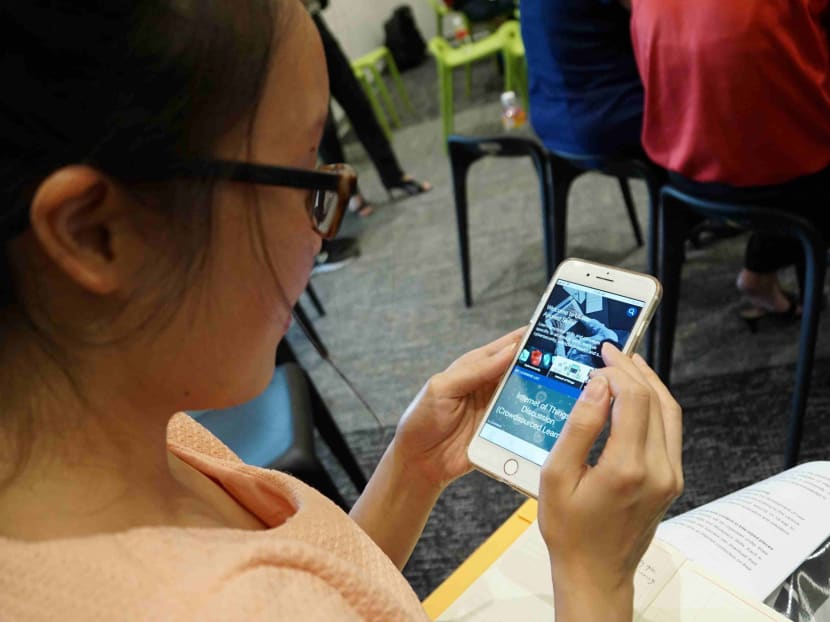 SINGAPORE – Working professionals can now tap on a new learning app to get up-to-date information on issues and exchange know-how with other experts in the field.
For example, in events like the WannaCry ransomware cyber attack that wreaked havoc on some 200,000 victims in at least 150 countries, or even the recent train collision at Joo Koon MRT station, industry professionals can learn and discuss with others in the industry on how to prevent similar incidents through a forum of sorts, as part of "crowdsourced" learning within the app.
Known as ULeap (Learning Enabled Through Active participation), users can take "bite-sized" learning modules – 15 minutes or less – in topics ranging from cyber security to workplace health and safety and how to run a digital business.
The mobile app is part of a six-month pilot initiative by The National Trades Union Congress' (NTUC) e2i (Employment and Employability Institute), and in partnership with institutes of higher learning like the Institute of Technical Education (ITE), Republic Polytechnic and the Singapore University of Social Sciences (SUSS), as well as training providers like the Singapore Institute of Safety Officers (SISO).
Speaking at the launch of the app at Devan Nair Institute for Employment and Employability on Friday (Nov 17), chief executive officer of e2i Gilbert Tan said this "timely" and real-world aspect is what sets it apart from other learning portals and courses.
This is compared to the "traditional route" of having a new course or curriculum developed and approved by an academic board, which takes typically 3 to 6 months.
"Things happen at a faster pace, and cases (like workplace accidents) happen day-in, day-out and may not even be covered in school… so (this enables) just-in-time learning where things can be discussed almost immediately," said Mr Tan, who added that he hopes some certification framework can be used for the e-learning modules.
Apps like ULeap are part of the shift towards how learning will be done in future.
In October, the new SkillsFuture Series courses was announced by Education Minister (Higher Education and Skills) Ong Ye Kung. The series focuses on developing workers' skills in eight "priority and emerging" sectors that would benefit the economy, such as data analytics, finance and tech-enabled services, which cover e-payment solution systems. Digital media, cyber security, entrepreneurship, advanced manufacturing and urban solutions are other areas where skills are in demand.
Separately, NTUC secretary-general Chan Chun Sing also noted earlier this month following the NTUC Ordinary Delegates' Conference how such new learning models have no "designated end point" where one gains a degree after completing modules.
Going back to study at institutes of higher learning would prove to be "too long and too slow" a cycle for today's economy, he said. To overcome that hurdle of working people not having enough time and money to go back to school to take a long course, shorter training modules are needed.
One ULeap user and workplace health and safety environment manager Gregory Chew, 46, felt that discussions with other industry professionals about trending issues on the app, such as investigating the cause behind the MRT collisions, would be useful.
"I'm interested in finding out the human factors involved…. While our company has similar internal forums where experts worldwide contribute, this is more Singapore-centric where professionals can connect and give good answers," he said.
ULeap's learning platform aims to benefit 10,000 working people during the six-month pilot.
About 200 people have signed up so far, said Mr Tan.