The Big Read: As bosses come around, more people with disabilities get to taste the dignity of labour
SINGAPORE — In an office at Lengkok Bahru, four employees of mailing and printing solutions company DataPost churn out huge amounts of data day in, day out. Their eye for detail and ability to concentrate for long hours have drawn praise from their boss. Chief executive Thomas Wee said he was impressed, in particular, with their dedication and focus in completing the tasks.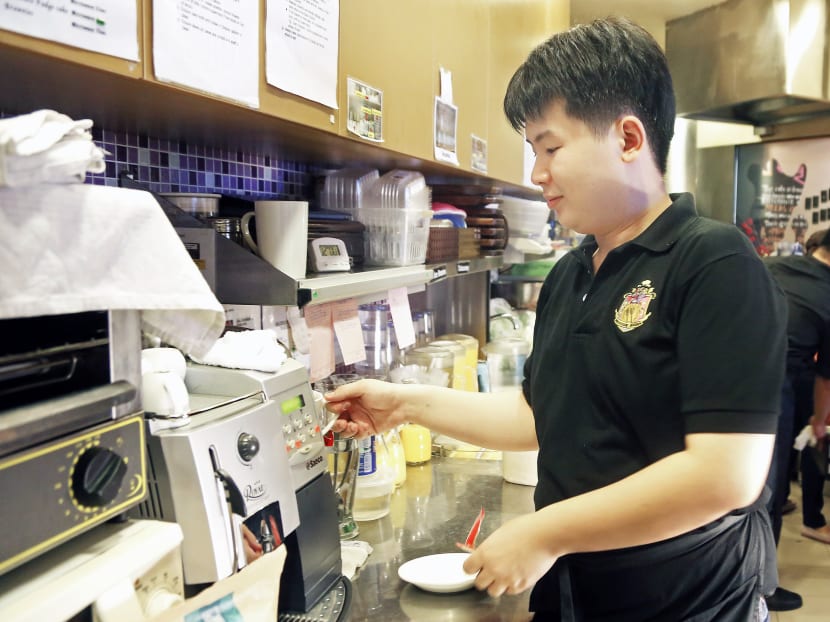 SINGAPORE — In an office at Lengkok Bahru, four employees of mailing and printing solutions company DataPost churn out huge amounts of data day in, day out. Their eye for detail and ability to concentrate for long hours have drawn praise from their boss. Chief executive Thomas Wee said he was impressed, in particular, with their dedication and focus in completing the tasks.
The four workers operate out of DataPost's office in The Enabling Village. They have autism, but instead of letting their condition hamper their work, their employer chose to tap on their strengths. Said Mr Wee: "Once you break the tasks into identifiable steps, they will execute well ... When their talents are put to the right vocation, they can do very well."
The four workers are paid a competitive salary based on fair market rate. One of them, Mr Tong Qin Yuan, 24, who is employed as an administrative assistant, said: "I am happy to be employed because I can do my best for my work and I can earn money to support myself and pay for things I need."
DataPost, which has about 500 workers at its main office, plans to train more workers with autism and integrate them with the rest of its workforce. Currently, four other workers who also have autism are undergoing training.
In Singapore, employers are beginning to appreciate what people with special needs or disabilities bring to the workplace.
In fact, aesthetics products distributor Dione International director Clara Chng said that based on her own experience, she enjoys working with this group of workers because of their focus, loyalty and can-do attitude. She has hired a partially-blind telemarketer and a graphic designer who is a wheelchair user.
In 2014, the Ministry of Social and Family Development (MSF) launched the Open Door Programme, under which companies can apply for funding support to hire, train and integrate persons with disabilities. To date, 140 companies have applied for the fund, with an average claim of S$3,000. About 650 persons with disabilities have been placed in jobs, including those supported under the initiative.
Better public awareness and financial incentives from the Government have resulted in more employment opportunities for people with special needs or disabilities, employers and people in the community who were interviewed said. Other factors include the tight labour market — due to the Government's efforts to wean companies off imported labour — and increasingly restless workers.
Nevertheless, there is still some way to go. The general level of awareness, for one, needs to be improved: For instance, daily commuting and shuttling between meetings, which many workers take for granted, require greater planning and effort when it comes to wheelchair users. Customers, too, may be offended when a server, who has autism, ignores social cues and clears up plates on a table too quickly.
In this year's Budget, the Government rolled out several initiatives for persons with disabilities, including more training support. Speaking during the Budget debate in March, Nominated Member of Parliament Chia Yong Yong, a lawyer who uses a wheelchair, welcomed the measures but called for a national education campaign to raise awareness for those with disabilities.
In her speech, which was lauded by MPs and Speaker of Parliament Halimah Yacob. Ms Chia also sought the public's understanding to accommodate those who are "slow in entering the elevator" or "simply cannot comprehend (their) external environment".
"A disability is not caused by a medical condition per se. A person is disabled because there are external and internal barriers that impede his development and participation in the community," said Ms Chia, who is also the president of SPD, an organisation formerly known as the Society for the Physically Disabled.
FAMILY, EMPLOYER SUPPORT VITAL
Launched in 2015, the Enabling Village provides employment opportunities for persons with disabilities and space for them to interact with others in the community. The project is led by government agency SG Enable and the MSF.
Mr Wee noted that when DataPost set up an office there last year, things were slow to catch on. The company also had to restructure its training methodology to train the workers in managing data, including collating and sieving through them. "But once they catch on to it, they are far more efficient, far more focused and far more dedicated," he said.
Mr Raymond Yee, 32, who has autism, had faced difficulties in communicating with colleagues and grasping verbal instructions in his previous three jobs. It did not help matters that Mr Yee, who has a degree in social science, kept his condition from his previous employers.
Mr Yee is currently working as an assistant executive at the Ministry of Health Holdings, after he was placed in the job by the Autism Resource Centre's (ARC) Employability & Employment Centre (E2C). Once a week, he receives job support to help him adapt and cope with the job and working environment. Since starting in August last year, he has not had to take sick leave so far and has been working well with co-workers, he said.
Through the E2C, people with autism are assessed for their strengths and given the necessary training and support. Ms Jacelyn Lim, the deputy executive director of ARC, said the centre places about 25 people in jobs and trains 80 people every year. Among these, about 60 to 70 per cent were educated in mainstream schools.
Nine in 10 of those who had been placed in jobs have stayed on with their employers. ARC is piloting a new model with Si Chuan Dou Hua Restaurant where persons with autism who may require more familial support are hired along with their mothers.
Ms Lim noted the need for families to help a child with autism cultivate independent daily skills at home, while employers can play a proactive role in restructuring work for people with autism. She said: "The employment rate here is low compared to that in countries like the United States, Australia and Japan, but it might go up if employers and families are able to bring out the best in a person with autism."
One of those who has benefited from strong support from his employer and family is Mr Low Quan Jing, 24. For the last six years, Mr Low has been working at Professor Brawn Cafe, which employs individuals with autism. Every day, he arrives punctually to prepare the kitchen and refuses to step away, even for a minute, until all his assigned tasks are done.
When TODAY tried to talk to him during his lunch hour, he constantly stole glances at his watch to make sure he did not overrun the time allotted for the interview. Asked what he liked about his workplace, he simply flashed a big smile and said that he is "happy".
Mr Low's mother, who declined to give her full name, noticed a positive change in her son after he started work. "It gives children like him that sense of self-esteem and confidence that they are able to contribute and complete tasks on their own too," said Mdm Low, 60.
While there is a need for employers to open up job positions to autistic workers, parents also have to play a part, she added. She joked that people have called her an "army commander" for the way she disciplines her son: She made him sit down and pluck an entire bag of bean sprouts for over six months until he completed his task.
"It was after several tries, crying, scolding and telling myself not to give up because I know that I cannot keep giving him a fish and he will eventually have to learn to fish for himself," said Mdm Low. She is also grateful for the support of the staff at Professor Brawn and special-needs school Pathlight in helping her son find a place in society.
PHYSICAL DISABILITIES NO HINDRANCE
Paralympian Jovin Tan, 30, was shuffling between jobs, staying between one and two years at each, before finding his feet as an executive assistant at human resource consultancy firm ChapmanCG. He has been working there for five years, assisting in coordinating job interviews.
The biggest draw of the job, he said, was being able to work from home. Said Mr Tan, who uses a wheelchair: "It actually saves a lot of time … because there could be times when it is difficult to get a taxi and I will end up being late, or if it is raining, I have to make sure I am able to get shelter while waiting for a cab."
There are also other things that his co-workers may be oblivious to that he has to be concerned with. These include making sure there is a disabled-persons toilet nearby. Bonding with his colleagues over meals is also out of the question, as he is worried about holding them back in the limited time they have for lunch, due to his difficulty in moving around in crowds.
Calling on employers to give disabled individuals a shot at the workplace, Mr Tan pointed out that they are able to perform a variety of tasks despite physical limitations. This was indeed what Dione International's Ms Chng realised after she hired graphic designer Ms Salimah Ishak, who uses a wheelchair. Ms Chng said: "When there are a lot of (assignments), she will take the initiative to send me the artwork even when it's very late at night." She was equally effusive in her praise for the work ethic of a visually impaired telemarketer, Ms Adrienne Lim.
Ms Chng had gone to the SPD and the Singapore Association of the Visually Handicapped to look for potential hires after having a negative experience with young employees who did not stay long in the job.
She is currently in the midst of recruiting another employee to assist in administrative duties. Referring to Ms Salimah and Ms Adrienne Lim, she said: "They also teach us to be more sensitive and grounded … and act as role models to the other employees."
Mr John Soh, who runs W.E. Social Enterprise, spoke of how he has to reassure clients who were concerned about whether his employees — who are physically and intellectually disabled — were up to the packing and assembling tasks that were required of them. But the fact that his company managed to complete projects — including packing 12,000 kits by one deadline — saw customers coming back.
Nevertheless, he cited his concern about other charity organisations which do not charge corporate clients, and instead seek assignments to keep their beneficiaries occupied. He also suggested that the public sector could take the lead by allocating some jobs to people in the disabled community.
Mr Soh, who pays his staff between S$500 and S$1,000 a month depending on their job scope, said: "When we talk about dignity, (they) would like to work for (their) meals. Our staff are not here to beg for money, they want to be given a chance to do decent work so that they can bring home a decent income."
SPD executive director Abhimanyau Pal said the number of people with disabilities placed in jobs has gone up over the past five years, from 27 to 394 today. However, the increasing demands of jobs would be a challenge for this group of workers, he said.
Work has become more complex due to the greater focus on productivity, he said. Employers can do their part by carving out roles that commensurate with the employees' abilities, he added.
Ms Chia said that Singapore could also consider alternative models, such as the one in Australia where non-profit organisations help companies to develop the know-how in integrating employees with disabilities.
While some countries introduce laws to regulate employment for the disabled, she felt it would be more sustainable and empowering to create a buy-in culture among employers 
instead.
THEY CAN DO IT TOO
They make sure that the merchandise is neatly displayed, hand baskets to customers who are struggling with too many pieces of clothing, or unpack new stock which has just arrived in store. These are the 35 retail associates employed by clothing giant Uniqlo in partnership with the Movement for the Intellectually Disabled of Singapore (Minds).
Uniqlo is the first retail employer here working with Minds to specially carve out roles for the intellectually disabled. The company recognises that while most of them are not able to perform duties requiring social interaction, such as cashiering, they are adept at duties including packing, sorting and arranging of merchandise. The workers from Minds get the same pay as other Uniqlo staff, depending on their duties.
Ms Siti Zawiyah Selamat, 24, started work at Uniqlo about one-and-a-half years ago, helping in the replenishing and packing of clothing. While she responds mostly in single sentences, her eyes sparkled when asked about her colleagues and her work. She nodded when asked if her colleagues have been helpful whenever she faced difficulties.
Before she started working, she lacked self-confidence and was reluctant to attempt tasks when asked, her job coach Faridah Ungku Ismail said. Minds' head of job placement and job support programme Jaieden Shen said misconceptions about workers with intellectual disabilities include doubts about their ability to carry out tasks and manage anger. But with proper training and clear instructions, this group of workers can fit in the workplace, he said.
Nevertheless, it is important for co-workers to be more patient. They also have to be clear and succinct while communicating with people with intellectual disabilities, he added.
Mr Shen hopes for more employers to step forward, in order to harness the "untapped potential" among these workers and their ability to work beyond the traditional cleaning, food and beverage and hospitality sectors. This is timely, he said, noting that the expectations of caregivers and clients have increased over the years. While the number of Minds workers placed in jobs has increased from 25 to 185 between 2010 and March this year, there are challenges in matching them to jobs as some prefer office-type work, Mr Shen said. Some parents are also not keen on their children working on weekends or on late shifts, which might be unavoidable in the services sector. Still, he was heartened by the fact that his clients are staying longer on the job.
For his part, Mr Shen cannot praise the workers enough. "Once you give them a structured routine, the quality of work is awesome … some might be a little slower, but they pay so much attention and are detailed in their work," he said.