Changes to BTO launch, balloting to provide more certainty for buyers
SINGAPORE — From May, the Housing and Development Board (HDB) will announce upcoming sites for Build-to-Order (BTO) flats half a year ahead of their launch to allow home buyers more time to plan for their purchase.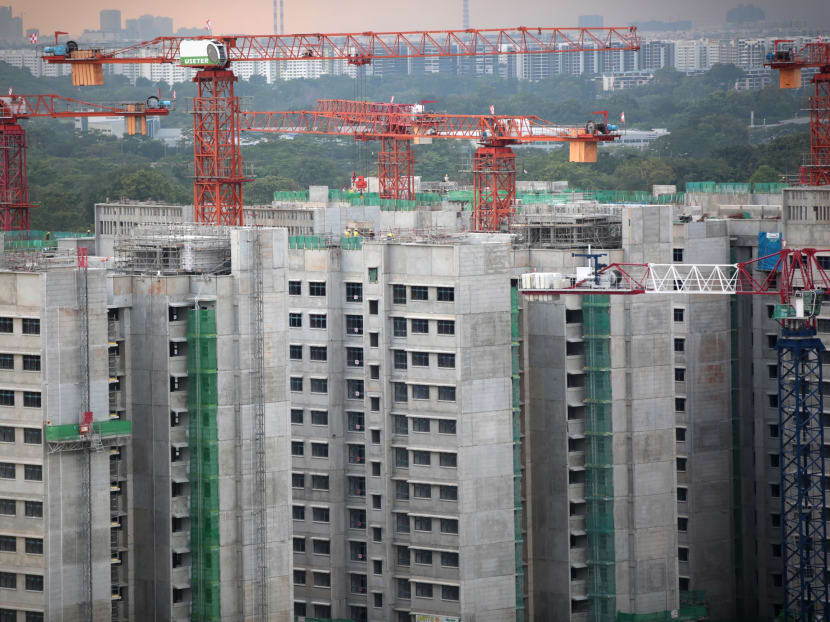 SINGAPORE — From May, the Housing and Development Board (HDB) will announce upcoming sites for Build-to-Order (BTO) flats half a year ahead of their launch to allow home buyers more time to plan for their purchase.
This is three months earlier than the practice now.
It will also shorten the balloting period for BTO flats from six to three weeks from May, so that applicants receive their ballot results earlier, National Development Minister Lawrence Wong announced on Thursday (March 7), in a move that will raise certainty for buyers.
He was speaking in Parliament during the debate on his ministry's budget.
After the changes take effect, the HDB will, for instance, announce the BTO projects to be launched in August and November during the May sales exercise. There are four BTO exercises yearly — in February, May, August and November.
Read also
New CPF rules for purchase of older flats to kick in by May
Here are the other changes on the housing front:
IMPROVED FRESH START HOUSING SCHEME
About 100 more families are set to benefit from the Fresh Start Housing Scheme, with the authorities raising the qualifying age limit for the youngest child from 16 to 18 years old, Senior Parliamentary Secretary (National Development) Sun Xueling announced on Thursday.
Right now, families must have at least one Singaporean child below 16 years old to qualify for the scheme, which helps vulnerable families own a two-room public housing unit.
Families showing "good potential and motivation" but who fail to meet certain qualifying criteria, such as having rental arrears, will also be allowed to join the Fresh Start scheme and book a BTO flat.
But they will have to meet the requirements a year before they collect their keys, with a new Fresh Start Support Programme helping them work through their issues.
Under the support programme, families on the Fresh Start scheme will receive more intensive support via regular sessions all year round, to deal with issues early and provide timely support.
A service provider with social-work expertise appointed by the Social and Family Development Ministry will run the programme.
ENHANCED STEP-UP CPF HOUSING GRANT
The S$15,000 Step-Up Central Provident Fund (CPF) Housing Grant will be expanded to allow families living in subsidised two-room units buy three-room resale flats in non-mature estates, Mr Wong said.
Right now, such families can only buy new three-room flats in such estates with the grant.
Tenants of rental flats who have previously owned a subsidised public housing unit and wish to move to a two- or three-room new or resale flat in a non-mature estate will also be able to use the grant. The changes will come into effect from the May sales exercise.
The grant will be disbursed before the buyers collect their keys to their new flat, instead of the practice now, where it is paid before buyers sign their lease agreement.
This is to ensure that buyers are ready financially for home ownership.
BETTER ENVIRONMENT IN RENTAL BLOCKS
Some rental blocks built in the 1960s and 1970s have long central corridors and units on both sides. These features limit the natural ventilation and light in these blocks.
The HDB plans to improve air flow and brightness at these blocks by creating more openings along the corridors by removing selected units where possible. Work on the first blocks will start next year, the HDB told TODAY.
Most of these rental blocks are located in the Bedok, Ang Mo Kio, Bukit Merah and Kallang/Whampoa towns.
Meanwhile, the housing agency will continue to roll out new one-room rental flats that come with partitions to create separate sleeping areas for each tenant. Today, there are about 500 such units and 200 more are being constructed.
Tenants sharing flats under the Joint Singles Scheme without partitions may also ask for these features to be installed.
The HDB will also redevelop older rental blocks gradually so tenants benefit from newer facilities with better designs. It will also erect more integrated blocks with a mix of rental and non-rental flats, with details to be announced "in due course", the National Development Ministry and HDB said.
RENTAL RATES WILL STAY
To encourage tenants to save up towards home ownership, the HDB will, from June 1, not raise rents for tenants who have made a down payment and signed their lease agreement for a flat.
They will continue paying the same rent at the point they made a down payment on their flat, even if their income rises after that.
Right now, public housing rents are tiered progressively based on household income and are reviewed every two years.
The HDB will also establish a home-ownership support team later this year, focused on helping rental households with sufficient financial stability to move towards home ownership.
HELPING DIVORCING PARTIES
From the May sales exercise, parties who file for a divorce may apply for a new HDB flat if they have obtained an interim judgment of divorce and have settled ancillary matters on their matrimonial property and their children's custody, care and control.
Right now, they may do so only when they have a final judgment of divorce.
Each party will be subject to the same eligibility criteria as all other flat applicants, and must obtain the final judgment of divorce before they collect their keys to ensure they remain eligible for the flat that they booked.