Budget 2021: Govt, Temasek to co-invest S$1b in large S'pore enterprises to spur transformation, overseas expansion
SINGAPORE — State investor Temasek Holdings and the Government will co-invest S$1 billion in large Singapore enterprises to help them transform or expand overseas on a larger scale.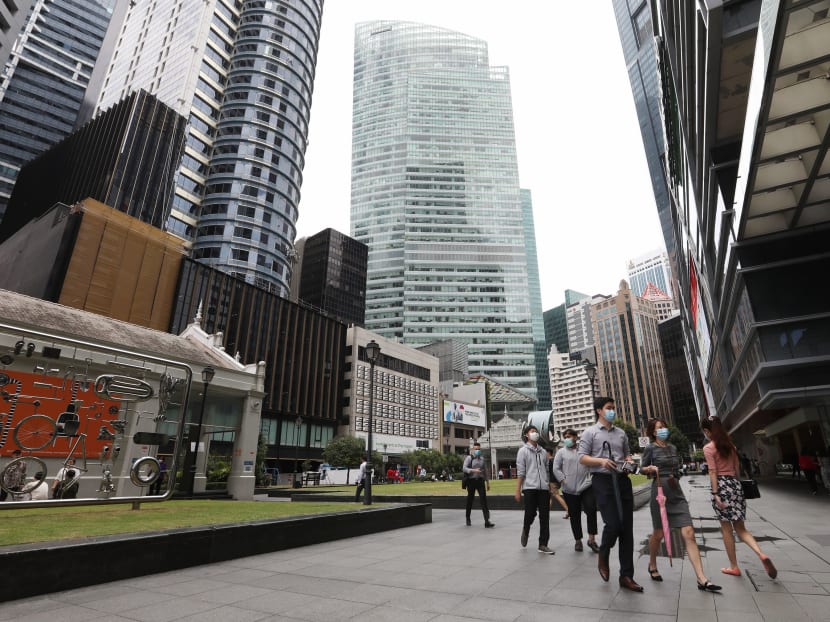 The Local Enterprises Funding Platform will help selected large Singapore firms transform and expand internationally
This is co-funded by the Government and state investor Temasek Holdings
DPM Heng Swee Keat said that Budget 2021 will focus on speeding up structural transformations during the pandemic 
He announced measures that will help companies innovate, deepen global partnerships and co-fund transformation efforts 
SINGAPORE — State investor Temasek Holdings and the Government will co-invest S$1 billion in large Singapore enterprises to help them transform or expand overseas on a larger scale. 
This was one of the schemes unveiled on Tuesday (Feb 16) in the Budget statement by Deputy Prime Minister and Finance Minister Heng Swee Keat to support innovative companies in growth sectors. 
With the Government setting aside S$500 million in a Local Enterprises Funding Platform, Temasek will match this sum, so that the platform will have S$1 billion available for investments. 
The funds will go towards investments in non-controlling stakes and mezzanine debt of selected large Singapore firms that are willing to work with the fund manager to pursue further growth. 
Mezzanine debt has embedded equity instruments (often known as warrants) that increase the value of the subordinated debt and allow greater flexibility when dealing with bondholders. 
Mr Heng noted that changes in the global economic landscape and financial markets have made it harder for large Singapore firms to attract private equity. This could result in missed opportunities to venture into new areas as supply chains are reconfigured.
The Ministry of Trade and Industry will provide more details about this new funding platform during the debate on its budget in the coming weeks. 
Explaining why the Government is rolling out more targeted support for businesses here, Mr Heng said that this year's Budget would focus on speeding up structural transformations, to ensure that businesses and workers are equipped with "future-ready capabilities". 
This is unlike the measures rolled out in last year's five national budgets, which were tilted towards emergency support in a broad-based way, he said.
To achieve this, the Government will put aside a total of S$24 billion in investments in Singapore firms and workers over the next three years. 
These efforts will build on the momentum of the transformation push that began five years ago, when it launched the industry transformation maps to chart the way forward, Mr Heng said.
"Like many countries, we have devoted significant resources to preserve lives and livelihoods in the face of this pandemic. But what will continue to distinguish Singapore are our investments for the future." 
He added that doing so will ensure that workers can bounce back and be ready to seize any opportunities that arise, and that businesses can innovate and take advantage of growth opportunities.
"Singapore must never stop thinking of the future, even as we respond swiftly to meet current needs. This is how we stay exceptional, and staying exceptional is how we survive."
The following are some of the key schemes to prop up businesses mentioned in the Budget.
ENABLING INNOVATION
To support businesses in collaborating on a global scale, the Government will invest in three key platforms:
The Corporate Venture Launchpad: This will provide co-funding for firms to build new ventures through pre-qualified venture studios. It will be useful for larger businesses wishing to rekindle a start-up mindset within their organisations. The platform will be tested this year to drive new innovative ventures.
 

Open Innovation Platform: This facilitates the matching of problems faced by companies and public agencies with solution providers, and co-funds prototyping and development. 

Launched by the Infocomm Media Development Authority in 2018, it supported companies in getting quality and multi-disciplinary ideas, talent and resources to meet their innovation and business needs. 

The Open Innovation Platform will be enhanced to increase the scale and speed of innovation, as well as to enable better matching, testing and development.

This will be done via two new features: A discovery engine that eases the search and matching of technology solutions to challenges through automated recommendations, and a digital bench that aids quicker proof-of-concept testing through a virtual "sandbox" or testing environment.
 

Global Innovation Alliance: This aims to foster cross-border collaboration between Singapore and major global innovation hubs.

Conceived in 2017, it has allowed more than 650 students and about 780 Singapore businesses to take part in innovation launchpads overseas. Of these, 40 per cent were in Southeast Asia.

Despite the pandemic, there were still more than 100 potential business matches between Indonesian and Singapore-based firms. 

Over the next five years, the Government plans to expand it to more than 25 cities around the globe. Right now, the alliance has 15 city links, including Bangkok in Thailand, Ho Chi Minh City in Vietnam, Jakarta in Indonesia, and Manila in the Philippines. 

The alliance will also be enhanced through the inclusion of the Co-Innovation Programme, which will defray up to 70 per cent of qualifying costs for cross-border innovation and partnership projects.
Aside from these three platforms, the Government will also develop the Singapore Intellectual Property Strategy 2030 to equip businesses with the tools to value their intellectual property and intangible assets. It will also help train skilled professionals in these fields. 
The Intellectual Property Office of Singapore will announce more details on World Intellectual Property Day on April 26.
DEEPENING GLOBAL AND ASEAN PARTNERSHIPS
Noting that there is significant growth potential among the 10-member Association of Southeast Asian Nations (Asean), Mr Heng said that steps are afoot to strengthen Singapore's partnerships with countries in the region. 
Here are some ways it is doing this: 
The Singapore Business Federation will officially open two new overseas offices — one in Jakarta and the other, in Ho Chi Minh City.

To promote the integration of Asean markets, the Government is pursuing common frameworks in emerging areas. One example is the Asean Payment Policy Framework, which encourages retail payment links between Asean countries.

The Government will also enhance its infrastructural investments in the region. For example, the Kendal Industrial Park was a joint investment between Singapore-based energy and urban development firm Sembcorp and Indonesia's PT Jababeka to build up activities in sectors such as food processing, building materials and medical equipment manufacturing.

Mr Heng said that one of the Government's goals is to build up a cluster of industries around the electronics, medical technology, food manufacturing and processing sectors, which are recording rising demand in Asean nations.

On the digital front, the Government is working with its Indonesian partners to build the Nongsa Digital Park in Batam to facilitate collaboration between Singaporean companies and technology professionals in Indonesia.
CO-FUNDING TRANSFORMATION
The Government will also tap a wide range of capital to co-fund and enable businesses — from start-ups to small, medium and large enterprises — to innovate, transform and scale up, Mr Heng said.
It will step up risk-sharing arrangements with capital providers to provide grants to help businesses at various stages of growth.
Venture debt for high-growth enterprises: The Government will extend and enhance the Enterprise Financing Scheme-Venture Debt programme to ensure that high-growth enterprises continue to have access to financial capital.

As part of the programme, the Government shares up to 70 per cent of the risk on eligible loans with participating financial institutions. It will increase the cap on the loan quantum supported from S$5 million to S$8 million. With that, the Government expects a total of S$45 million in venture debt to be catalysed over the next year.
 

Transformation of mature enterprises: The Government will co-fund the adoption of digital solutions and technologies for mature enterprises. 

The new Emerging Technology Programme will co-fund the costs of trials and adoption of cutting-edge technologies such as fifth-generation networks, artificial intelligence and trust technologies. This will support the commercialisation of innovations and the distribution of technology downstream. 

To help firms identify the type of digital solutions to adopt, the Chief Technology Officer-as-a-Service initiative will provide access to professional IT consultancies.

A new Digital Leaders Programme will also support promising firms in hiring a core digital team and in developing and rolling out a digital transformation roadmap. 

Besides these new initiatives, the Government will also extend until the end of March next year enhanced funding support of up to 80 per cent as part of existing schemes to support businesses. These include the Scale-up SG programme, the Productivity Solutions Grant, Market Readiness Assistance and the Enterprise Development Grant. 

In all, S$1 billion will be set aside for these schemes. 
 

Redesigning jobs: To help businesses redesign jobs, the Government will enhance the Productivity Solutions Grant-Job Redesign scheme by raising the government co-funding ratio from 70 per cent to 80 per cent until the end of March next year.