Burgeoning community embodies spirit of Smart Nation
SINGAPORE — There is a burgeoning community in Singapore who may just embody the spirit of a Smart Nation. Singapore's Smart Nation initiative is about leveraging technology to make lives better for Singaporeans.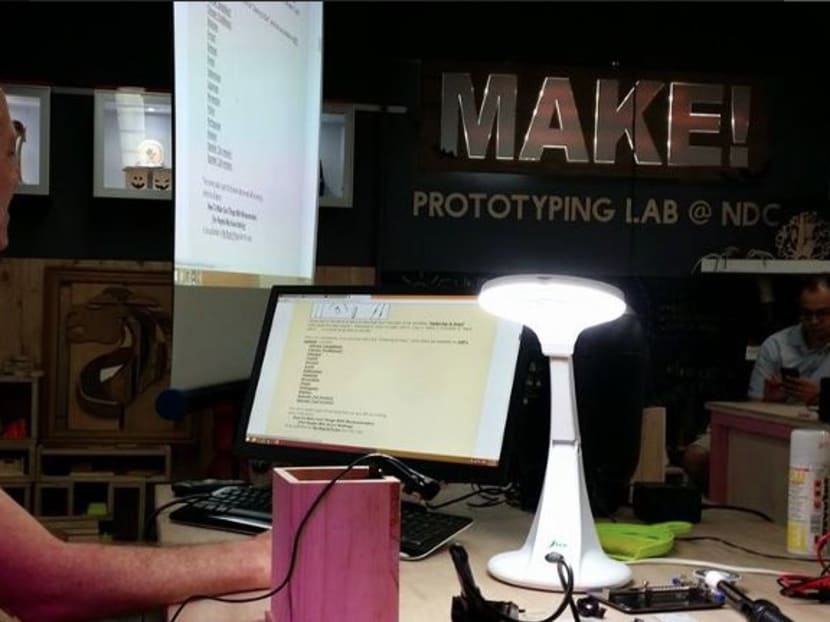 SINGAPORE — There is a burgeoning community in Singapore who may just embody the spirit of a Smart Nation. Singapore's Smart Nation initiative is about leveraging technology to make lives better for Singaporeans.
The man in charge of it, Environment and Water Resources Minister Vivian Balakrishnan said part of the push would involve Singaporeans who are "willing to experiment with solutions, fail quickly, learn fast and push the envelope". A group who calls themselves "serious hobbyists" say they are doing just that.
A relatively new movement, SG Makers, has about 50 active members - some still in school but most holding full-time jobs. Their common passion is working with their hands, experimenting, and building objects.
The group runs regular workshops and exhibitions. This year alone, its three SG Makers festivals attracted more than 25,000 people. The group also meets every two months - simply to network and share ideas. In many ways they embody the spirit of what makes a Smart Nation.
Mr William Hooi, founder of SG Makers, said: "We actually provide opportunities for the regular Joe, the hoi polloi to be involved in innovation and technology ... In this case, we provide a social space as well as a physical space.
In the Prototyping Lab at the National Design Centre, anyone - be it an SME or an individual - can use the space for a nominal fee to test out ideas and inventions.
Mr Hooi said: "Think of this as a shared space where people can share tools or equipment to make stuff. In our space we have people who are able to guide anyone who wants to build anything, as long as they come to us with an idea. If they want to use the machine and they don't know how to use it, we can train them, we can provide a way for them to learn how to use these machines and then make the things themselves.
"This also serves as a social space because when they come here, they are not alone - they see others building different projects and when they talk to them and say 'Hey! What are you working on?' somehow new ideas could emerge and sometimes we do see cross pollination of ideas taking place, simply because they happen to be there at the same time."
The concept is relatively new in Singapore with just a handful of such spaces around. There is also the JTC LaunchPad @ One-North, a 5-hectare site located at Ayer Rajah Crescent, for start-ups and incubators in the biomedical sciences, infocomm, media, electronics and engineering industries.
The InfoComm Development Authority of Singapore has also launched IDA Labs, which will serve as "a place to experiment, collaborate and build innovative products and solutions that address real world challenges".
A third lab to be housed in one of the National Library Board's libraries is also being planned.
Mr Hooi said opening up more of such spaces for Singaporeans - to tinker with and make objects - would be helpful in the country's drive towards being a Smart Nation. He noted: "Making things is actually very natural to many of us, but we know that not all of us have the luxury or the time or the competency to be involved in this project ... People have to make choices and even certain sacrifices."
"What is missing is the imagination. What is missing is the creativity and I think makers could be a community that could support people to come together first of all, and second to support one another through sharing, through experimenting, to fail together, to make the journey less lonely as well as to have fun, just to enjoy ourselves."
In 2013, the worst haze levels to hit the country in 16 years, blanketed Singapore. Soon after, 45-year-old Tan Wei Kok started working on a portable sensor that can detect air quality. He said the sensor can be deployed at hotspots to alert authorities of possible sites where forest fires have started.
Individuals too can use it at home. "Currently when there's haze, we are advised to only stay indoors. With such a device at home, we can make an alarm and it will trigger when the haze is up. So even before the government makes any announcement, these households have some basic information that the haze level is up and they can better protect themselves," Mr Tan said.
He feels his invention would be useful for governments and households but he is aware that his project may not take off. "Oh it's all right because failure is just a part of the learning process. If it fails, I will just have to come up with a better solution or maybe move on to another project," he added.
In a bid to inspire younger Singaporeans, the Infocomm Development Authority of Singapore launched IDA Lab on Wheels in November. It is a roving 40-seater bus housing engaging and experiential technologies. Over two years, the bus will travel to 80 primary schools and reach out to 16,000 students.
And from January, companies can tap into a Prototyping Assistance Scheme, where they can get professional help to refine their prototypes, before launching the products. The service will be provided by any of the three prototyping houses pre-approved by SPRING Singapore, namely Rei Promax Technologies, Xentiq and Cutter Technologies.
These prototyping houses will validate the design and manufacturability of products through a feasibility report, advise how to refine prototypes and deliver a display-level prototype with basic functionalities.
The Prototyping Assistance Scheme is a one-time financial support of up to S$10,000 to help companies defray costs related to product development. Applicants can approach the prototyping houses directly to apply for the pilot scheme which runs for two years from Jan 2 next year. CHANNEL NEWSASIA