Bus, train fares to increase by 4 to 5 cents from Dec 26 amid rise in energy prices, manpower costs
SINGAPORE — Public transport fares for buses and trains will rise by four to five cents, or 2.9 per cent, for adults from Dec 26, the Public Transport Council (PTC) announced on Wednesday (Oct 12) in its annual fare review.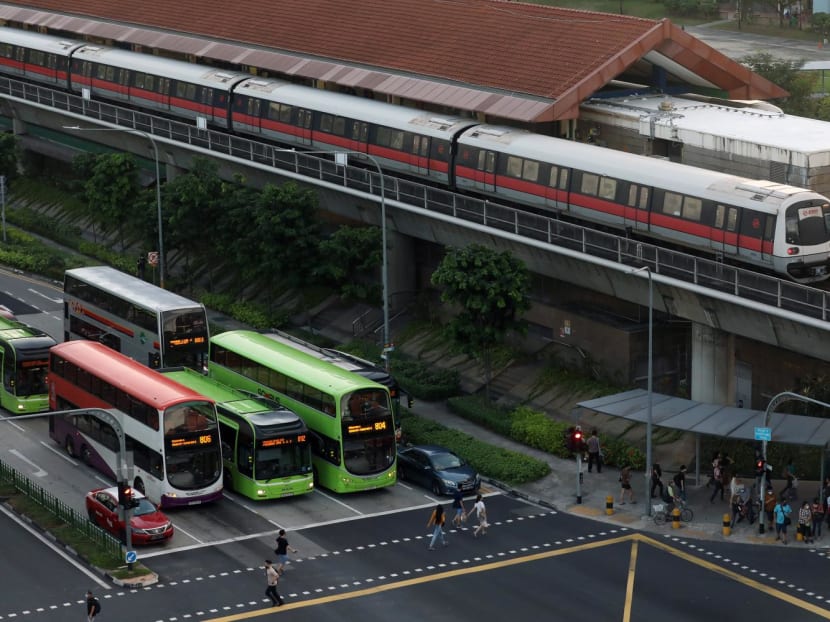 The Public Transport Council has allowed a 2.9 per cent increase in bus and MRT train fares from Dec 26
This translates to a four- to five-cent hike in adult fares, while concessionary fares will go up by one cent
The council said that based on its fare adjustment formula, the maximum amount of increase allowed would have been much higher at 13.5 per cent
That would translate to a 16-cent increase for each trip for all commuters
The Government will be giving another subsidy of S$200 million to plug this difference
SINGAPORE — Public transport fares for buses and trains will rise by four to five cents, or 2.9 per cent, for adults from Dec 26, the Public Transport Council (PTC) announced on Wednesday (Oct 12) in its annual fare review. 
Fares for concession pass holders such as students, senior citizens and persons with disabilities will go up by one cent for each trip.
No changes will be made to monthly concession passes themselves, cash fares for buses or adult monthly travel passes — which allows for unlimited travel on buses and trains — the council said during a press conference.
Adults will see an increase of four cents a trip if they travel for distances of 8.2km or shorter. If they travel further than that distance, the fare increase incurred will be five cents.
For example, the adult fare for MRT now to travel from Boon Lay to Clementi stations, which is a distance of 8.2km, is S$1.41. From Dec 26 onwards, this will be higher at S$1.45.
Travelling by train from HarbourFront to Paya Lebar, which covers a distance of 11.5km, will go up from S$1.59 to S$1.64 from Dec 26.
This fare adjustment will translate to an increase in fare revenue of about S$50.3 million.
The 2.9 per cent increase approved is lower than the allowable 13.5 per cent derived from the fare adjustment formula. 
PTC said in response to TODAY's queries: "If we have implemented 13.5 per cent, the total additional fare revenue for the public transport system (bus and MRT) is estimated to be about S$250 million a year." 
Ms Janet Ang, chairperson of PTC, said: "Public transport fares have to increase due to the spike in energy prices and to cope with rising costs such as the salary increases for public transport workers. But we decided to defer the bulk of the increase.
"The 2.9 per cent was selected on the account that we keep it close to the inflation rate, as well as keep it a little lower than the expected wage increases."
The council said that the increment granted "balances between the need to keep fares affordable for commuters, while ensuring the sustainability of Singapore's public transport system". 
Energy prices, which had more than doubled between 2020 and 2021, was one of the main cost drivers, said the council, coupled with manpower costs and inflation.
If the PTC had greenlit the full 13.5 per cent upward adjustment, which was requested by public transport operators SBS Transit and SMRT Trains, fares would have gone up by about 16 cents each journey for all commuters, including the concessionary groups, the council said.
"If the fare increase for concessionary groups were capped at a lower level, the fare increase for non-concessionary commuters would be much higher than 16 cents per journey," it added.
Mr Tan Kim Hong, chief executive of PTC, said at the press conference that the 13.5 per cent allowable increase is the highest quantum generated since the implementation of the fare formula.
The formula encompasses core consumer price index, wage index, energy index, productivity extraction and a parameter called the Network Capacity Factor (NCF).
The NCF was added into the fare formula in 2018 to reflect changes in cost due to enhancements in public transport capacity relative to commuter demand.
The latest fare review exercise excluded the NCF because ridership has not recovered fully to pre-pandemic levels.
"These revenues will not be sufficient to cover the costs of operating high-quality public transport services," PTC said.
In a separate release, the Ministry of Transport said that the Government will provide another subsidy of about S$200 million next year, above and beyond its current annual subsidies of S$2 billion, to make up for the shortfall.