'Business still quiet': TCM halls and clinics reopen to serve patrons, efforts made to limit patients
SINGAPORE — It was a somewhat quiet return to business for registered practitioners of Traditional Chinese Medicine (TCM) who can now provide acupuncture services for pain management, and the retail TCM halls linked to them are allowed to reopen to sell products.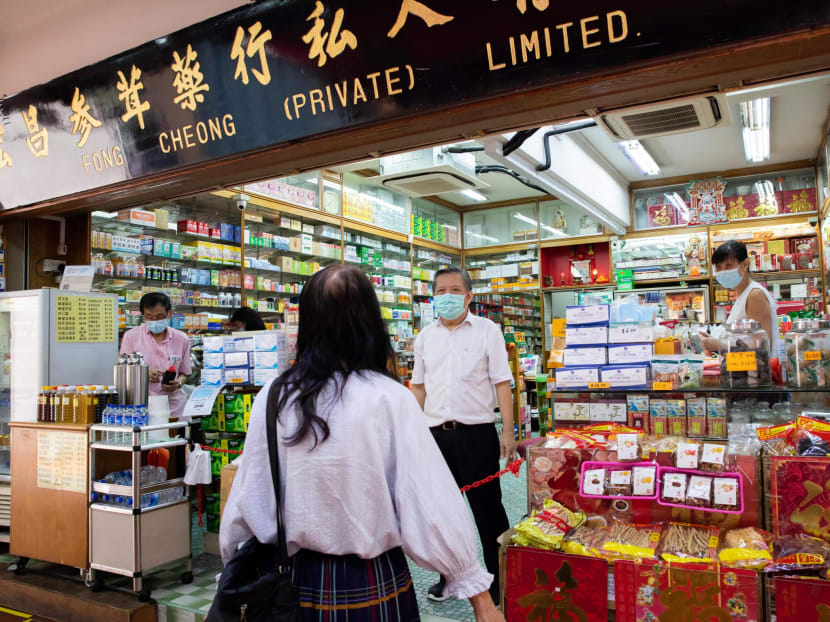 SINGAPORE — It was a somewhat quiet return to business on Tuesday (May 5) for registered practitioners of Traditional Chinese Medicine (TCM) who can now provide acupuncture services for pain management, and the retail TCM halls linked to them are allowed to reopen to sell products.
The Government has started lifting some restrictions imposed on business and social activities during the circuit breaker that began on April 7. And only one of six medical halls which TODAY visited on the day reported that a modest queue of three had formed before it opened for business at 10am. The earliest in line there was a man in his 70s or 80s.
He had travelled from Jurong and arrived at the People's Park Centre branch of Sinchong Traditional Chinese Medicine by about 9am.
Ms Chee Pei Chin, 34, the store's assistant area manager, said that the man bought more than S$100 worth of Chinese herbs — more than his usual amount — because he had already gone about a month without the supplies.
He and a dozen more customers who reached the shop on Tuesday morning were relieved, for they had relied on a concoction of Chinese herbal medicine to alleviate body aches and pains, among other ailments, Ms Chee added.
She also said that the shop was not crowded at any point during the day because not many people were aware that its retail arm had reopened and "the phone kept ringing" on Tuesday with people making enquiries about whether it was open.
The governmental task force handling the Covid-19 crisis announced last Saturday that containment measures will be gradually eased since community transmission of the coronavirus has declined significantly over the past month.
In total, the number of reported infections in the country is closing in on the 20,000 mark. 
In the first phase of relaxing the restrictions, TCM halls with registered practitioners — which were already allowed to offer consultation and herbal dispensary services during the circuit breaker period — can sell retail products.
TCM needle acupuncture will also be allowed for pain management only if assessed by the practitioner to be essential, although cupping, moxibustion, guasha and tuina manipulative therapies are still not permissible yet.
CALLS TO BOOK APPOINTMENTS
Some TCM halls reported receiving many calls over the weekend from customers who were eager to book acupuncture appointments.
TCM physician Seow Ser Fatt, who works at Fong Cheong Medical Hall in Chinatown's Hong Lim Complex, said that more than 10 of his regular customers had called to make appointments.
However, the 61-year-old had advised those who can still tolerate their pain and whose needs are not that urgent, to avoid heading down on the first day of its reopening. This was to control the number of people waiting in the queue, since each acupuncture session will take about 20 minutes.
"It doesn't mean that it's good if we managed to attract a queue on the first day," he said. "Most importantly, we want to avoid crowding. It does no one any good if a new cluster is formed at TCM halls, which might risk the whole sector shutting down operations again."
In the end, Mr Seow scheduled just three "urgent" cases to see him on Tuesday, and separately saw six patients who were at the TCM hall to consult him and get medicinal products at the herbal dispensary. 
The rest of his customers were told to go on later days. The backlog of patients, mostly regulars, is still manageable for now, he added.
A "No Entry" sign was placed across the entrance to the shop, which also has a retail arm, to keep order. Patrons were not allowed to enter unless a staff member attended to them.
MAINTAINING ORDER
Ms Caroline Chen, 52, who runs Yong Her Sin Medical Store in Marine Parade, said that only three customers are allowed in the store at any point in time and others would have to wait for their turn outside, in keeping with safe distancing regulations.
Between 8am and noon on Tuesday, some 30 people arrived to buy mostly Chinese herbs with immunity-boosting properties and each person did not take long to complete their purchases.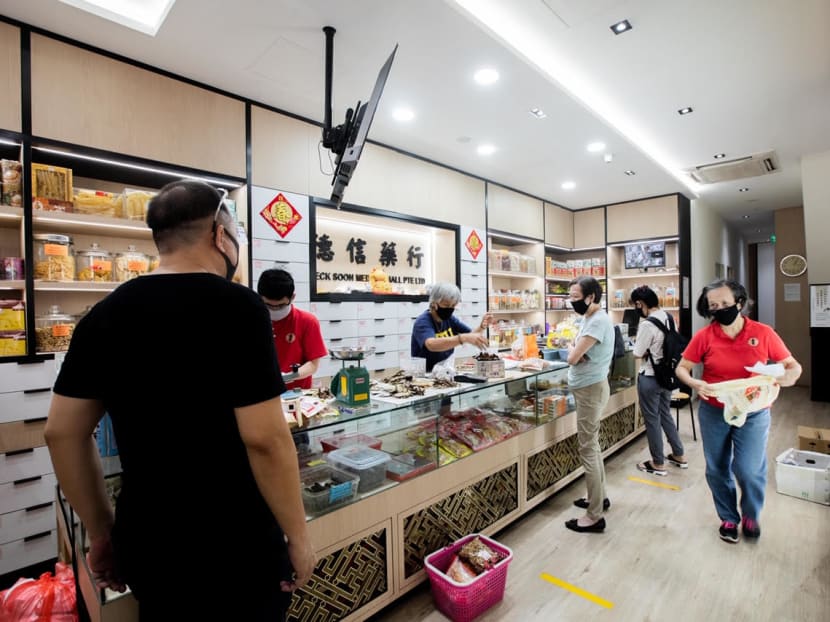 At Heng Say Tong Medical Hall on Upper Cross Street in Chinatown, about 50 customers visited the store in the first two hours of its opening from 10am to noon.
Mr Lee Yong, 49, co-owner of the family business, said: "So far, we don't have a big crowd coming in, unlike at the supermarkets."
In this initial period, he foresees more people going to replenish their herbal medication and health products.
Still, "it is not many people", he said. "The crowd is not overwhelming. Business is still very quiet. People are still very cautious."
Mr Lee reckoned that business was slow also because some of his competitors — including his immediate neighbour, Chung Hing Medicine — were granted an exemption by the authorities to continue doing business during the circuit breaker period and people have been patronising these shops.
He also applied for an exemption and managed to get the go-ahead to reopen on April 21, but there was a directive later for the shop to close again on April 28. 
"I think the Government was trying to filter which should open," he said.