As businesses join anti-straw bandwagon, consumers call for more sustainable solutions
SINGAPORE — While most lauded the move by hundreds of food and beverage outlets to stop providing straws, critics also pointed out that a plastic straw ban alone does little to reduce plastic pollution as a whole.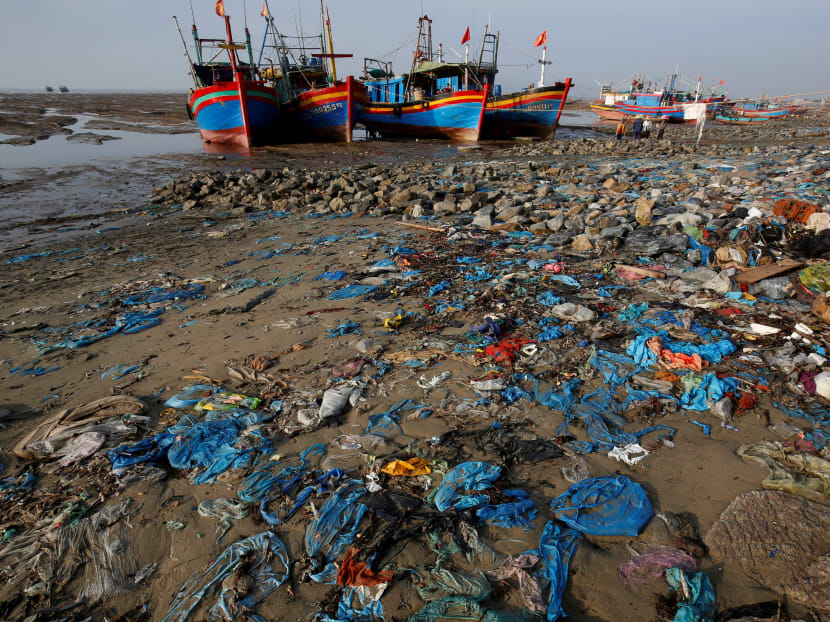 SINGAPORE — While most lauded the move by hundreds of food and beverage outlets to stop providing straws, critics also pointed out that a plastic straw ban alone does little to reduce plastic pollution as a whole.
Some consumers TODAY spoke to said that businesses should adopt more sustainable solutions that reduce overall plastic use and other types of waste if they are serious about doing their bit for environmental sustainability.
The World Wide Fund for Nature (WWF) announced on Monday (June 3) that more than 270 F&B outlets in Singapore will remove straws completely from their premises or provide them only on request by July 1.
Ms Aarti Giri, founder of Plastic-Lite Singapore, said that while it is good to hear about F&B business coming together to reduce the use of straws, this may only address the "straw" issue and not disposable plastics on the whole.
"As rightly pointed out by some, straws are a small part of the humongous plastic waste problem," she said.
"In fact, I am afraid, businesses may get away from their actual corporate social responsibility role by feeling good that they are playing an important part merely by shining the spotlight on straws reduction and may turn out to be just another tactic to go under the 'corporate green washing' umbrella," she added.
Ms Melissa Lam, 27, founder of Bamboo Straw Girl, a business selling biodegradable straws, said that while it is a step forward, the move to ban plastic straws was "way overdue".
She stressed that "it should not be seen or celebrated as the ultimate achievement", and businesses should look at how to create "meaningful conversations on consumption habits".
"The next logical step would be to incentivise bring-your-own (BYO) incentives or charge for takeaway containers," she said.
"Switching to reusables for people dining in would send a more complete message."
STRAW-WEIGHT PROBLEM
The anti-straw movement is gaining momentum and support worldwide, with corporations and even entire countries jumping on the bandwagon.
Taiwan is working to eliminate all single-use straws by 2025. In Singapore, cultured milk drink brand Yakult, fast-food chain KFC and integrated resort Resorts World Sentosa have already stopped offering plastic straws to their customers.
However, researchers have pointed out that the plastic pollution problem is so large that cutting out straws is not nearly enough.
Using trash collected on US coastlines during cleanups over five years, Australian scientists Denise Hardesty and Chris Wilcox estimate that there are between 437 million to 8.3 billion plastic straws floating on the world's coastlines.
But that huge number is small in comparison to the total amount of plastic trash on oceans. University of Georgia's environmental engineering professor Jenna Jambeck calculates that nearly 9 million tons end up in the world's oceans and coastlines each year, according to her 2015 study published in the journal Science.
Regardless of how small the impact of cutting plastic straws may have, many are nevertheless supportive of the move.
Mr Steve Tay, 22, a second-year business student at the Singapore Institute of Management (SIM), suggested that businesses should "think of and enlist more sustainable solutions to reduce not just plastic, but waste in general".
"That would really make a business stand out and give the brand a nice, progressive image," he added.
Ms Lim Dixun, 26, a public servant, said that this was still a tangible move forward. "Putting words into actions is what really matters and this move to cut back on straws might be the first step to environmental conservation, with more to come," she said.
BUSINESSES SEE PLASTIC REDUCTION
Speaking to TODAY, most of the businesses who joined the WWF initiative said they have started to cut the use of plastics.
Tadcaster Hospitality, which operates cafes and eateries like Cafe Melba and Dharma's Kebabs, said the group has reduced plastic straw consumption by around 60,000 since they stopped handing out straws in late 2017.
Ms Katherine Braha, owner and director of SaladStop!, said that she has seen a 70 per cent reduction in plastic straw use across her outlets islandwide since she decided to join the initiative in January this year.
"At first people found it a bit strange to be given a cup of smoothie with no lid or straw, but we found that if you don't give them a choice and if you don't ask if they would like (a straw or a lid), most would not ask," said Ms Braha.
Other than cutting back on straws, 15 businesses have also pledged to longer-term goals to reduce their plastic production and use by 2030.
WWF Singapore's campaign manager Lotika Mehta said that the organisation works closely with these companies to review their plastic footprint, helping them switch to sustainable alternatives and building an end-use market for plastics.
The newest companies to have joined and set long-term targets on plastic reduction include the Lo and Behold Group, which operates restaurants like the Straits Clan, Odette and The White Rabbit.
A spokesperson for Lo and Behold Group told TODAY that most of the 13 restaurants and businesses it operates are "already plastic-straw free" and the venues have ceased distribution beginning this month.
The company is now looking at biodegradable alternatives for delivery and takeaway packaging.
"Another huge area to tackle is the plastic waste generated in kitchen processes and we'll need to work with innovative companies who are developing alternatives for tools like cling film without compromising standards for hygiene and efficiency," the spokesperson said.