Businesses see slowdown of 20% to 50% due to coronavirus outbreak: Ng Chee Meng
SINGAPORE — Businesses here have experienced a slowdown of at least 20 per cent since the new coronavirus outbreak reached Singapore, with Chinatown hardest hit by the epidemic, seeing a downturn of 50 per cent, Mr Ng Chee Meng said.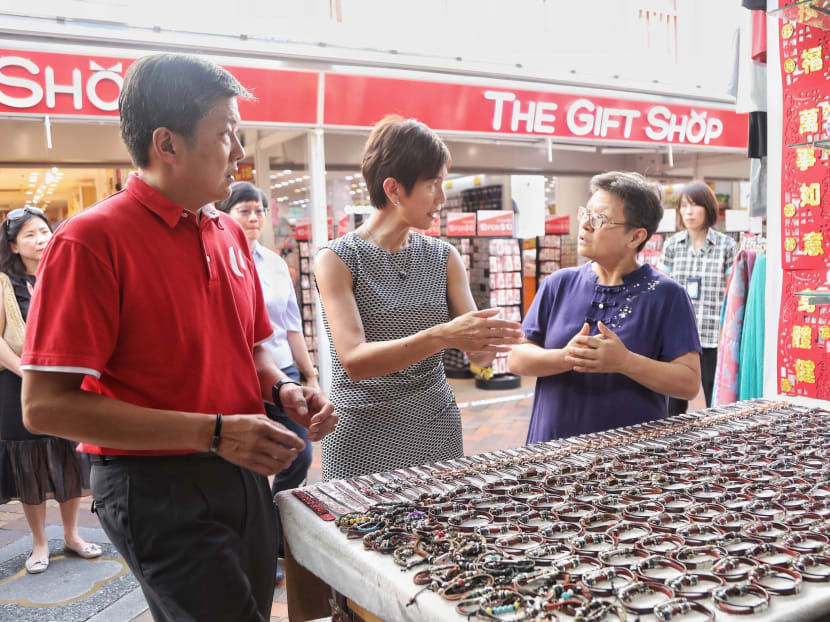 SINGAPORE — Businesses here have experienced a slowdown of at least 20 per cent since the new coronavirus outbreak reached Singapore, with Chinatown hardest hit by the epidemic, seeing a downturn of 50 per cent, Mr Ng Chee Meng said.
The secretary-general of the National Trades Union Congress (NTUC) said on Wednesday (Feb 5) that the Government and NTUC are working with employers to help them defray business costs and mitigate the shortage of labour that has resulted after some employees have been put on a leave of absence as a precautionary measure to minimise the risk of the virus spreading. 
Workers who return to Singapore from China will have to take a 14-day leave of absence, while those whose travel history also includes Hubei in central China will be quarantined. The virus had its first outbreak in Wuhan, the capital city of Hubei.
Mr Ng added that during this downturn, employers in Singapore may seize the opportunity and use the time to let their workers take up various training courses to upskill. 
"For taxi drivers, we are thinking of getting them onto digital skills lessons so that they can upgrade themselves even when there is a slowdown. You make the best use of your time," he said, adding that the Government and NTUC are looking into giving some allowance to workers who take up extra training.
Mr Ng was speaking to reporters during a visit to the Chinatown Street Market where he, along with Manpower Minister Josephine Teo, met shop owners to find out how businesses have been rolling out safety measures to protect their frontline workers who interact with tourists on a daily basis.
Acknowledging that workers may be feeling anxious since the Ministry of Health confirmed the first cases of local transmission here on Tuesday, Mrs Teo outlined several precautionary measures that businesses can take to mitigate the risk of exposure for those in customer service.
Employers can do their part by stepping up the cleaning of surfaces that are regularly exposed to human contact, such as countertops.
Retail business owners should also brief their employees on what to do if they come across a customer who appears unwell or shows symptoms such coughing or sneezing.
"Under such circumstances, (the employee) can give friendly advice to the customer to go see a doctor, get treated, or (offer to) serve (the customer) in other ways such as through the telephone," Mrs Teo said.
She added that all workers should observe good personal hygiene and if anyone is feeling unwell, they should seek prompt medical assistance.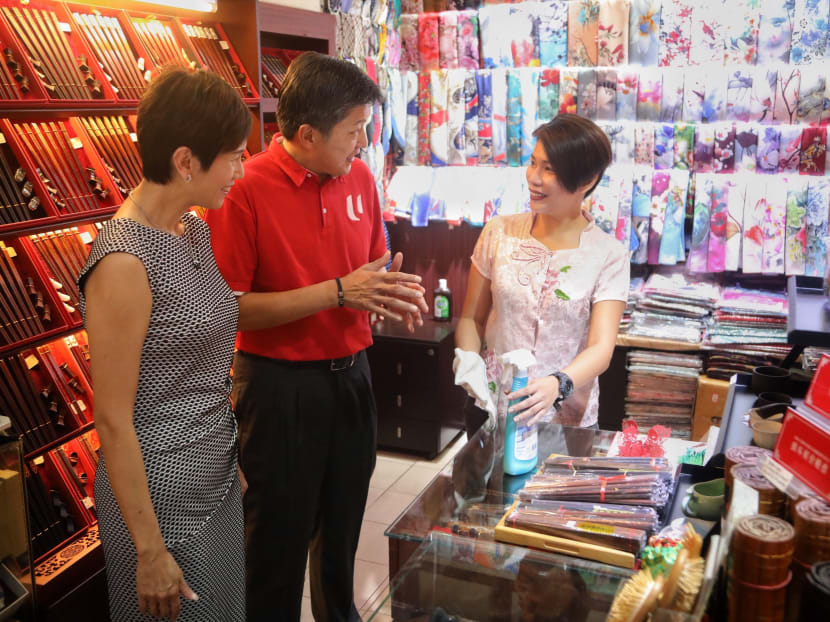 MISUNDERSTOOD: PEOPLE ON LEAVE OF ABSENCE
Addressing the misperception that people who are on leave of absence have been confirmed to have the virus, Mrs Teo emphasised that this is not the case.
Repeating the point that travellers returning from China would have to undergo several health screening checks, both in China and upon arrival in Singapore, Mrs Teo said that people should not assume that anyone placed on leave of absence are carriers of the virus.
"By and large, the people who are allowed to go home are not unwell, so that is something important to keep in mind."
While some people have called for the authorities to impose a ban on all travellers returning from China, Ms Teo said that this will not be feasible because some of these travellers may be Singaporeans who would want to come home.
She added that such a travel ban would also have an impact on businesses, which may find themselves short of manpower if their foreign employees are not allowed to re-enter the country.
"For some businesses who have assessed that they do not need these workers to come home, they have advised their workers to stay out for the time being.
"But for those who need their workers to come back, we must enable them to do so. Otherwise, if their businesses cannot operate, then even their local employees could be affected," she said.
Nevertheless, Mrs Teo said that the Government will continue to monitor the situation.
Separately, Mr Ng said that the authorities are currently sourcing for places of lodging for foreign workers who have to be on leave of absence.
CORONAVIRUS IS 'NATIONALITY-BLIND'
Responding to queries about the anti-Chinese sentiments that have emerged since the epidemic, Ms Teo said that such rhetoric should not be encouraged.
"The virus does not go according to nationality. So I think some of these kinds of sentiments that are being expressed are misguided and based on misinformation, and they are not helpful at all."
She added that the Ministry of Manpower has not come across such beliefs among employers and that so far, employers have been acting very rationally.
As for situations where tenants placed on leave of absence or home quarantine orders have been evicted by their landlords, Mr Ng said: "Where we observe cases of malpractice, let's have an empathetic stance towards some of these concerned landlords.
"They may not fully understand how the virus actually works. Explain to them and get them to be more supportive."