Buy without owning: Better for you, for Earth
Do you throw out your unwanted electrical and electronic devices such as spent batteries, computers and phones with your other trash? Such an act is illegal in certain parts of Europe and the United States.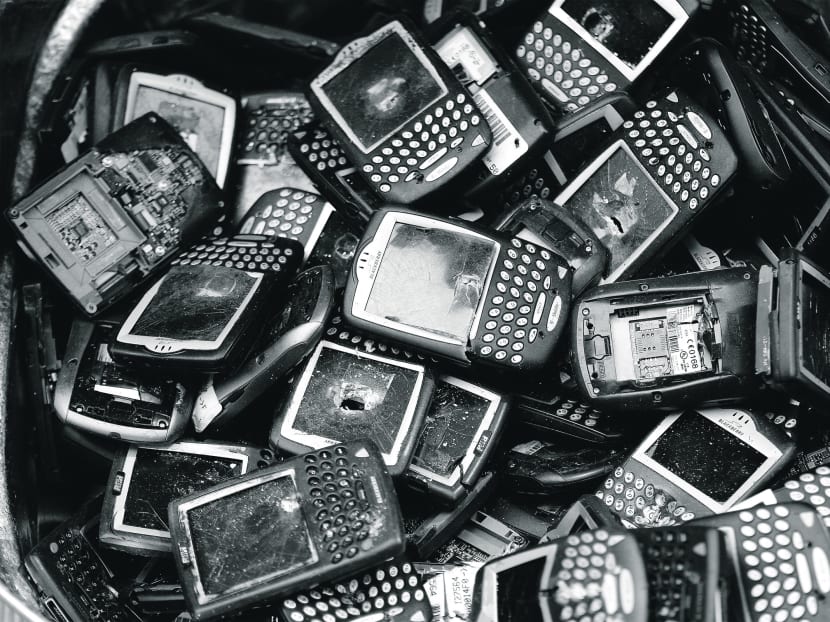 Do you throw out your unwanted electrical and electronic devices such as spent batteries, computers and phones with your other trash? Such an act is illegal in certain parts of Europe and the United States.
Inconsistent legal frameworks on the disposal of hazardous waste electronics (e-waste) as well as the lack of awareness of its danger and irreversible damage to the environment and human health are two of many reasons why e-waste is a major problem today.
E-waste is one of the fastest-growing waste streams today, at three times the rate of municipal waste globally, with only 13 per cent of e-waste reported to be recycled, with or without safety procedures. Rapid technological changes, falling prices and increasing wealth accentuate the problem of a "throw-away" society, with the majority of e-waste ending up in landfills and incinerators.
In landfills, discarded e-waste releases chemicals and heavy metals, contaminating groundwater and the food chain. What started as minute chemical contamination bio-accumulates thousands of times over at the top of the food chain in breast milk, contributing to multiple types of organ damage and birth defects.
Burning e-waste, on the other hand, could release carbon dioxide, dioxin and other toxic gases that exacerbate the global warming problem and pollution — particularly if e-waste is dumped in developing countries where incineration is conducted without adequate gas traps and filters, in spite of a prohibition of such exports under the Basel Ban Amendment in 2011.
IS YOUR TABLET EASILY REPAIRED OR RECYCLED?
Can we enjoy regular upgrades to the latest models of electronic devices as rapidly as new technology supersedes the old, without contributing to the e-waste problem?
This is possible with a rethink and revamp of the existing business model — from one where customers buy things to one where customers buy needs-fulfilment without owning things.
It is similar to a rental or leasing business where customers pay per use, from as short as an hour to a couple of years. The buy-without-owning (BWO) business model is obviously more capital intensive and it exposes the manufacturer and distributor (the seller) to higher risk of technological obsolescence.
Confronted with this risk, however, the seller will pay closer attention to product design to minimise the risk, including improving the reusability, recapturing and recycling of components in superseded models and ensuring optimal environmental performance even at their end of life — in short, design for the environment.
Recycling raw materials from end-of-life electronics has been identified as the most effective solution to diminishing natural resources and e-waste problems. Repairing defective products minimises e-waste by extending their useful lives.
iFixit, a website offering do-it-yourself repair manuals and parts to fight the global e-waste problem, recently awarded the Microsoft Surface Pro tablet the lowest possible repairability score of 1 out of 10.
In contrast, under the existing business model of customers buying and owning electronic devices, no one takes responsibility for the discarded gadgets at the end of their product lives. They eventually end up as trash in landfills, releasing harmful chemicals into the environment, or are incinerated, which exacerbates carbon emission and toxic gas problems.
CONSUMERS PAY LESS,
FOR BETTER PRODUCTS
Apart from alleviating the e-waste problem, the BWO business model fulfils other sustainable business principles. First, it provides higher value proposition to customers by eliminating significant capital outlay except for a small amount of rental deposit, and by fulfilling their needs without the associated ownership costs such as maintenance cost and technological obsolescence.
Customers also enjoy greater flexibility in switching between different product classes and models, with no costs incurred when an item is not needed. The superior value proposition will boost demand, which will further increase scale economies.
Second, the seller will produce durable and fault-resistant products to minimise depreciation and repair costs borne by itself, which also better fulfil customers' needs by minimising product malfunctioning and downtime. The seller is also more likely to produce more energy-efficient products that beat market competition and reduce product-running costs borne by customers.
More critically, under the BWO model, the seller generates revenue by finding ways to better fulfil customer needs instead of shortening the product life, for example, through planned obsolescence.
SELLERS TAKE FULLER RESPONSIBILITY
Thirdly, the vertical integration will enable the seller to develop more intimate product knowledge given its involvement in the full life cycle of its product.
In providing maintenance and repair service as part of the rental contract, the seller can identify product flaws better and use such information to improve on its manufacturing process and product design.
The seller is superior to any other parties in undertaking repairs and assuming the technology risk of its own products.
Finally, BWO addresses the incomplete costing problem by internalising the external costs.
The seller would need to pay closer attention to all materials that go into its products and determine how to deal with these products at end of life.
BWO brings businesses closer to closed-loop production by creating products that do not end up in landfills or the incinerator. It provides a better alignment of all stakeholders' interests, including those of the customers, the wider community and planet Earth.
BWO is superior to existing business model because for various reasons, including the lack of awareness and inconvenience, customers might not return discarded electronics to manufacturers even if legislation exists in countries such as the US that requires manufacturers to take back their toxin-laden discarded electronics from consumers for recycling.
BWO PICKING UP IN SINGAPORE
While the BWO model faces new challenges with its vertical integration and added complexities, its strong value proposition to customers and the sustainable principles it espouses makes it a compelling model for any forward-looking leaders to consider adopting — particularly before the inevitable sets in, including a mandatory requirement for sustainable practices, as the e-waste problem worsens.
In Europe and Japan, manufacturers (such as BMW, Daimler, Nissan and Peugeot) are already providing cars and bikes for hire on short leases, even on a per-hour basis.
The BWO business model is particularly compelling for electrical and electronic equipment, furniture and household items that are used only intermittently or seasonally, such as formal, maternity and winter wear, strollers, cots, toys and luggage bags.
Examples of BWO businesses in Singapore include furniture (furniturerentalsingapore.com), copiers (www.canon.com.sg), maternity wear (www.maternityexchange.sg), toys (rent-our-toy.blogspot.com) and bags (www.thatbagiwant.com).
Courts Asia also introduced a plan for customers to rent its electronic merchandise in June last year.
There is even a peer-to-peer rental portal that promotes the green idea of "collaborative consumption" in Singapore (renttycoons.com) with funding support from SPRING Singapore.
With increasing green awareness and more acute space constraints as more people live in shoebox apartments, BWO businesses are poised to be a sunrise industry.
Ultimately, as consumers, we collectively shape how scarce resources are used, and the choices we make have a significant impact on the state of our Mother Earth.
"Less is more" is inching closer to reality as we might no longer have any choice but to embrace it as the key to our survival.
El'fred Boo is an associate professor of accounting at Nanyang Business School. His research interests include corporate governance, auditing, behavioural and ethical issues; he teaches risk management, control and ethics.