Cabinet reshuffle: No sweeping changes expected, but finance minister role is one to watch, say ex-MPs and analysts
SINGAPORE — Do not expect sweeping changes when the Cabinet reshuffle takes place in two weeks' time, since it is coming less than a year after the previous round of changes, political analysts and former Members of Parliament (MPs) said.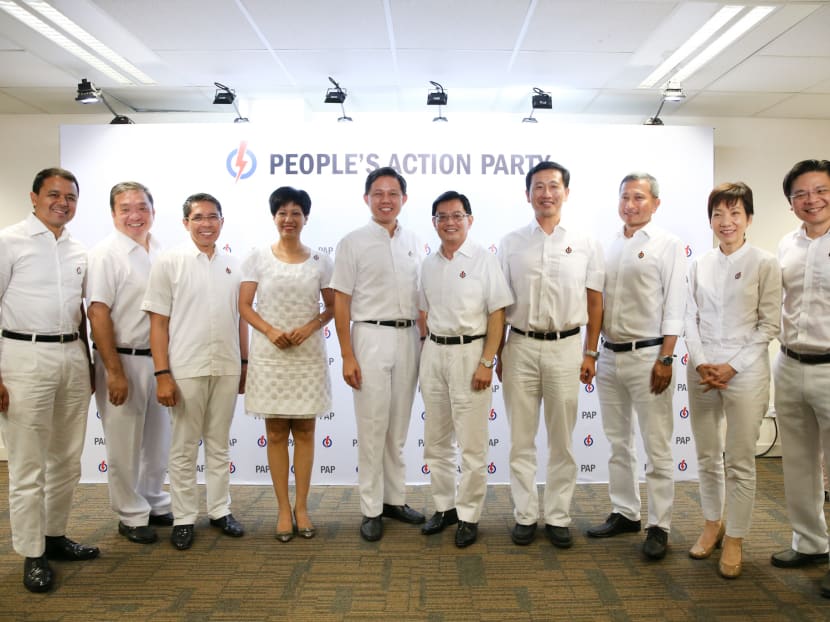 It has only been nine months since the Cabinet with some new members was sworn in
Sweeping radical changes are unlikely to happen at upcoming Cabinet reshuffle, analysts said
Whoever takes over from Mr Heng Swee Keat as finance minister will be one to watch, they added
The experts also named who they think are the likely candidates to fill the position
SINGAPORE — Do not expect sweeping changes when the Cabinet reshuffle takes place in two weeks' time, since it is coming less than a year after the previous round of changes, political analysts and former Members of Parliament (MPs) said.
They added, however, that all eyes will be on who takes on the role of finance minister, because this will offer clues to who might be favoured or groomed to be the next PM-in-waiting. 
Deputy Prime Minister Heng Swee Keat made a surprise announcement on Thursday (April 8) that he would be relinquishing his role as the fourth-generation (4G) leader of the ruling People's Action Party (PAP) and he will no longer be the next prime minister as widely expected.
Mr Heng also said that he would be stepping down as finance minister, a role he has held since 2015. 
Prime Minister Lee Hsien Loong said during a press conference on Thursday that he himself will stay on in his current role, postponing plans to retire earlier.
He added that there will be a Cabinet reshuffle in two weeks, which will see some "consequential moves" among the ministries. 
Political experts told TODAY that these moves will not be major and will arise from having to get someone to replace Mr Heng as finance minister. 
Law professor Eugene Tan from the Singapore Management University (SMU), who was a former Nominated Member of Parliament, said that it has only been nine months since the Cabinet was sworn in with many 4G ministers in new postings. 
For instance, former National Development Minister Lawrence Wong was moved to lead the Ministry of Education, a portfolio that Mr Ong Ye Kung had held before he was appointed to helm the Ministry of Transport.
Mr Desmond Lee, who was formerly in charge of the Ministry of Social and Family Development, was then moved to head the Ministry of National Development.
Associate Professor Tan said: "A major reshuffle would be unnecessarily disruptive. As such, it will be a targeted adjustment to the Cabinet in the wake of DPM Heng relinquishing his finance portfolio." 
Agreeing, Dr Lam Peng Er, principal research fellow at the East Asian Institute at the National University of Singapore (NUS), said that there will be a "domino effect" if the new finance minister is already heading another ministry. 
"It's like a chain reaction — you move one person to fill a gap, then you have another gap to fill," he said. "Unless the minister wears double hats and does more than one ministry at the same time."
"But I don't think there will be a radical change in the Cabinet like in 2011," he said, adding that it will likely be the same group of Cabinet ministers, just with different portfolios. 
The last time the Cabinet underwent a radical shake-up was following the watershed 2011 General Election: Five ministers stepped down, including several long-serving leaders.
They were former prime ministers Lee Kuan Yew and Goh Chok Tong, as well as Mr Wong Kan Seng (Home Affairs), Mr Mah Bow Tan (National Development) and Mr Raymond Lim (Transport). At the same time, Mr Heng and Mr Chan Chun Sing, who were newly elected then, took office.
Dr Lam also said: "You don't want to have (similar) sweeping radical changes to avoid giving the impression to the world that we are overreacting to Mr Heng stepping down."
Giving a different view was political scientist Felix Tan, who said that some "substantive reshuffling" can be expected, in order to "ensure that leadership renewal and rejuvenation is actually taking place within the Government".
"We might eventually see a larger crop of 4G leaders taking over from some of the third-generation (3G) leaders still holding on to a Cabinet position.
"Hence, those who are elected to take over the positions within the Cabinet will have a longer runway to familiarise themselves with their roles" he added. 
WHY FINANCE MINISTER IS ONE TO WATCH
Former MPs interviewed by TODAY concurred that all eyes will be on who fills the hot seat of the finance minister post.
Mr Chan Soo Sen, who was a minister of state at the Prime Minister's Office, said that whoever takes over the finance portfolio, that will be the "biggest hint" as to who the prime minister-designate might be.
The former MP for Joo Chiat and the East Coast Group Representation Constituency (GRC) from 1997 to 2011 said that the position will test a minister's ability to work with different ministries. 
"This is the minister that has to work with everybody, gain the respect of everybody," he said. "If one is a very successful finance minister, it will put them in good stead to probably be the prime minister." 
Dr Wang Kai Yuen, who was MP for Bukit Timah GRC from 1984 to 2006, said that there is historical evidence to back which appointments tend to lead to the prime minister role. 
"Typically, the prime ministers have helmed important roles like defence and finance," he said.  
For instance, PM Lee was finance minister before and Emeritus Senior Minister Goh Chok Tong used to be defence minister.
"Mr Heng already said he will step down from finance… I think Singaporeans can glean some hints when someone takes over the Ministry of Finance," Dr Wang said. 
POTENTIAL CHOICES FOR FINANCE MINISTER 
The political observers offered up several candidates for the vacant finance portfolio — most tipping Transport Minister Ong Ye Kung, Education Minister Lawrence Wong and Trade and Industry Minister Chan Chun Sing to take on the role. 
Dr Woo Jun Jie, senior research fellow at the Institute of Policy Studies (IPS), said that the finance minister plays a key role in strategic planning and resource allocation. As it stands, 4G ministers such as Mr Wong and Mr Ong both "possess relevant experience and skill sets". 
While Mr Wong is presently the second minister for finance, Mr Ong's role as a Monetary Authority of Singapore board member brings with it a "deep understanding of Singapore's exchange rate and monetary policies", he said. 
Assoc Prof Tan of SMU said that Mr Chan could be a candidate, as he has been at the Ministry of Trade and Industry since 2018 and is likely to helm a new Ministry. In contrast, the likes of Mr Ong and Mr Ong had just taken on new portfolios less than a year ago.  
Mr Chan is one of only two 4G ministers who continues to helm the same ministries before and after the General Election last year.
The other is Foreign Affairs Minister Vivian Balakrishnan. 
Mr Inderjit Singh, former MP at Ang Mo Kio GRC from 1996 to 2015, said that Mr Ong's transport portfolio may not be considered a key ministry from which a prime minister-designate is typically chosen. 
Thus, Mr Ong may possibly hold a concurrent position in a key ministry such as finance, national development, or trade and industry, for example. 
"If he wants to be considered for the prime minister role, he has to (go through) accelerated testing of his capabilities," Mr Singh said.
'GOOD TIME TO TEST METTLE'
While the person that takes on the finance portfolio may offer some clues to the nation's next leader, nothing is yet set in stone, the analysts and former MPs said. 
Dr Hong Hai, former MP for Kampong Chai Chee from 1989 to 1991, said that whoever is appointed in the key ministries will have to be tested before a decision is made on whether the person can be prime minister.
"We are still in the Covid-19 pandemic, the world economy is changing very fast, this is a good time to test the mettle of the up and coming young ministers," he said.
Dr Lam from NUS said that while it will be good for Singapore's next leader to have had some experience as the finance minister, that in itself would not necessarily put the person in the pole position for prime ministership. 
"It really depends on the decision of the 4G leaders, who they decide. The question asked by most Singaporeans is not who will be the next minister of finance, but who is likely to be the next prime minister."