Call for review of claims processes, contract rules to protect foreign workers
SINGAPORE — Even with improvements made in recent years, some foreign workers are still overlooked when it comes to seeking compensation for injuries sustained at work and claims for owed salaries, a non-profit organisation has found.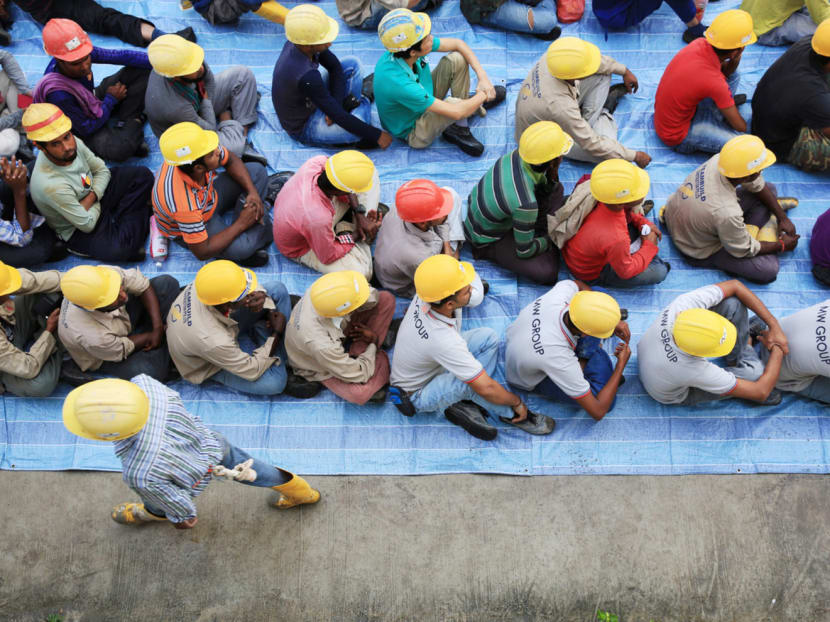 SINGAPORE — Even with improvements made in recent years, some foreign workers are still overlooked when it comes to seeking compensation for injuries sustained at work and claims for owed salaries, a non-profit organisation has found.
In a report released yesterday on the problems that these workers face navigating Singapore's Labour Court system — which is part of the Ministry of Manpower (MOM) and looks into cases on employment disputes — Transient Workers Count Too (TWC2) is proposing several recommendations, based on interviews conducted with around 160 foreign workers. These include strengthening the processes for signing work contracts and for settling salary disputes and injury claims.
In response to the report, MOM pointed out that the problems cited were based on a small group of interviewees picked through "skewed convenience sampling", which has been acknowledged by the authors as a limitation of their study.
The ministry also said in its statement last night that several of TWC2's key recommendations are already in place. Even so, it remains concerned about the issues faced by this small group of foreign work-permit holders, and said that it could look into other proposals by TWC2, for example, to further enhance stakeholder engagement and education.
More than 100 people, including academics and lawyers, contributed to the 104-page report. TWC2 — which advocates fair treatment for migrant workers — highlighted that injury claims can take more than a year to resolve. Or there are still errant employers who flout rules when documenting hiring terms and pay slips, making it difficult for workers to gather evidence to file salary claims.
However, it could not provide the exact number of workers who are in such predicaments regarding claims.
Under its proposals, TWC2 suggested that foreign workers sign a standard employment contract before they arrive in Singapore. This should state the key terms of employment such as salary and working hours.
TWC2 argued that without a pre-signed contract, the terms found in "in-principle approval letters" given to workers in their home countries, after MOM has approved their applications for work permits, could be changed to the detriment of employees. It also noted that even though MOM made changes to the Employment Act last April requiring employers to issue itemised payslips and provide key employment terms, such rules are not obeyed. For instance, some employers still pay workers in cash or maintain inadequate employment records. This means that there is no evidence of a paper trail when workers file salary claims. It also called for work-injury investigations to be completed within six months to speed up the processing of claims. If the process goes beyond a year, workers would be left with no income.
MOM told TODAY that between 2014 and 2016, an average of 15,000 cases were awarded compensation yearly, and 80 per cent of the claims were settled within six months. Cases that took longer to settle were because injured workers' medical condition "were not ready for a permanent incapacity assessment by the doctors, or ... there were objections to the claims and the cases required adjudication".
Of the 15,000 workplace-injury cases each year, an average of 10 per cent of the claims were investigated under the Work Injury Compensation Act. For cases in which compensation could not be given, it was because there was not enough evidence to support the workers' claims, MOM said. For example, doctors giving medical advice to state that the injuries were inconsistent with how the alleged accident happened. Fight cases were also rejected if they did not arise from private defence. As for wage-related claims, more than 90 per cent of these are settled each year through mediation or adjudication by MOM, it said, adding that foreign workers should lodge such claims early so the amounts owed "remain small and are more easily recoverable".
For workers' contracts, basic employment standards are already specified under the various employment laws, so the ministry's focus is on educating foreign workers to understand their key hiring terms before they come to Singapore.
"While there is flexibility for employers to adjust salaries, they must do so with worker's consent and inform MOM in writing," its spokesperson added. Failure to do so is a breach of regulations under the Employment of Foreign Manpower Act, and employers face a fine of up to S$10,000 per infringement.
MOM said that there had been regular reviews to ensure that legislation continues to remain relevant and adequate. "Beyond legislation, we also regularly reach out to these workers to inform them of their rights. These efforts are complemented with a tough enforcement stance against errant employers," it added.
"Effective management of our foreign work-permit holders is a multi-faceted issue. MOM will continue to collaborate with constructive non-governmental organisations (NGOs) and the public to enhance the protection for our foreign work-permit holders."