Calls to emergency medical services increase 12% in 2021, driven by Covid-19-related calls: SCDF
SINGAPORE — While the number of false alarm calls fell last year, the total number of calls to emergency medical services still went up 11.9 per cent, driven largely by a surge in Covid-19-related calls.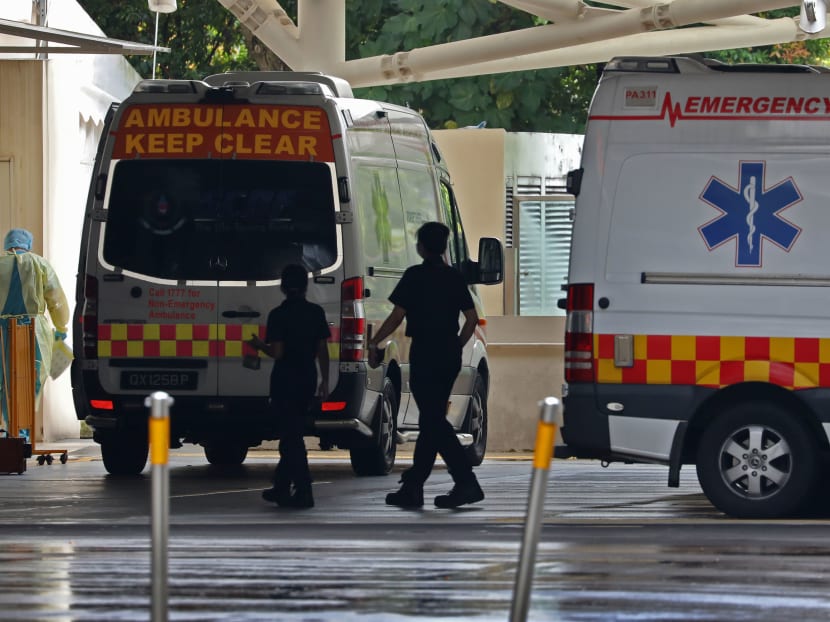 The Singapore Civil Defence Force handled more emergency services calls in 2021
The increase was partly driven by Covid-19-related calls
The number of fires related to personal mobility devices saw a decline in 2021, as did overall fire incidents
An updated emergency handbook was launched, available online for the public
SINGAPORE — While the number of false alarm calls fell last year, the total number of calls to emergency medical services still went up 11.9 per cent, driven largely by a surge in Covid-19-related calls.
The Singapore Civil Defence Force (SCDF), in releasing its annual statistics on Friday (Feb 11), said that it handled 213,615 calls in 2021, up from 190,882 in 2020. About 90 per cent of the calls in both years were emergency calls.  
It said that there was a noticeable increase in Covid-19-related calls from September to November last year when SCDF officers responded to 63,000 calls — a 36.5 per cent jump compared to the same period in 2020.
Non-emergency calls also went up by 2.4 per cent last year to 9,050, bucking the downward trend of such calls since 2018.
SCDF attributed this increase to suspected Covid-19 cases, which were later assessed to be non-emergencies and the persons did not need to be taken to the hospital.
For false alarm calls, these dropped by 8.1 per cent to 5,598. These refer to incidents where calls were cancelled or where no patients were found at the incident scenes when the ambulance crew arrived.
DROP IN FIRES LINKED TO MOBILITY DEVICES
Fires involving active mobility devices declined significantly by 19.1 per cent last year, from 68 to 55 cases.
These fires included incidents involving personal mobility devices (PMDs), which saw a 23.8 per cent drop, and power assisted bicycles (PABs), which decreased by 11.5 per cent.
About half or 30 fires involving PMDs and PABs occurred at residential units. 
CAUSES OF FIRES
Overall, SCDF responded to 1,844 fire calls last year, a 1.8 per cent drop from 1,877 the year before. 
Fires that originated from electrical faults formed the majority of these cases, accounting for 588 cases or 31.9 per cent. This was followed by incidents related to cooking activities, making up 22.1 per cent of cases or 408.
Out of the total cases, 1,010 fire incidents last year occurred in homes, dropping slightly from 1,054 cases in 2020.
The largest contributor of fire incidents in homes was unattended cooking, making up 358 cases, a slight dip from the 375 cases in 2020.
The number of electrical fires, the next biggest contributor of residential fires, rose slightly by 2.7 per cent to 192 cases in 2021. Fires involving household contents jumped by 10.2 per cent to 183 cases.
Fire incidents involving discarded items fell significantly by 24.9 per cent to 145 cases. SCDF attributed this to ongoing efforts by the National Fire and Emergency Preparedness Council to engage town councils and educate the public on fire prevention measures.
The remaining fire incidents last year split almost equally between non-residential premises and non-building places, such as vegetations and vehicle fires.
Among non-residential premises, fire incidents in commercial premises jumped 21.1 per cent to 212 cases, while those in industrial premises saw a 0.8 increase to 131 cases. Fires in social and communal premises slid 11.1 per cent to 72.
The number of overall injuries saw a slight increase from 184 in 2020 to 194 last year. The number of fatalities also increased to three, all of which involved residential fire incidents, up from a single case in 2020.
ENFORCEMENT CHECKS
SCDF conducted 11,075 enforcement checks last year, up from 9,833 the year before.
The number of fire hazard abatement notices issued went up to 2,555, compared to 2,213 the year before. These notices are given to building owners or responsible parties to fix fire hazards. 
The number of notices of fire safety offences, which are issued for more serious fire safety breaches and attract heavier penalties, went down from 1,560 to 1,161.
There were 94 cases of fire safety violations prosecuted in court last year. Almost half or 45 were due to unauthorised change of use of premises, while 22 cases involved unauthorised fire safety works.
NEWEST EDITION OF EMERGENCY HANDBOOK
SCDF on Friday also launched the ninth edition of its emergency handbook.
The book, which is available in four languages, now includes fire emergency tips relating to solar panels and electric vehicles, both of which have become more popular among consumers in recent years. 
A checklist for home fire safety is also included in this edition to help people better prevent fire occurrences at home.
The handbook can be found online and through the myResponder mobile application.