Allow face shields for GE candidates on walkabouts, says SPP chief as parties reach out at start of Phase 2
SINGAPORE — Singapore People's Party (SPP) chief Steve Chia said that politicians should be allowed to wear face shields during their walkabouts so that residents can easily identify potential candidates for the next General Election.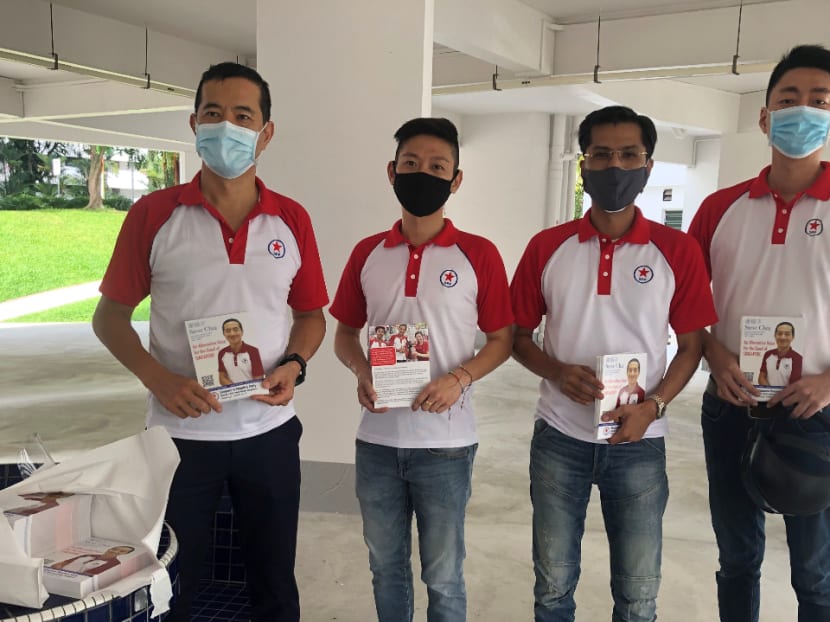 SINGAPORE — Singapore People's Party (SPP) chief Steve Chia said that politicians should be allowed to wear face shields during their walkabouts so that residents can easily identify potential candidates for the next General Election.
During a walkabout at Bishan-Toa Payoh Group Representation Constituency (GRC) on Friday (June 19) morning, he said that some clarification should be given on whether politicians can wear face shields when interacting with residents.
The Ministry of Health had said on June 1 that the use of a face shield without a face mask will only be allowed in exceptional circumstances, such as when it is impractical for a person to wear a mask or for people with medical conditions.
Mr Chia asked: "Are candidates allowed to wear a face shield? Or is it that we must also wear a shield and a mask? Because you want to speak to the residents. How can the resident recognise you with the mask on?"
Mr Osman Sulaiman, a new SPP member and potential candidate, added: "If we are all wearing masks, they might think that we are volunteers."
Political parties are now able to walk the ground, after Singapore entered the second phase of its reopening on Friday.
But they have to adopt measures such as keeping a safe distance from residents, with no handshakes.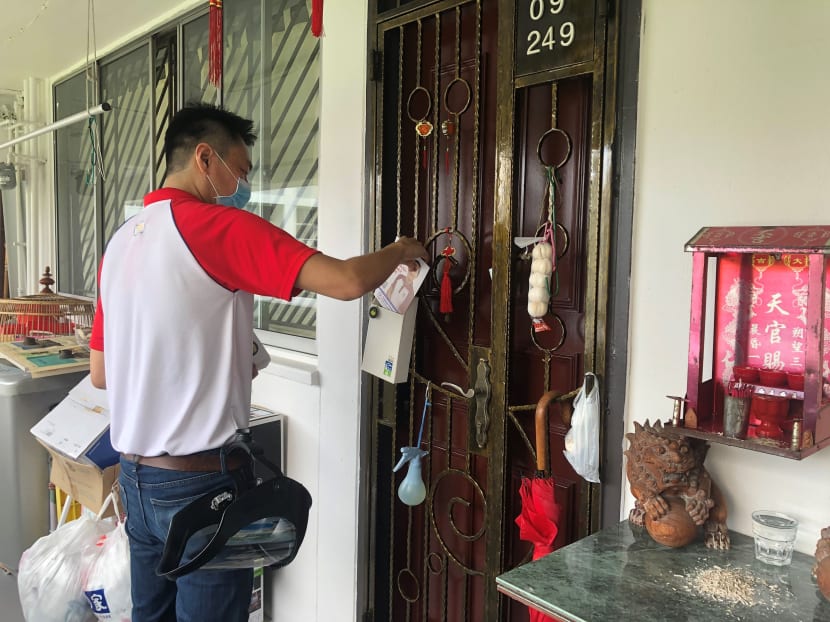 For the SPP, the purpose of their engagement on Friday was mainly to give out flyers, which serve to inform residents that the party will be running in their constituency.
Mr Chia and Mr Osman were distributing flyers house to house with party vice-chairman Williiamson Lee and another new member and potential candidate, Mr Melvyn Chiu, accompanied by five volunteers. They met at the void deck of Block 186 Bishan Street 13 at 9.30am before individually going to distribute flyers door to door.
Mr Osman, 45, and Mr Chiu, 40, both business owners, had contested in previous elections under the Reform Party and Singaporeans First, respectively. They joined the SPP during the circuit breaker period.
They were donning the party's polo shirts, and are tipped to join Mr Chia and Mr Lee in contesting the four-member Bishan-Toa Payoh GRC.
Mr Chia, a former Non-Constituency Member of Parliament (NCMP), remains tight lipped on who the party will be fielding there. He did confirm, however, that the party will no longer run for Mountbatten and Marymount, having previously indicated an interest in contesting these wards.
SPP's current party line-up also does not include Mrs Lina Chiam, 71, wife of party icon Chiam See Tong, 85, who was Member of Parliament for Potong Pasir from 1984 to 2011.
If Mrs Chiam does not run in the upcoming GE, it would be the first time since 1976 that no member of the Chiam family has been fielded as a candidate.
When asked if there is still a possibility that Mrs Chiam might still run, Mr Chia said: "Anything can happen."
He added: "We want them to be more involved but we also have to consider Mr and Mrs Chiam's health... It will not be an advisable position for Mrs Chiam to contest in the election because of the Covid-19 situation where she has to take care of Mr Chiam."
While the four members wore masks as they walked door to door, they took them off when they posed for photographs at the void deck, when there were no residents or supporters around.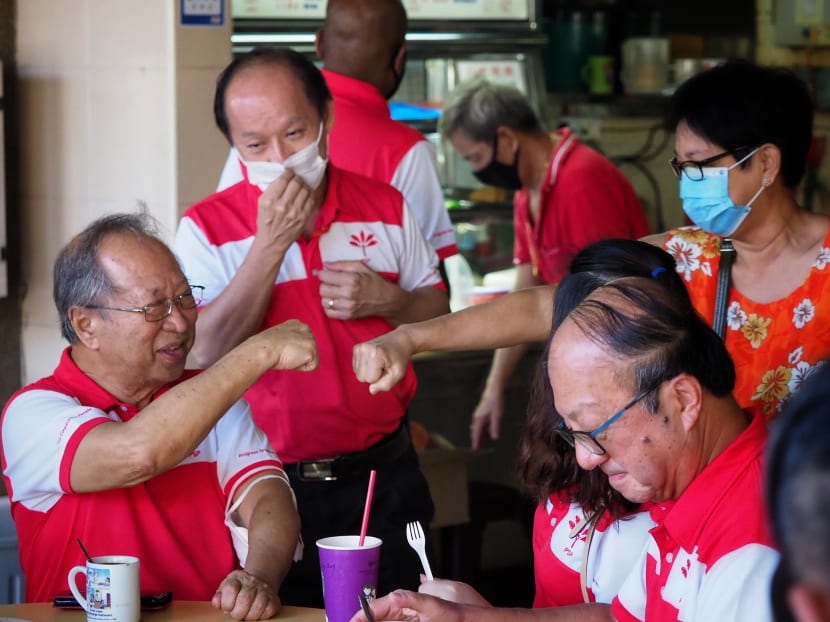 MEETING MEMBERS OF THE PUBLIC, MEDIA, ONE AT A TIME
The Progress Singapore Party (PSP) were also among the political parties to begin engaging the media and visiting residents on Friday.
PSP secretary-general Tan Cheng Bock was having breakfast at Mayflower Market and Food Centre with four potential candidates: Ms Kayla Low, Dr Ang Yong Guan, Mr Kumaran Pillai and party central executive committee member Michael Chua.
To abide by safety distancing rules, instead of having the traditional media scrum, each journalist from the various media outlets was asked to come forward one at a time, to sit at the table with Dr Tan, Ms Low, Dr Ang and Mr Pillai and have their questions answered.
This was to ensure a grouping of no more than five people at any one time — one of the rules in Phase Two.
About five other PSP members sat at separate tables, while the party had two members acting as safety officers to ensure safe distancing requirements were met.
Some residents came up to Dr Tan and the potential candidates to exchange fistbumps instead of handshakes.
The new rules are something the party is getting used to, Dr Tan said, pledging to abide by them.
"Most important (is that) we have to follow the regulations... " he said.
The Elections Department (ELD) on Thursday unveiled rules pertaining to how rallies, walkabouts and house visits should be conducted in the next GE.
ELD said that political parties on their walkabouts and house visits cannot be in groups of more than five. There should also be no mixing between the groups, and each group needs to remain at least 1m apart from other groups.
Political parties need to take the necessary precautions when doing outreach, such as wearing masks, keeping all interactions transient and minimising physical contact.
Member of Parliament for the Marine Parade GRC Tan Chuan-Jin also walked the ground at Chai Chee on Friday morning. In a Facebook post, he said that residents were "visibly happier but many still echoed very sensible comments about still needing to be careful but not to be overly fearful and downcast".
Elsewhere, the Reform Party was at the 726 West Coast Market Square on Friday from 6.30 to 8pm. The walkabout was led by chairman Andy Zhu and six other members.
All its members wore masks and split into groups of two to three while engaging members of the public. They also maintained a 1m distance from them.
The Singapore Democratic Party (SDP) also kicked off its first physical outreach at Choa Chu Kang North from 7.30pm to 9.30pm. Twelve members and volunteers of the SDP were split into three teams, with each group containing fewer than five people.
Before they were divided themselves up into the three teams, members were seen being briefed on the need to observe safe distancing guidelines and not to shake hands with residents.
Mr Damanhuri Abas and Mr Bryan Lim — both members of the party's central executive committee — led two of the teams. Both of them contested in Marsiling-Yew Tee GRC in GE2015.
Mr James Gomez, who contested at Sembawang GRC during GE2011, was also spotted walking the ground.