Car buyers flock to showrooms days after COE for large cars fell below S$100k
SINGAPORE — Customers were drawn to new car showrooms on Sunday (Oct 9), days after Certificate of Entitlement (COE) prices for large cars plunged more than 11 per cent, falling below S$100,000 for the first time in nearly five months.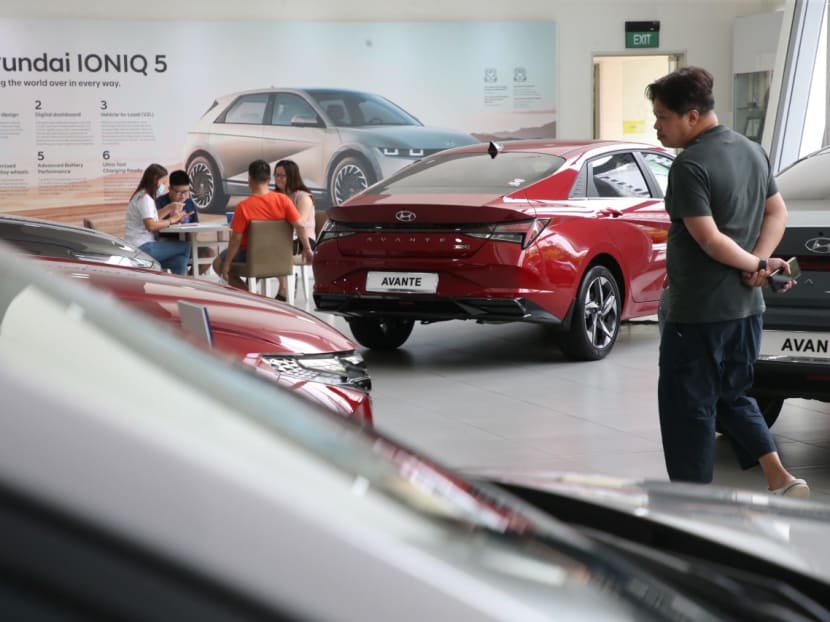 At a Mercedes-Benz dealership, about a dozen groups of interested buyers were present at one time on Oct 9 afternoon
Even at other dealerships, there were noticeably more customers compared to early April when Certificate of Entitlement (COE) prices had briefly peaked
At the latest bidding exercise, COE prices for large cars plunged more than 11 per cent and more than 4 per cent for smaller cars
One used car dealer also said he has seen more interest from customers
SINGAPORE — Customers were drawn to new car showrooms on Sunday (Oct 9), days after Certificate of Entitlement (COE) prices for large cars fell more than 11 per cent, falling below S$100,000 for the first time in nearly five months. 
At a stretch near Leng Kee Road famous for being a hub for car dealerships, about a dozen groups of interested buyers were at a Mercedes-Benz dealership at one time when TODAY visited on Sunday afternoon.
At the Hyundai showroom near Leng Kee Road, run by authorised dealer Komoco Motors, customers were also going for smaller cars following Category A COEs falling 4.2 per cent on Wednesday.
Mr Simon Yap decided to purchase an Avante sedan to replace his old Toyota Corolla Altis whose COE is expiring. Both are Category A cars.
The COE for a new car would cost less than renewing his Toyota's COE, said the 50-year-old finance professional, since renewals take the average of COE prices in the last three months. "The scrap value for my old car is less than S$10,000," he said.
The fall in COE prices has also gotten Mr Manmeeth Singh's family to consider upgrading their relatively new sedan to a larger sports utility vehicle.
"Another consideration is whether we can retain our old car loan," said the 38-year-old teacher at the showroom before speaking to a sales representative. 
His family was paying 2.18 per cent per year on the car loan for their sedan and he said he was quoted a new loan for 2.43 per cent by another dealer.
There were also potential buyers like Mr Etheng Fong, 39, who, with his young children in tow, was looking to upgrade his small multipurpose vehicle to a larger seven-seater one.
"Yes, COE prices are coming down, but we also have the need. We are a family of five and we're looking for a bigger car that can also fit the parents," said the manager who works in trading.
According to price history charts on car sales portal Sgcarmart, prices of new Hyundai cars have fallen across the board by S$3,000 for smaller cars and S$10,000 to S$12,000 for larger cars.
No price history was available for Mercedes-Benz cars, however, but prices for its competitor BMW's luxury cars have largely fallen since early September. 
TODAY has reached out to Mercedes-Benz's authorised dealer Cycle and Carriage as well as other luxury car dealerships for comment.
The scene at the car showrooms on Sunday was a noticeable difference from early April when they were mostly empty. 
At the time, COE prices had peaked at S$98,389 for large cars and S$72,996 for smaller cars, then fell briefly before climbing again to a high of S$113,000 for large cars and S$86,000 for smaller cars in early September. 
Prices have fallen since then. In the latest bidding exercise on Wednesday, COE prices for Category B cars (above 1,600cc or 97kW) fell 11.3 per cent to S$95,856 from S$108,051 in the previous exercise. 
COE prices for Category A smaller cars (up to 1,600cc and 97kW) dropped to S$80,501 from S$84,000.
PREDICTING WHERE PRICES WILL GO
COE price watchers previously told TODAY that inflation and the current economic uncertainty, as well as a recent rise in interest rates for car loans may have resulted in fewer bidders for large cars. 
Most car dealerships in Singapore include the COE in the price of the car and generally update their prices a day or two after bidding results are out. A COE is needed to own and drive a vehicle in Singapore.
Independent car broker Steven Lim said that going into the last few months of the year, there may be more demand for cars that could drive COE prices back up since distributors of new cars tend to offer more promotions to clear their inventory towards the year's end.
"But honestly in this economic climate, it's quite hard to predict (where prices will go)... there are way too many factors. It's worse than predicting the stock market," he said.
"My advice to most clients is that it's not wise to predict where COE is going."
Used car dealer Raymond Tang said that since the last COE results were out, his shop has seen about 5 to 10 per cent more customers. 
"There is more interest in the market now," said the director of Yong Lee Seng Motor.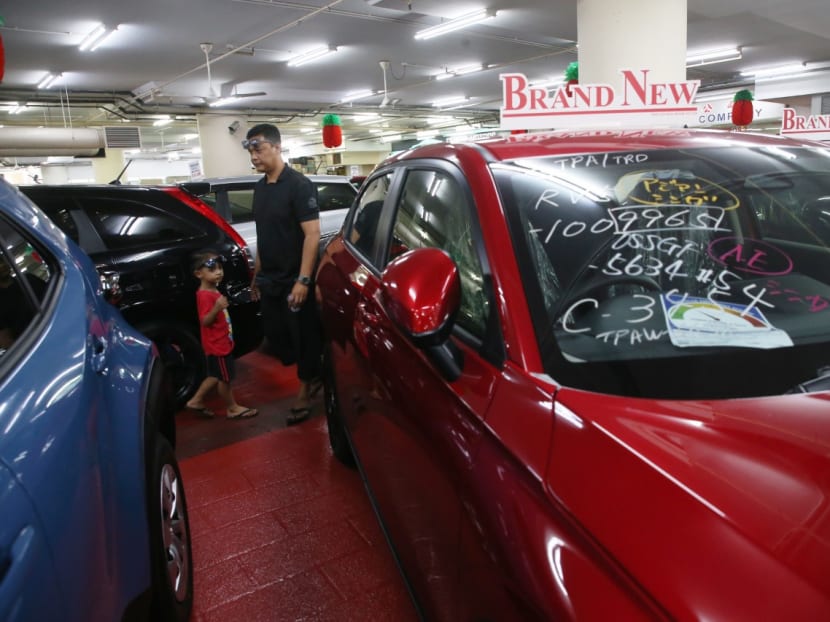 While COE prices have dropped, they are still high especially compared to, for example, a year ago and Mr Tang sees the situation as a short breathing space for buyers.
He expects COE prices to rise again in the next three months based on the forecasted figures for vehicle deregistrations showing that COE supply will decline. 
Since Singapore has a zero-growth policy on the number of COEs in the market, the supply of COEs is determined largely by the number of vehicle deregistrations.
Mr Tang said that he has increasingly been seeing more customers making profits from their used cars, since they can go up in value when COE prices rise. With those profits, they would then upgrade to a used car with more years left on the COE.
At Yong Lee Seng Motor, Mr Yanto, 39, had just traded in his Mitsubishi Attrage for a used Nissan Qashqai with close to the same number of years left on the COE after topping up about S$30,000.
"Now, we have to do it like that," said the self-employed worker. "You cannot have a car and keep it for 10 years."