Carrie Lam lauds close Singapore-Hong Kong ties, looks ahead to closer bonds
SINGAPORE — Hong Kong Chief Executive Carrie Lam last night lauded the city's close ties with Singapore, as she kicked off a two-day official visit here.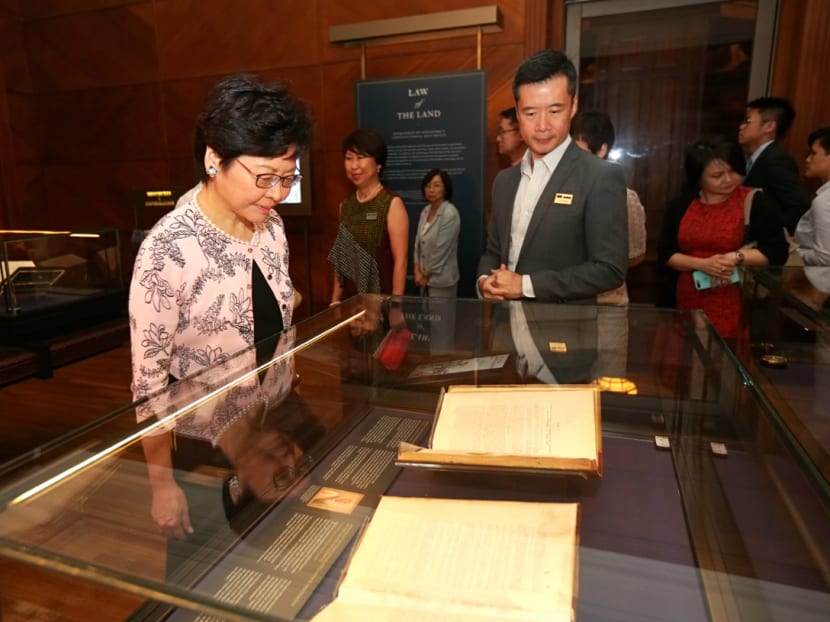 SINGAPORE —  Hong Kong Chief Executive Carrie Lam last night lauded the city's close ties with Singapore, as she kicked off a two-day official visit here.
"(The) close economic, creative and cultural bonds between Hong Kong and Singapore will help to foster even stronger friendship and collaboration between our two communities," she said during a speech at the opening of a photo exhibition at The Arts House.
Asked later by reporters why she chose to visit Singapore in her first overseas trip since assuming the role of Chief Executive last month, she said: "Singapore and Thailand are important nations in the region and key trading partners of Hong Kong. 
"The trip is basically to renew ties with Singapore and to thank its leaders in anticipation of the successful conclusion of the free trade agreement between Hong Kong and Asean (Association of South-east Asian Nations)."
Mrs Lam will leave for Thailand on Thursday night.  
Asean is Hong Kong's second-largest trading partner after mainland China, and a long-awaited free-trade agreement between the regional bloc and Hong Kong is expected to be signed in November.
Mrs Lam, 60, is in Singapore at the invitation of Prime Minister Lee Hsien Loong.
The photo exhibition that Mrs Lam opened features the works of Lee Fook Chee, who was born in Singapore in 1927 and went to Hong Kong in 1947, where he captured the city in photographs during the 1950s.
Mrs Lam said that his photos encapsulate the progress Hong Kong has made over the last 60 years.
"This exhibition not only conveys the photographer's keen creative eye and interest in his subject, it also captures a time when Hong Kong was entering a period of huge post-war transformation," Mrs Lam said during her speech at the opening of the photo exhibition.
"Back in the 1950s, Hong Kong had a population of just over two million; the city was gaining a reputation as a manufacturing hub, and Cantonese opera was a popular source of family entertainment.
"Fast-forward to the present day: Hong Kong is home to more than seven million people, over 90 per cent of our GDP (gross domestic product) is derived from services and we are fully plugged into the digital era.
"Guided by the enduring principle of 'one country, two systems', Hong Kong has emerged as a global business and financial hub. We stand tall — alongside Singapore — as a leading international city in Asia," Mrs Lam noted.
The photo exhibition she opened is one of several cultural events organised by the Hong Kong Economic and Trade Office in Singapore to mark the 20th anniversary of the Hong Kong Special Administrative Region, and it runs until Sept 3. 
Singapore and Hong Kong enjoy close cultural ties. Artistes from both cities have frequent exchanges, and there are several platforms where they can showcase their work or collaborate.
The two cities have strong links in other areas. They are each other's fifth-largest trading partners and there has been an exchange of high-level visits between both sides in recent years. Deputy Prime Minister
Teo Chee Hean visited Hong Kong in April this year, while PM Lee was in the territory in 2014.
Mrs Lam has been to Singapore many times, with five being official trips in her previous official capacities, and her current trip marks the first visit by a Hong Kong chief executive to Singapore since Mr Donald Tsang came here in 2008.
Mrs Lam also visited the Asian Civilisations Museum and the National Gallery Singapore on Wednesday (Aug 2), and attended a dinner hosted by Minister for Culture, Community and Youth Grace Fu.
Mrs Lam will visit GovTech Hive, an innovation lab for digital services, as well as the Civil Service College and the Urban Redevelopment Authority today. She will also meet PM Lee, DPM Teo and Emeritus Senior Minister Goh Chok Tong for talks.