Hong Kong at breaking point, can 'easily happen to S'pore if we are complacent': Chan Chun Sing
SINGAPORE — With Hong Kong now at a "breaking point", Trade and Industry Minister Chan Chun Sing said on Monday (Nov 18) that "what has happened in Hong Kong can easily happen to Singapore if we are complacent or not careful".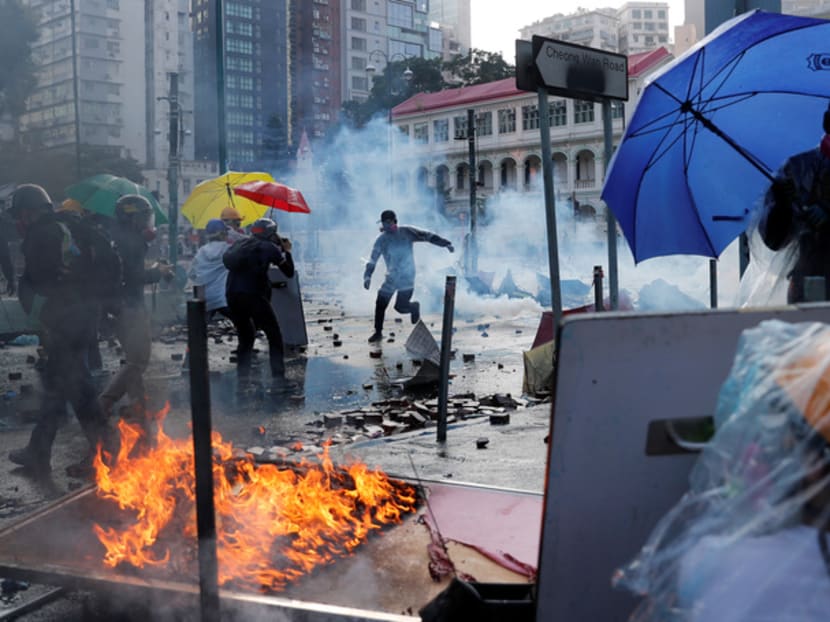 SINGAPORE — With Hong Kong now at a "breaking point", Trade and Industry Minister Chan Chun Sing said on Monday (Nov 18) that "what has happened in Hong Kong can easily happen to Singapore if we are complacent or not careful".
Mr Chan said that Singapore could draw at least four important lessons from developments in Hong Kong: The importance of a well-functioning political system, good long-term policies and social cohesion, as well as the need for small city-states to stay relevant.
After inviting reporters to speak to him about the situation in Hong Kong, Mr Chan explained: "Many Singaporeans have asked if what happened in Hong Kong and elsewhere in the world could happen in Singapore, and what can we learn from the developments in Hong Kong and around the world. And my intent today is not to pass judgment on others, but to draw lessons for ourselves."
He was speaking at the Ministry of Trade and Industry's office at The Treasury.
Hong Kong has been besieged by unrest for the past five months after initial peaceful protests against a now-shelved extradition bill evolved into louder calls for freedom and democracy, as well as criticism of police conduct during the protests.
In the latest fast-escalating developments, Hong Kong police laid siege to the Hong Kong Polytechnic University on Monday, firing rubber bullets and tear gas to pin back anti-government protesters armed with petrol bombs and other homemade weapons from fleeing amid fears of a bloody crackdown.
Mr Chan said: "Unless calm is restored, dialogue commences and constructive actions taken, there will be grave doubts about Hong Kong's future and the sustainability of its current governance model. We wish Hong Kong the very best and sincerely hope that the situation will improve soon."
FOUR LESSONS FOR SINGAPORE
1. Political system
While not referring directly to Hong Kong's political system, Mr Chan said that "political systems that only promote contestations and debate without concrete and constructive actions cannot deliver or solve problems".
"Regardless of political systems and party interests, the exercise of leadership must be to put people's and countries' interests foremost," he said.
This requires the elected leaders to work closely with the public service, and also to have feedback channels in place, Mr Chan added.
Hong Kong's chief executive does not belong to any political party and is elected by the election committee currently made up of 1,200 members from a restricted pool of candidates chosen by the central government in Beijing. The incumbent is Chief Executive Carrie Lam, who has been facing repeated calls to step down over her alleged mishandling of the political crisis.
On the other hand, about half of Hong Kong's lawmakers, who come from various parties and then form part of the Legislative Council, are elected by the people.
2. Long-term policymaking
Governments should not just focus on short-term immediate concerns, but plan long-term, said Mr Chan.
"All elections cannot be just about the here and now without consideration for the long-term future of our people and country," he added.
He highlighted Singapore's housing and land sales policy as an example of how the Government here does not allow "private developers' interests (to) override public interest".
Calls to use proceeds from Government land sales programmes to finance the current budget and to allow private developers more than five years to sell off every unit in their new projects would benefit only developers, Mr Chan said.
"The transfer of land ownership and properties across generations cannot be at the expense of depriving future generations opportunities to be rewarded based on hard work and capabilities," he added.
Again, in making this point, Mr Chan did not refer to Hong Kong where the land sale policy favours high bids as it contributes to the government's coffers, but leads to high land costs, which developers then pass on to home buyers.
The absence of a sell-by date for Hong Kong developers has also led to the problem of land hoarding, where developers sit on large swathes of land reserves, resulting in a major housing crunch in the city.
3. Social cohesion and conflict resolution
Violence cannot be the way to resolve conflicts in any society, Mr Chan said to reporters.
"Violence begets greater violence. Dialogue and constructive actions must be the Singapore way," he added.
To that end, Mr Chan said that different parties with their own interests need to come together and find a constructive solution to society's problems.
"To insist on maximal individual gains at the expense of the common and collective good cannot be the Singapore way," he added.
4. Relevance of small city-states
As a small city-state, Mr Chan said that it is important that Singapore continues to distinguish itself and "stay exceptional".
"City-states that cannot provide opportunities and hope for their people will fracture. City-states that have no relevance to the world will be ignored and bypassed. City-states that are unexceptional will also not last long in history. So Singapore's continued relevance to the world is never a given," he added.
Singapore must continue to grow opportunities for its businesses and people, add value to regional and global geopolitics through "principled perspectives and clear-eyed analysis" of the challenges and opportunities, and remain cohesive for other countries to work with the city-state, said Mr Chan.
While he did not make reference to Hong Kong, the city's contribution to China's economy has declined since its return to Chinese sovereignty from the British in 1997. Under the "one country, two systems" model adopted since Hong Kong was handed back, Hong Kong is not a "city-state" since it is part of China.
According to a Reuters report, Hong Kong once contributed 18.4 per cent of China's economy in 1997. The figure now has dropped to 2.7 per cent, although several experts have said that the city is still important to China due to its open economy and financial and legal systems.