Mediation to play bigger role in medical lawsuits: CJ Menon
SINGAPORE — Changes are in store for medical lawsuits, with mediation to play a bigger role, and judges to pro-actively direct proceedings with help from medical experts.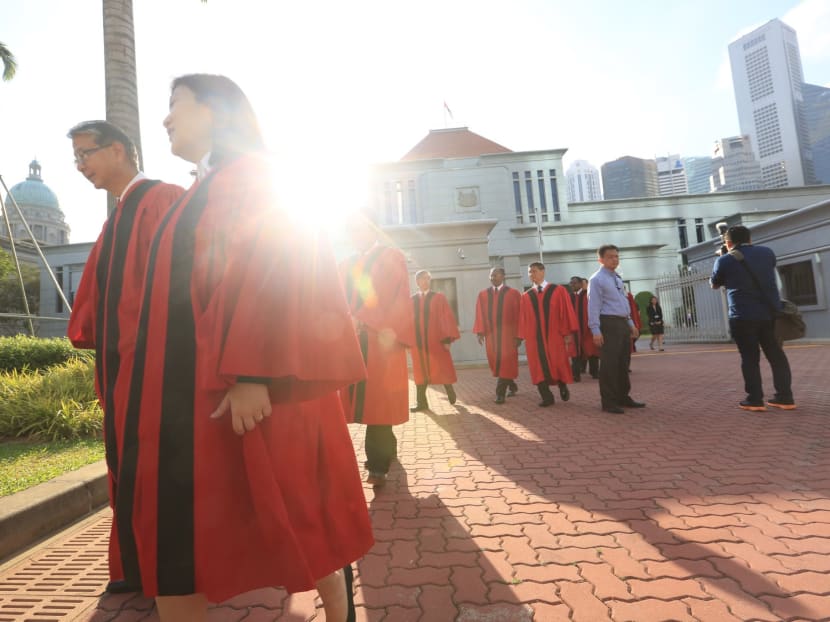 SINGAPORE — Changes are in store for medical lawsuits, with mediation to play a bigger role, and judges to pro-actively direct proceedings with help from medical experts.
The measures are being evaluated, Chief Justice (CJ) Sundaresh Menon said at the opening of the legal year today (Jan 11), and the aim is to avoid medical practice that is negatively influenced by the threat of litigation from malpractice — which would lead to "defensive medicine" and higher insurance costs.
The courts want to promote alternative dispute resolution in resolving medical malpractice disputes, so that lawsuits are avoided where possible. The Singapore Mediation Centre has been tasked to support the medical profession in this, CJ Menon said.
He added that a judge-led process would be a shift away from the present adversarial model, and could be more conducive to fact-finding. Judges, who may lack the specialised knowledge of doctors, could receive more help than is the case now from experts, called medical assessors. The courts and the Singapore Medical Council (SMC), which regulates more than 12,000 doctors, have agreed on some initial steps. A panel of medical assessors made up of senior doctors nominated by SMC will be set up. The High Court and State Courts will have a list of judges to handle medical litigation cases, and the Singapore Judicial College will work with the SMC to provide training for judges and medical assessors.
Two High Court judges, Justices Judith Prakash and Belinda Ang, will lead efforts to refine court procedures in this area. "To strike the right balance and ensure that medical practice is not distorted by the fear of litigation, some re-imagination of our medical litigation paradigm is timely," the Chief Justice said.
Calls for a more inquiry-based process when charges are levelled against a doctor have been made before. In 2014, the SMC agreed it could be guided by the inquisitorial framework similar to that of the family court, following recommendations by a committee tasked to improve the disciplinary process for doctors.
Lawyers and doctors said the changes could mean earlier resolution of cases and levelling of the playing field for patients, who would normally have less resources than insured doctors and large firms to pursue their cases.
Senior Counsel Edwin Tong explained that without a medical assessor, a judge could be very dependent on parties in the lawsuit and their experts to isolate and identify issues before hearing the evidence. A judge-led process with an assessor allows the judge to understand the issues ahead of time, making issues much more digestible and very focused at the trial.
Senior Counsel N Sreenivasan pointed out that in medical litigation, the cost of achieving a fair outcome in an adversarial system may outweigh its benefits. With the changes, cost savings would "hopefully be translated into higher awards or higher agreed settlement amounts to the patient".
The Singapore Medical Association, which represents the bulk of doctors here, said medical care is of direct concern to all Singaporeans and advocates alternative dispute resolution. Its president Wong Tien Hua said that the problem of defensive medicine needs to be addressed before it spirals out of control, as is the situation in Western countries. Singapore's present system of medical litigation would invariably lead to increasing insurance cost for doctors and, in turn, medical costs, he added.
One example of higher insurance cost was a recent change in insurance plan for specialists in obstetrics and gynaecology by a major indemnity provider, in response to a projected rise in medical legal claims, leaving the doctors having to pay for coverage well into retirement to protect against potential lawsuits filed by patients up to the age of 24 who used to be babies under their care.
Dr Wong also called for SMC's process of selection, training and appointment of medical assessors to be transparent and fair for all parties.
There has been a rise in complaints filed against doctors, with a high in at least a decade during 2014, when the SMC had 213 complaints against 259 doctors, 24 per cent more than in 2013. It also reported that in the 2014-2015 financial year, it incurred S$1.76 million in legal expenses for disciplinary proceedings and recovered about S$960,000, resulting in net expenses of nearly S$800,000.
Meanwhile, two civil-justice changes in the State Courts will take place this year. The District Court's jurisdiction will extend beyond civil cases exceeding S$250,000 – the current limit has been in place since 1997. The Small Claims tribunal could also hear cases where amounts involved exceed S$10,000.
Also, a taskforce led by Justice Lee Seiu Kin will work with the Infocomm Development Authority of Singapore to study ways to get the courts "future-ready". It is exploring ideas such as the use of artificial intelligence and natural language technology to enhance accessibility to information, to cut waiting times, automate certain applications and more. It could make recommendations this year, said CJ Menon. 
Correction tag: In an earlier version of this report, we misnamed the Singapore Medical Association. We apologise for the error.