#trending: Teen who went viral over S$80 'luxury' Charles & Keith bag receives endorsement offers, but expert warns empathy could 'backfire'
The teen who was mocked by some on TikTok for calling a Charles & Keith bag a 'luxury' item has been receiving a slew of sponsorship and endorsement offers after her story went viral in Singapore and overseas.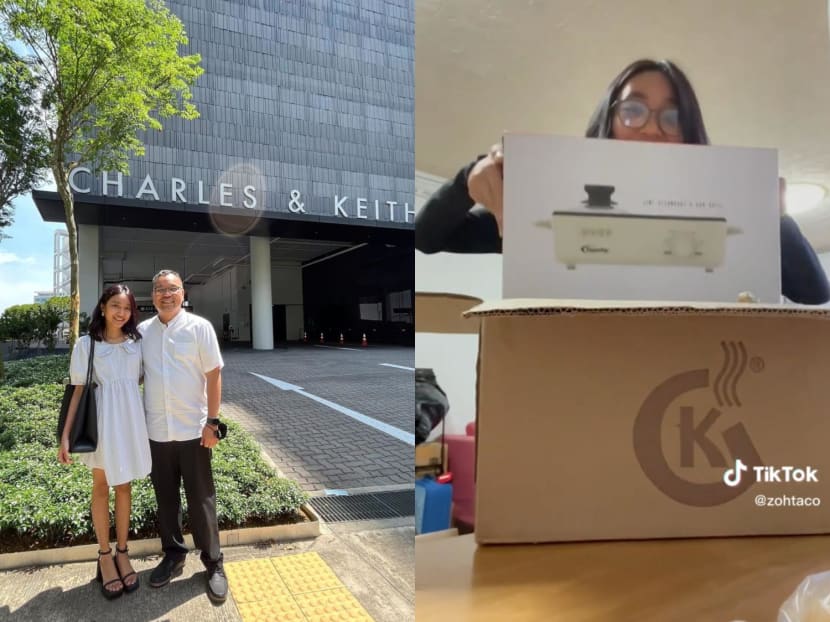 Ms Zoe Gabriel, 17, has received a flurry of sponsorship and endorsement offers from brands after her TikTok videos went viral earlier this week
The teen was mocked by some for calling a Charles & Keith bag that was gifted to her by her dad a "luxury" item
The endorsement offers include everything from food to skincare and even gym wear
However, one marketing expert warns that too many brands doing so may seem exploitative rather than truly compassionate
SINGAPORE — The teen who was mocked on TikTok for calling a Charles & Keith bag a "luxury" item is now being swamped by endorsement offers from various brands.
This follows Charles & Keith reaching out to her after her videos went viral.
Zoe Gabriel, 17, and her father were invited to Charles & Keith's headquarters in Singapore on Thursday (Jan 12) where they had lunch with the fashion brand's co-founder Keith Wong and went on a behind-the-scenes tour of the premises. 
Describing the visit as "fun", Zoe shared a photo of the father-daughter duo in front of the office building on Instagram. Besides the black double handle tote bag featured in her now-viral TikTok video, the teen was seen donning a pair of new satin platform sandals believed to have been gifted to her by the brand.
Online support for Zoe has been overwhelming ever since a couple of her TikTok videos regarding her bag went viral earlier this week.
The teen had posted an unboxing video for the Charles & Keith tote, calling it her "first luxury bag" but was shamed by some netizens who cast doubt over the Singaporean footwear and accessory brand's "luxury" status. The bag costs S$79.90, according to the brand's website.
However, Zoe began receiving an outpouring of empathy and support from online users after she opened up about her family's humble background in a tearful video addressing the negative comments. 
Charles & Keith reached out to Zoe after seeing her video.
A brand spokesperson said: "Our heart really went out to Zoe when we saw the videos and comments – there is no place for bullying, be it online or offline – but we were so impressed with the grace and humility in how she handled the situation, displaying wisdom far beyond her years and values that resonated with us greatly."
Apart from the visit to its headquarters, Charles & Keith had also said in an earlier statement that it would offer Zoe a chance to "be part of the Charles & Keith family" in a capacity she is comfortable with, such as through a paid internship or as an influencer ambassador for its community network. It is unclear whether Zoe has accepted the offers.
Several local brands have also jumped on the bandwagon, stepping forward to lend Zoe support in the form of sponsorships.
Homegrown ramen chain Takagi Ramen, which prides itself in serving "ramen for the average Singaporean", treated Zoe and her family to S$80 in meal vouchers. Zoe shared a TikTok video of herself visiting a Takagi Ramen outlet in Yishun and enjoying the food with her family members at home on Wednesday.
On Thursday, the teen showed off a new haircut and thanked Kimistry Hair Boutique for giving her a "new look".
She also shared an unboxing video for a PowerPac barbeque and steamboat grill the following day. According to the caption, the TikTok video was made in partnership with hawker stalls Yakiniku Warrior and Ge Bi Lao Wang Bak Kut Teh, which sent her their food to sample.
A scroll through Zoe's comments section on TikTok and Instagram reveals many other brands reaching out to the teen with product endorsement opportunities. This includes everything from food to skincare and even gym wear.
Zoe had also written a few comments promising more product videos to come.
The teen's story seems to have resonated with audiences not only in Singapore but overseas.
Famous American model and fashion content creator Wisdom Kaye shared Zoe's story on Twitter on Thursday (Jan 12), asking for a way to contact her as he intended to send her some luxury bags.
WHY ARE BRANDS FLOCKING TO HER?
Dr Seshan Ramaswami, associate professor of marketing education at Singapore Management University, believes that it is Zoe's relatability that has made her so appealing to people and brands alike.
"The publicity generated by the incident makes her attractive to many other brand strategists. It is a touching story and her public rebuttal, which was honest and even brave as it revealed her vulnerabilities very openly, made Zoe instantly relatable to hundreds of thousands of consumers like her," he said.
Dr Ramaswami added that while brands may benefit from showing Zoe empathy through free gifts and endorsement offers, he warned that too many of them doing so may "backfire".
"The one challenge is over-extension. Too many brands trying, or even without trying, to derive brand image benefits from her story may backfire if it seems exploitative rather than truly compassionate," he cautioned. 
"But I suspect that unless Zoe herself makes a conscious effort to convert this 'accident' into some longer term project strategically, the brands will move on."